Want to better understand the current TV faults? See the all new UK Free TV page

Brian Butterworth published on UK Free TV
See: All transmitters with faults and engineering

Following from your suggestions, I have made changes to the icons used to show which Freeview transmitters have fault or engineering status associated with them.

Previously, you had to look quite hard to see which transmitters had current faults, and which had faults listed for the last few days.

The new format for the page looks like this.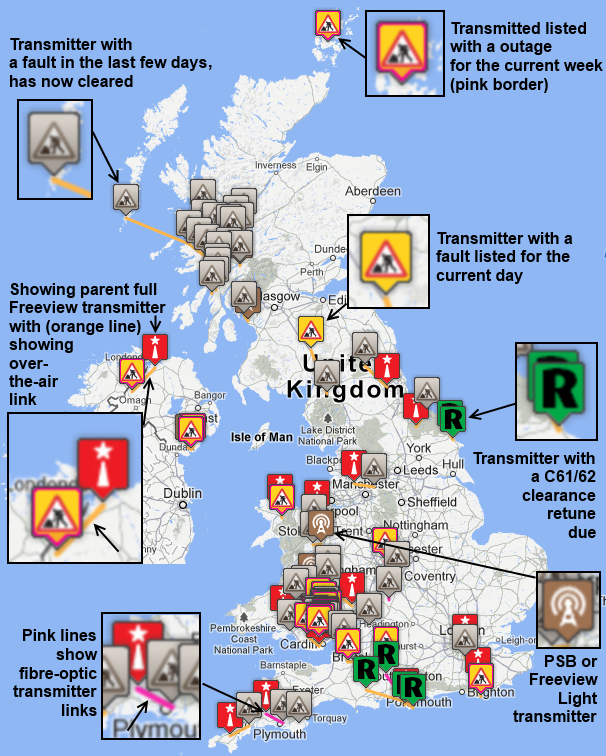 Only the sites with "live" faults are shown with the yellow symbol (those with Digital UK's "this week" status, a pink border).

I hope the above listed changes will help you to understand where the current faults and system outages are.

The new symbols carry though to other pages that shows transmitter symbols.
Comments
Monday, 21 March 2016

I receive freeview via an aerial with good signal level through an HD aerial; there are no other connections into the tv and I have checked the aerial plugs. Over the last week my HD Samsung TV sometimes loses sound but not picture. There is no problem if I switch to the same non HD channel. For instance, watching channel 3 HD all evening today from 7.30pm until 10:00 pm and no problem. Then when the news came on at 10:00 within a few seconds of the news the sound goes out; just happened again after 20 minutes; switching channel to say number 2 HD and then back to channel 3 HD brings the sound back. It does seem to happen on live programs. This has never occurred before with this TV that is around 2 years old. I feel it may be something with the transmitter?? Interestingly as a separate item I noticed our DAB car radio lose signal on Radio 2 today also, cutting in and out showing lack of signal.
My next check will be to switch to my satellite HD (currently disconnected completely) and see if it happens on this system to try to identify if its perhaps the HD tuner within the TV.

Chris P's 1 post
Friday, 1 April 2016

Since Wednesday we have had no BBC tv reception on our 3 TVs. BBC says there are no works scheduled but Freeview advice line say there are. BBC South West says that nobody else has reported a fault but a local engineer says he has had over 200 calls with people having similar problems. Have retuned all sets and now lost other channels. Managed to get BBC HD back but it disappeared again shortly after. What the devil is going on?

Sue price's 1 post

Sue price: BBC South West is transmitted by six main stations and numerous (too numerous to mention) relays, therefore, its not really possible for anyone to check the status of the transmitter that covers your area unless your location is known, this preferably being in the form of a post code or one from a nearby, e.g: a shop/post office.

Have you as yet ascertained if others (neighbours etc) in your area are also affected by reception problems? another factor being whether or not you are connected into a communal aerial system?


jb38's 7,179 posts

Hi, I have just received a call from my parents who live in exmouth, since Wednesday the free view reception has been poor and non existent. The neighbours are all having the same problem. Does anyone know of any issues at all? Thanks if anyone can help

Rob's 3 posts

Rob: If your parents are served by the Budleigh Salterton relay there is a possibility of weak signals being received from Monday 28th March 2016. DUK usually announce planned engineering work on a week by week basis, hence the information is somewhat non-specific. If you give a postcode for your parents' location, or that of a nearby public building, a more accurate check can be made on transmitters that are likely to serve the locality.

KMJ,Derby's 1,811 posts
Saturday, 2 April 2016

KMJ,Derby: Hi thank you for your reply, that's really kind. my parents postcode is EX8 2EP.

Rob's 3 posts
Rob's:
map
R's Freeview map
terrain
R's terrain plot
waves
R's frequency data
R's Freeview Detailed Coverage

Rob: KMJ,Derby: Hi thank you for your reply, that's really kind. my parents postcode is EX8 2EP.

Rob's 3 posts
Rob's:
map
R's Freeview map
terrain
R's terrain plot
waves
R's frequency data
R's Freeview Detailed Coverage
Thursday, 26 May 2016

Is there a problem with Winter Hill BBCB mux channel 54 as I have lost BBC HD and ITV HD? The EPG has replaced them with the Welsh equivalent presumably from the Storeton, Wirral relay transmitter which is just a short distance from me in CH60.

Richard Banyard's 3 posts

We have no signal or poor quality signal in
the afternoons, it generally begins around 2pm and clears up at about 6pm, but times can vary. Today it was fine this afternoon and has been gone all evening. Any ideas why this is happening? It's been happening for a couple of months now. I'm disabled and often housebound so I rely on my tv a lot. Any suggestions you can give would be gratefully received. My postcode is GU5 0JP. Thanks

Alice Wright's 1 post
Alice's:
map
A's Freeview map
terrain
A's terrain plot
waves
A's frequency data
A's Freeview Detailed Coverage
Monday, 6 June 2016

Is anyone able to advise on very poor signal in Whitstable area - CT5 2RF.

We were watching Wallander last night on BBC1 when the signal started to break up, eventually all the channels were unrelaible.

This morning it's been worse, BBC and all freeview channels coming and going and breaking up, same with radio stations through the TV.

We do regularly get this on the coast but it's exasperating. Do the BBC and Freeview have no reliable transmitters for consistent signal strength?

Nick's 1 post
Nick's:
map
N's Freeview map
terrain
N's terrain plot
waves
N's frequency data
N's Freeview Detailed Coverage
Select more comments
Your comment please