Want to better understand the current TV faults? See the all new UK Free TV page

Brian Butterworth published on UK Free TV
See: All transmitters with faults and engineering

Following from your suggestions, I have made changes to the icons used to show which Freeview transmitters have fault or engineering status associated with them.

Previously, you had to look quite hard to see which transmitters had current faults, and which had faults listed for the last few days.

The new format for the page looks like this.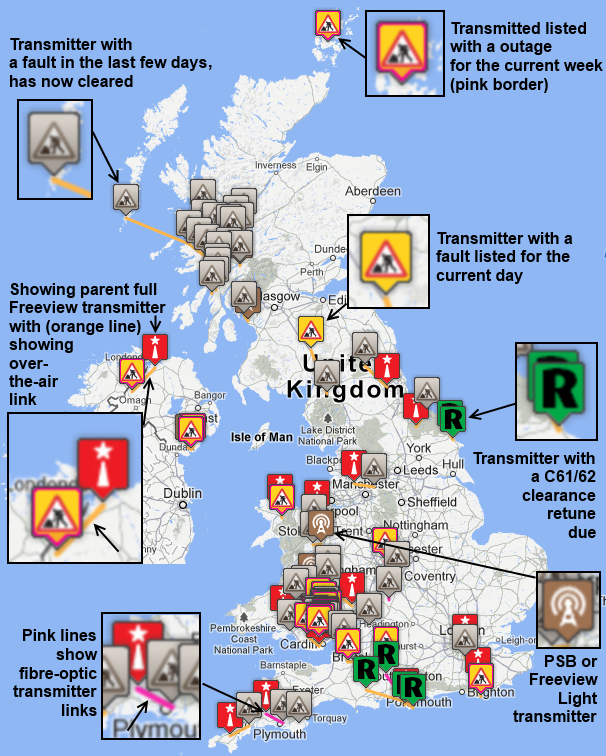 Only the sites with "live" faults are shown with the yellow symbol (those with Digital UK's "this week" status, a pink border).

I hope the above listed changes will help you to understand where the current faults and system outages are.

The new symbols carry though to other pages that shows transmitter symbols.
Comments
Wednesday, 7 November 2018

Hi. My freeview is not working (it says 'no service is available'. My postcode is HA55NX. Can you check if it works in my area?

Kavin's 1 post
Thursday, 8 November 2018
MikeP
12:08 PM

Kavin:

You are just 28km away from the Crystal Palace transmitter so should be getting an excellent signal reliably. As that transmitter serves almost all of London, if it had problem there would be thousands of complaints - but there are none. So your system has a problem. Check all your aerial cables are undamaged and that all the connections are in good order. If there are coaxial plugs/sockets then unplug those and refit them. Then check what channels you are getting. I am assuming you have afairly new wideband aerial fitted to tget all 8 multiplexes.



MikeP's 2,414 posts
Platinum
Select more comments
Your comment please