To join, leave or change ukfree.tv updates by email, enter your email address here:
Want to better understand the current TV faults? See the all new UK Free TV page

Brian Butterworth published on UK Free TV
See: All transmitters with faults and engineering

Following from your suggestions, I have made changes to the icons used to show which Freeview transmitters have fault or engineering status associated with them.

Previously, you had to look quite hard to see which transmitters had current faults, and which had faults listed for the last few days.

The new format for the page looks like this.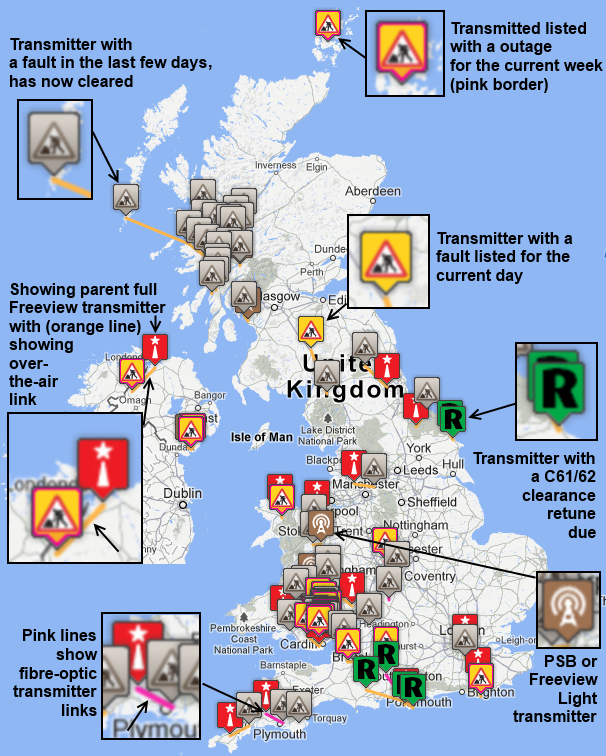 Only the sites with "live" faults are shown with the yellow symbol (those with Digital UK's "this week" status, a pink border).

I hope the above listed changes will help you to understand where the current faults and system outages are.

The new symbols carry though to other pages that shows transmitter symbols.
Comments
Wednesday, 24 January 2018

Please can you tell me when the Slapton transmitter might be fixed no signal all day, .

Tania's 1 post

Tania: According to the transmitter engineering post on the Slapton page, there was work being carried out with the transmitter coming back on at 18:57 this evening.

StevensOnln1's 1,271 posts
Gold
Friday, 2 February 2018

My picture breaks up and the sound gets distorted it's been like it all week

Mark Lawrence's 2 posts

Mark Lawrence : If it's been like that for a week then you most likely have a fault with your aerial system. Start by checking for any loose or damaged cables or connections behind your TV.

StevensOnln1's 1,271 posts
Gold
Thursday, 8 February 2018

My picture breaks up and the sound gets distorted on all ITV programs it's been like that since the bad weather.


Ann Hill's 1 post

Ann Hill: If it has only started with bad weather then you may well have rain getting into your aerial/cable. Unplug the incoming aerial cable from the back of your TV or set top box/PVR and check for any signs or water or corrosion, also check any other connections or wall sockets that the cable passes through.

StevensOnln1's 1,271 posts
Gold
Select more comments
Your comment please