To join, leave or change ukfree.tv updates by email, enter your email address here:
Want to better understand the current TV faults? See the all new UK Free TV page

Brian Butterworth published on UK Free TV
See: All transmitters with faults and engineering

Following from your suggestions, I have made changes to the icons used to show which Freeview transmitters have fault or engineering status associated with them.

Previously, you had to look quite hard to see which transmitters had current faults, and which had faults listed for the last few days.

The new format for the page looks like this.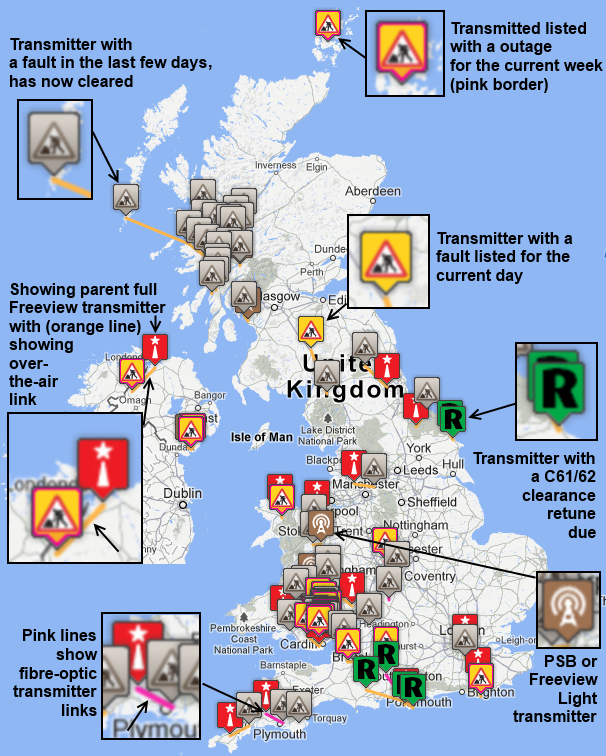 Only the sites with "live" faults are shown with the yellow symbol (those with Digital UK's "this week" status, a pink border).

I hope the above listed changes will help you to understand where the current faults and system outages are.

The new symbols carry though to other pages that shows transmitter symbols.
Comments
Sunday, 22 January 2017

I keep losing BBC News HD, Freeview 107. It seems that loss of Ch33 & Ch35 are the cause and affects all the programmes on those channels. Checking the "signal level" it shows 10, but on "signal condition" it is 0, at these times of loss. My rooftop aerial faces Sutton Coldfield transmitter. I use a Panasonic TV TX-40AX630B. I also have BT Vision installed. Post Code ST15 0PQ. The signal levels from the Wrekin transmitter are fairly high as we can see the Wrekin.

I have been involved with TV work since the 1950s, but at 85 I am a little out of touch now. When the signal "condition" is poor, what makes it poor, please? Could it be due to the Wrekin interference?

Bob Loader's 38 posts
Bronze
Bob's:
Freeview map
terrain plot
frequency data
R&TI Service
digitaluk trade
DAB coverage

Bob Loader: See 'too much of a good thing' on this site - although 35km is a slightly long way to be able to see the transmitter, thats fairly close, and its possible your system is just getting overloaded - strength should be 75%, not 100 - thats just shouting at the tuner and deafening it.

MikeB's 2,079 posts
Platinum
Monday, 23 January 2017

MikeB: Thanks Mike for your comments. I am allowed to make small mistakes, I should have said Channel 43 that carries & affects the BBC programmes!! Almost all the other programmes, ITV, Channels 4 & 5 etc. all show 10 signal level but the "condition" is also around 10, making them perfect. It so happens that my neighbours around here are also having BBC reception problems.

Bob Loader's 38 posts
Bronze

Bob Loader: Did you read the article? 10/10 is far too high - yes, it might be just about OK most of the time, but when the signal level pushes just beyond the limit, thats when you get breakup. If you have a booster, remove it, and some attenuators might be a good idea.

I suspect your neighbours have much the same problem.

MikeB's 2,079 posts
Platinum
Select more comments
Your comment please