Expecting 4G interference? Tests now show that you have a one in 300 chance

Brian Butterworth published on UK Free TV
Looking back the the original posting, Ofcom moves to protect Freeview interference from 4G mobile, we can see the Ofcom suggested that:

Of the 16.3 million UK homes with a standard (unamplified, unshared) Freeview reception, 110,000 (0.67%) would be effected.

Of the 5.2 million homes using communal aerials systems, 550,000 (10.6%) will have problems.

Of the 5.6 million homes using amplified Freeview reception, 100,000 (1.8%) will experience problems.

Today, at800 have published the results of the tests in London, Brighton and Hove and York - at800 updates estimate of likely impact of 4G at 800 MHz on Freeview:

"Following tests conducted across the country, at800, the organisation responsible for protecting Freeview when 4G at 800 MHz is rolled out across the UK, has provided a new estimate of the likely scale of the impact. If national rollout reflects the results seen during its tests, at800 expects no more than 90,000 households, with Freeview as their primary TV service, to experience disruption caused by 4G at 800 MHz. Whatever the level of disruption, at800 is ready to restore Freeview to viewers.





at800 has now sent postcards to households in London and the surrounding areas in preparation for the activation of 4G at 800 MHz masts over the coming weeks and months. at800 is also sending postcards to other areas of the UK ahead of masts switching on. at800's mailing does not mean that 4G services will be available to consumers. For information about the availability of 4G services, people should contact their mobile operators.

In London, in particular, Freeview received from the Crystal Palace transmitter is unlikely to be affected by mast activation because of the strong terrestrial television signal and its relatively large frequency separation from 4G at 800 MHz. However, at800 is sending postcards and running a publicity campaign to ensure anyone who does experience new disruption to their Freeview service knows how to get in touch."

So with 26.50 million TV households in the UK (see Monthly universe summary - BARB) 90,000 represents 0.340% of them - that's a ONE IN THREE HUNDRED chance.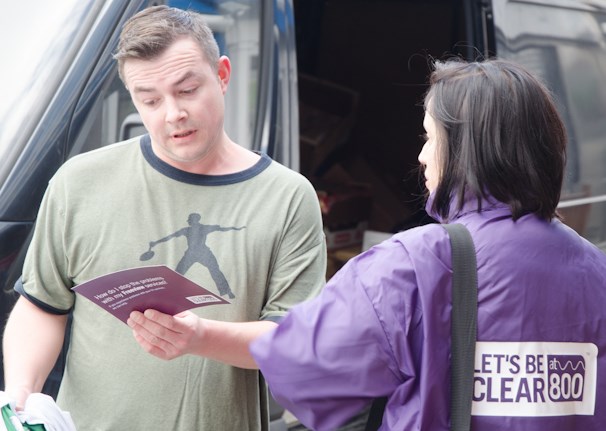 It seems that you are most likely to need a filter if:

a) you are a long way from a high power Freeview transmitter; and

b) you are very close to a 4G mobile phone mast; and

c) you are using a booster.

That's good news for Freeview viewers.



If you have had a postcode from at800 - see Received a postcard from at800?
Comments
Tuesday, 24 September 2013
R
Rosemarie Bradley
8:44 AM
Llanelli

I have had no freeview viewing since yesterday morning. I cannot retune my channels and can't seem to find anywhere to contact to find out the problem. I believe there is a problem with the Carmel Transmitter. My postcode is SA15 5PD. I am getting the message on three T.V's "no signal". Please advise me.

Rosemarie Bradley's 2 posts
Rosemarie's:
map
R's Freeview map
terrain
R's terrain plot
waves
R's frequency data
R's Freeview Detailed Coverage

Hello. My postcode is EX23 0DW, North Cornwall in the district of Poundstock.
Over the last 2 weeks I have experienced problems with reception on my Freeview & Freeview HD.
At some times, there was no reception at all, other times it was a poor picture & no HD coverage at all.
Can anyone advise me as to what to do or who to contact please?
Best wishes
David

David's 1 post
David's:
map
D's Freeview map
terrain
D's terrain plot
waves
D's frequency data
D's Freeview Detailed Coverage

Hello, we live in Kidderminster and are having problems with our freeview reception, it is not just us but a friend of mine is suffering the same problems, the transmitter that we are on is Ridge Hill in Gloucester, we have had a new aerial installed but that has made no difference.

Darren Osborne's 1 post

Hello - my post code is RG45 6JS and I am getting the No Signal message on all freeview channels on two TV's - both worked perfectly fine until recently. I have a digital aerial and a mast head booster and am on the Crystal Palace transmitter. I am in a bad reception area anyway but usually don't have any problems. Could this bad reception be because of the 4G issue or more to do with atmospherics

Jan's 1 post
Jan's:
map
J's Freeview map
terrain
J's terrain plot
waves
J's frequency data
J's Freeview Detailed Coverage
P
Pauline McDougall
1:08 PM
Kendal

WE are experiencing problems with our TV reception. At first it was just the ITV channels, now it is effecting all channels. We are postcode LA89HT and I believe we receive our signal from Winter Hill, my neighbour has the same problem so don't think it is a problem at our end. Can you tell me whether Winter Hill is doing any repairs etc. which would affect our signal.

Pauline McDougall's 1 post
Pauline's:
map
P's Freeview map
terrain
P's terrain plot
waves
P's frequency data
P's Freeview Detailed Coverage
L
Leslie Plumb
1:10 PM
Hastings

Hi, I am in Hastings TN35 5DX and have NO signal whatsoever from the 'strong' signal channels such as BBC, ITV, 4, 5 etc. but have 90% signal quality on all of the poorer signal channels on my youview box. It has always been temperamental at high access times - 7.30 - 10.00pm but now I have nothing anytime of the day. Has anyone else had the same trouble in this area?
Thanks.

Leslie Plumb's 1 post
Leslie's:
map
L's Freeview map
terrain
L's terrain plot
waves
L's frequency data
L's Freeview Detailed Coverage

I have no HD channels from Hannington Transmitter, anyone else with same problem?
We are in Basingstoke - RG22

Patrick's 1 post

Patrick: I and my neighbour had no tv channels 22 Sept - Hannington transmitter

andrea's 2 posts
andrea's:
map
A's Freeview map
terrain
A's terrain plot
waves
A's frequency data
A's Freeview Detailed Coverage

Who do I contact re interference on all channels I'm on the Hannington transmitter - my neighbour also has same problem

andrea's 2 posts
andrea's:
map
A's Freeview map
terrain
A's terrain plot
waves
A's frequency data
A's Freeview Detailed Coverage

andrea:

EVERYONE IS HAVING THIS SAME PROBLEM ON HANNINGTON

regards

jamie stevens's 207 posts
jamie's:
map
J's Freeview map
terrain
J's terrain plot
waves
J's frequency data
J's Freeview Detailed Coverage
Select more comments
Your comment please