Using UHF channels C61 to C69? Time to retune

Brian Butterworth published on UK Free TV
Since 1964, the UHF band (channel 21 to channel 68) has been used exclusively for television services.

The main use, of course, has been over-the-air signals to bring five analogue (and latterly lots of extra digital) TV channels, but a secondary use has been for what is called "RF modulation".

In the days before SCART cables, and long before the not ubiquitous HDMI connections, if you wanted to get a signal from a device such as a video recorder, a games console, home computer or a satellite decoder to a TV set, the only option was to "modulate" it.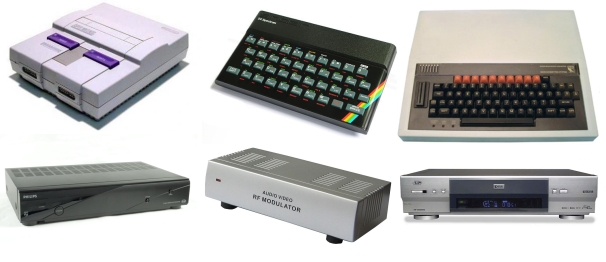 If you are still using a device with an RF modulator, you need to check that the channel allocated is not in the C61-C69 range. If it is, then you need to change it for two reasons: to stop an "illegal broadcast" interfering with 4G devices, and to stop 4G transmissions interrupting your video.





Who owns the 800MHz band? It's not you.

The most common devices are Sky Digital boxes produced from October 1998 to about 2010. See How do I change the RF output channel on a Sky Digibox? .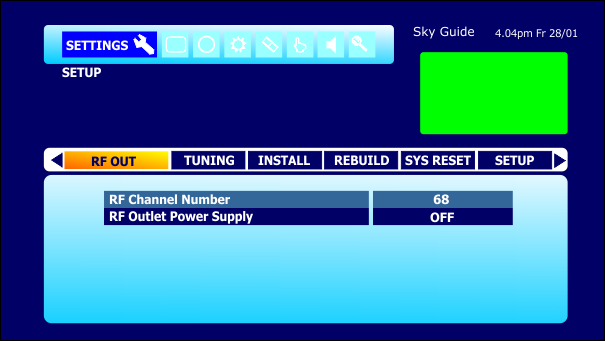 Please don't forget you will need to retune your TV as well as the RF modulator!

If you want to know the best channel to use, enter your postcode into "site settings" box, and see the text that appears there, as shown in this example:



Comments
Tuesday, 15 October 2013

You say about not using C60 to C69 for RF modulation because that range will now be used for 4G LTE. Actually you really mean C61 to C69 as the range to avoid for RF modulation as C60 is still being used for Freeview. If people shouldn't use C61 to C69 for RF modulation now due to that range being reserved for 4G LTE, how come VCR manufacturers set modulators to C36 or C37 in the 1980s at the same time as C35 to C38 were reserved for non broadcasting purposes?

Nicholas Willmott's 80 posts

Nicholas Willmott: Although it could be said by some that a Sky boxes RF modulator is basically an extremely low powered transmitter, it is however not a transmitter in legal terms but an RF generator in exactly the same way as found in a wide range signal generator used for testing receivers, and whose output (modulated or otherwise) can "only" be transferred to a receiver via a direct connection simply because that no point to point transmission via air exists, in other words its a closed signal transfer system that is incapable of transferring a signal via air of anything more than about 5-10 millimetres or so at the very most, sometimes not even that!

That said, no offence whatsoever is being committed by using a Sky boxes RF modulator no matter what channel its set to.

Of course, if someone connects the Sky boxes RF output into a small RF amplifier and then into such as a set top aerial to transmit the signal into another room, then that's a different matter!


jb38's 7,179 posts
Wednesday, 16 October 2013
I
Ian from notts
9:06 AM
Matlock

jb38- Is that basically what a scart socket type sender does? or do they use their own frequency's?

Ian from notts's 253 posts
Ian's:
map
I's Freeview map
terrain
I's terrain plot
waves
I's frequency data
I's Freeview Detailed Coverage

Ian from notts : If you are referring to the standard type of tunable RF modulators (and not a video sender) that covert the AV output from a scart socket into an modulated RF signal then no! they do "not" use different frequencies, as they operate on exactly the same frequencies / channels as a Sky box.

The three types I am referring to seen by opening the links.


Programmable Universal Modulator : Video Switches : Maplin Electronics



VISION V40-104 UHF Modulator, A/V Modulators, Audio & Visual, Home Cinema - Tradeworks Ltd


Triax Tri-Link Kit For Magic Eyes

jb38's 7,179 posts
Thursday, 17 October 2013
I
Ian from notts
8:30 AM
Matlock

jb38- Cheers mate, Its the senders i'm asking about? Where the signal is sent without a cable, as theses work with 'transmitting' the signal?
I would imagine these to interfere with 4G through the way they work?

Ian from notts's 253 posts
Ian's:
map
I's Freeview map
terrain
I's terrain plot
waves
I's frequency data
I's Freeview Detailed Coverage
Friday, 31 January 2014

When Channel 5 came along they had to call at each house and re-tune any equipment using channel 68 where it would cause a conflict. Many older units had small screws to alter them but some just have no user control as to what frequency they use. Looked at old games machine the tennis type and there is no option to re-tune.

Even with current freeview there are problems with old people loosing channels and not being able to re-tune my mother lost TV for a week before some one could re-tune it for her.

As said RF should not be broadcast anyway it should be contained within the coax but often it is and I have seen where Sky boxes have blocked a signals to near by houses. If some one is still using old RF output equipment it is unlikely they will read any internet posts as to how it needs changing so only way will be same as when Channel 5 came along they will need to send people door to door to alter equipment for them.

Eric Palmer's 1 post

Eric Palmer: " they will need to send people door to door to alter equipment for them."

Yes. They do. They've been doing it for a year... They are called 4G@800 at800 | 4G & Freeview | 4G Interference | 4G Filters | at 800 MHz

Briantist's 38,902 posts
Sunday, 30 November 2014
P
Paul Whiteman
10:34 PM
Basildon

In the article above you refer to entering your post code in the "site settings box" to find the best rf channels to use.

Where is the "site settings box" ?

Paul Whiteman's 1 post
Paul's:
map
P's Freeview map
terrain
P's terrain plot
waves
P's frequency data
P's Freeview Detailed Coverage
Sunday, 10 May 2015

I like to ask... Will a 4 G filter from my aerial to my freeview box cancel out any interferance to anaolouge TV out put that sits between channel 60 to 69?

i only ask as i get very stong interferance thats sits on channel 63,64,65,66,67... if i get a filter that cancels out channel 60 to 69 will this work?

many thanks

Rob

Rob's 171 posts

Rob: Of course it will cancel out interference from the aerial.

But if it's picked up in the cables then it may reach your TV. However, the objective of double-screened cable is to keep the signal in the cable and stop interference from outside.

Dave Lindsay's 5,724 posts
Select more comments
Your comment please