How do I change the RF output channel on a Sky Digibox?

Brian Butterworth published on UK Free TV
Press the [SERVICES] button and then press [4] [0] [1] then [SELECT]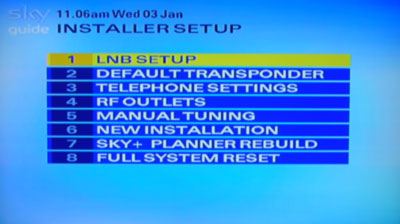 Then press [4] to go to the RF output menu.




You can now change the value so that it does not clash with an analogue TV channel or a Freeview multiplex.


HD and "new EPG" boxes
If you have a HD box, press [SERVICES] button and then press [0] [0] [1] then [SELECT]. Nothing is shown on the TV screen until you press the Select button.
Then use the [RIGHT] arrow button on the remote until this screen is shown, and press SELECT to change the values: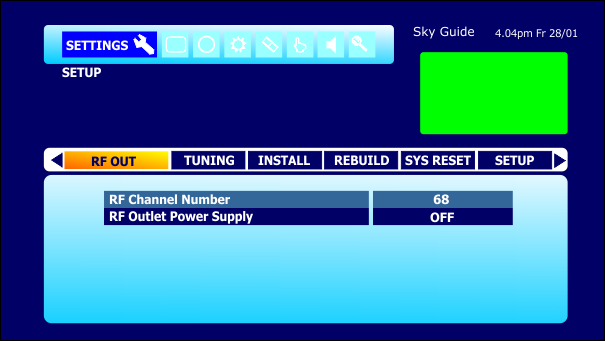 Comments
Tuesday, 28 August 2018

My sky box will not record or give synopsis of programmes since I connected an I/0 modulator to rf output can you help me..?

Liam's 1 post

Liam:

Why did you connect the I/O modulator to an RF output? That output is meant to be connected via coaxial cable to a TV set/STB.

Does removing the modulator restore the services?



MikeP's 3,056 posts
Tuesday, 26 February 2019

What would be the bets Rf output channel to use at EH3 7LA. Had previously switched to 35 but now having problems with interference again

Jen's 1 post
Jen's:
map
J's Freeview map
terrain
J's terrain plot
waves
J's frequency data
J's Freeview Detailed Coverage

Jen:

You could use any channels above 58. Both of your local transmitters, Black Hill and Craigkelly use channels 55 and 56 for the COM7 and COM8 services. The channels used by them are shown here: Coverage Checker - Detailed View



MikeP's 3,056 posts
Wednesday, 27 February 2019

We have sky plus ,one box goes to 3 tv. In the evening 2 of the tv will not work off their remotes but on the main tv sky works. All TVs work perfectly during the day.

Hope you can help, Ian

Ian Pledger's 1 post

Ian Pledger: What do you mean by not working off their remotes?

StevensOnln1's 3,566 posts
Thursday, 7 November 2019

Hello, I have a sky box in lounge with a feed out of RF2 to the attic, then a dc power pass splitter sending signal to 4 other tv's with magic eyes attached to each. They have been working fine for a year or so but now i cant turn over any of the other tvs, yet the lights are on the magic eyes. Any ideas of what has gone rong

anthony callaghan's 1 post
Saturday, 4 April 2020

Any one help tried most of the sky boxs fixes even gotasignalmetertried2boxstotalreseton one but still says no signal althought on meter shows strong signal faultcode29 newlnbfittedstill notworkresetlnbanythoughts dont pay for sky only use free channals for last 1 10yearsivytaken down by neighboure but he says didnt move 0

Michael Roebuck's 2 posts

anthony callaghan: fault code 29 tried calling everthing except moving dish

Michael Roebuck's 2 posts
Select more comments
Your comment please