How do I change the RF output channel on a Sky Digibox?

Brian Butterworth published on UK Free TV
Press the [SERVICES] button and then press [4] [0] [1] then [SELECT]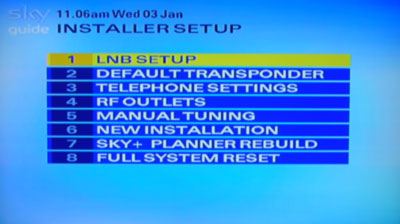 Then press [4] to go to the RF output menu.




You can now change the value so that it does not clash with an analogue TV channel or a Freeview multiplex.


HD and "new EPG" boxes
If you have a HD box, press [SERVICES] button and then press [0] [0] [1] then [SELECT]. Nothing is shown on the TV screen until you press the Select button.
Then use the [RIGHT] arrow button on the remote until this screen is shown, and press SELECT to change the values: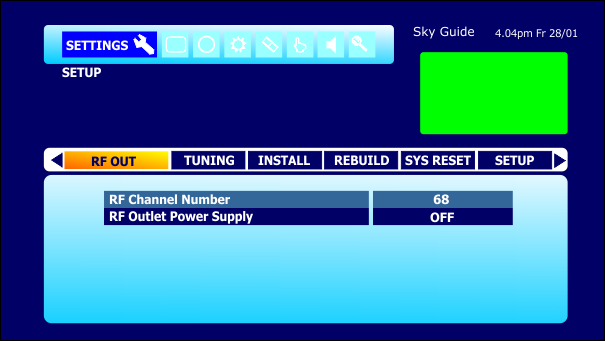 Comments
Saturday, 16 June 2018
MikeP
3:26 PM

Wendy:

Glad you got some service. However, Channel 68 is very likely to suffer from interference later as it is in the range used now and in the future for 4G and maybe 5G mobile serices, so it is best to avoid anything above channel 60. It is also wise to avoid any of the channels used by transmitters whose signals may reach your location. That is why I suggested using channel 34 as none of the transmitters in your area use that channel.

As I stated, it is better to use an HDMI lead if at all possible, else use a SCART lead if the TV and Sky box do not have HDMI sockets.



MikeP's 2,577 posts
Platinum
Tuesday, 28 August 2018

My sky box will not record or give synopsis of programmes since I connected an I/0 modulator to rf output can you help me..?

Liam's 1 post
MikeP
11:20 AM

Liam:

Why did you connect the I/O modulator to an RF output? That output is meant to be connected via coaxial cable to a TV set/STB.

Does removing the modulator restore the services?



MikeP's 2,577 posts
Platinum
Select more comments
Your comment please