Using UHF channels C61 to C69? Time to retune

Brian Butterworth published on UK Free TV
Since 1964, the UHF band (channel 21 to channel 68) has been used exclusively for television services.

The main use, of course, has been over-the-air signals to bring five analogue (and latterly lots of extra digital) TV channels, but a secondary use has been for what is called "RF modulation".

In the days before SCART cables, and long before the not ubiquitous HDMI connections, if you wanted to get a signal from a device such as a video recorder, a games console, home computer or a satellite decoder to a TV set, the only option was to "modulate" it.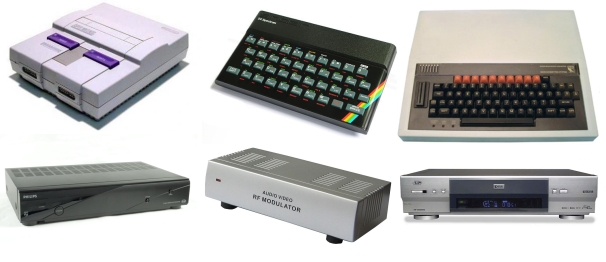 If you are still using a device with an RF modulator, you need to check that the channel allocated is not in the C61-C69 range. If it is, then you need to change it for two reasons: to stop an "illegal broadcast" interfering with 4G devices, and to stop 4G transmissions interrupting your video.





Who owns the 800MHz band? It's not you.

The most common devices are Sky Digital boxes produced from October 1998 to about 2010. See How do I change the RF output channel on a Sky Digibox? .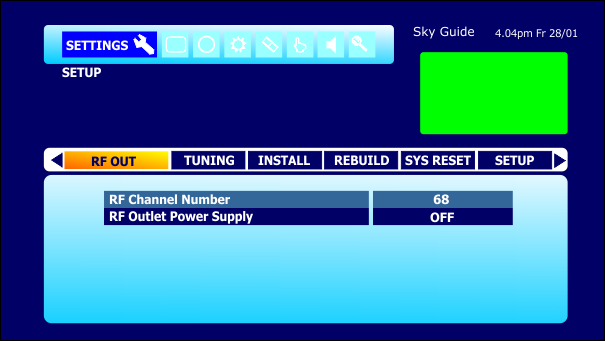 Please don't forget you will need to retune your TV as well as the RF modulator!

If you want to know the best channel to use, enter your postcode into "site settings" box, and see the text that appears there, as shown in this example:



Comments
Monday, 4 January 2016

Dave Haughton:

The information you require is given in the blue blocks below your posting. They suggest Winter Hill is likely to be your best source, though Saddleworth may an alternative if there are large building obstructing your view of Winter Hill. This information found on the digitaluk trade block and the terrain plot block mentioned.


MikeP's 3,056 posts
Wednesday, 18 May 2016

To people with indifferent or poor dab reception,have a look around yr neighbourhood and see if there are
any old band 3 tv aerials,call at the house and ask if you can buy the aerial,etc,clean it up with NEW coaxial,espically in scotland the double 6 or double 8's should work a treat,it such a shame that band 3
isnt still used in uk,it was the best band for tv.

nicholas's 120 posts
Friday, 17 June 2016

How do I find the best channel to tune my Sky HD box to, I want to use the site setting box but can't see how to access it.

Postcode is B90 3JS

DaveN's 2 posts
DaveN's:
map
D's Freeview map
terrain
D's terrain plot
waves
D's frequency data
D's Freeview Detailed Coverage

DaveN:

The channel you use has to be chosen to avoid other signals available in the immediate area. To check that, we need to know which transmitter is in use and if there are any others nearby that may cause interference, so we need a full post code. That will then display some links that enable you and us to see which channels to avoid.

Normally one would look for what channel grouping is being used for the main transmitter and any local ones, so they can all be avoided. One should also avoid any channel from 60 and above as they are being used for 4G services.

Further advice depending on post code.



MikeP's 3,056 posts
R
Richard Cooper
4:18 PM
Norwich

DaveN: Hi, DaveN. You are in Solihull where my cousins were born! You would be using the main full Freeview transmitter at Sutton Coldfield if you were using Freeview rather than Sky! Sutton Coldfield transmits on the following channels: 33, 35, 39, 40, 42, 43, 45, 46 and 51, so you should avoid tuning your SKY box to any of these. The Kenilworth relay at 10 watts, is probably too weak and too far away to affect you, but it uses channels 53, 57 and 60. The Allersley Park relay in Coventry, at 7 watts, is probably too weak to worry about as well, but it uses channels 22, 25 and 28. So what could you use after considering that lot? If I were you, I would consider choosing a channel number in the mid fifties such as 55, which, while it might be used by Waltham near Melton Mowbray, is unlikely to affect you unless you were to have a tv aerial on your roof pointing East North East and the down-lead was dangling behind your SKY box!!! For Pete's sake DON'T choose a channel above 58, because anything higher is likely to be used by 4G mobile phone services!!! Good Luck, Richard, Norwich.

Richard Cooper's 466 posts
Richard's:
map
R's Freeview map
terrain
R's terrain plot
waves
R's frequency data
R's Freeview Detailed Coverage

DaveN: I would try using either 37 or 38, as although channel 37 is used by both Waltham and Oxfords COM8 transmitters, I very much doubt if the slightest trace of a signal from either station would be detectable in your area.

However, if by any remote chance it was, the level of would almost be guaranteed not to be of a magnitude high enough to cause problems with reception of the Sky boxes analogue modulators output.

jb38's 7,179 posts

Thanks all for your comments I've set the Sky RF channel to 38 and all the interference has gone away.
I was so close to buying new amplifier/splitter and even considering a wireless video sender so this site has saved me a bundle of money. Thanks again.

DaveN's 2 posts

DaveN: Many thanks for the update, pleased to know that the problem has now been resolved.

jb38's 7,179 posts
Saturday, 18 June 2016
R
Richard Cooper
9:56 AM
Norwich

nicholas: Hi, nicholas. You have provided an excellent piece of advice to radio listeners who have a poor DAB signal. My friend has a 5 element VHF Band III tv aerial in his loft and I've told him it will make an excellent DAB aerial, but he'd need to re-mount it so the elements are vertical. It was clearly used by a previous owner of the property to pick up ITV Anglia from Mendlesham in the 1960s, 70s and even early 80s. Interestingly, Mendlesham is now a DAB transmission site for BBC national, Digital One and the Norfolk local multiplex, so he can leave it pointing in the same direction: it's just the polarisation that needs changing! You can even see a few VHF Band III aerials that have been left on chimneys around here! I dare say some residents could even be pleased if radio buffs offered to remove them for them at no charge other than a cup of coffee! Richard, Norwich.

Richard Cooper's 466 posts
Richard's:
map
R's Freeview map
terrain
R's terrain plot
waves
R's frequency data
R's Freeview Detailed Coverage
Tuesday, 19 July 2016
A
Andy
6:06 PM
Milton Keynes

Hi, my postcode is MK3 5HF, how do I find the best Sky RF out channel? Many thanks!

Andy's 1 post
Andy's:
map
A's Freeview map
terrain
A's terrain plot
waves
A's frequency data
A's Freeview Detailed Coverage
Select more comments
Your comment please