Digital UK on Freeview HD channel numbers: "we can not do that, sorry"

Brian Butterworth published on UK Free TV
As I am sure you will know, if you have purchased yourself a Freeview HD box or TV, the actual HD channels are all sat together at the end of the guide, starting on channel 101.

This compares somewhat favourably to the seemingly random numbers provided on some other digital platforms.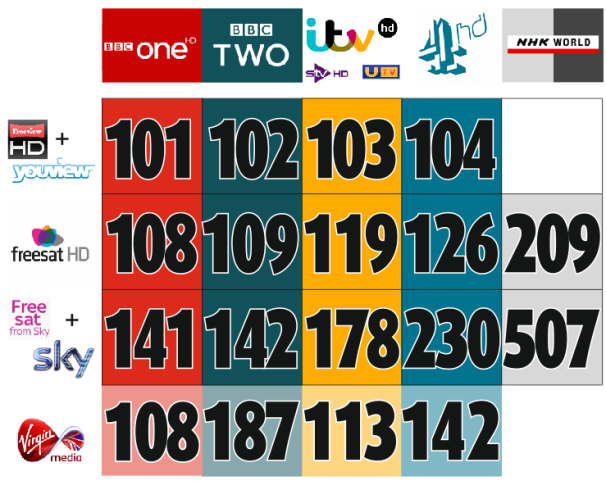 However, when the public were asked "where would you like to find HD channels", the answer came back a resounding "on the normal channel numbers please".

So, is Digital UK going to do this? No.

The problem is that the existing Freeview HD services are not directly replacements for the standard definition channels, as I covered recently in I've got an HD TV ... why can't we have high definition channels in place?.

BBC One HD currently existing in three versions that are suitable for "substitution", the versions for Scotland, Wales and Northern Ireland.

BBC Two HD is currently the English version, so can be substituted only in England.

ITV has 17 standard definition versions, only four of which are in HD: Granada, Central West, Meridian East and London. Outside these areas in England, no substitution could be made.

STV has 4 standard definition variants, but one HD service: Central West, so only Glasgow could be switched automatically.

UTV is OK; it has one SD version and one HD version.

Channel 4 has 6 SD versions, but one HD version: the London (advertisements) service.

Digital UK will reconsider the introduction of substitution late 2014 or early 2015.

For more, see Statement on proposals for the Freeview HD genre and on amendments to Digital UK's LCN Policy Published: 7 August 2013.
Comments
Saturday, 21 February 2015

David: there could be a couple of reasons:

1) The box os not connected to your monitor via an HDMI cable. To be honest, I can't think how else it could be attached, so I think we can discountt that one.

2) The box has missed the mux, or even the correct transmitter. Because you put your postcode in (which is extremely useful!) we can see that Haslingden and Winter Hill are almost at the same distance, and almost on the same bearing. But the former starts at Channel 26, and the latter at Channel 50. If you box is like mine, it starts at the low numbers and works upwards - hence hitting Haslingden first. And Haslingden does not transmit Film 4 in HD...

The other thing could be thats its not a HD box (so a make/ model number would help), but I suspect your simply tuned into the wrong transmitter. Try taking out the aerial lead for the first 30% of the scan (David Lindsay's trick) and see if you just get Winter Hill. Its a bit hit and miss, but it should eventually work. Once tuned in, never retune!

MikeB's 2,579 posts

David : Due to a lack of capacity on the relatively new COM7 HD transmitter Film4 (LCN15) is presently transmitted in SD on PSB2, if you wish to view it in HD then you have to select its +1 (Film4+1) service on LCN45 which is broadcast on the PSB3 HD transmitter, as used by such as ITV HD / BBC3 HD etc.

jb38's 7,179 posts
Sunday, 22 February 2015

David : Re: your query on Film4 HD. Please disregard that said in my reply made yesterday @ 9.03PM, as further checking has revealed that Film4 HD (whether +1 or not) is not available as yet on the Freeview platform, and even although +1 is being transmitted on an HD transmitter its only being broadcast on SD.

This being the case, there is no real advantage of using Film4's +1 service on (45) over the normal SD transmission on (15), that is unless having a specific reason for wishing to view Film4 on its +1 service.

Apologies if any confusion was caused by this error.

jb38's 7,179 posts
Select more comments
Your comment please