The end is near for analogue radio... Part 4, the local radio to do list

Brian Butterworth published on UK Free TV
As we saw from part one, radio started out as a regional services. From this national networks were added. Then from 1969 onwards, local radio was added.

However, running a network of local radio stations, all with their own output, staff, presenter and news has always stretched the budget of individual stations a little bit thin.

This is as true for BBC stations, which share a small proportion, 4.6% of the TV Licence (£114.7m on content, £9.9m on distribution, £27.9 on infrastructure, making £152.5m), as it is for local commercial stations that fund themselves from adverts.



DAB local radio
Almost all of the country does now have a local radio
DAB
service - see
List of all DAB multiplexes
, but there are still some on the "to do very soon" list.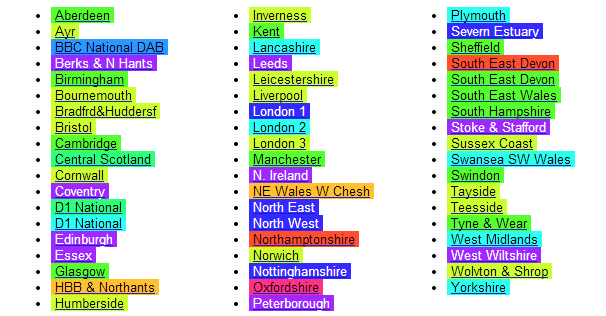 The "missing" services cover 5,583,000 people, which is about 9% of the UK population.
These are:
Cumbria
- 408,000 people
Derbyshire
- 652,000 people, Now
Digital
(East Midlands) Limited
Gloucestershire
- 498,000 people, MuxCo (Gioucestershire) Limited
Hereford and Worcester
- 501,000 people, MuxCo (South Midlands) Limited
Lincolnshire
- 550,000 people, MuxCo Lincolnshire Limited
Mid and West Wales
377,000 people, MuxCo
Wales
Limited
North Yorkshire
- 531,000 people, MuxCo North Yorkshire Limited
Somerset
- 444,000 people, MuxCo Somerset Limited
Suffolk
- 541,000 people
Surrey
about 1.085 million people, MuxCo Surrey and North Sussex Limited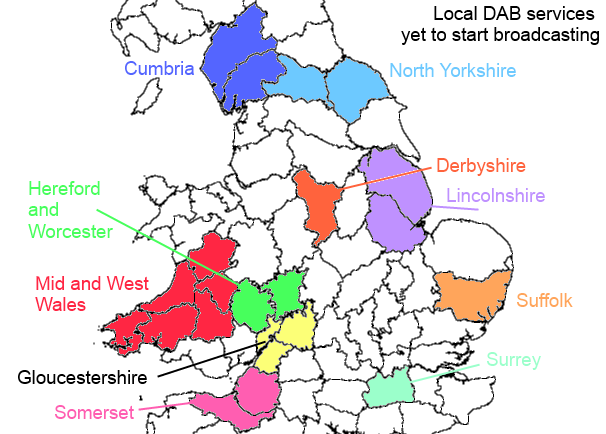 Why can't we have local radio on Freeview?
The
Freeview
service is provided on six
Multiplexes
. Like the DAB multiplexes, these services provide a large number of
channels
together on a single broadcast.
The three "commercial" multiplexes operate a UK wide service, and are therefore unsuitable for local radio. One of the "public service" multiplexes is for high definition TV services only.
This leaves the BBC and Digital 3+4 multiplexes. However, even though these services are "regional", they each cover many "local radio" areas. It would therefore be impracticable to add so many local stations to either
multiplex
.
However,
Local television on Freeview
is coming. These services are designed to provide a
local TV
service to specific local areas. It may be possible for each of these multiplexes to have local radio added to them.
Why can't we have BBC local radio on Freesat or Sky?
The additional cost for the BBC to add the 39 local radio stations not on digital
satellite
(BC
London
94.9 is already there) to the
four DVB-S mode transponders
would probably be marginal.
However, the BBC does have to currently pay
Sky
a large fee to add channels to the Sky EPG, so this would be perhaps unreasonably expensive (see
Government to stop Sky charging public service broadcasters for "retransmission"
).
And whist the BBC owns
Freesat
, it would probably not be worth the bother of up linking 39 radio streams if Sky viewers could not also benefit.
See also
BBC - Annual Report 2012/13 - Expenditure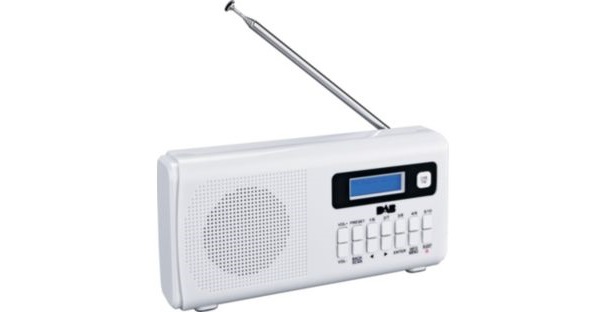 Comments
Saturday, 31 August 2013
C
Charles Stuart
10:54 PM
Bristol

@Trevor Harris and Nick Wilcock - I have had two cars with DAB to FM Transverters and, for my current car, I bought a DAB/FM radio to fit. There's no major surgery involved in fitting the DAB band III aerial. You do not need the windscreen aerial because you can get a magnetic roof antenna. However, I found the windscreen aerial that I had in one car no problem because it was so far away from the driver's line of sight that it wasn't an issue. It's far less dangerous than furry dice and it's far less of an obstruction than the average satnav. I like DAB because none of the stations I like broadcast on FM. I can't imagine the phone bill for using Internet radio incar on a regular basis. I only get 250Mb monthly data allowance on my mobile contract and I really don't think that would go far if I used it for good quality radio.

Charles Stuart's 159 posts
Charles's:
map
C's Freeview map
terrain
C's terrain plot
waves
C's frequency data
C's Freeview Detailed Coverage
Sunday, 1 September 2013

The problem with installing an external aerial is that can invalidate your warrenty unless it is manufacturer installed. I know some adapters can connect to the FM aerial of the car radio but then you loose FM. Some have a bypass option so you can still switch between FM and DAB but that is a bit messy.

Yep you would need a better data allowance. 4 hours a day at 128kb/s is about 7 GB/month but there are plenty of unlimited plans out there. You then get all the internet services as well.

Actually if you don't listen to FM the so called switch off won't affect you in any case.

Trevor Harris's 367 posts

Briantist: is there any reason that only Lindsey is coloured in for Lincolnshire and not Kesteven and Holland?

Also, quite a few of the "covered" areas don't yet have local services, like parts of Norfolk.

MJ Ray's 44 posts

For DAB distribution in the home from the loft box with a roof or loft DAB aerial you will have to change all of the house room wall plates that have a TV/FM splitter because the band does not extend high enough for DAB.This only applies on the earlier built houses prior to 2000.

Brian Wright's 77 posts
C
Charles Stuart
6:59 PM
Bristol

"4 hours a day at 128kb/s is about 7 GB/month but there are plenty of unlimited plans out there."

And how much do they cost? My contract is about £21pm and I don't really wish to spend much more.

I'm not sure what you mean about invalidating the warranty regarding magnetic antennae on the car. Though that's not a problem for me because my car's an old banger, the antenna doesn't cut through any part of the car's fabric. The lead goes under the carpet in the passenger footwell, then up around the door seal and out onto the roof. There's no hole in the door seal, nor the carpet, nor the plastic thing into which the radio is inserted.

Charles Stuart's 159 posts
Charles's:
map
C's Freeview map
terrain
C's terrain plot
waves
C's frequency data
C's Freeview Detailed Coverage

nickwilcock: I can personally confirm that the community radio station I volunteer at - BCB 106.6FM in Bradford, is NOT rubbish!

Some of our output, particularly the sports coverage, is often better than that I hear from local commercial and, in some cases the local BBC stations.

The community radio sector provides a vital local service and you should be way of making sweeping generalisations about it.

Michael S's 7 posts

Giffgaff does an "all you can eat" for £12 pm. Judging by what is happening at three it looks like there is a bit of a price war at the moment.

Yep if your out of warrenty there is no problem other than it might get nicked.

@Brian Write

You raise another interesting point. Many metal framed flats will have to have DAB added to thier distribution systems if the BBC goes ahead with its plans.

Trevor Harris's 367 posts

I am not sure if everyone has noticed that the BBC does not broadcast in stereo on any of its DAB stations. The BBC uses Joint stereo which encodes the stereo information in a compressed form. Like all lossey compression this produces an inferior stereo effect which has its own artifacts.

Another very contentious thing the BBC does is to apply fairly heavy digital signal processing. This not only includes dynamic range compression but also adds processing designed to reduce the MP2 artifacts. This results in the output bearing very little resemblance to the original sound.

Trevor Harris's 367 posts
Monday, 2 September 2013

Trevor Harris: Joint stereo ... which is exactly like ... FM!

Briantist's 38,900 posts

Why are we continuing with DAB in its present inferior form anyway?.
The EU has recommended several years ago that they will go ahead with DAB plus.
This will give better control of the bandwidth required and for us listeners a much better audio experience.
The portable DAB radio's will also have a reduced demand on their internal batteries as at present they are not practical to be powered by batteries due to the radios high power demands.
We were promised better sound and higher dynamics on DAB than FM but just take a look at the bit rates that most broadcasters are using and you can see why there are other limitations.
Where is the typical 256kb/s + promised by the BBC before DAB's launch,
Rather like the poor bit rates that we have to endure when viewing Freeview!
Its all about Quantity and not Quality and pandering to the lower end of listening of mobile and portable receivers.


Brian Wright's 77 posts
Select more comments
Your comment please