The end is near for analogue radio... Part 4, the local radio to do list

Brian Butterworth published on UK Free TV
As we saw from part one, radio started out as a regional services. From this national networks were added. Then from 1969 onwards, local radio was added.

However, running a network of local radio stations, all with their own output, staff, presenter and news has always stretched the budget of individual stations a little bit thin.

This is as true for BBC stations, which share a small proportion, 4.6% of the TV Licence (£114.7m on content, £9.9m on distribution, £27.9 on infrastructure, making £152.5m), as it is for local commercial stations that fund themselves from adverts.



DAB local radio
Almost all of the country does now have a local radio
DAB
service - see
List of all DAB multiplexes
, but there are still some on the "to do very soon" list.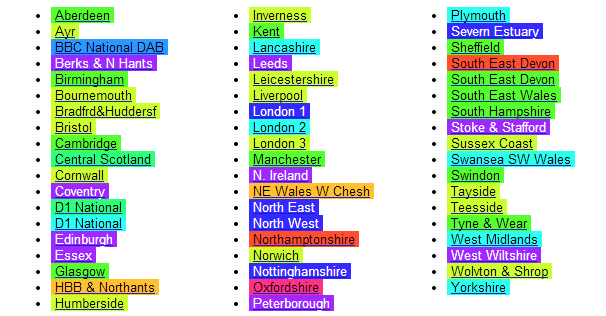 The "missing" services cover 5,583,000 people, which is about 9% of the UK population.
These are:
Cumbria
- 408,000 people
Derbyshire
- 652,000 people, Now
Digital
(East Midlands) Limited
Gloucestershire
- 498,000 people, MuxCo (Gioucestershire) Limited
Hereford and Worcester
- 501,000 people, MuxCo (South Midlands) Limited
Lincolnshire
- 550,000 people, MuxCo Lincolnshire Limited
Mid and West Wales
377,000 people, MuxCo
Wales
Limited
North Yorkshire
- 531,000 people, MuxCo North Yorkshire Limited
Somerset
- 444,000 people, MuxCo Somerset Limited
Suffolk
- 541,000 people
Surrey
about 1.085 million people, MuxCo Surrey and North Sussex Limited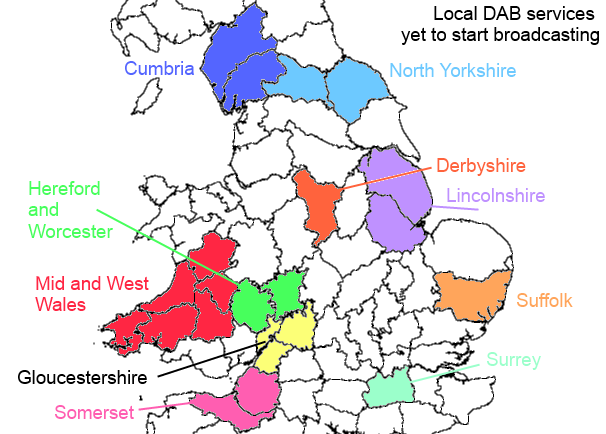 Why can't we have local radio on Freeview?
The
Freeview
service is provided on six
Multiplexes
. Like the DAB multiplexes, these services provide a large number of
channels
together on a single broadcast.
The three "commercial" multiplexes operate a UK wide service, and are therefore unsuitable for local radio. One of the "public service" multiplexes is for high definition TV services only.
This leaves the BBC and Digital 3+4 multiplexes. However, even though these services are "regional", they each cover many "local radio" areas. It would therefore be impracticable to add so many local stations to either
multiplex
.
However,
Local television on Freeview
is coming. These services are designed to provide a
local TV
service to specific local areas. It may be possible for each of these multiplexes to have local radio added to them.
Why can't we have BBC local radio on Freesat or Sky?
The additional cost for the BBC to add the 39 local radio stations not on digital
satellite
(BC
London
94.9 is already there) to the
four DVB-S mode transponders
would probably be marginal.
However, the BBC does have to currently pay
Sky
a large fee to add channels to the Sky EPG, so this would be perhaps unreasonably expensive (see
Government to stop Sky charging public service broadcasters for "retransmission"
).
And whist the BBC owns
Freesat
, it would probably not be worth the bother of up linking 39 radio streams if Sky viewers could not also benefit.
See also
BBC - Annual Report 2012/13 - Expenditure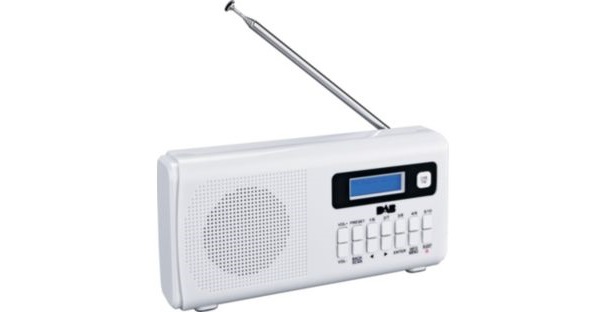 Comments
Thursday, 5 September 2013

Unfortunately Internet radio is still far too prone to poor server reliability and indifferent audio streams which are there one day, gone the next.

Even 'Gold' is rubbish on Internet, yet at 128kbps stereo on DAB is adequate for my bedside clock radio.

Internet radio in cars? Perhaps in cities, but hardly likely in the countryside.

nickwilcock's 24 posts
Friday, 6 September 2013

My gripe with internet radio is what happens if the internet ever goes down ? Why has no one thought of this scenario ? It could be a long time before the technology is back up and running again.

We need a reliable terrestrial back up, either AM/FM or DAB.

It's a real pity DRM has failed (for now at least) due to a lack of affordable receivers. I think it would have been a great replacement for AM on MW/LW.

Just think, loads of stations in high quality digital sound on MW. It's a crying shame this wasn't done properly.

PJH's 240 posts

There's nothing wrong with DAB when it works Trevor, in my opinion.

Still, if FM had been done properly who needs DAB or Internet radio ?

Go to any European country, especially the likes of Spain, France, and Italy and there are far more stations than there are in the UK. When I was in Salou a couple of years ago I counted 40-50 stations on FM, all playing a wide variety of music. I've often wondered why this is. Is it because Ofcom has far to big a stranglehold on radio in this country ? Maybe the real answer is to deregulate the whole medium and see what happens.

PJH's 240 posts

@PJH

The internet has very high resiliance. The internet routing protocol automatically find the best route to send packets to its destination. Major fibre links are backed up by satellite links.

As for DAB major transmitters I understand are fed by fibre or microwave links. Fill in stations may be fed from the major transmitters. I think they do have backup links.

There is also Freeview and Satellite for radio backup. DAB is not needed.

By the way DRM and DRM+ are not dead. France has a trial on at the moment. The BBC is heavily involved in DRM development but it is thought that they have kept quiet about it because of DAB. My Guess is that they want to use it in band II after the switch off. The BBC world service already uses it for the world service.


Trevor Harris's 367 posts

Trevor Harris:

"The internet has very high resiliance."

Mobile networks were shut down completely after the Boston marathon bombing. The only way to listen to radio was via broadcast platforms. In times of emergency a broadcast platform is essential.

"My Guess is [the BBC] want to use [DRM+] in band II after the switch off."

Ofcom are proposing to use some of the FM band for community and small-scale stations, the remainder will be auctioned off for white space devices under their draft proposals. The BBC has no proposals to use DRM+ in the UK, as all of their stations will fit on to DAB multiplexes. The World Service is on DAB in the UK, but DRM is useful for reaching remote parts of the globe (including parts of India, Russia & Brazil).

They are not keeping quiet, there is just nothing happening with DRM+ in the UK.

France has just approved DAB+ as an oficial standard, and DAB+ stations will launch there shortly.

Mark's 181 posts
Saturday, 7 September 2013

DRM+ can be used in the space between the current FM stations. Ideal for local stations as DRM+ is not multiplexed.

As for Boston marathon there was still broadband, satelitte, and cable. They may even have public wifi.

Trevor Harris's 367 posts

"There is also Freeview and Satellite for radio backup. DAB is not needed."

Exactly how do you listen to this using either a portable or car radio ??????

Plus, there are stations on DAB that aren't on Freeview or satellite (Classic FM springs to mind) so it's far from useless.

As I say, DAB is great when it works. I'm lucky to be in an area where the DAB signal is excellent.

Now that we have Digital One, 30 odd stations on DAB isn't bad at all, without the worry of an internet connection.

PJH's 240 posts

Most people do not listen to the radio via the internet, satellite, or cable Trevor.

PJH's 240 posts

PJH: I think we are looking at convergence - I listen on DAB/internet at home (both via radio and Ipod, FM in the car (still no DAB radio), and if you want high quality, then internet/Freeview. How you listen depends on what you have - basically its a smorgasbord.

And its going to get more complex as mobile internet streaming comes more standard/cheaper via 3/4G and possibly via sat navs. And as more radios have FM, DAB and internet (plus plugins for other devices and straight streaming capacity), FM gets squeezed even more.

MikeB's 2,579 posts

The BBC is manipulating the DAB listening nos "survey"by including freeview and internet listeners. In pracise who wants to turn on a tv or computer to listen to the archers? and its not very energy efficient !

steve tames's 6 posts
Select more comments
Your comment please