The end is near for analogue radio... Part 4, the local radio to do list

Brian Butterworth published on UK Free TV
As we saw from part one, radio started out as a regional services. From this national networks were added. Then from 1969 onwards, local radio was added.

However, running a network of local radio stations, all with their own output, staff, presenter and news has always stretched the budget of individual stations a little bit thin.

This is as true for BBC stations, which share a small proportion, 4.6% of the TV Licence (£114.7m on content, £9.9m on distribution, £27.9 on infrastructure, making £152.5m), as it is for local commercial stations that fund themselves from adverts.



DAB local radio
Almost all of the country does now have a local radio
DAB
service - see
List of all DAB multiplexes
, but there are still some on the "to do very soon" list.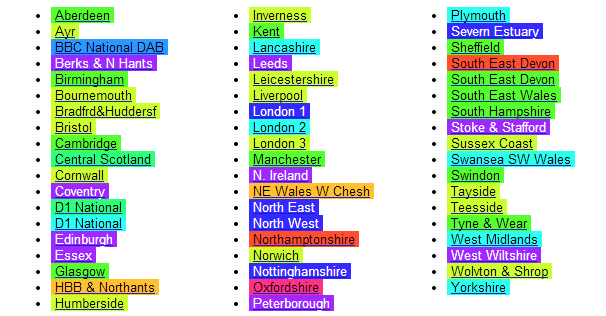 The "missing" services cover 5,583,000 people, which is about 9% of the UK population.
These are:
Cumbria
- 408,000 people
Derbyshire
- 652,000 people, Now
Digital
(East Midlands) Limited
Gloucestershire
- 498,000 people, MuxCo (Gioucestershire) Limited
Hereford and Worcester
- 501,000 people, MuxCo (South Midlands) Limited
Lincolnshire
- 550,000 people, MuxCo Lincolnshire Limited
Mid and West Wales
377,000 people, MuxCo
Wales
Limited
North Yorkshire
- 531,000 people, MuxCo North Yorkshire Limited
Somerset
- 444,000 people, MuxCo Somerset Limited
Suffolk
- 541,000 people
Surrey
about 1.085 million people, MuxCo Surrey and North Sussex Limited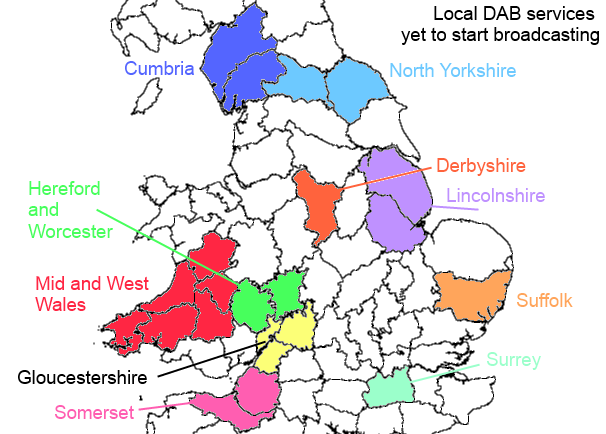 Why can't we have local radio on Freeview?
The
Freeview
service is provided on six
Multiplexes
. Like the DAB multiplexes, these services provide a large number of
channels
together on a single broadcast.
The three "commercial" multiplexes operate a UK wide service, and are therefore unsuitable for local radio. One of the "public service" multiplexes is for high definition TV services only.
This leaves the BBC and Digital 3+4 multiplexes. However, even though these services are "regional", they each cover many "local radio" areas. It would therefore be impracticable to add so many local stations to either
multiplex
.
However,
Local television on Freeview
is coming. These services are designed to provide a
local TV
service to specific local areas. It may be possible for each of these multiplexes to have local radio added to them.
Why can't we have BBC local radio on Freesat or Sky?
The additional cost for the BBC to add the 39 local radio stations not on digital
satellite
(BC
London
94.9 is already there) to the
four DVB-S mode transponders
would probably be marginal.
However, the BBC does have to currently pay
Sky
a large fee to add channels to the Sky EPG, so this would be perhaps unreasonably expensive (see
Government to stop Sky charging public service broadcasters for "retransmission"
).
And whist the BBC owns
Freesat
, it would probably not be worth the bother of up linking 39 radio streams if Sky viewers could not also benefit.
See also
BBC - Annual Report 2012/13 - Expenditure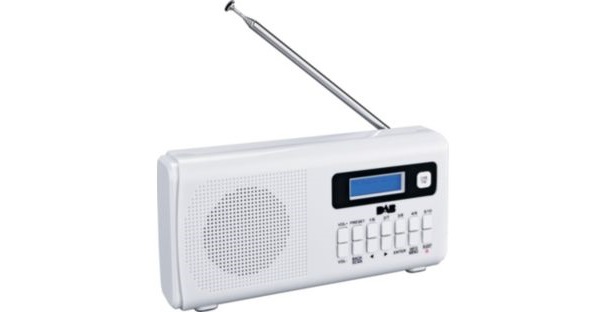 Comments
Wednesday, 18 September 2013

PJH: that is good news cassette tapes are making a comeback

sharealam's 225 posts

@Mark

DAB+ does not give only a slight improvment in error correction. DAB uses unequal error protection using convolutional error correction coding. This means that different parts of the DAB signal have different levels of correction. The part of the stream which contains the audio information has the lowest level of correction. The overal level of correction is very weak compared to DAB+.

I don't know where you got the 2% figure but that certainly not my experience. In fact DAB is famous for the burbling sound it can produce under non ideal conditions. DAB+ gives a much sharper cutoff with weak signals.

For a good comparision of DAB and DAB+ see

DAB vs DAB+

Although DAB+ is much better than DAB it still cannot replace FM. The BBC could be charged with misselling DAB. Infact they had to pull some of thier adverts where they claimed that DAB was CD quality.



Trevor Harris's 367 posts

No it isn't sharealem.

They were horrible in their heyday and they're horrible now, even with Dolby noise reduction, which compressed the sound so much they sounded better with it turned off, tape noise aside.

Add to the fact that one dirty tape would ruin your whole collection of tapes,I fail to understand the appeal.

Why mini disc didn't replace it is beyond me.

PJH's 240 posts

Trevor: You can even hear the difference between DAB and FM on a portable mono radio. FM has much better sound quality.

DAB is superior to AM, even in mono, but there's no way it comes close to FM unless the bit rate is very high.

We should ask ourselves why the BBC have Radio 3 at 192 kbps.

PJH's 240 posts

To be honest, I'd rather have fewer stations on DAB at higher bit rates and in stereo, than a whole pile at lower bit rates and in mono.

Music stations in mono at low bit rates totally defeats the purpose of DAB.

PJH's 240 posts

sharealam: You must have missed out on the joy of wow and flutter and azimuth errors.

Not to mention having to splice the flimsy stuff together with tape when they snapped.

Or the particular joy of flattening the batteries on your Walkman because you used "fast forward".

Or having to "save" your ZX Spectrum programme five or six times because you might want to load it back in.

Or dropouts: I still know the location of many of them in tracks I have in perfect digital quality now.

Briantist's 38,902 posts

briantist,i happy because i have a box full of cassette tapes thats why i am happy to see cassette tapes come back.

sharealam's 225 posts

Briatnist: Looking at where this discussion is going, perhaps all the hipsters are about to start using 8 track cassettes again! Of course all the music will be from about 1973, but I think thats when some seem to think technology should have stopped...

Sharealam: I think PJH was making a joke about cassettes coming back. They really are not - and they sound pretty awful compared with everything else.

PJH: Apparently the last minidisc player was sold in March this year! On the other hand, the MP3 had basically killed it after 1998 (and it wasn't doing all that well before then).

Right, I'm waiting for someone to shout out the benefits of the Edison wax cylinder. Very analogue.

MikeB's 2,579 posts

PJH: Better sound quality on a portable radio on FM? Maybe if you live in a strong signal area. FM reception on the average portable radio using a telescopic rod aerial in many areas is frequently marred by hiss and buzzing or whining in the background from any computer in use within a hundred yards of the receiver!

KMJ,Derby's 1,811 posts

KMJ: Yes, undoubtedly. On a Pure Move 400D FM sounds warmer and more mellow than DAB.

The difference is there and very obvious.

The same can be said for every DAB/FM portable that I've owned.

In the area that I live in FM reception is not marred by hiss, buzzing, or whining in the background.

I've never been to Derby KMJ, but in the many towns and cities I've visited in the UK I've never encountered any of these adverse effects on FM. .

PJH's 240 posts
Select more comments
Your comment please