The end is near for analogue radio... Part 4, the local radio to do list

Brian Butterworth published on UK Free TV
As we saw from part one, radio started out as a regional services. From this national networks were added. Then from 1969 onwards, local radio was added.

However, running a network of local radio stations, all with their own output, staff, presenter and news has always stretched the budget of individual stations a little bit thin.

This is as true for BBC stations, which share a small proportion, 4.6% of the TV Licence (£114.7m on content, £9.9m on distribution, £27.9 on infrastructure, making £152.5m), as it is for local commercial stations that fund themselves from adverts.



DAB local radio
Almost all of the country does now have a local radio
DAB
service - see
List of all DAB multiplexes
, but there are still some on the "to do very soon" list.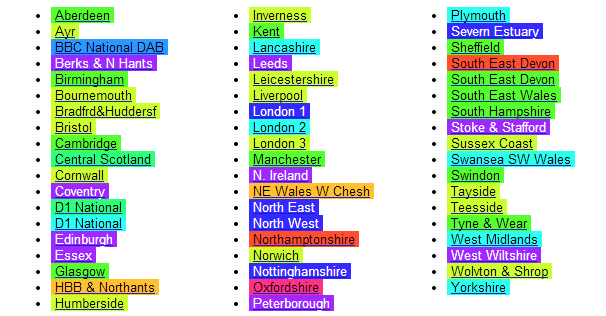 The "missing" services cover 5,583,000 people, which is about 9% of the UK population.
These are:
Cumbria
- 408,000 people
Derbyshire
- 652,000 people, Now
Digital
(East Midlands) Limited
Gloucestershire
- 498,000 people, MuxCo (Gioucestershire) Limited
Hereford and Worcester
- 501,000 people, MuxCo (South Midlands) Limited
Lincolnshire
- 550,000 people, MuxCo Lincolnshire Limited
Mid and West Wales
377,000 people, MuxCo
Wales
Limited
North Yorkshire
- 531,000 people, MuxCo North Yorkshire Limited
Somerset
- 444,000 people, MuxCo Somerset Limited
Suffolk
- 541,000 people
Surrey
about 1.085 million people, MuxCo Surrey and North Sussex Limited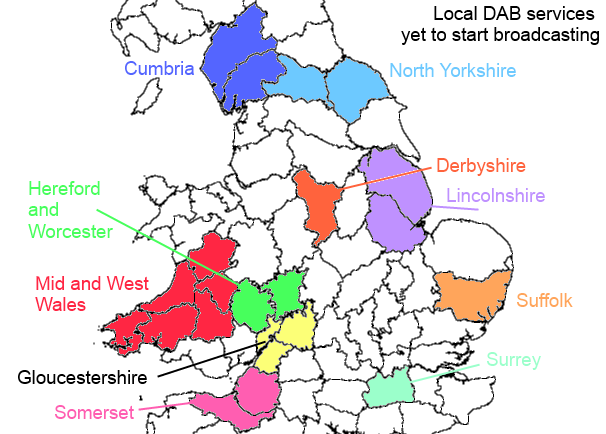 Why can't we have local radio on Freeview?
The
Freeview
service is provided on six
Multiplexes
. Like the DAB multiplexes, these services provide a large number of
channels
together on a single broadcast.
The three "commercial" multiplexes operate a UK wide service, and are therefore unsuitable for local radio. One of the "public service" multiplexes is for high definition TV services only.
This leaves the BBC and Digital 3+4 multiplexes. However, even though these services are "regional", they each cover many "local radio" areas. It would therefore be impracticable to add so many local stations to either
multiplex
.
However,
Local television on Freeview
is coming. These services are designed to provide a
local TV
service to specific local areas. It may be possible for each of these multiplexes to have local radio added to them.
Why can't we have BBC local radio on Freesat or Sky?
The additional cost for the BBC to add the 39 local radio stations not on digital
satellite
(BC
London
94.9 is already there) to the
four DVB-S mode transponders
would probably be marginal.
However, the BBC does have to currently pay
Sky
a large fee to add channels to the Sky EPG, so this would be perhaps unreasonably expensive (see
Government to stop Sky charging public service broadcasters for "retransmission"
).
And whist the BBC owns
Freesat
, it would probably not be worth the bother of up linking 39 radio streams if Sky viewers could not also benefit.
See also
BBC - Annual Report 2012/13 - Expenditure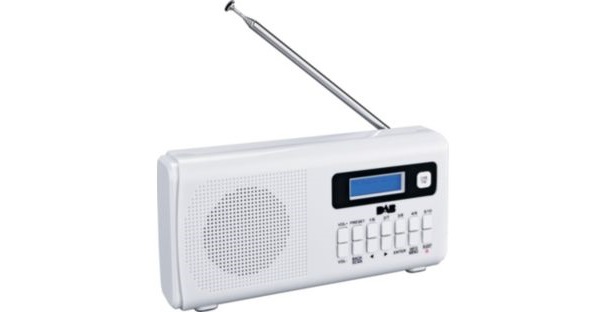 Comments
Thursday, 19 September 2013

The general public haven't a clue about what sound quality means with regard to DAB Trevor.

Ask anyone what bitrates and compression mean and they'll look at you blankly.


PJH's 240 posts

Trevor Harris: I can only agree with Briantist and PJH. The market are those people who actually use radio, be it DAB, internet, FM, etc. They clearly have been buying DAB radios, etc. Those that write into Ofcom are not very representative of the whole - as PJH rightly puts it, most people have no idea what bitrate means, and really dont care.

The sound quality of my DAB/FM radio is not so different as to worry about it, and I'm sure thats the case for most people. They do like the increased number of channels, etc, and have voted with their wallets.

I suspect many of those that swore in a survey last year Digital radio sales stall as half of homes without DAB won't buy one this year | Media | theguardian.com that they would never buy a digital radio are going to change their mind, because the vast majority of radios on shop shelves are now DAB anyway. And at less than £20-30 for many, thats a price point that will be attractive (if only as a Christmas present!). Even if they listen via mobile internet, that still means they are listening on digital, not analogue.

MikeB's 2,579 posts

The survey was with "All analogue radio listeners who know alot / a little about digital radio" and was carried out for Ofcom by Mori.

@PJH

"The general public haven't a clue about what sound quality means with regard to DAB Trevor. "

I find that a very insulting comment. They may not appreciate the technical details but they can appreciate the difference between poor and good quality sound. Infact most audio quality testing is done with non experts and is found to be consistant with the expert opinion.

Infact in a subsequent consultation the public were opposed to the bitrate lowering and it was only the broadcasters who wanted it. Reading the report it becomes clear that the main motive was financial. Ofcom also stated that they did not believe that most broadcasters would lower the bitrate but they were proved wrong.

It is quite clear that Ofcom was not acting in the public interest.

@MikeB

They might be buying DAB radio but it does not mean they are listening to DAB. I have an Internet/FM/DAB radio but I certainly do not listen to DAB awfull noises.

You are right about internet listening but the point is that the BBC has waisted hundreds of millions on a legacy radio system which is not fit for purpose. Rather like the £100 million they waisted on thier computer project or the £250 million overspend on Broadcasting House.

All this is not the main issue here in any case it is the proposed national shutdown when 50% of listeners are still using FM. That is insanity.

Trevor Harris's 367 posts

Trevor: What percentage of the general public do you think know what bitrates the various DAB stations broadcast at and whether or not they're in stereo ? Very few I would imagine, and I'm not trying to be insulting. That is the nature of things.

Heck, most DAB radios don't even display this information these days, so there's absolutely no way of knowing.

and how many are even aware that the rest of the world is using DAB+, and that if this is adopted by the UK their CD sound quality DAB radio will be obsolete ?

Come on Trevor. Personally, I think it's an insult to the intelligence of the general listening public that DAB only radios are still being sold in the UK. DAB+ is probably inevitable at some point, whether Ofcom like it or not.

For example, I cannot understand why Roberts have DAB+ on their European versions but not on their UK models (even via a software update).

At this moment in time, the general public should be made aware that a DAB radio will not work if the UK switch to DAB+.

PJH's 240 posts

and you can pick up a DAB+ radio for £50 or less these days, so there's no excuse.

At this point no one in the UK should be buying a DAB only radio, whether it's a cheap model or not.

That most people are totally oblivious to this fact is a travesty.

PJH's 240 posts

and why doesn't Ofcom and D Love promote this fact in their DAB advertising campaign ?

I dunno.

PJH's 240 posts

Trevor Harris:

"Ever since the public have been voting with thier wallets and not buying grotty DAB radios."

That isn't true actually - the listening figures for Absolute 80s, Planet Rock & Jazz all increased AFTER they lowered the bit rate. About two thirds of listening to these stations is via DAB, according to RAJAR.

Around 46% of homes now have access to at least one DAB radio, and DAB homes and listening are increasing every quarter.
Analogue radio sales are falling.

People are buying DAB because they like the extra stations, The Absolute 80s, Jazz and BBC 6 Music listening figures are soaring. You cannot get these stations on an FM radio.


Mark's 181 posts

"People are buying DAB because they like the extra stations, The Absolute 80s, Jazz and BBC 6 Music listening figures are soaring. You cannot get these stations on an FM radio."

I'm not sure about that. The only reason I have a Sony DAB/DAB+ alarm clock radio is that the price was OK snd my previous Sony packed up after over 30 years.

But I do agree that Gold Radio is worth listening to.

Unfortunately car audio isn't awash with DAB/DAB+ solutions - and nasty little add-ons with screen-mounted antennae are NOT acceptable. If there was a fit/form/function 'box out/box in' replacement for my M-B Audio 10, I might consider it. But locating an antenna on an SLK isn't easy....

nickwilcock's 24 posts

nickwilcock: 'The only reason I have a Sony DAB/DAB+ alarm clock radio is that the price was OK snd my previous Sony packed up'.

I think thats how the digital ball is rolling - pretty much all radios have DAB these days. When one packs up, by default, when you buy a new one, get given one for Christmas, etc, you've got DAB.

Once you get the extra stations, are you going to listen on FM and DAB? No, you just use digital, and when the next set goes, DAB is the automatic choice.

Car radios seem more of a pain, because of the aerial and cost, but better coverage and economies of scale will improve that, and of course as each new car comes with DAB as standard.


MikeB's 2,579 posts

A decent digital radio costs about £150. I have a Roberts Stream 205 which by no means what I call a quality radio. It's of no value to quote low prices for cheap dab radios as you can get a Sony AM/FM radio for £8 from Amazon.

@PJH

Roberts probably don't support DAB+ because of the extra licence fee thay would have to pay.

The fact is the share of listening on DAB is still only a pathetic 23.9%. This is after years of massive advertising campains.

If people want to listen to DAB fine but FM should not be switched off to satisfy such a small proportion of listeners.


Trevor Harris's 367 posts
Select more comments
Your comment please