14 reasons why you should stop moaning about paying the TV Licence every day

Brian Butterworth
published on
UK Free TV
I think I have lost count of the number of times that people have objected to this site being called UK Free TV. But, they say, the TV Licence (c and c, as we are British) costs £145.50 a year.

It is true, of course, as you can find out from TV Licensing (c and s this time). If you have any device that you can watch TV as it broadcast, you need to pay up.

Going into a local store to buy a brand-new off-contract phone recently, I noted with interest that you can also get it for "free", but only if you pay for a contract. This reminds me of the excellent quote from 1984 by George Orwell:

To give a single example. The word free still existed in Newspeak, but it could only be used in such statements as "This dog is free from lice" or "This field is free from weeds" ... Reduction of vocabulary was regarded as an end in itself, and no word that could be dispensed with was allowed to survive.

Last month we looked at Does the BBC or BSkyB spend more on programmes?, so it is only fair to consider the cost of the rest of the free channels.

So here is a graphic comparing the daily cost of TV from the main UK broadcasters: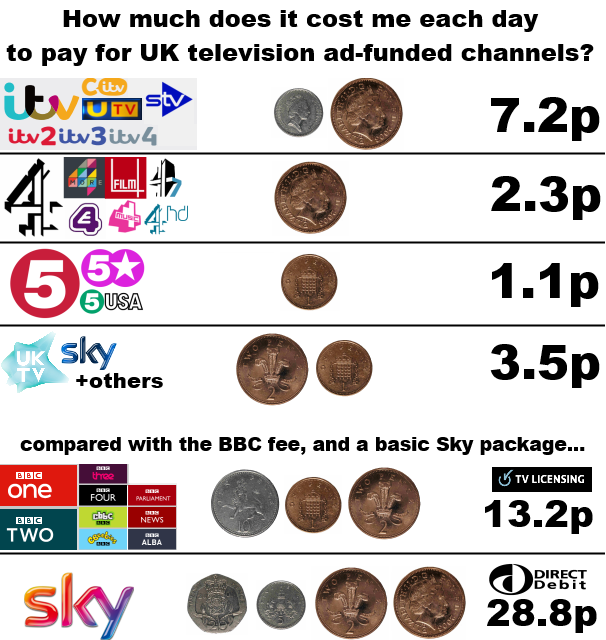 The first row shows the joint total for ITV, STV and UTV. It is worth noting that the Channel 3 broadcasters provide a regional news service on their main channels: however some channels such as itv3 and c-itv are wholly archive.

The second row shows the figures for Channel 4. This channel is a UK-wide service with no expensive regional programmes. The other channels from this broadcaster are archive TV shows and movies.

The Channel 5 services have some first-run UK content, but a large proportion of the output is from US broadcasters. These imported programmes are cheaper to show as they have been funded by their broadcast in other markets: the USA has a population five times that of the UK.

The fourth line is the figure for "all other broadcasters". This includes the likes of UKTV (a BBC/Scripps joint venture) and channels that use BSkyB to sell their advertising time.

It is worth remembering that the above figures for the cost of advertising only include the cost of airtime paid directly to the broadcaster. The real cost of advertising that is passed onto consumers also includes the cost of scripting and producing the adverts and also paying the actors, voice talent and musicians.

I have not been able to come up with a figure for this, so did not include it. Of course, this is passed onto you, the consumer.

For comparison, the BBC fee income has been reduced by 20% (to account money spent on national and local radio stations), and factored to represent the average 2.4 people-per-household in the UK. Also shown is the most-basic £21.50 Sky package.

The BBC still seems good value for money. These commercial broadcasters spend 20% of their airtime on adverts, not programmes. The BBC runs two channels of first-run UK content, with a large network of regional studios.

The "old argument" against the BBC taking advertising still holds: it would clearly put ITV plc out of business in minutes.
Comments
Tuesday, 14 January 2014

According to the Daily Mail (yes I know) a third of BBC 1 programs were repeats in 2012. Across all BBC channels it is 2 thirds. The 8.4% is for peak times only (6:30 to 10:30)

http://www.dailymail.co.u…html

trevorjharris's 367 posts

trevorjharris: I guess you don't want BBC programmes to be shown during the night with in-vision signing for people with hearing loss? BBC - My Web My Way - BSL programmes online

Seems a bit selfish to me.

Briantist's 38,907 posts

It's worth also remembering that the UK television viewing day is as follows




From http://downloads.bbc.co.u….pdf

Also, radio is different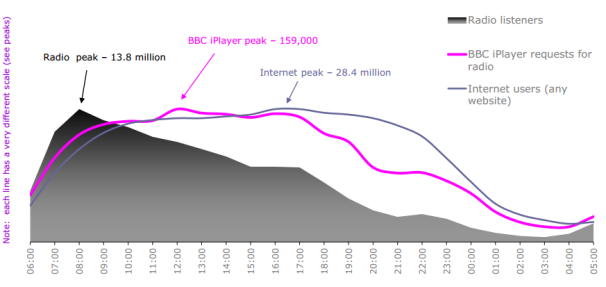 Briantist's 38,907 posts

Also from BBC document

http://downloads.bbc.co.u….pdf

"Peak time defined as 6-11pm"


Briantist's 38,907 posts

i think its time BBC went independent like itv... the reason i say this is... bbc sell programmes all over the world and have world wide service via subscription. why we in uk have to pay this old fashioned tv licence.... is time it went out with the ark... i am deaf the subtitles on bbc is god awful and getting worse over time.... it was good when it was teletext 888 now digital had a mind of its own it works or not..... i given up how many times i reset my freeview boxes to get subs back on.....


Rob's 171 posts

Rob: The BBC subtitles are just fine ... the problem is your set-top box, surely?

"bbc sell programmes all over the world and have world wide service via subscription"

If you have a look at http://downloads.bbc.co.u….pdf

BBC Worldwide income... £155m
Total licence fee income.....£3,656m

The BBC just needs to make 23 to 24 times more from selling programmes abroad.

Briantist's 38,907 posts

While I can understand both sides of the fence when it comes to the BBC, I don't think it's going to be abolished or privately funded any time soon - having a publicly funded broadcaster probably has more pros than cons, so it should be kept.

But the licence fee - according to the BBC reports it costs £111m to collect - could surely be collected via general taxation? You'd get rid of all the fake detector vans, intimidating people and having to keep a big database, etc. - who wouldn't want that?

Michael's 358 posts

One of the problems with the BBC is that it has become a law unto itself while being funded by taxation with criminal sanctions. The concept of a public broadcasting service is no longer relavent. Why should the BBC have the extensive privaleges not afforded to other television companies.

Another problem is the left wing political bias now so evident in the BBC. The BBC One show tonight attacked channel 4 for its "Benefits Streets" program in a very unbalanced way. There are 2 issues here. Firstly it attacked a competing TV channel without giving a responce from Channel 4. Secondly the attack was clearly politically motivated as the presenters raised Paul Ogradys political affiliation to give support for the Labour party. It certainly made it perfectly clear what the politcal views of the presenters are.

The BBC should be denationalised.

trevorjharris's 367 posts

trevorjharris:" One of the problems with the BBC is that it has become a law unto itself while being funded by taxation with criminal sanctions."

Right, so something that has been the case since 1923, "has become"?

I would be interested to know what form of "taxation" has no "criminal sanctions"?

Briantist's 38,907 posts

I guess you're into Voluntary taxation - Wikipedia, the free encyclopedia ?

Briantist's 38,907 posts
Select more comments
Your comment please