Should the UK close down the TV networks to allow for more mobile broadband?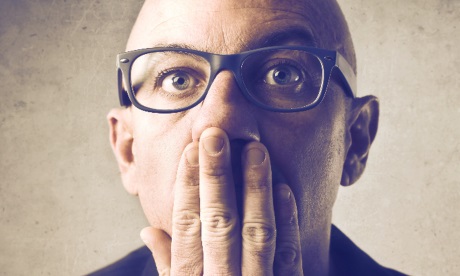 Brian Butterworth
published on
UK Free TV
From the Digital UK Press Office today:

A new report published today reveals the major economic benefits that Freeview and other terrestrial TV services deliver to the UK.

The report shows that the country's most widely used platform returns nearly £80bn to the economy and challenges the view that mobile broadband delivers more value from airwaves than television.

The findings come at the start of a year when crucial decisions about the future of free-to-air TV will be made by policy makers in the UK and EU. Just over a year after digital switchover freed up capacity for 4G mobile broadband, a further shake-up of the airwaves is being considered to release more spectrum for the mobile market.

Commissioned by Digital UK, the report by media and telecoms consultancy Communications Chambers sets out for the first time the economic and social importance of digital terrestrial television (DTT) which delivers broadcast channels for both Freeview and YouView - and is watched in three-quarters of UK homes.

Headlines from the report include:


Evidence of DTT's vital role in supporting UK broadcasting, driving innovation and investment in programme-making while keeping consumer costs down
DTT provides nearly £80bn* to the UK - significantly more than previously estimated - and supports 15,000 jobs in broadcasting and independent production
New economic analysis showing that DTT delivers more value per unit of spectrum than mobile broadband (see notes)
As the largest free-to-air TV service, DTT creates healthy competition between platforms and ensures viewers can access public service channels without
subscription
Digital UK and its members (BBC, ITV,
Channel 4
and Arqiva) are urging government to ensure any further transfers of airwaves do not weaken Freeview and other terrestrial TV services, and that viewers should not suffer disruption or foot the bill for making the changes. In a joint letter accompanying the report,
Tony Hall
, BBC Director General, Adam Crozier, CEO of ITV, David Abraham, Channel 4 CEO and John Cresswell, CEO of Arqiva, stress the importance of terrestrial services such as Freeview in ensuring the UK remains a world leader in television.
Jonathan Thompson, Chief Executive of Digital UK, said: "This report sheds new light on the value of DTT for viewers, the UK television sector and wider economy. With increasing demand for spectrum it is critical that DTT remains a strong proposition with the same coverage and range of channels viewers enjoy today."
Copies of the report can be downloaded from
The Value of Digital Terrestrial Television in an era of increasing demand for spectrum [PDF]
.
Notes
*£79.8bn, calculated on the basis of ten year "net present value" (NPV)
New economic analysis: The report estimates that the average value per MHz of spectrum for DTT is 50% higher than that for mobile data and that the marginal value (the unit value that might realistically be reallocated between DTT and mobile) may be even greater. The report estimates the marginal value of mobile data per MHz of spectrum to be £0.19bn compared to £0.47bn for DTT.
Comments
Monday, 20 January 2014

Recently been in my two Currys/PCWorld stores and they no longer demonstrate TV sets from Terrestrial transmissions. One sales man told me only internet could be done in addition to the lack lustre animations and what ever was going through their system which was making all TV sets appear to be same quality.
I'm concerned if the internet is the way we are going will the internet be able to cope or fall over as it can now on Saturday nights sometimes.

David's 306 posts

One problem is that freeview uses very old technology eg mpeg2 and DVB-T. Changing to h264 and DVB-T2 as used for HD would halve the bandwidth needed. I was very disappointed when mimo was not adopted for HD as it would have halved the bandwidth again. We also now have h265 which could also halve the bandwidth. So by changing technology freeview would only need an sixteenth of the existing bandwidth for SD. More savings could be made by not transmitting SD versions of HD channels.

There is no reason why televisions could not be made with downloadable software updates which could keep the technology up todate.

We also have ultra high definition on the way which would also be a big challenge for freeview. 3D will also need 50% more bandwidth if the MVC standard is adopted but this will probably be reserved for a few specialist channels.

Looking forward there is also holographic television which has made great strides in recent years

Again there is an incredable waist of bandwidth by allowing +1 channels in the days of the PVR and internet tv.

The introduction of FTTC/P make the internet a very attractive alternative. Infact we could get rid of linear television for most programs except live programs.


trevorjharris's 367 posts

trevorjharris: Not sure how MIMO would help. Firstly, it requires everyone to have a new aerial, it requires new transmission kit.

Even if you manage that, you don't gain because the UHF network reuses frequencies in the other polarity for all of the relay masts.

Briantist's 38,899 posts

I think the Freeview chap on TV news as just said that 90% of viewers use terrestrial.
Hard to believe that the remaining 10% would include Cable, Sky, Freeview etc. viewers.

David's 306 posts

David: most people who have Sky also use Freeview on secondary sets.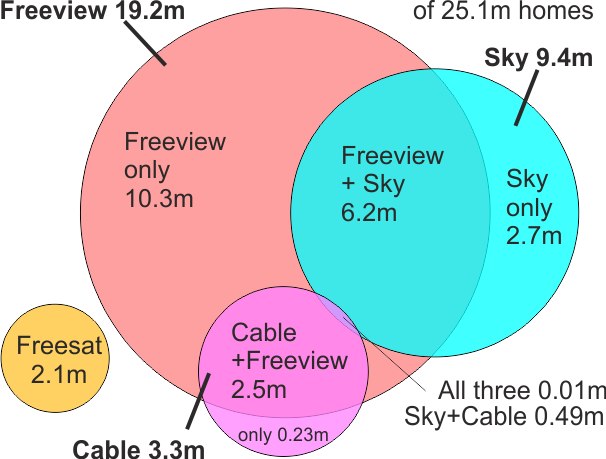 Briantist's 38,899 posts

Briantist: I read years ago the new digital system would a satellite system and we would get rid of all ugly TV transmitters masts.
Not sure why but they rid of our communal aerial and we had our own aerials, cost of up keep maybe? But they paid our new aerials, what would cost them more.

Paul's 1 post

Paul: If you're Sky and you use satellite, then you put out the word that terrestrial is "old and ugly".

Most people like terrestrial: it works for them.

The cost of SMATV communal systems can be large - it can often be cheaper to use one-aerial-per-home. Especially if you include maintenance costs.

Briantist's 38,899 posts

Ok Briantist but surely people with Freesat do the same.

David's 306 posts

Briantist: Any change to a net based system would depend on fast enough speeds and a very high connection rate. Based on what is available currently, the answer would certainly have to be 'not a chance'. BT's contract to roll out broadband to rural areas Rural superfast broadband chaos due BT's 'near monopoly', say MPs | Business | The Guardian was heavily attacked in a report by the Public Accounts Committee last year, with BT and government both sharing the blame BT's great broadband scam | Aditya Chakrabortty | Comment is free | The Guardian

Our average broadband speed is still very low Average World Internet Speeds Climb to 2.9Mbps as UK Scores 6.5Mbps - ISPreview UK compared with Korea or Japan, and not much better than midway in the chart for OECD countries BBC NEWS | Technology | Broadband World: Mapping the global picture

Remember that that is average speed. I live opposite my local fibre cabinet, and I'm in a town. If you are in a rural area, your likely to get a far worse speed, and possibly no broadband at all (AOL still makes a decent profit from many rural users in the US who have no choice but to use dialup - broadband simply does not exist for them).

Also remember that some 20% of the UK population have no access to the net, and possibly this percentage might not change much. They may not want the net, or their geographical/economic position makes it unworkable.

Lets not even start on 'net neutrality' http://en.wikipedia.org/w…ity, and the risk that a competitors pragromming stream might be throttled by your provider.

Also remember that streaming in HD takes a fair amount of bandwidth for the average user now, 4K is going to be a huge leap from that. Will there be capacity?

Its true that speeds and coverage will get faster (although who's going to pay for that is an interesting question - providers, broadcasters or customers?), but its probably not going to be universal. Its also the case that most TV's are now smart, and so its not impossible to stream directly (or via a new box), but considering the percentage of live TV that people watch, is it worth doing? And what will happen to the business model of the commercial broadcasters?

Terrestial generally works, needs no great leap in technology or capital equipment, can transmit to fairly remote places, and even has been used as the test platform for 4K transmissions. Perfection is the enemy of the good...

David: Although I work for a rival of Currys, most showrooms have a similar system, which normally involves a feed (normally Sky HD) being fed via HDMI to all/most of the TV's. This makes sense because you generally want all the TV's to show the same thing at the same time (much easier to compare sets - they certainly should look different), and it means that suitable content can be shown easily (which is why you often get cartoons at a weekend - thats when families are shopping, and no parent wants their children to see something too old for them).

However, most of our TV's also have a standard terrestial feed, and we're more than happy to switch them to that feed for a customer, either in HD or standard - if I want to show a particular feature, I might do that anyway. Personally, I's show the credits of films all day - very boring for customers, but perfect for showing the different refresh rates of TV's - which is what makes them different prices!

MikeB's 2,579 posts

It's probably worth recalling this article From Baird to Persistent Peer-to-Peer networks | Watch TV online | ukfree.tv - 11 years of independent, free digital TV advice !

Briantist's 38,899 posts
Select more comments
Your comment please