A bakers dozen of changes: Freeview channel number changes from 3 September 2014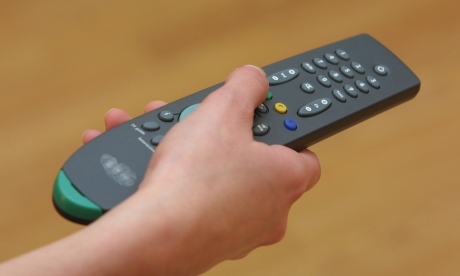 Brian Butterworth
published on
UK Free TV
These changes have been long coming, and have even been subjected to formal review on behalf of Sky.

From the afternoon of Wednesday 3rd September 2014, Freeview viewers will find that 13 channels will have new numbers.




Depending on the sophistication of (which means "how long you have had") your Freeview equipment, the channels will either change number automatically, or require a retune.

If you have Freeview+ box - the ones the can record programmes - you should find that the channel number changes will not cause any scheduled recordings to change.

You may need to do a "first time installation" to ensure the channel numbers are correct. See My Freeview box has no EPG ... or the channel line up is wrong if you don't know what to do. Another option is the list of retune instruction leaflets and manuals on the Freeview Retune - list of manuals page.

The new channel numbers do provide better logic on the whole, however BBC News HD is in the HD section, whereas CBBC HD and CBeebies HD are not.

Sadly the Freeview channel number system is unable to match Freesat HD and Sky EPGs which both provide the ability to find HD channels in place of the standard definition channels.
All free TV channels
I have recently updated the ever-popular
All free TV channels
page.
As well as ensuring that all the channel numbers are up-to-date (there has been a small number of changes to some Sky Guide numbers) I have split the table to have three new sections.
The first, as shown below, lists all of the High Definition channels first.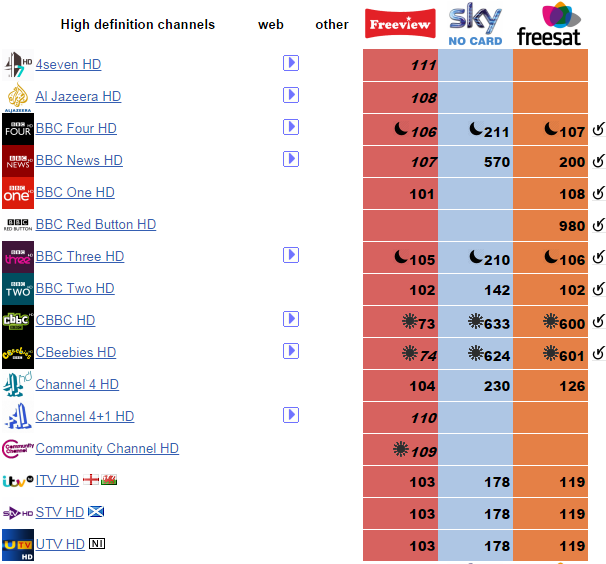 A third section now splits the Local TV channels from the "Main TV channels" section, and there is a "Where Local TV broadcast" section for channels that are provided alongside
local TV on Freeview
.
Good luck with your retune.
Comments
Wednesday, 3 September 2014

Ian Fitter, Emley Moor?

David's 306 posts

David: from Merseyside?

Ian Fitter's 13 posts

David:

Hello, I have been having trouble for the last couple of weeks with my freeview box My picture keeps sticking and now the only channel I receive is BBC1..I cannot access the menu from my remote Any ideas please? My area is Berry Brow, Huddersfield HD4.

Regards

Glennis Harrison

Glennis Harrison's 1 post

Briantist:
I did the retune this afternoon for my humax freeview recorder and have lost the list of programs that I record every day. There was no warning of this happening. It will take ages to set it all up again. Is this my fault or a problem with the update?

Mike's 2 posts

Mike: That's normal (if not annoying) for a Humax recorder. If, like me, you have custom firmware on the Humax recorder, you can add a feature to back up the schedule daily so you can just restore from backup.

Ian Fitter's 13 posts

Glennis Harrison: Whats the make/model of your Freeview box? (although I have a horrible feeling your going to say Goodmans..) and a postcode would be very helpful.

MikeB's 2,579 posts

The frequency list for Ridge Hill seems to have changed. I tried to do a manual tune according to the list on this website (auto tune often finds multiplexes from adjacent txs) but some frequencies don't seem to be there. When will the website be updated as I cannot find this information anywhere else!

Gerry L's 1 post

Mike: I've retuned and lost ITV 1 and Channel 4. I live in the Brighton area.
What's going on?
Any answers please.

Alan Donaldson's 1 post

test ignore

Ian Fitter's 13 posts

Briantist: retuned my box and I haven't got any new channels any idea if Gwent in South Wales is still waiting for the botton to be pressed?!

Jade's 1 post
Select more comments
Your comment please