A bakers dozen of changes: Freeview channel number changes from 3 September 2014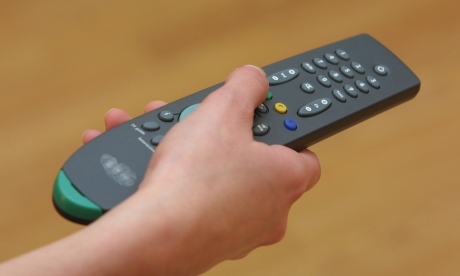 Brian Butterworth
published on
UK Free TV
These changes have been long coming, and have even been subjected to formal review on behalf of Sky.

From the afternoon of Wednesday 3rd September 2014, Freeview viewers will find that 13 channels will have new numbers.




Depending on the sophistication of (which means "how long you have had") your Freeview equipment, the channels will either change number automatically, or require a retune.

If you have Freeview+ box - the ones the can record programmes - you should find that the channel number changes will not cause any scheduled recordings to change.

You may need to do a "first time installation" to ensure the channel numbers are correct. See My Freeview box has no EPG ... or the channel line up is wrong if you don't know what to do. Another option is the list of retune instruction leaflets and manuals on the Freeview Retune - list of manuals page.

The new channel numbers do provide better logic on the whole, however BBC News HD is in the HD section, whereas CBBC HD and CBeebies HD are not.

Sadly the Freeview channel number system is unable to match Freesat HD and Sky EPGs which both provide the ability to find HD channels in place of the standard definition channels.
All free TV channels
I have recently updated the ever-popular
All free TV channels
page.
As well as ensuring that all the channel numbers are up-to-date (there has been a small number of changes to some Sky Guide numbers) I have split the table to have three new sections.
The first, as shown below, lists all of the High Definition channels first.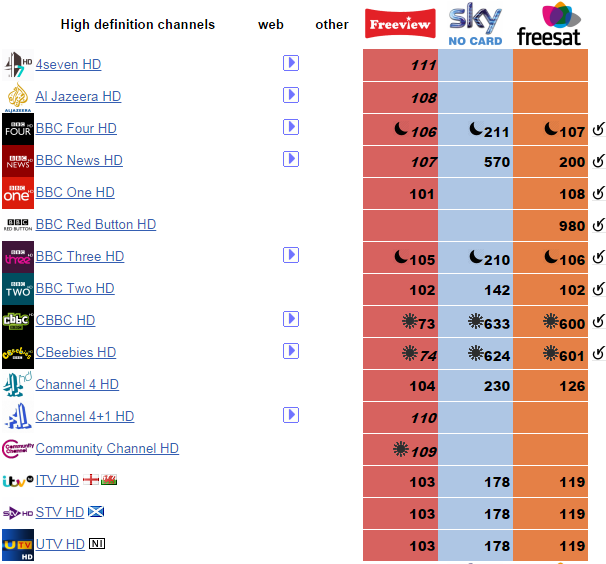 A third section now splits the Local TV channels from the "Main TV channels" section, and there is a "Where Local TV broadcast" section for channels that are provided alongside
local TV on Freeview
.
Good luck with your retune.
Comments
Friday, 5 September 2014

JB38
The problem with going back to square one is all the improved picture and sound settings that have been made are lost and you are back to over contrast and over red pictures that the makers somehow think it should be.

However if BBC1 is lost I understand something in the transmission spec. was changed as well at some transmitters, think the word PID was used, and only way to get that back was a factory reset.

Last evening my TV asked for a rescan once again when put on at tea time and that got me back program 8 and Made in Leeds. Throughout the day the BBC I understand had been apologizing to viewers so looks, as if the changes took longer than planned to me or other things got messed up.

David's 306 posts

Did another set up this morning & all channels are back so it defiantly was a wide spread fault, nothing to do with how you went about a retune.


Colin Evans's 9 posts

Colin: Though I have done countless retunes since Wednesday evening I decided upon reading your post to do yet another. I cleared all channels and then did a auto retune and I am pleased to say I have almost all the channels back including ITV and channel 4 but I am still missing channel 5. However I do have 5 plus 1 and the picture on that and the rest seem first rate. Now off to see friends for the weekend!

Karen's 6 posts
Karen's:
map
K's Freeview map
terrain
K's terrain plot
waves
K's frequency data
K's Freeview Detailed Coverage
V
Valerie Hone
1:58 PM
Alexandria

Could I please have a phone number for my elderly friend 83+ years so that he can find out how to get BBC1 , racing results, etc,as there has been a change on 03/09/2014.
I am unable to help as I do not understand what has been happening.
Thank you for your prompt attention in this matter.
Yours sincerely
Valerie Hone.

Valerie Hone's 1 post
Valerie's:
map
V's Freeview map
terrain
V's terrain plot
waves
V's frequency data
V's Freeview Detailed Coverage

Hi I had few problems with the re tune on weds. I been caught out with re tune or new channels... its best to do a factory reset or first time install or default setting... as i have older set boxes to take the aerial out and blank scan the box then plug it in.. after all this hassle i got all working in order now,,,, took me most of the day sorting my tv's and my elderly neighbors sets out too.....what fun!! not!! lol

rob's 171 posts

rob: Ican'tget any freeview channels on my sky freesat.igo to original first set-upAllow all channels to be cleared then try automatic then try manual -answer No CHANNELS found check antenna (sky dish) Nothin wrong there,!what am. I doing wrong?

Mike Goddard's 1 post

Colin Evans: Im afraid there was no 'fault'. The problems people have been having is entirely consistant with retuning, but finding the wrong transmitter, hence low signal, missing channels, etc.

MikeB's 2,579 posts

All:

Some Freeview equipment cannot retune without the loss of the existing recording settings. A bit of a bother with programmes you want to do a series recording for as long as they are still broadcasting the series, you can reconfigure the series settings. Where they are between series, it is not possible to reset the series recording as there is no such data present in the Freeview transmissions currently broadcast! That's a real headache for many, hence some of the comments from people that they've lost or missed recordings as they hadn't realised the settings would be lost.

The same doesn't happen with Sky as their implimentation of DVB-S includes the extension that allows for automatic retuning and retention of planned recordings, including series. It could have been included in the DVB-T services but wasn't.

MikeP's 3,056 posts

Mike Goddard: Its rather difficult to offer advice on your problem, basically because your posting would appear to be referring to both Satellite reception via a dish, and also Freeview reception via a normal aerial.

Should you be referring to Satellite reception, then disconnect the box from the mains supply for about 30 seconds or so before reconnecting it again and allowing it to go though the usual searching for listings procedure.

If though you are meaning Freeview, then "if" you were receiving programmes prior to retuning? carry out another "first time installation" followed by a normal auto-tune, as no reason exists for not being able to receive any channels as the retune only involves moving some programme listings to alternative EPG numbers.

By the way, a location would have been of assistance, as this would have enabled details of the transmitter covering your area to be checked out.

jb38's 7,179 posts
Saturday, 6 September 2014

David: Yes, quite so!, that unfortunately being the downside of carrying out a manufacturers reset, especially if the procedure is carried out on one of the more sophisticated TV's which offers a multitude of picture settings.

However the advice offered to Charlotte or Karen was of a general nature, as the "retuning with the aerial out" procedure is not always effective on "some" devices whereas the complete reset usually is.

That said, what you have reported / highlighted with regards to the BBC's apology made on its Emley Moor transmission (i.e: (8) made in Leeds being mentioned) is inclined to indicate that a slip up has been made with the data number entered relating to that programmes I.D. in the guide listing, something only affecting viewers of that transmitter.

jb38's 7,179 posts
Select more comments
Your comment please