Can I receive UK free-to-view TV in Southern Spain?

Brian Butterworth published on UK Free TV
You will only be able to get the services on the Astra 2A satellite (and then only Transponders 1, 2, 5, 6, 9, 10, 13, 18, 22, 37) and ASTRA 2B (transponders 14, 17, 21, 25, 26, 29, 30, 33, 34, 38):

ScreenShop
Price-Drop TV
TV Travel Shop
TV Travel Shop 2
TCM UK
CNN International
Travel Channel
Travel Deals Direct
BBC Parliament
S4C Digidol
S4C2
You TV
Goldshield Vitality
Create and Craft
Zee Music
Ideal World
ITV News Channel
QVC UK
Bid-up.TV
Sky News
TV Shop UK
Reality TV
TV High Street
The Shopping Genie
TV Warehouse Select
Shop America
TV Warehouse
Vector Direct
JML Direct
Game Network UK
Yes
Shopsmart TV

You will not be able to get any of the BBC and ITVs are all on the Astra 2D satellite: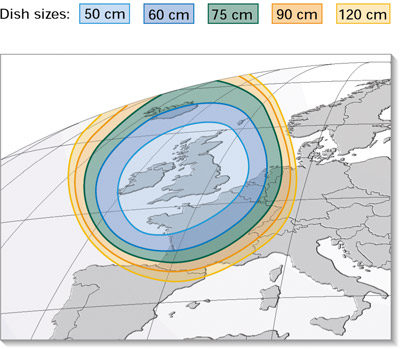 Channel 4 is on Astra 2A: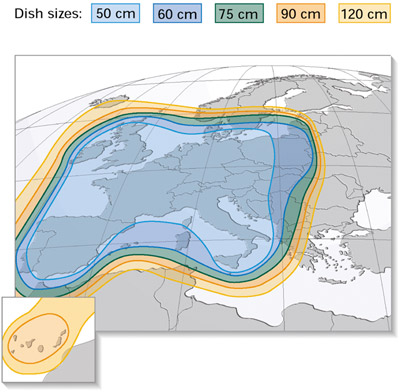 You may be able to get five, but you will need a Sky card to decode it.
Comments
Wednesday, 25 June 2014

Richard Slater: I live near Alicante and think I'm in one of the worst areas possible. For some reason the satellite footprint 'bends' around this area so that we are in fact missed (don't think the footprint shown above is quite right).

Just down the road (2 kilometers) reception is much better and they can use 1.9 meter dishes However, I got around the problem with a 2 meter dish. During normal weather I have no difficulty in getting a good signal but if there are extreme atmospherics then I do get breaks in reception.

Nowadays I hear many people have started streaming the Free channels everyone to their own. Much prefer my system though.

Pat Whelton's 3 posts
Thursday, 17 July 2014

we are in marbella, we have the same problem, however here are the options that are open to you and they are very simple.

1: take over from the UK a sky box with a multi room card, if you have packages you will get them minus BBC, ITV, C4, C5 etc.

2: If you have more than 2GB internet connection, buy on EBAY a jailbroken Apple TV2 or such like, you will have no payments and get all the channels you need, if your connection is less than 2GB forget it, as it wont work well.

3: their are several apps which are available which do not require a VPN for you to watch.

UK freeview is rubbish where we are.

The main issue is no matter what you do if you dont use an internet solution then you are snookered!!,
Its a disaster

rob waterman's 1 post

rob waterman:

The main point is that UK TV services are intended for consumption within the UK only. A Sky box is technically not meant to be used outside of the UK for the simple reason that copyright licence laws/agreements require restrictions so programmes affected by such restrictions can only be viewed in the UK. Other countries, like Spain, may have their own agreements with the copyright owners.

The Astra satellite signals, including Sky, are 'targetted' at different parts of Europe by using dishes on the satellites that are aimed primarily at the target audience, so UK coverage is very poor in Spain or Portugal, likewise Italian services are poor in the UK.

However many such services can be received by the use of large dishes and very low noise LNBs. A friend has a villa just outside Alicante and uses a 2.1 metre dish to get any UK-based services! The internet at their location is far too slow for streaming anything to watch live. I gather a 2 hour film can take 5 hours to download!

MikeP's 3,056 posts

Rob Waterman

By the way, you will not get any UK Freeview signals that far away from the ground-based UK transmitters that carry the Freeview signals. You may be able to get FreeSat with suitable equipment.

As I understand it, Freeview programme are not available via the internet.

MikeP's 3,056 posts
Tuesday, 23 September 2014

I live in Almeria province and bought a quad core android box, linked it to my router via wifi and can get all the channels that I used to receive from freeview. I pay for 6mb download but normally I only get 4.5. On odd occasions I get problems with buffering but it transpires that this is caused at the "servers" end. It can be slow changing channels. The programme I use is called Filmon,which I had to download to the android box once it was connected to the internet. Cost of box around £60 plus £12 for a mini wireless keyboard

El diablo's 1 post
Tuesday, 25 November 2014

Best option I have found, with any internet-enabled device (including smart tv's!), is to use what's known as a "smart dns" service.
This allows you to appear to be in the UK for UK-based TV providers (thus getting access to the iPlayer, ITV Player, RTE Player (irish), TV Player, TVCatchup, etc) and, at the same time, allows you to appear as being in the US for US-based services (USTVNow, Hulu, Netflix, etc), Switzerland for Zattoo's fabulous service with 7 days catchup, and way too much more to mention here.
The service I've been using is from bit DOT do SLASH unloc (http://bit.do/unloc) and they have a 14-day free trial (no card needed) so you can test things out before you join. If you do decide to join, it's less than 50 eurs for a full year.

Maria's 1 post
Sunday, 30 November 2014

Is there any way to get uk tv without the internet I have a 120 dish get the freeview sky channels but not bbc etc. someone told me if you aimthe dish at Mijas or Gibraltar you can get all the freeview channels
without the internet what are the frequencies for this?

marion's 1 post
Thursday, 29 January 2015

Hi, If you want to see English TV on the Costa del Sol, contact with Smartsat-TV. They offer the best service :)

www.smartsat-tv.com

John Wilkins's 1 post
Saturday, 7 February 2015

John Wilkins: can I get bbc ITV etc on my TV in southern Spain,it all stopped last year

Mikeparker's 2 posts

Mike Parker

Presuming you were using a satellite dish and receiver, the loss i=of BBC etc is because there was a change made to the beams used for those services such that they are no longer receivable in many parts of southern Europe. The only way you might get some of them is either via a local re-broadcaster (but I'm not in Spain so not aware of any) or via some internet-based provision.

The service mentioned by John Wilkins may be worth investigating. Their webste is at
IPTV Spain |Broadcast English TV Costa del Sol M?laga Marbella - hope that is useful.

MikeP's 3,056 posts
Select more comments
Your comment please