How do I change the RF output channel on a Sky Digibox?

Brian Butterworth published on UK Free TV
Press the [SERVICES] button and then press [4] [0] [1] then [SELECT]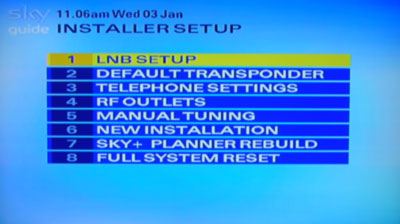 Then press [4] to go to the RF output menu.




You can now change the value so that it does not clash with an analogue TV channel or a Freeview multiplex.


HD and "new EPG" boxes
If you have a HD box, press [SERVICES] button and then press [0] [0] [1] then [SELECT]. Nothing is shown on the TV screen until you press the Select button.
Then use the [RIGHT] arrow button on the remote until this screen is shown, and press SELECT to change the values: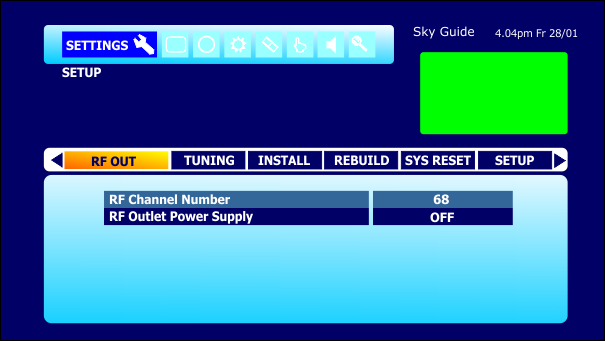 Comments
Wednesday, 19 January 2011

Davie: The RF output of the Sky box is analogue and will be prone to the interference you are getting.

You might get it to work OK if you use satellite-grade coaxial cable throughout.

Briantist's 38,902 posts

OK thanks for the info, will let you know how I get on

Davie's 3 posts
Thursday, 20 January 2011

Davie: Just to add to replies already given by Briantist, you should try changing the RF output channel you have used on the Sky box for feeding to the other rooms, as the diagonal lines problem you mention suggests that the output channel frequency chosen for RF2 is possibly clashing with another RF source, this usually a channel used for normal analogue reception.

Also I see you mention that each room has a digital co-ax running from the loft, it should be pointed out that what you are doing is an entirely analogue extension as RF1 & 2 outputs on a Sky box are analogue outputs, the digital aspect of reception stopping at your Sky box.

jb38's 81 posts
Saturday, 22 January 2011

Can anyone help!

I have my main tv down stairs with sky hd.
In the attic i have a distribution amplifier which is connected into tv sockets int he bedrooms and living room where main tv is
I have connected my RF2 connected to skyhd box and into the wall (That socket connect to distribution amplifier in the attic)
I have a cable then from the RF1 on sky box into the TV,
But i cant pick up freeview upstairs, u can i only watch what is on downstairs on the sky

Ellyn's 2 posts
Sunday, 23 January 2011

Ellyn: Please excuse if I am getting the wrong end of the stick, but it would appear that you are saying your main TV located downstairs is being used on a Sky HD box which I take it is coupled to the TV via a scart (or HDMI) lead, however the part I cant quite grasp is why you appear to be also feeding the same TV's aerial input from the Sky boxes RF1 analogue output?

It would also appear that the RF2 output on the Sky box is being used (via socket in wall) to supply the distribution amplifier in the loft, and it in turn is being used to feed the two bedrooms to enable them to view the same programme as the main downstairs TV?

If the aforementioned is the case then you have to ensure that both upstairs bedroom TV's are tuned to the channel you have chosen (or otherwise) for the Sky boxes RF output to operate on.

PS: I don't really see where freeview comes in to it? as everything mentioned refers to viewing Sky satellite broadcasts, if however you are meaning that you also have a freeview system running parallel to Sky (downstairs) with a freeview aerial in the loft, then the Sky boxes RF1 or 2 sockets should not be coming into the equation.

jb38's 81 posts
Wednesday, 26 January 2011

Hi Briantist just getting back to our conversation we had 2 weeks ago regarding the thudding noise coming from the second tv when linked through the sky box.i have checked it through the rf1 out and still the same noise.
any more help would be greatly appreciated,
Thanks Alan.

Alan's 9 posts
Thursday, 27 January 2011

Alan: Have you tried every possible channel setting for the Sky RF output?

Briantist's 38,902 posts

hi brian,
i have tried some but the screen goes blank when this is done,can try all tonight when i get home and will keep you posted,
thanks alan

Alan's 9 posts

Alan - I realise Briantist has been / is advising on this, but going over all the replies you have given plus tests you have tried, it would appear that you are in effect saying that this noise is heard on the second TV from both RF1 and 2 outputs whether or not the eye is there or not.

I haven't seen you mention as to whether or not this second TV works OK on other analogue channels? so maybe you could come back on that point.

Although it would be most beneficial if you could carry out a test using a different 2nd set what you have actually reported could suggest that the problem is originating within your Sky box itself, possibly caused by a faulty modulator albeit this not really a common problem, however if a substitute second set is not available in order to make to make a conclusive test I suggest you take the aerial out of your MAIN TV then couple the Sky boxes RF1 output into the main sets aerial input, after having done that and making sure the main TV is on analogue (if freeview type set) select the Sky boxes RF1 output channel on it to check what result you get direct from the Sky box RF1 output (don't try on RF2 output unless you unpower it via the menu)

If you don't know what the Sky boxes RF1 output channel is just carry out an analogue scan on your main TV to pick it up, you will obviously lose the channels (except Sky box) by doing this but you can always rescan again after test is over.

jb38's 81 posts

Alan: I meant to add that I noticed you had mentioned on a much earlier posting that the second TV is set to channel Ch21 for picking up the Sky boxes RF output, it should be pointed out that its not really advisable to use any bottom end (21/29) or top range (61/68) channels when selecting an RF output channel on a Sky box when there is any doubts about the modulator stability (ref my main posting) as a weak modulator will usually falter at extreme ends of the scale, so I would advise you to use channels within the ranges of about 30-60.

jb38's 81 posts
Select more comments
Your comment please