Why are there so many +1 channels on TV?

Brian Butterworth
published on
UK Free TV
People often ask why their selected digital TV service has so many +1 channels. There are several possible reasons
Some people's commutes are much longer than others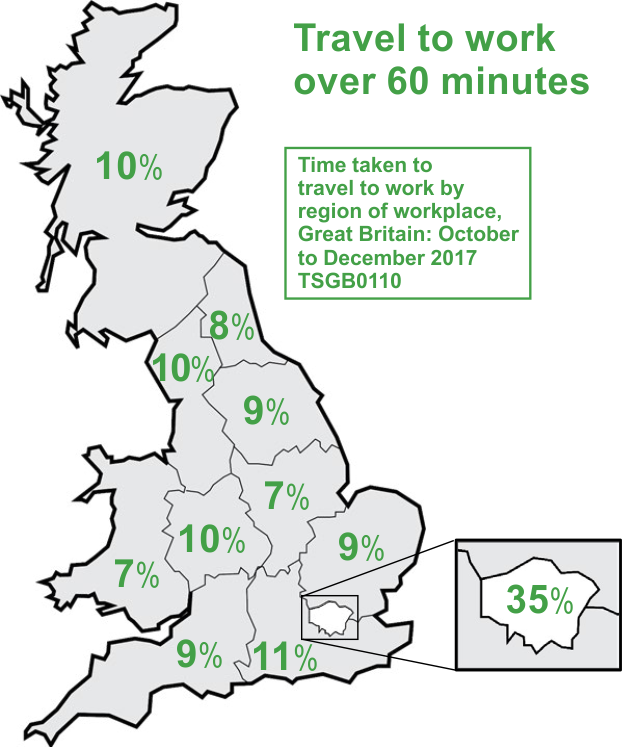 Not everyone in the UK is running on the same personal time-zone. This graphic shows the percentage of people in each region who have a travel-time to (and home from) work of an hour. Only 7% of people in Wales and the East Midlands take longer than an hour each way, but this number is five times larger in Greater London.
This does mean that there are enough people who are happy to not miss a TV show.
Most people don't use their digital TV recording device
If everyone has a digital TV recording device, why do we need +1 channels? There are two interesting facts here. First is that the number of homes with a Personal Video Recorder (usually Sky+ or Freeview+) peaked in 2015 and now stands at 56%.
This suggests that there are still plenty of homes without a DVR, who might welcome a simple hour time shift channel. More alarming is this Ofcom graph which shows that two-thirds of people say they have access to a digital recorder, but only 18% of their viewing is time shifted!

This suggests that the Great British public find the pick-to-watch later digital TV systems somewhat less real-world usable in practice than when they bought (into) them.
+1 TV stations are cheap to make
It's a piece of cake, technically, to supply a time-shifted TV station. In effect the output your TV channel is pumped into a computer where it is stored in memory and regurgitated (and overwritten) an hour later.
From a rights point of view, ad-funded broadcasters just extend the rights they must broadcast the content for an hour, and the advertisers who pay for the channel to run just need to add together the viewing figures for the time-shifted showing.
If the costs of the provision are less than the added revenue from the advertising income, why would a broadcaster want to go to the trouble of supplying a different channel?
About 5% of viewing is of +1 channels
About 5% of viewing today is to +1 channels. This is a drop over the last two years from 6%. The graph here shows the channels that make up this 5%. The bulk of this is from the time shifted services from ITV, ITV2, Channel 4, E4, Channel 5 and Film4.
Will the decline continue? When Sky renumbered all the +1 channels last year, it took about two weeks for their viewing figures to be restored. If you want to see a graph of the +1 channels figures going back to 2002, see here.
+1 channels help keep viewers
The only TV channel that supplies public viewing figures for the standard, high definition and plus one services is ITV (meaning ITV, STV, UTV and technically ITV Breakfast). Today 32% of time spent watching is of the HD service (from nothing) but 5.5% of viewing has been to ITV+1. This suggests that +1 viewers are very loyal, even finding the channel when it moved many places in the Sky EPG last year.
Long term +1 viewing graph

Comments
Monday, 11 March 2019

Hello, I just discovered this website yesterday and think its brilliant, really interesting. Unfortunately I am in the position whereby I left Sky for Freesat, but didn't think it was such a great service, for example no Channel 4 HD, so I got sucked in by one of Sky's welcoming back offers and I am now locked into a contract until June 2020, I got drawn in with 10 a month for Sky movies, but I think I should have gone with NowTv Sky Cinema, whereby I could dip in and out, depending on what movies are available not all good. Wish I could leave Sky early and get an aerial installed and watch Freeview.

Craig's 7 posts

Also interesting that recorders have peaked? If you watch programmes on demand then they have adverts built in, if you record them you can fast forward the adverts.

Craig's 7 posts

Most modern TV's have a recorder built in, just plug a USB into a port and format it on the TV and you have a DVR .
USB sticks are relatively cheap around 20 to 30 for 256GB's if you shop around the internet, most of the time people don't know they can do it.

Roger's 2 posts

Roger:

The answer to your comment is contained within it - the term 'most'. Not everyone has a TV with such facility and many users may be unaware that it is possible, few people actually read the User Manual.

Plus, not everyone is aware of what a USB Stick is or where to get one - or even what to do with it if they buy one.

Hence the continued broadcasting of +1 services.



MikeP's 3,056 posts

Craig: Welcome, and thanks.

It appears that Sky made a special deal that pulled Channel 4HD and All4 services from the Freesat platform, which is a great shame. Channel 4 abandons Freesat HD in TWO DAYS | free and easy

I understand this is because Sky offers discounts to broadcasters who make their HD services not aviliable on Freesat and Channel 4 did this.

The fact you paid them for a subscription suggests it was a great move for Sky as a business.

Brian Butterworth's 38,899 posts

I'm on Virgin, and rarely watch live TV now. Find something you like, then record the plus one. That way you can skim through the ads when you eventually watch it. Incidentally the Virgin remote automatically finds the plus one when you press the yellow button.

Steve's 1 post

Steve: I think that the amount of timeshifting via DVR's is in part simply because:

people still often watch whats on (habit),

the sheer number of channels, including plus ones have increased enough to allow people to find something to watch (we are a bit lazy),

there are surprising numbers of people that still have a video player, and never quite got around to upgrading,

streaming has supplemented recording. I know thats what we do, since our DVR died a while ago. I would like to get another one, but its not the end of the world not having one. Add stuff like Amazon Prime, and you can watch huge amounts of stuff without a DVR at all.

As far as TV's being used as recorders - yes, you can. But there are limitations. I was asked this question by a couple of customers at the week end, but I pointed out that the bulk of TV's only have one tuner. That means you can record what your watching, but not another channel at the same time. And you do need to get the right sized drive, and that has to be formatted.

A lot of TV's have a sat. tuner as well, and some high level ones will have multiple Freeview and Freesat tuners, but overall, a proper box is easier - being a seperate box thats designed for the job. Remember that not everthing is streamed - films often cant be after broadcast, and not all series have everything online. Miss the first week, and you might not find it available once the second one is online.
A proper HD DVR thse days will often be smart and have catchup via Freeviewplay - and wifi. So a DVR will double up as an HD tuner and add smart features to an existing TV.

Personally, +1's are often very useful, and evidently they get used.

MikeB's 2,579 posts
Friday, 12 April 2019

I use a PVR as I can then "ZIP" through the adverts! The only plus one channel is BLAZE+! which for some reason starts at 03:00; why I do not know as all the other PLUS 1 are on at the same time?

A Lloyd's 15 posts

I use a PVR to enable me to "zip" through the adverts and do not have to watch any Plus 1 channels as I can see any I want yo at a time I choose ,the only Plus 1 that is strange is BLAZE which for some reason starts at 03:00

A Lloyd's 15 posts
Friday, 13 March 2020

I love all of the +1 channels it is a fantastic format as nowadays programmes often overlap each other so you just have to wait sixty minutes to watch your chosen programme.
For example my wife loves to watch all of the major soaps so this is how we plan it.
For example...
7pmEmmerdale.
7.30pm Coronation Street (scheduled for one hour.)
8.0pm EastEnders starts (so we switch at eight o'clock and watch EastEnders.)
9.30pmCoronation Street(catch up on ITV +1.)
Wish it was available as I was growing up.

Darren Plumpton's 2 posts
Select more comments
Your comment please