Why are there so many +1 channels on TV?

Brian Butterworth
published on
UK Free TV
People often ask why their selected digital TV service has so many +1 channels. There are several possible reasons
Some people's commutes are much longer than others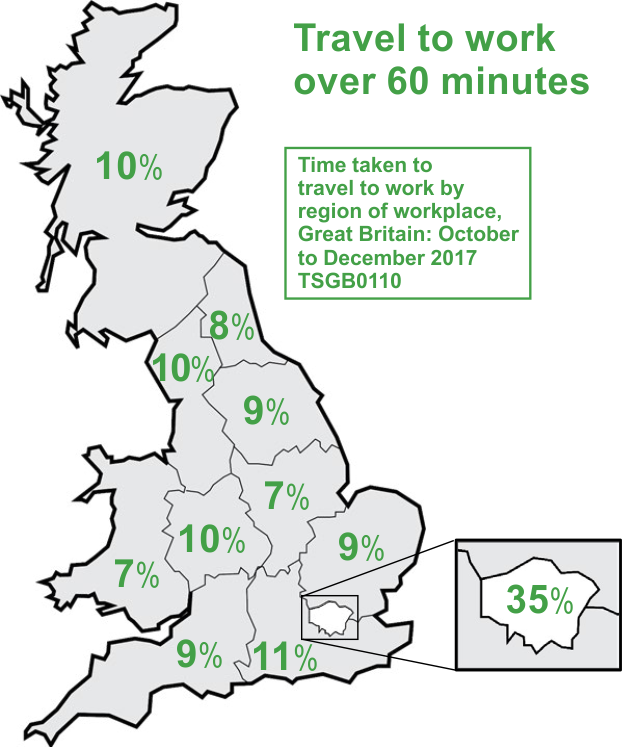 Not everyone in the UK is running on the same personal time-zone. This graphic shows the percentage of people in each region who have a travel-time to (and home from) work of an hour. Only 7% of people in Wales and the East Midlands take longer than an hour each way, but this number is five times larger in Greater London.
This does mean that there are enough people who are happy to not miss a TV show.
Most people don't use their digital TV recording device
If everyone has a digital TV recording device, why do we need +1 channels? There are two interesting facts here. First is that the number of homes with a Personal Video Recorder (usually Sky+ or Freeview+) peaked in 2015 and now stands at 56%.
This suggests that there are still plenty of homes without a DVR, who might welcome a simple hour time shift channel. More alarming is this Ofcom graph which shows that two-thirds of people say they have access to a digital recorder, but only 18% of their viewing is time shifted!

This suggests that the Great British public find the pick-to-watch later digital TV systems somewhat less real-world usable in practice than when they bought (into) them.
+1 TV stations are cheap to make
It's a piece of cake, technically, to supply a time-shifted TV station. In effect the output your TV channel is pumped into a computer where it is stored in memory and regurgitated (and overwritten) an hour later.
From a rights point of view, ad-funded broadcasters just extend the rights they must broadcast the content for an hour, and the advertisers who pay for the channel to run just need to add together the viewing figures for the time-shifted showing.
If the costs of the provision are less than the added revenue from the advertising income, why would a broadcaster want to go to the trouble of supplying a different channel?
About 5% of viewing is of +1 channels
About 5% of viewing today is to +1 channels. This is a drop over the last two years from 6%. The graph here shows the channels that make up this 5%. The bulk of this is from the time shifted services from ITV, ITV2, Channel 4, E4, Channel 5 and Film4.
Will the decline continue? When Sky renumbered all the +1 channels last year, it took about two weeks for their viewing figures to be restored. If you want to see a graph of the +1 channels figures going back to 2002, see here.
+1 channels help keep viewers
The only TV channel that supplies public viewing figures for the standard, high definition and plus one services is ITV (meaning ITV, STV, UTV and technically ITV Breakfast). Today 32% of time spent watching is of the HD service (from nothing) but 5.5% of viewing has been to ITV+1. This suggests that +1 viewers are very loyal, even finding the channel when it moved many places in the Sky EPG last year.
Long term +1 viewing graph

Comments
Friday, 13 March 2020

I love all of the +1 channels it is a fantastic format as nowadays programmes often overlap each other so you just have to wait sixty minutes to watch your chosen programme.
For example my wife loves to watch all of the major soaps so this is how we plan it.
For example...
7pmEmmerdale.
7.30pm Coronation Street (scheduled for one hour.)
8.0pm EastEnders starts (so we switch at eight o'clock and watch EastEnders.)
9.30pmCoronation Street(catch up on ITV +1.)
Wish it was available as I was growing up.

Darren Plumpton's 2 posts

How do I get to receive all the Freeview Channels as I only receive about three quarters of the available channels in my area.(Yorkshire/transmitter Emley Moore.)

Darren Plumpton's 2 posts

Darren Plumpton:

To help you with that, we are going to need a full postcode to look at the predicted reception at your location.

Chris.SE's 3,935 posts
Sunday, 5 April 2020

Will midhurst ever get BBC 4HD ?

Ant's 7 posts

Will BBC 4 HD EVER be available in Petersfield GU32

Ant's 7 posts
Monday, 6 April 2020

Ant:

As you may be aware BBC4 HD is broadcast on the COM8 multiplex, see Channel listings | Freeview
COM8 and COM7 are temporary multiplexes (which are anticipated to be closed by 2025 as frequencies are cleared for mobile use) and they are only broadcast from certain Main transmitters (for technical & cost reasons) and Midhurst is not one of them.
Your nearest transmitters that have COMs 7&8 are Crystal Palace and Rowridge. It's highly unlikely that you'll be able to reliably get signals from them, but a full postcode would be needed to look at predicted reception at your location.
It's anticipated that at some future date, one or more of the other main COM multiplexes may convert to T2 (HD) transmission and so allow room for some of the existing HD channels on COMs 7&8 but no announcements or decisions appear to have been made, so it's all total speculation.

Chris.SE's 3,935 posts
Thursday, 23 April 2020

Somewhere on the web a few months ago, I found a PDF listing the closing date of Sandy Heath Com7 and Com8. Unfortunately, no longer to be found. So, what are the closing dates? and whilst we are at it, the same question for Oxford (Beckley). Hopefully HD content will return on another T to T2 mux,
TVM, Cheers.

MickO's 26 posts

MickO:

OFCOM have NOT specified any definite date. They had suggested a date but Arqiva wanted it pushed back. The 700MHz frequencies have yet to be auctioned. In March this year OFCOM issued an Information Memorandum and other documents. When the frequencies are auctioned, it will be upto the MNOs that require these "centre gap" frequencies (allocated to SDL) to specify when they wish to start using them. OFCOM are suggesting that there will be a 3 month notice when that date is specified but that will be finalised between the winning bidders and Arqiva..
At present, infrastructure to use the SDL/SDO frequencies has to be developed and similarly handsets that can use it. It's not expected that usage of the frequencies will happen before 2022, and there's the suggestion it won't be before 2025 in DUK documents on the current continuation of COMs 7&8, but this remains speculation.

Chris.SE's 3,935 posts
Saturday, 23 May 2020

+1 channels. Who watches linear TV any more? And before you say pensioners, we are both in our 70s and use catch-up to watch nearly everything now. Its iPlayer to watch BBC. Still record the odd itv, channel 4 program to spin through ads. Find All4 annoying as still only SD. They offer an add-free version, but I would pay for an ad-free HD version as we like to watch Walter presents programmes. ITV hub sufferers from same low res picture. Come on guys this is 2020, not 1980.

Bill Kocher's 47 posts

We frequently use +1 channels.

Chris.SE's 3,935 posts
Select more comments
Your comment please