A tale of a two Freesat boxes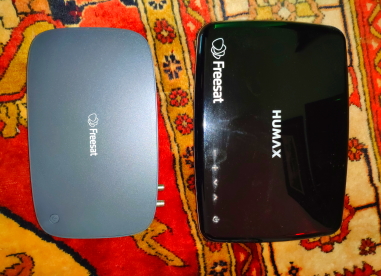 Brian Butterworth
published on
UK Free TV
That one was a first-generation box that had been replaced twice by Richer Sounds because of their excellent customer services!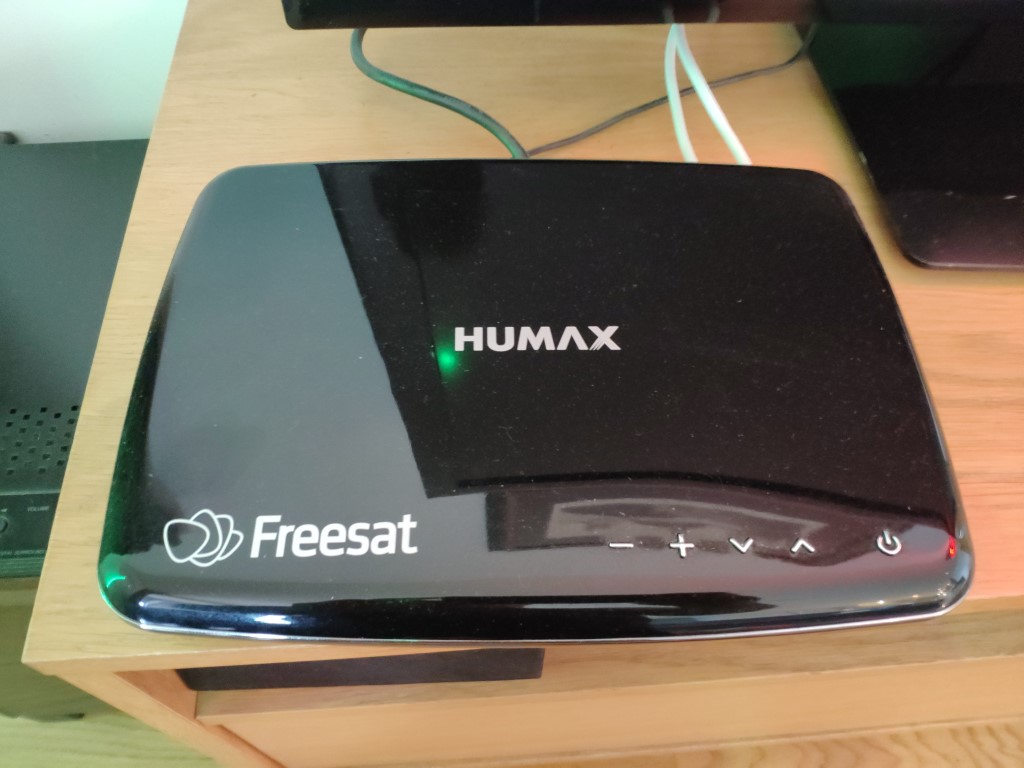 The wrong reasons are mainly that the existing box has a bug when using Netflix. For the first two minutes the box insists showing you in low resolution. You can press the "i" button on the remote and it shows you that you are in various low resolutions, and then when whatever you are watching hits the 2:00 mark, it flips up to 1080p.
The other problem with the box is that it has become very, very slow. I have a wonderful broadband, one of the Olympic Legacy features of where I live is gigabit broadband. Whilst every other device in the house runs on fast Wi-Fi and even faster gigabit Ethernet, the Freesat box takes ages and ages to load anything.
Compared with a modern Windows PC, which can boot up in five seconds (thank you SSD M.2 drives, rather than Microsoft) the old Freesat box takes 25 seconds to a minute to respond to being powered up.
And whilst the Freesat TV Guide is still quite zippy, the interface for the BBC iPlayer has slowed to a snail's pace.
Of course a lot of the problem here is that Freesat – like digital satellite TV in general - is no longer an exiting new frontier as it was turn of the century. Whilst it does have some good points – three of the five main channels are in HD, sadly two of the missing ones are Channel 4 HD and BBC One HD. You can't access any of the Channel 4 on line services on it either, which is a great shame because All4 and Channel 4 HD used to be there.
So, my usage of the Freesat box is mainly to record non-BBC shows for viewing without adverts, and for when I'm so lazy that I can't be bothered to switch over to the Chromecast to watch Netflix!
I suspect that I'm also missing the chance to use BBC Sounds.
It's the £199 box
I bought the £199 version of the box because, even though I record a lot of HD shows, I don't really need to keep them. I tend to record a show because it sounds good, and then binge it or delete it depending on how it does.
So, I will record ITV's "Des" because it got David Tennant in it, and it turns out to be OK, so I watch it and then delete it.
The vast majority of TV then turns out to be things from Channel 5 HD because I like shows about "Lost Railways", "New Puppies Shown From Their Point Of View" or "Paddington Station", but there's not something so good you would want to re-watch them. And if you did they can we watch on the relevant channel's catch-up service.
Anything from the BBC it easier to just use iPlayer because you can watch all their content there. But the BBC spends most of it's money on radio stations I don't listen to and regional news I don't watch, what's left on iPlayer is great when it's great ("I May Destroy You") but the corporation seems to only put out "The Sky At Night" as a regular science show these days. OK, "Repair Shop" is both nice and highly watchable.
So, let's open the box
Swapping the old box for the new one only really required one big change and that was removing the Humax power supply and replacing it with the new one. The lead is much shorter, which is great because the old one was far too long and so was coiled up in a drawer.
So, turn it on and it is showing a Freesat Welcome page.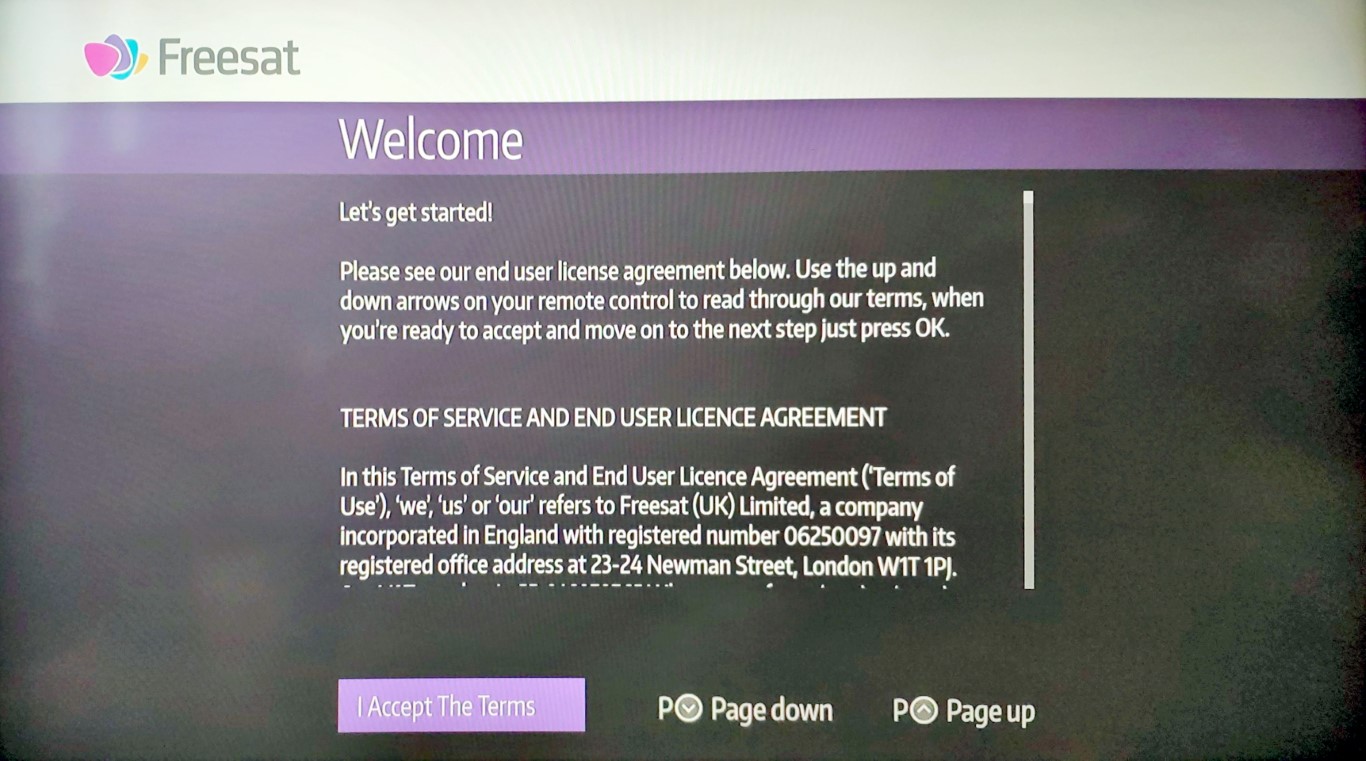 Select OK and then we are asked about the Wireless Network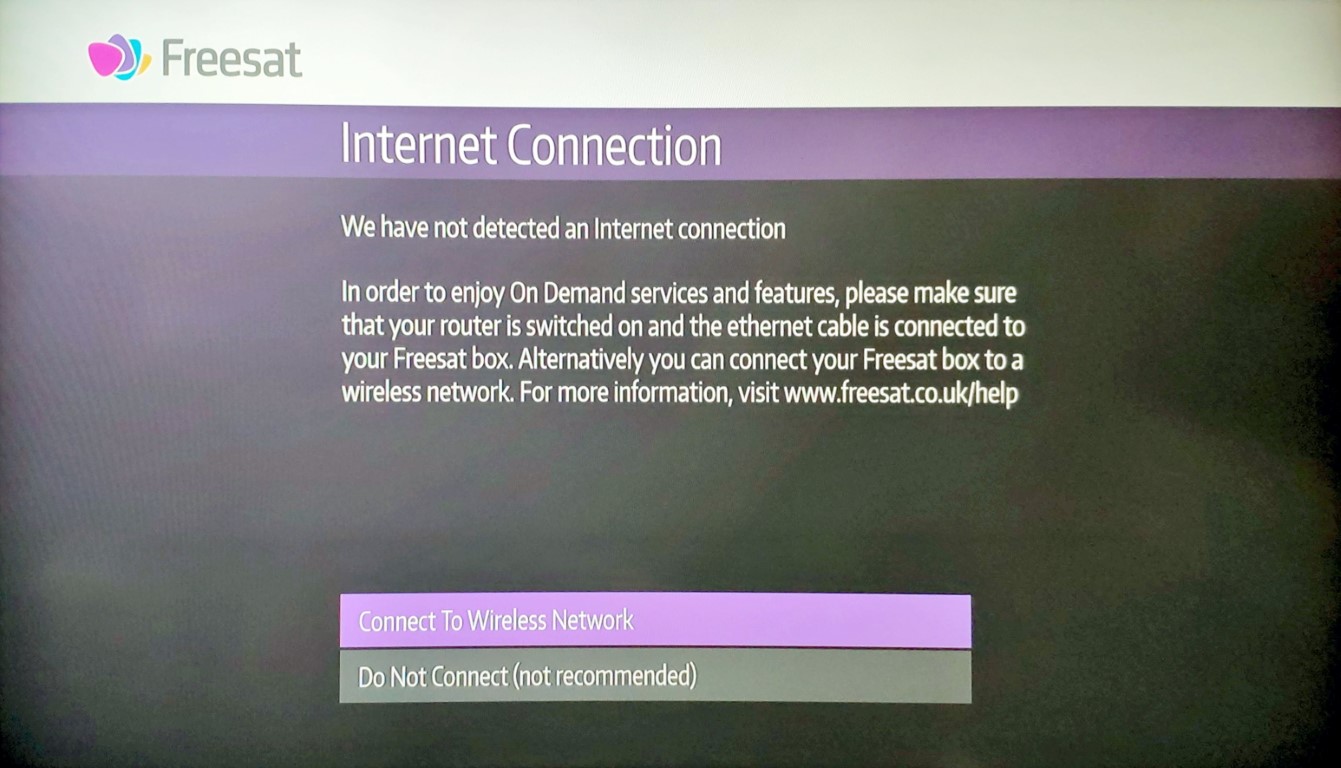 And then have a second go at the password in the terrible input keyboard thing. Damn you multi-cased password! I also note that it's connecting only to the 2.4GHz network, not the 5GHz ones.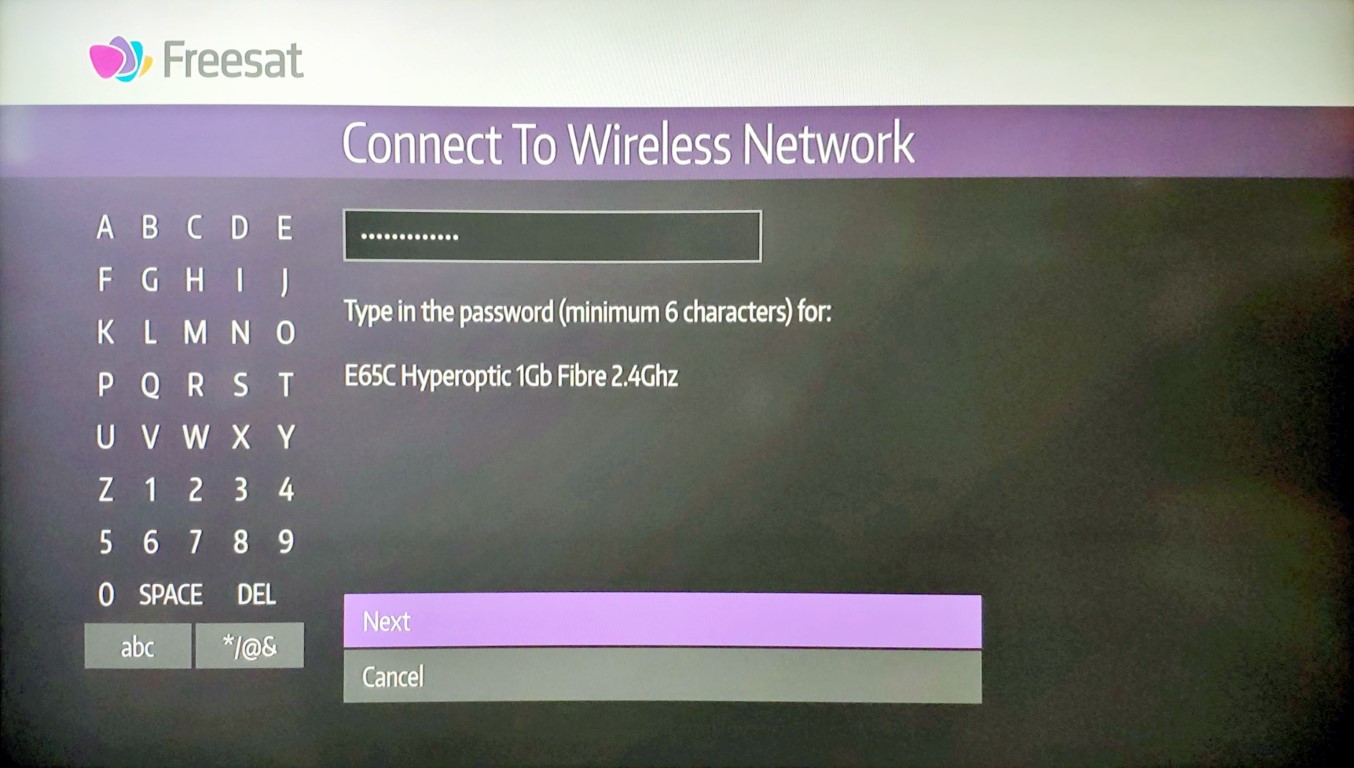 Ah yes, the input-via-remote is something oddly difficuly.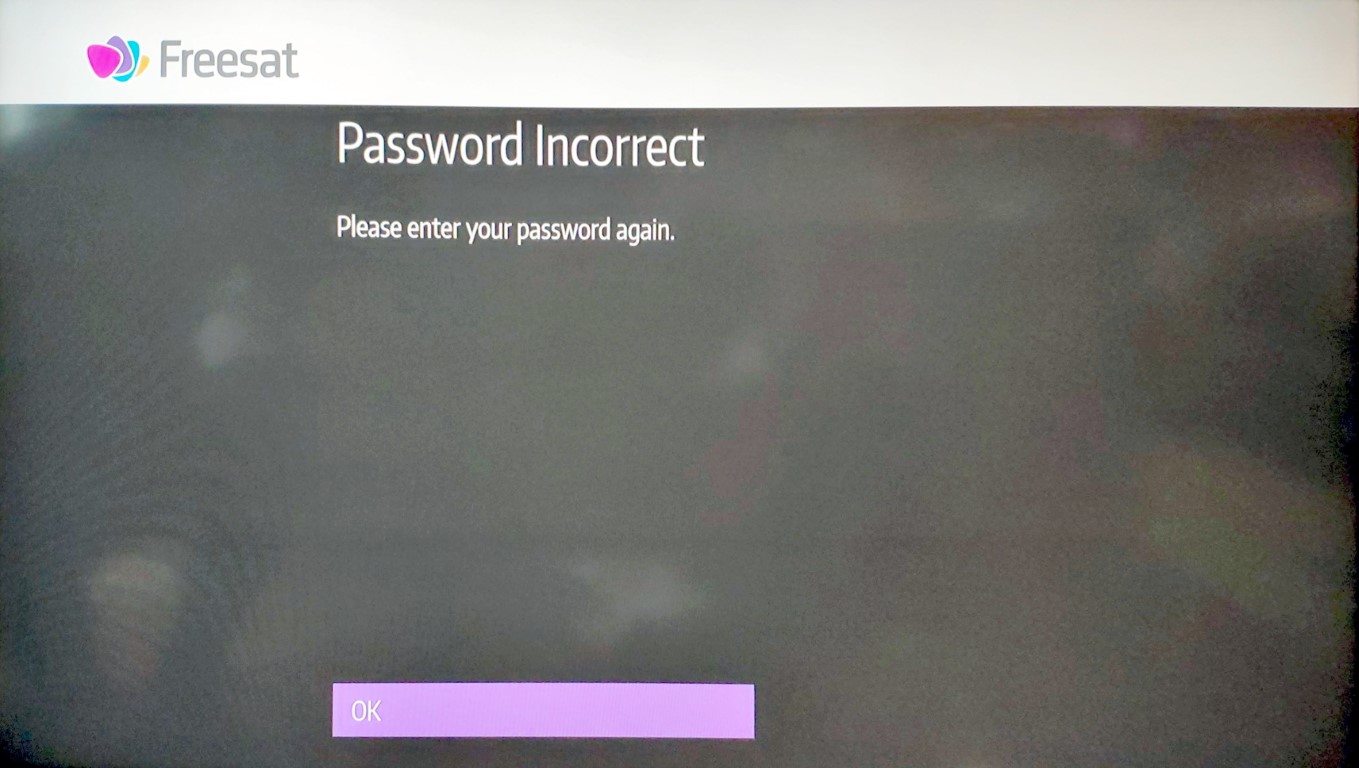 And try again!
So, onward to a Signal Test which seems good on Strength and Quality. I'm happy to see I have a Standard LNB because I'm sure that what the signal distribution thing claims to be.
Input the postcode….
And it searches for channels for a minute…
And now for the even worse bit, getting your Freesat details in. Clearly it's just entering your existinig ones. Trying to enter my password took ages, as switching better upper and lower case and digital and symbols wasn't very easy at all.
Several minutes later, the next screen is reached asking about Parental Controls, which I don't need
Then a Privacy Notice which I read carefully, dear reader.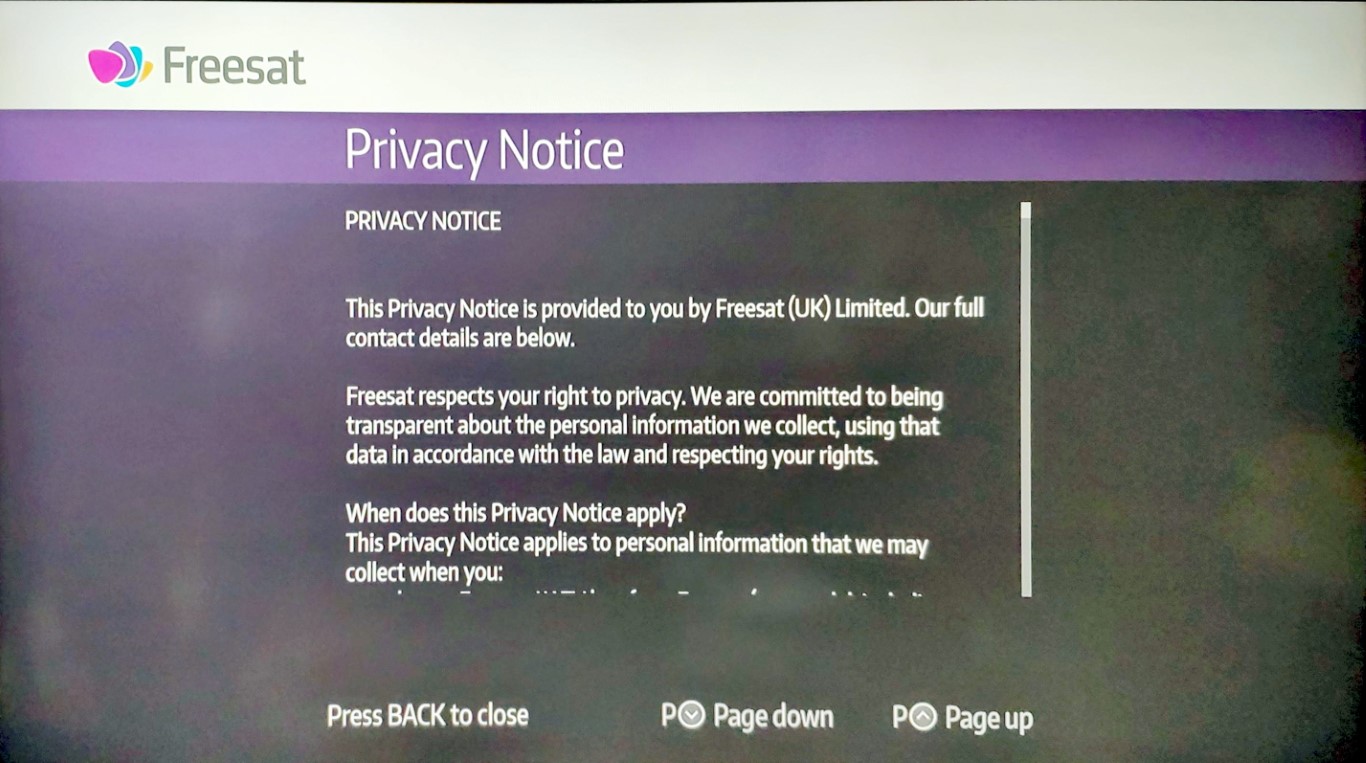 And now, we're done. Time to "Start Watching Telly".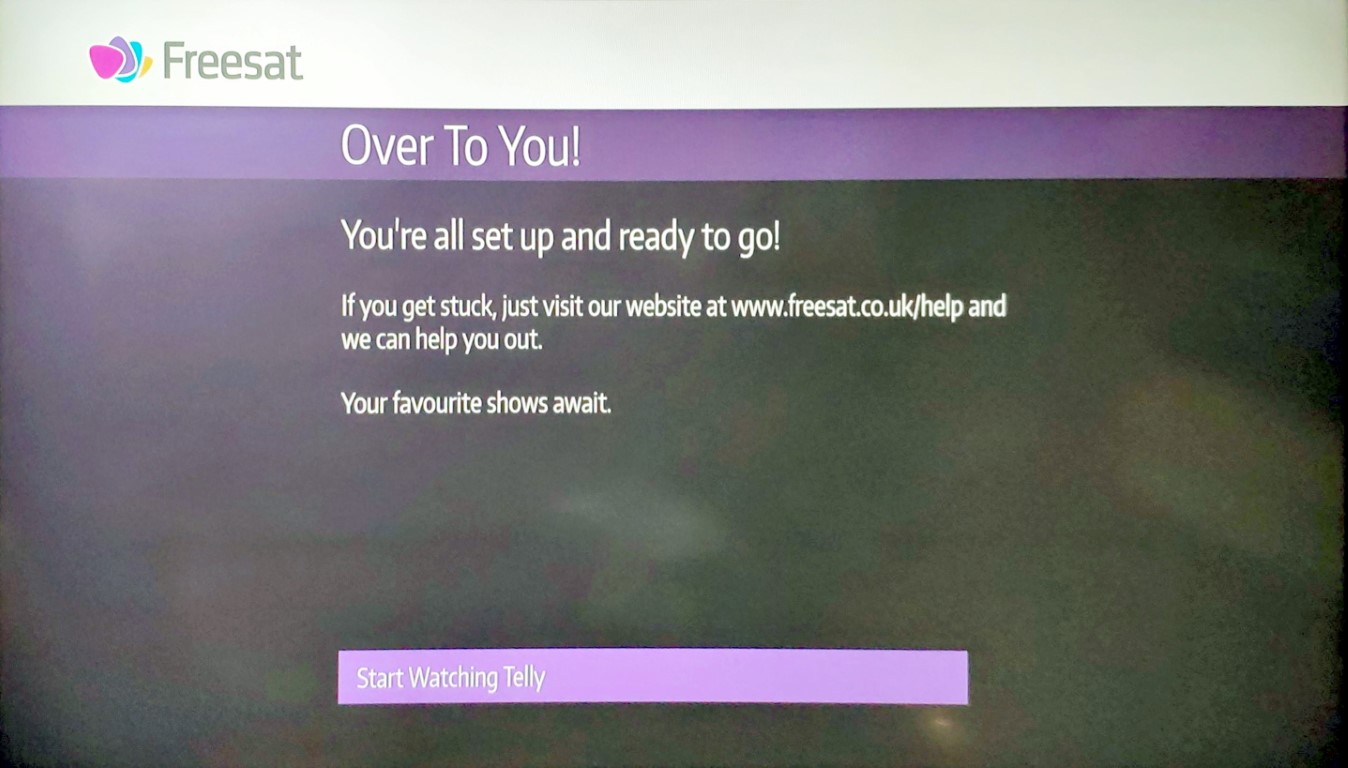 But! Not quite! There is still the small matter of a system update to do. The software wasn't showing Netflix when I pressed the remote control button, so it took about 5 minutes doing this kind of thing…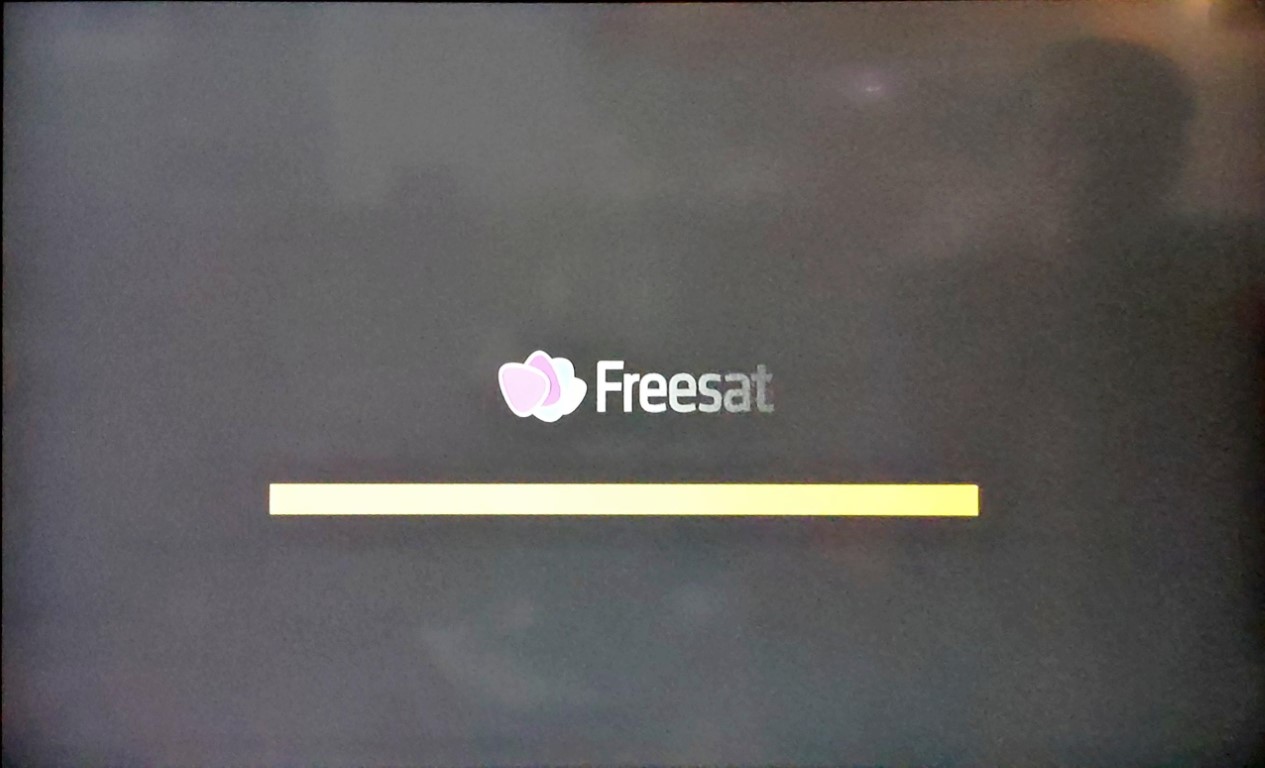 Just need to log back into iPlayer, ITV Hub, Demand 5 and Netflix. Some were very easy – Youtube – some just required "go to this web address any type in these letters" except Netflix which required ANOTHER password to be entered into remote, this time with a little Qwerty keyboard.
Missing Accomplished
The whole point of the exercise was to see if I could now access BBC Sounds, which was a yes.
And BBC iPlayer was again usable. It's a shame there's nothing new in the BBC Science section these days but I can quickly find out I'm going to be disappointed, rather than very slowly.
The final test, switch to Netflix, choose an episode of Star Trek Discovery, press "info" and yes, it's 1080 all the way!
Comments
Sunday, 3 January 2021

I've been a Freesat user for a long time, starting off with a Humax Foxsat, then a Foxsat HDR, and now a Humax HDR-1000s. The current box has recently decided that the hard drive doesn't exist, and so I have just ordered the same box as yourself. I'm a bit confused about the Freesat account though as I am not aware of ever having or needed one before, is this something new? Also you say BBC1 HD is no longer available, but I seem to have it on my existing Humax?

Steve Hancock's 20 posts

Steve Hancock: Freesat accounts have been around for years and enable you to set recordings and control the box from the Freesat app on a smartphone/tablet. I've no idea why Briantist has said that BBC One HD isn't available, as BBC One HD has been available on all Freesat HD boxes since it launched, perhaps he has gotten mixed up with another channel or meant to talk about there being no regional versions of BBC One HD for viewers in England.

StevensOnln1's 3,550 posts

Thanks for the reply StevensOnln1, I'm not sure why I've not come across a Freesat account before. I've just been onto the Freesat site and set myself up, as well as downloading the app so I can hopefully make the most of the new box when it arrives.

Steve Hancock's 20 posts
Wednesday, 17 March 2021
Michael Perry
5:40 PM
Trowbridge

Hi
Would I be right in thinking that a Freesat account is not needed if you do not wish to use a 'smart' phone to control the box? My 'old' Freesat box didn't have the facility and I would never want to use it. I would only use the remote control supplied.
Thanks

Michael Perry's 3,056 posts
Michael's:
map
M's Freeview map
terrain
M's terrain plot
waves
M's frequency data
M's Freeview Detailed Coverage

Michael Perry: I'm fairly sure a Freesat account is optional and can be skipped during setup. I've never used a phone or tablet to control our Freesat box, but the app can be quite handy to set/manage recordings.

StevensOnln1's 3,550 posts
Saturday, 27 March 2021

Nice to see this forum back up and running again, a big thank you! BBC1 HD is still there at 106 on my
FreeSat box. The one BBC chanell you won't find though is BBC4 standard definition. I wonder where they'll
BBC3 when it re-starts? A couple of things worth a mention about the new boxes, they'll work with Sky Q
LNB's and still offer Q's multiple recording facility. As Sky are hiking prices again give them the elbow
Without changing dish gear. If you have some Humax equipment still in operation there are conflicts with
Some remotes.

Chris Hewson's 1 post

Chris Hewson: BBC Four SD is found at LCN 173 on Freesat, it moved down the EPG to make space for BBC Scotland HD on 108. BBC Two SD is currently on 110 (in England at least) so that could easily move to a higher number to make space for BBC Three HD next year.

StevensOnln1's 3,550 posts

Chris Hewson:

Interesting, your comment "A couple of things worth a mention about the new boxes, they'll work with Sky Q LNB's and still offer Q's multiple recording facility. As Sky are hiking prices again give them the elbow
Without changing dish gear. If you have some Humax equipment still in operation there are conflicts with
Some remotes."

Could you elaborate more about which "new boxes" also what the conflicts are with which remotes. the more info the better for those not familiar with much satellite stuff ;)

Chris.SE's 3,686 posts
Sunday, 28 March 2021

I agree with a lot of what Brian said plus other comments. The hardware is very good and worth a full 5 Stars but the soft/firmware is only a 2 Star at the moment. As already commented, the remote code clashes with Humax/Youview and cannot be changed plus this is the most un-ergonomic software needing multiple presses to do the simplest things like playing back a recording. I have a harmony programmable remote and it needs 5 actions to get to the latest recording. This is even worse if you have many programmes in a series.

For radio channels, there is no HTML5 at the moment and you get a black screen plus trying to use the 4K capability does not support HDR on Netflix. Other satellite channels cannot be combined with Freesat so Channel 4 HD stays unavailable as does other HD channels like CNN which are on 28.2 East. If you go to other satellite channels, ALL the Freesat setup is lost although recordings are still there.

In talking to Freesat, they are still working to develop the SW but changing remote codes was not on the list. Here's hope for future development.

DaveCheltenham's 35 posts

I don't know if Humax has changed their remotes on their later models, but the remotes were programmable to avoid conflicts with other devices.

Press 0 and OK on the Genuine remote control, until the Red PVR led lights (if it has one) and a message appears on the screen.
Press button 1-6 to change the address code (Default is 1).

Remember, that if the units are in the same room to make sure they are all unpowered apart from the one you are trying to change.


ChrisG's 2 posts
Select more comments
Your comment please