BBC Two
Inspiring documentaries, drama, comedy and entertainment for mainstream audiences that aims to engage the heart while expanding the mind.
Main TV standard-definiton channels
How to Watch: BBC Two
Below is a list of all the television and radio channels that you can watch in the UK using one of the free services: DAB (for radio), Freeview, Sky No Card - Sky without a viewing card (Freesat from Sky (or fSfS)) and Freesat.. Where a channel can be watched for free, the channel number is listed below. In addition, if you can watch (or listen) immediately online, press the button in the "web" column.

As some channels are exclusive to one service alone, you may need to get receive more than one service to get all the channels you want. The coverage for Freeview differs too - those channels not provided by the public service "Freeview Light" transmitters the current coverage shown thus

(54%)

, taken from Connected Nations Report 2017: Data analysis' Key: wb_sunny daytime; watch_later nighttime; account_box funded from the TV License; flags show Freeview channel limits.
Main TV standard-definiton channels
Regional content
: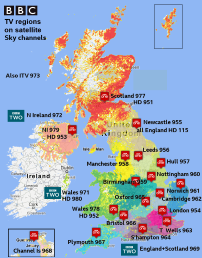 BBC nations TV network - English, Wales, Scotland and Northern Ireland - for some regional programmes. See
BBC nations and regions - overview map - interactive maps
. .
media.info
: For full details of broadcaster contacts, see the
media.info BBC Two page
.
Official site
: See the
BBC Two website
.
From Wikipedia
: It covers a wide range of subject matter, but tending towards more 'highbrow' programmes than the more mainstream and popular BBC One. Like the BBC's other domestic TV and radio channels, it is funded by the television licence, and is therefore commercial-free. It is a comparatively well funded public service network, regularly attaining a much higher audience share than most current public service networks worldwide. - en.wikipedia.org
read more about BBC Two on wikipedia
(summary by
Clipped
).
Freeview multiplex
: BBC Two is on
multiplex PSB1
in
.
About BBC Two
Free channel of the day: BBC Two

Brian Butterworth published on UK Free TV
How is the free channel paid for?
The £528.3m
BBC Two
budget is funded by the £3,596m Television Licence Fee, and represents 14.7% of all BBC spending - that's about 42p per week per person.
Is the channel live, pre-recorded, new content or repeats?
BBC Two has live presentation, but almost all programmes are pre-recorded, with the exeption of The Daily Politics and Newsnight. Almost all shows are commissioned by the BBC and most have having their first showing.
What's the channel's unique selling point?
A healthy diet of lifestyle programmes, documentaries, comedy, quiz programmes and
drama
.
The programme schedule highlights
6pm quiz, 6:30pm popular history, 10pm entertainment, 10:30pm Newsnight.
The bits to avoid
The afternoon schedule (The Weakest Link, Flog It!) is lacking the imagination of peak time programmes.
This channel carries a subtitles service for the deaf, hard of hearing and quiet environments.
Comments
Sunday, 17 July 2011

George: If you are watching the analogue channels, BBC2 was switched off on 6th July 2011 and replaced by a high power digital multiplex which carries all the BBC channels. The remaining analogue signals will be switched off at Sudbury on Wednesday, 20th July 2011 and replaced by mux D3+4 ( ITV1&2, C4, C5 etc) and mux BBCB which carries HD channels. To continue watching TV you will need a Freeview box or a TV with an in-built digital tuner. If the problem is loss of BBC2 on a digital receiver you will need to do a factory reset to clear the channel list of all old data then do a scan for channels which should find and store the channels on the current frequency.

KMJ,Derby's 1,811 posts
Thursday, 8 September 2011

I have reset the TV channels after the Sutton Coldfield switch over and all is fine. However, I cannot tune the Recorder into BBC2 or Ch. 5 either manually or automatically. I have a digital tv, no Freeview box or anything. Feel if I could find the channel number of BBC2/Ch. 5 it would help. I have 46 for BBC1, 40 for ITV and 50 for Ch4. I can record all these okay. I can also record BBC2 if I set the recorder to AV1 but have to have the TV on that channel throughout.

Pensioner 69's 1 post

Pensioner 69: I'm assuming you mean an old video cassette recorder (VCR). Analogue is now being switched off completely - analogue BBC Two no longer broadcasts from Sutton Coldfield. The other analogue channels will go on the 21st. Channel 5 should still be around for the next two weeks, but was always more difficult to receive as it broadcasts on a low channel from the Lichfield mast.

To record digital TV programmes other than the one you're watching, you need to add a Freeview box to decode the signal for the VCR, and set the VCR up to record from that - this would probably be AV2 on the VCR. It is a lot easier to get a hard disk-based recorder, generally called a Personal Video Recorder (PVR).

Mike Dimmick's 2,486 posts
Wednesday, 16 November 2011

Can you please tell me the number of the channel used to provide bbc2 in Norfolk

J.M.SMITH's 1 post
Thursday, 17 November 2011
M
Mark Fletcher
12:53 AM
Halifax

J.M.SMITH.Channel 55 from the main Tacolneston transmitter.

Mark Fletcher's 673 posts
Mark's:
map
M's Freeview map
terrain
M's terrain plot
waves
M's frequency data
M's Freeview Detailed Coverage

J.M.SMITH: Also see Switchover starts in Norfolk
| ukfree.tv - independent free digital TV advice please.

Briantist's 38,906 posts
Wednesday, 7 March 2012

can you please tell me what channel is used to provide bbc2 to Salisbury post code sp2 9ll? Thanks

Barry's 1 post
Barry's:
map
B's Freeview map
terrain
B's terrain plot
waves
B's frequency data
B's Freeview Detailed Coverage

Barry: If your aerial is directed at the Salisbury transmitter, then it is on channel 57 along with the other BBC standard definition services on the BBC A multiplex.

BBC Two is now no longer available on analogue as it has made way for the full power BBC A multiplex.

Dave Lindsay's 5,724 posts
Thursday, 5 April 2012

I do not have any problems with my TV reception - BBC 1, etc, but when I switch to HMDI, I did I cannot get BBC1- BBC2 - Channel 80.

Is there some simple non- technical thing I could do to make it work ?

Peter's 1 post
Sunday, 8 April 2012

I've autotuned my Panasonic Freeview HDD/DVD recorder after switchover, but now we don't have BBC2 on it? What do I need to do to get it on there - looking at various websites they seem to have instructions for groups of missing channels, but we have got BBC One.
Thank you

Jules's 1 post
Select more comments
Your comment please