STV+1
ITV for traditionalists, TV addicts
Main TV standard-definiton channels
How to Watch: STV+1
Below is a list of all the television and radio channels that you can watch in the UK using one of the free services: DAB (for radio), Freeview, Sky No Card - Sky without a viewing card (Freesat from Sky (or fSfS)) and Freesat.. Where a channel can be watched for free, the channel number is listed below. In addition, if you can watch (or listen) immediately online, press the button in the "web" column.

As some channels are exclusive to one service alone, you may need to get receive more than one service to get all the channels you want. The coverage for Freeview differs too - those channels not provided by the public service "Freeview Light" transmitters the current coverage shown thus

(54%)

, taken from Connected Nations Report 2017: Data analysis' Key: wb_sunny daytime; watch_later nighttime; account_box funded from the TV License; flags show Freeview channel limits.
Main TV standard-definiton channels
Regional content
: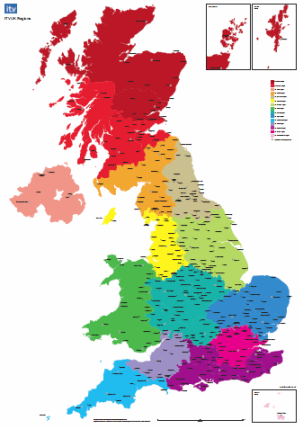 Channel 3 network for adverts and regional news. See
ITV, UTV and STV regions - overview map - interactive maps
. .
media.info
: For full details of broadcaster contacts, see the
media.info STV+1 page
.
Official site
: See the
STV+1 website
.
From Wikipedia
: The brand was adopted on Tuesday 30 May 2006 replacing both franchises' identities. Both licensees are owned by STV Group plc. On a network scale, one of STV's most famous exports is the long-running crime drama Taggart, set in Glasgow. - en.wikipedia.org
read more about STV+1 on wikipedia
(summary by
Clipped
).
Freeview multiplex
: STV+1 is on
multiplex PSB2
in
.
Comments
Saturday, 12 December 2020

Elaine Egan:

I can't find any reported transmitter faults, and there's no Planned Engineering listed BUT it may depend on exactly which transmitter you might be receiving as there's more than one in some places in your general area, so a full postcode would be needed to provide further information on that.
However this could be a Broadcaster issue rather than a transmitter problem especially if you are still able to get other channels such as Channel 4 and Channel 5. The post before yours has STV's contact details.

Chris.SE's 3,722 posts
Sunday, 3 January 2021

Chris.SE:
Hi Folks,

Is there any reason why in Inverness we cant get forces tv on freeview?

Ronnie's 1 post

Ronnie: Forces TV is on the COM7 multiplex which is not broadcast from any transmitter covering Inverness.

StevensOnln1's 3,553 posts
Select more comments
Your comment please