UTV HD
UTV in High Definition
Main TV standard-definiton channels
How to Watch: UTV HD
Below is a list of all the television and radio channels that you can watch in the UK using one of the free services: DAB (for radio), Freeview, Sky No Card - Sky without a viewing card (Freesat from Sky (or fSfS)) and Freesat.. Where a channel can be watched for free, the channel number is listed below. In addition, if you can watch (or listen) immediately online, press the button in the "web" column.

As some channels are exclusive to one service alone, you may need to get receive more than one service to get all the channels you want. The coverage for Freeview differs too - those channels not provided by the public service "Freeview Light" transmitters the current coverage shown thus

(54%)

, taken from Connected Nations Report 2017: Data analysis' Key: wb_sunny daytime; watch_later nighttime; account_box funded from the TV License; flags show Freeview channel limits.
High definition channels
Regional content
: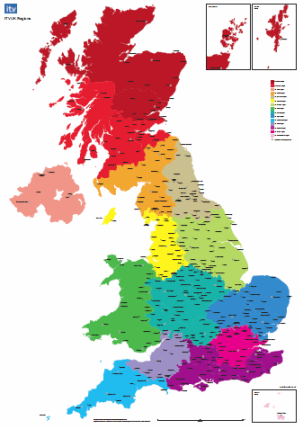 Channel 3 network for adverts and regional news. See
ITV, UTV and STV regions - overview map - interactive maps
. .
media.info
: For full details of broadcaster contacts, see the
media.info UTV HD page
.
Official site
: See the
UTV HD website
.
From Wikipedia
: UTV was the last of the ITV stations to cease broadcasting on analogue transmitters. The station was the last in the ITV network to begin 24-hour transmission in 1988. UTV's ident at this time did not animate and was not accompanied by a jingle. - en.wikipedia.org
read more about UTV HD on wikipedia
(summary by
Clipped
).
Freeview multiplex
: UTV HD is on
multiplex PSB3
in
.
Comments
Saturday, 22 September 2012

Will I be able to receive RTE1/RTE2 and TG4 from the transmitter at Draperstown after switch-over?

Regards Tony

Tony Bujwid's 1 post

Tony Bujwid: No because RTÉ and TG4 are only due to broadcast from three transmitters in the North:

Northern Ireland "mini multiplex" (NIMM) | ukfree.tv - 10 years of independent, free digital TV advice

Some parts not served by these transmitters can pick up from one of the Saorview transmitters outside of NI.

Draperstown will also be Freeview Lite, meaning that it will carry only Public Service channels. These are BBC (inc HDs), UTV, UTV+1, UTVHD, ITV2, Channel 4, Channel 4+1, Channel 4HD, E4, More4 and Channel 5.

The Commercial channels that carry ITV3, Dave, Film4 etc only wish to broadcast from main transmitters where they serve a large volume of viewers.

Dave Lindsay's 5,724 posts

Tony Bujwid: I have taken another look at this.

Google Streetview pictures taken in your area are dated September 2009.

There are quite a few houses that have an aerial on Draperstown transmitter (aerials vertical) and another horizontally-polarised aerial on a bearing slightly anti-clockwise of Draperstown. By my reckoning the latters are pointing to Holywell Hill.

As Holywell Hill uses Group A channels (bottom third of the band) and Draperstown uses Group B ones (middle third of the band), it is possible to have two aerials and combine the feeds into one downlead so that they can all be viewed via one receiver.

Dave Lindsay's 5,724 posts

Tony Bujwid: See:

http://consumers.ofcom.or….pdf

Also see the DUK Installer Newsletter for Northern Ireland:

http://www.digitaluk.co.u….pdf

See page 5 and also page 7 under the heading "Freeview and Saorview products use different standards".

Dave Lindsay's 5,724 posts
Thursday, 11 October 2012

I am in Derry and currently (as of 10th Oct) get the BBC freeview channels and the availablity checker ( Freeview | Coverage Checker ) says I will be getting UTV, CH4, CH5, ITV2, CH4+1, more 4 & E4 and BBCHD, BBC1 HD and CH4 HD after switchover (24th Oct)

I assume this means I am in a freeview lite area. However I doubt I will get Lite TV licence

Neil's 1 post
Monday, 29 October 2012
V
Vincenzo Mesce
12:27 PM
Londonderry

this information is false. i still cant get UTV HD. can you tell me why

Vincenzo Mesce's 3 posts
Vincenzo's:
map
V's Freeview map
terrain
V's terrain plot
waves
V's frequency data
V's Freeview Detailed Coverage

Vincenzo Mesce: It's definitely running on Freeview and on Virgin Cable. If you're using Freeview, and you have compatible equipment, it should be on 103 alongside BBC One HD on 101, BBC HD on 102, and 4hd on 104. You need a TV, set-top box or PVR with the Freeview HD logo; an 'HD Ready' or 'HD TV' logo is not enough. Check the manual to ensure that it lists support for DVB-T2, not just DVB-T.

It is expected to launch on Freesat and Sky early next year (UTV's press release says 'first quarter').

Mike Dimmick's 2,486 posts
Thursday, 22 November 2012

Vincenzo Mesce: So you have the rest of the Freeview HD channels (101, 102, 104) and you're just missing UTV HD?

Michael's 358 posts
Friday, 23 November 2012
V
Vincenzo Mesce
2:51 PM
Londonderry

i have sky and my TV has freeview and is hd, is there something else to do


Vincenzo Mesce's 3 posts
Vincenzo's:
map
V's Freeview map
terrain
V's terrain plot
waves
V's frequency data
V's Freeview Detailed Coverage

Vincenzo Mesce: According to
UTV signs new network deal - UTV Live News
UTV HD should be on Sky shortly. UTV HD should be available on channel 103 via an aerial if you have a TV with Freeview HD built-in or a Freeview HD box.

Michael's 358 posts
Select more comments
Your comment please