Saorview on the Truskmore (Republic of Ireland) transmitter

Brian Butterworth first published this on - UK Free TV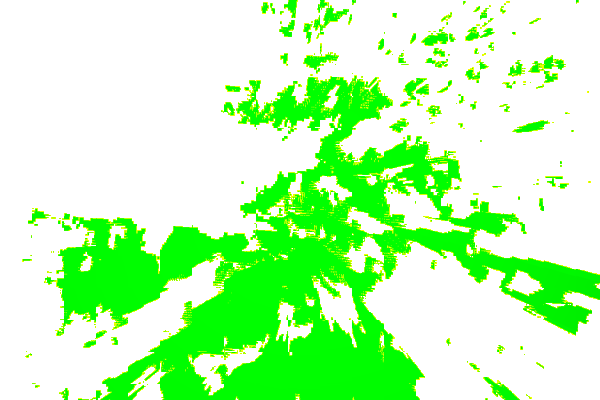 The symbol shows the location of the Truskmore (Republic of Ireland) transmitter. The bright green areas shown where the signal from this transmitter is strong, dark green areas are poorer signals. Those parts shown in yellow may have interference on the same frequency from other masts.
This transmitter has no current reported problems
The BBC and Digital UK report there are no faults or engineering work on the Truskmore (Northumberland, England) transmitter.


_______
Which Saorview channels does the Truskmore transmitter broadcast?
If you have any kind of Saorview fault, follow this
Saorview reset procedure
first.
Digital television services are broadcast on a multiplexes (or Mux) where many stations occupy a single broadcast frequency, as shown below.
Mux
H/V
Frequency
Height
Mode
Watts

SV1




H max

C42 (642.0MHz)
810m
DTG-1003

160,000W


2 RTÉ2 HD, 3 Virgin Media 1, 4 TG4 (RoI), 21 RTÉ News Now, 22 Tithe an Oireachtais ,



SV2




H max

C45 (666.0MHz)
810m
DTG-1003

160,000W


1 RTÉ One HD, 5 Virgin Media 2 , 6 Virgin Media 3, 7 RTÉ jr, 11 RTÉ One +1, 12 RTÉ2+1, 27 Saorview Information (*,


DTG-1003
64QAM 8K 2/3 24.1Mb/s DVB-T MPEG4
H/V: aerial position (horizontal or vertical)
How will the Truskmore (Republic of Ireland) transmission frequencies change over time?
1984-97
1997-98
1998-2012
2012-13
1 Sep 2019

A

B

C/D

E

K

T

VHF

A

B

C/D

E

K

T

VHF

A

B

C/D

E

K

T

VHF

C/D

E

T

B

E

K

T

C42
SV1
C45
SV2
C53tv_off
SV1
C57tv_off
SV2
tv_off Being removed from Freeview (for 5G use) after November 2020 / June 2022 - more
Table shows multiplexes names see this article;
green background for transmission frequencies
Notes:
+
and
-
denote 166kHz offset;
aerial group
are shown as
A
B
C/D
E
K
W
T
waves
denotes analogue; digital switchover was 1 Jan 12 and 1 Jan 12.
How do the old analogue and currrent digital signal levels compare?
Comments
Saturday, 23 June 2012

Hey

Anyone else having Trouble on Truskmore (Sligo) Transmitter regarding Saorview?

I live in Fintona County Tyrone
I have had Saorview since october 2011 and never a fault in it. Now since Truskmore was undergoing 'Essential Maintenance' on Wed 20th June - I have lost my Saorview Signal completley - but still recieve Annalogue TV3 and TG4
Anyone else on Truskmore Sligo having same trouble?

Ronan Anthony's 2 posts
Wednesday, 11 September 2013

Why does the text above show Truskmore located in Northumberland, England? It is located in Sligo, Ireland and is operated by RTENL, not the BBC or Digital UK. The map and channel list are correct.

Peter Coghlan's 1 post
Thursday, 20 March 2014

Hi,
I live in Ballyshannon, Co. Donegal.Near Belleek. Does anybody know why i have lost all the utv/c4 stations in the past week.Keep losing bbc also. I am on Truskmore transmitter.

BT's 1 post
BT's:
map
B's Freeview map
terrain
B's terrain plot
waves
B's frequency data
B's Freeview Detailed Coverage
Your comment please