Freeview reception - all about aerials

Brian Butterworth published on UK Free TV
Updated 8th January 2014.


Your ability of receive all the Freeview transmissions depends on the suitability of aerial
the design style,
the "group", and
its physical location.
Standard type - Yagi aerial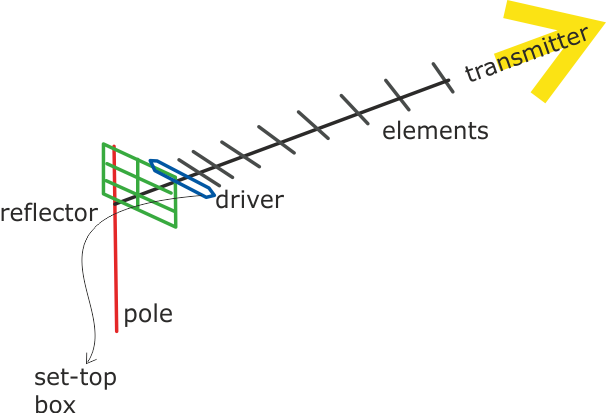 The
standard
type of TV aerial is known as the Yagi aerial. It is mounted on a pole, and consists of a rod with a reflector (shown green) at the back and many spiky elements (in grey) at the front. The connecting
cable
connects to the element nearest the reflector, known as the driver (shown in blue).
These Yagi aerials are directional and so
pick
up signals best from a
transmitter
that the rod points towards. The more elements the aerial has, the better it picks up a
signal
and becomes more directional.
A standard-type aerial is all that is required for
digital
TV
reception
in most places. These antennae have between 10 and 18 elements and a single reflector. These are recommended for new installations for good digital television reception, but will more often than not function perfectly in good reception areas.
Typically these aerials are designed to receive only some transmission frequencies - see "groups" below.
High Gain aerials

These aerials are designed for poor digital reception areas, and have two reflectors. For maximum signal strength, some digital high
gain
aerials have up to 100 elements. Since the
switchover
to digital-only transmissions back in October 2012, most UK households now have good
quality
digital TV signals.
A more expensive aerial is only required where the signal strength is low, but can often provide the whole Freeview reception where it might otherwise be impossible.
The CAI (that represents aerial installers) has four standards for digital TV aerials. The highest standard "1" is for homes on the fringes of coverage areas, intermediate standard "2" is suitable for use within the coverage area; minimum standard "3" is for good coverage conditions.
These aerials can be either
wideband
, or receive only selected frequencies - see "groups" below.
Grid

You may haved used a 'Grid aerial' for
analogue
reception, but as they are generally unsuitable for Freeview reception, they have now generally been replaced by the Yagi type. However in some places a Grid aerial installation may work for Freeview: otherwise replace with a standard Yagi aerial.
Indoor
Indoor aerials
are generally not suitable for Freeview reception. In areas of good signal strength it is often possible to receive some transmissions. Even where an aerial works, people often find that may get interruptions to their viewing (or recording).
Loft mounted
Loft
mounted arrivals are not generally recommended for Freeview reception, as the
roof
tiles and plumbing will degrade the signal. Some compensation for this loss of signal can be made by using
satellite
-grade cable to connect the set top box to the aerial.
Positioning
The best position for a TV aerial is mounted outdoors, as high from the ground as possible, pointing directly at the transmitter. The signal can be blocked by hills and tall buildings. It should be positioned away from any other aerials.
Horizontal or vertical?
The transmitter will either use vertical
mode
which requires the elements of your aerial to be up-down, or horizontal mode which requires them to be level with the ground.
Groups
Both analogue and digital television is transmitted the same group of transmission frequencies (known as
channel
21 through to 60). A coloured marking on the aerial shows the group.

To create the best possible analogue
picture
, TV transmissions from adjacent transmitters have been designated to several different groups of frequencies. By using an aerial that receives only the
channels
in the correct group, the analogue picture can be kept free from
interference
.
To receive Freeview transmissions from the same transmitter it has been sometimes necessary to use frequencies that are not part of the transmitter's normal group. When this has occurred, the aerial will need to be replaced with a "wideband" aerial (also known as group W) - one that covers every group.
As
Ofcom
is planning to move the TV frequencies again - perhaps as soon as 2018 - it may be wise to use a wideband aerial if you can to ensure you can keep viewing Freeview for many years to come.
Comments
Tuesday, 25 September 2012

Our freeviw signal in Thanet is a disaster even worse since changeover. As everyone is equal and everyone must be treated equally I think our signal must be improved or everyone else's should be made as bad as ours. We could all fight together then.

David Harris's 2 posts
Wednesday, 26 September 2012
R
Rob Walton
8:57 PM
Darlington

I need to buy a new TV and replace the old Arial, would i be better looking at freeview sat or a conventional arial?.

Rob Walton's 2 posts
Rob's:
map
R's Freeview map
terrain
R's terrain plot
waves
R's frequency data
R's Freeview Detailed Coverage

If your present aerial works why do you think you need a new one?

Freesat is good but you certainly would need a new dish installing.

Stephen P's 1,173 posts
Sunday, 30 September 2012

I have a Toshiba digital TV and a Topfield recorder.
The Topfield works fine but the Toshiba TV sometimes "loses" the BBC channels.
I can still view them through the Topfield but the Toshiba cant see them and doesn't find them when I rescan, even if I disconnect the Topfield and plug the roof aerial directly into the Tosh
What is going on ?
thanks
Paul

Paul Haggett's 1 post
Monday, 1 October 2012

It may be that the signal is too strong or too weak for one tuner and OK for another. They will vary, and form time to time if on the margin.

Plug your postcode in here for a strength estimate.
UK digital TV reception predictor

Stephen P's 1,173 posts
Friday, 5 October 2012
A
Alan Brown
9:22 PM
Northampton

We have a Hitachi TV with Freeview. This is installed on our narrow boat. We tend to cruise in areas covered by Central and Anglia often on the limits to transmission. When we need to retune we have a lot of difficulty operating the remote control to enable us to switch regions. Is the fact that our reception is poor the reason that the remote control does not respond?

Alan Brown's 4 posts
Alan's:
map
A's Freeview map
terrain
A's terrain plot
waves
A's frequency data
A's Freeview Detailed Coverage

Alan Brown: Basically no! at least as far as the operation of the remote control is concerned, are you sure that the batteries fitted in the remote control are OK?

On the subject of reception when moored up at various points along the waterways, the problem as you will know doubt be aware of is that many of these locations have an abundance of trees dotted along the way, and trees act like a blanket to Freeview signals.

Just out of interest what type of aerial are you using for reception? and does it have the addition of a booster? the reason I ask is that friends of mine tour about in the areas referred to with their narrow boat and haven't really reported any great difficulties, that is except when in a tree lined type of situation.

By the way their aerial being a DM log used in conjunction with a variable booster.

jb38's 7,179 posts
Saturday, 6 October 2012

Alan B - you are saying the TV will not obey the remote? Not just that it finds no channels? Certainly try new batteries first. Old ones may have just enough power for normal use but not cope with lots of successive commands.

do you elevate your aerial? On top of your bargepole?

I have thought of a helium balloon.


Stephen P's 1,173 posts
Monday, 8 October 2012
A
Alan Brown
12:16 AM
Northampton

Alan Brown: JB and Stephen P. Many thanks for your comments. The aerial is a Labgear Megaboost with 16db amplifier as sold by Maplins, Argos etc. under various names. The batteries were always the first item blamed and changed. Problem not resolved. The aerial is mounted on poles which can be extended above height of boat and in some instances this resolves the problem. With improved signal remote functions return, tv operates as it should as channels can be retuned if necessary. In marina we must be near a transmitter as aerial does not need to be erected above roof of boat may even work off indoor aerial as signal so strong. This evening moored up good picture when tv turned on tried to change channel using remote. Nothing. Spent a few minutes trying to get remote to retune channels. Nothing. Went outside moved aerial around a bit and bingo return of use of remote and is fine. I am always aware of area we are mooring up whether we are in high, low area, in dense trees etc. If we are desperate for tv we make sure we are in area where we should have no problem with reception. Its the fact that we cannot operate the remote to retune stations that is the main problem we are trying to resolve. Do we have a ghost ship? Tried a Four in One remote same problem.

Alan Brown's 4 posts
Alan's:
map
A's Freeview map
terrain
A's terrain plot
waves
A's frequency data
A's Freeview Detailed Coverage

Alan Brown: Thanks for your update / explanation regarding aerial being used, and which I will say is a superb ruggedly constructed device that is capable of outperforming much larger pieces of metalwork of the so called "high gain" variety, myself having demonstrated this to a few over the years and is an aerial I use for mobile tests when out on trouble shooting missions.

As far as your remote control is concerned, if you have tried another control then that eliminates the remote being as the cause of the problem, this only leaving the IR pick up device / circuitry in the TV as being suspect, but though what I feel might be happening is that the signal going into the TV is a touch over powerful for its tuner and this is causing the set to partially lock up.

For a test, what I would like you to try is to disconnect the aerials power unit from the mains and then unscrew the "F" connector on the end of the loop link that comes from the aerials pick up elements and goes into the amplifier module, and then likewise unscrew the "F" connector on the amplifier module thats on the end of the cable from the aerials power unit / signal separator, then with the aid of a female "F" coupler join the two "F" connectors together, in other words you are by-passing the amplifier.

Then at the power unit end unscrew the "F" connector on the end of the coax from the aerial and use that as your TV's aerial connection with the aid of a "female F to male coax adaptor", by doing this you making your aerial perform just about the same as the DM log I mentioned minus its "external" amplifier.

Try that and see how the results are.

jb38's 7,179 posts
Select more comments
Your comment please