Freeview reception - all about aerials

Brian Butterworth published on UK Free TV
Updated 8th January 2014.


Your ability of receive all the Freeview transmissions depends on the suitability of aerial
the design style,
the "group", and
its physical location.
Standard type - Yagi aerial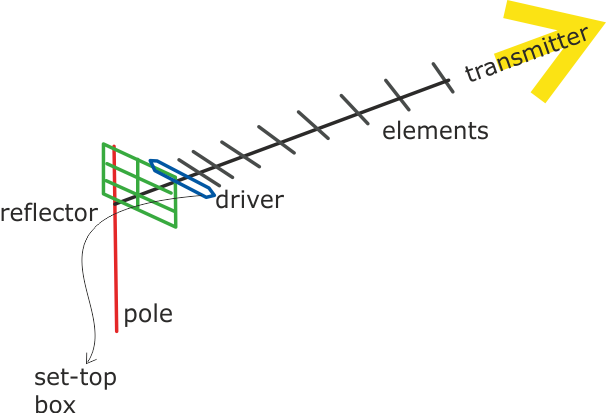 The
standard
type of TV aerial is known as the Yagi aerial. It is mounted on a pole, and consists of a rod with a reflector (shown green) at the back and many spiky elements (in grey) at the front. The connecting
cable
connects to the element nearest the reflector, known as the driver (shown in blue).
These Yagi aerials are directional and so pick up signals best from a
transmitter
that the rod points towards. The more elements the aerial has, the better it picks up a
signal
and becomes more directional.
A standard-type aerial is all that is required for
digital
TV
reception
in most places. These antennae have between 10 and 18 elements and a single reflector. These are recommended for new installations for good digital television reception, but will more often than not function perfectly in good reception areas.
Typically these aerials are designed to receive only some transmission frequencies - see "groups" below.
High Gain aerials

These aerials are designed for poor digital reception areas, and have two reflectors. For maximum signal strength, some digital high
gain
aerials have up to 100 elements. Since the
switchover
to digital-only transmissions back in October 2012, most UK households now have good
quality
digital TV signals.
A more expensive aerial is only required where the signal strength is low, but can often provide the whole Freeview reception where it might otherwise be impossible.
The CAI (that represents aerial installers) has four standards for digital TV aerials. The highest standard "1" is for homes on the fringes of coverage areas, intermediate standard "2" is suitable for use within the coverage area; minimum standard "3" is for good coverage conditions.
These aerials can be either
wideband
, or receive only selected frequencies - see "groups" below.
Grid

You may haved used a 'Grid aerial' for
analogue
reception, but as they are generally unsuitable for Freeview reception, they have now generally been replaced by the Yagi type. However in some places a Grid aerial installation may work for Freeview: otherwise replace with a standard Yagi aerial.
Indoor
Indoor aerials
are generally not suitable for Freeview reception. In areas of good signal strength it is often possible to receive some transmissions. Even where an aerial works, people often find that may get interruptions to their viewing (or recording).
Loft mounted
Loft
mounted arrivals are not generally recommended for Freeview reception, as the
roof
tiles and plumbing will degrade the signal. Some compensation for this loss of signal can be made by using
satellite
-grade cable to connect the set top box to the aerial.
Positioning
The best position for a TV aerial is mounted outdoors, as high from the ground as possible, pointing directly at the transmitter. The signal can be blocked by hills and tall buildings. It should be positioned away from any other aerials.
Horizontal or vertical?
The transmitter will either use vertical
mode
which requires the elements of your aerial to be up-down, or horizontal mode which requires them to be level with the ground.
Groups
Both analogue and digital television is transmitted the same group of transmission frequencies (known as
channel
21 through to 60). A coloured marking on the aerial shows the group.

To create the best possible analogue
picture
, TV transmissions from adjacent transmitters have been designated to several different groups of frequencies. By using an aerial that receives only the
channels
in the correct group, the analogue picture can be kept free from
interference
.
To receive Freeview transmissions from the same transmitter it has been sometimes necessary to use frequencies that are not part of the transmitter's normal group. When this has occurred, the aerial will need to be replaced with a "wideband" aerial (also known as group W) - one that covers every group.
As
Ofcom
is planning to move the TV frequencies again - perhaps as soon as 2018 - it may be wise to use a wideband aerial if you can to ensure you can keep viewing Freeview for many years to come.
Comments
Saturday, 27 October 2012

Derek: Do the missing channels appear further up? In the 800s maybe?

Ensure that the country setting is set correctly to UK or GB as that sometimes causes channels not to be put in the right positions.

Dave Lindsay's 5,724 posts

Derek you are simply unplugging the aerial from existing TV and plugging into a new one next to it?

And you ARE getting other channels?

Do the channels you get fit into particular muxes?

When you scan does it show you the channels it is finding? Are the missing ones there?

Stephen P's 1,173 posts
Sunday, 28 October 2012

I would like to know which way my aerial should be pointing... I live in Holmhead, Cumnock and most aerials point to the town centre where there is a mast at the police station however some point towards Darvel which is not visible from my house.
Also is there a specific aerial I should be using

Steve's 1 post

Steve: There is no law about which way one's aerial should be pointing. You will not be thrown in the slammer at the base of the Holmhead transmitter for not using it!

The Holmhead transmitter is Freeview Lite meaning that it carries only PSB (Public Service Broadcaster) channels. The Commercial (COM) channels broadcast from main stations and larger relays and so are not available to everyone.

For information on aerials, and an online shop, see A.T.V (Aerials And Television) TV Aerial, DAB Aerial, FM Aerial.

Darvel uses all Group A channels. Wideband aerials are less sensitive on Group A channels, so you should use a Group A aerial:

A.T.V (Aerials And Television) TV Aerial, DAB Aerial, FM Aerial. digitalnationwide.html#D

For Holmhead at only 2W you really need line-of-sight with the radiating antennas to be able to receive it. These are part way from the top of the tower.

If you can see it then you may be able to use a DM Log (see ATV's site). If any greater gain is needed then a Group B aerial should be used.

The Holmhead transmitter broadcasts roughly between its 10 o'clock position and 4 o'clock position. See the radiation pattern on its page which is below the coverage map.

Dave Lindsay's 5,724 posts

Hi
For the past 7-10 days i have been having problems with my digital tv reception. I have freeview and a humax digi box. my reception problem has only been happening from about 9 pm onward but tonight is already causing problems (6pm. BBC 1 and 2 are ok but all other channels are range from pixelated to no picture at all. i have tried retuning my box but makes no difference. my postcode is sy5 8dd. any help would be much appreciated

Rich's 1 post
Rich's:
map
R's Freeview map
terrain
R's terrain plot
waves
R's frequency data
R's Freeview Detailed Coverage
Monday, 29 October 2012

Hi, Thank you all for your interest in my problem. Just to recap, I use my existing aerial next to my existing tv(aerial not moved around). I use factory tuning method (press menu , then 8888). It is set on UK and English.
Then press ok for auto tune, It searches through Analog, then it searches through digital. When finished channels 1 to 9 are missing. Ive selected bbc 1,2,etc. up in the 800's but it shows "no signal". Any ideas,

Derek's 4 posts

Derek - are the ones you don't get on particular muxes? See the Transmitter page here for details.

Check manual for the TV to see if it does anything preset with 1-9 numbers that may need changing - eg allocated to analogue signals.

Stephen P's 1,173 posts

Derek: See if wiping the channel memory and manually tuning each multiplex one by one if manual tuning is available.

For Sandy Heath they are:

PSB1 | BBC One | C27
PSB2 | ITV1 | C24
PSB3 | BBC One HD | C21
COM4 | ITV3 | C51
COM5 | Pick TV | C52
COM6 | Film4 | C48

After doing each, see whether all the services on the multiplex are in their correct positions.

Lists of services by multiplex, including which logical channel number they should be on is here:

DTG :: DTT Services by Multiplex

To wipe the channel memory, running it through with the aerial unplugged might work. However, there could be some remnant in the memory that still remains which is what is the problem. A last resort might be to do a factory reset and see if that produces a better result.

Dave Lindsay's 5,724 posts
Tuesday, 30 October 2012

I have a Bush lcd27tv005 which I intend to move to a holiday caravan which has underground Freeview aerial service. Does the set need a built in decoder?

Stuart Williams's 1 post

Stuart Williams: If it doesn't receive Freeview, then yes.

I haven't been able to find an official specifications sheet for this model, but I did come across this listing on Amazon which says that it doesn't contain a DVB-T tuner:

Bush LCD27TV005 27" Widescreen LCD TV: Amazon.co.uk: TV

DVB-T is the terrestrial signal type used for standard definition Freeview.

Dave Lindsay's 5,724 posts
Select more comments
Your comment please