Freeview reception - all about aerials

Brian Butterworth published on UK Free TV
Updated 8th January 2014.


Your ability of receive all the Freeview transmissions depends on the suitability of aerial
the design style,
the "group", and
its physical location.
Standard type - Yagi aerial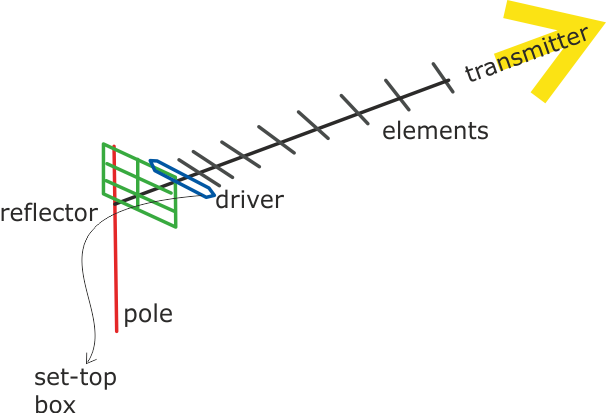 The
standard
type of TV aerial is known as the Yagi aerial. It is mounted on a pole, and consists of a rod with a reflector (shown green) at the back and many spiky elements (in grey) at the front. The connecting
cable
connects to the element nearest the reflector, known as the driver (shown in blue).
These Yagi aerials are directional and so
pick
up signals best from a
transmitter
that the rod points towards. The more elements the aerial has, the better it picks up a
signal
and becomes more directional.
A standard-type aerial is all that is required for
digital
TV
reception
in most places. These antennae have between 10 and 18 elements and a single reflector. These are recommended for new installations for good digital television reception, but will more often than not function perfectly in good reception areas.
Typically these aerials are designed to receive only some transmission frequencies - see "groups" below.
High Gain aerials

These aerials are designed for poor digital reception areas, and have two reflectors. For maximum signal strength, some digital high
gain
aerials have up to 100 elements. Since the
switchover
to digital-only transmissions back in October 2012, most UK households now have good
quality
digital TV signals.
A more expensive aerial is only required where the signal strength is low, but can often provide the whole Freeview reception where it might otherwise be impossible.
The CAI (that represents aerial installers) has four standards for digital TV aerials. The highest standard "1" is for homes on the fringes of coverage areas, intermediate standard "2" is suitable for use within the coverage area; minimum standard "3" is for good coverage conditions.
These aerials can be either
wideband
, or receive only selected frequencies - see "groups" below.
Grid

You may haved used a 'Grid aerial' for
analogue
reception, but as they are generally unsuitable for Freeview reception, they have now generally been replaced by the Yagi type. However in some places a Grid aerial installation may work for Freeview: otherwise replace with a standard Yagi aerial.
Indoor
Indoor aerials
are generally not suitable for Freeview reception. In areas of good signal strength it is often possible to receive some transmissions. Even where an aerial works, people often find that may get interruptions to their viewing (or recording).
Loft mounted
Loft
mounted arrivals are not generally recommended for Freeview reception, as the
roof
tiles and plumbing will degrade the signal. Some compensation for this loss of signal can be made by using
satellite
-grade cable to connect the set top box to the aerial.
Positioning
The best position for a TV aerial is mounted outdoors, as high from the ground as possible, pointing directly at the transmitter. The signal can be blocked by hills and tall buildings. It should be positioned away from any other aerials.
Horizontal or vertical?
The transmitter will either use vertical
mode
which requires the elements of your aerial to be up-down, or horizontal mode which requires them to be level with the ground.
Groups
Both analogue and digital television is transmitted the same group of transmission frequencies (known as
channel
21 through to 60). A coloured marking on the aerial shows the group.

To create the best possible analogue
picture
, TV transmissions from adjacent transmitters have been designated to several different groups of frequencies. By using an aerial that receives only the
channels
in the correct group, the analogue picture can be kept free from
interference
.
To receive Freeview transmissions from the same transmitter it has been sometimes necessary to use frequencies that are not part of the transmitter's normal group. When this has occurred, the aerial will need to be replaced with a "wideband" aerial (also known as group W) - one that covers every group.
As
Ofcom
is planning to move the TV frequencies again - perhaps as soon as 2018 - it may be wise to use a wideband aerial if you can to ensure you can keep viewing Freeview for many years to come.
Comments
Thursday, 27 December 2012

cath hunter: If your problem just started after the plumber had been in the attic, then as you will most likely be receiving Freeview from the Craigkelly transmitter (@ 13 miles) you can carry out a check on your aerial, as it should be pointing towards 309 degrees and be mounted horizontally.

As you may or may not, already know, Craigkelly is located across the water near Burntisland.

jb38's 7,179 posts
Saturday, 29 December 2012

Is aerial in loft?

Plumbers might easily have

- moved it
- damaged wiring
- disconnested power to amp/splitter
- disconnected wires/plugs
- installed/left something spoiling signal.

Start with an inspection; then a call to them!

Stephen P's 1,173 posts
R
Rosslynne SH
1:59 PM
Bury

Reading through the postings has given me an idea as to the cause of my recent Channel 4 / ITV loss of or poor signal, i.e. work in loft and on the roof. I have Freeview via an old-ish Humax box and have not needed an aerial, the antennae in cable connects to a wall mounted socket. Whilst the Humax has crashed once and the remote sticks (changing the batteries doesn't help) I have not had any loss of signal before, and BBC is ok, although my son has noticed some of the channels he used to watch whilst visiting have disappeared. I have run a default reset which has not helped. Do I now need an aerial and if so, what kind (I have no technical knowledge)?

Rosslynne SH's 2 posts
Rosslynne's:
map
R's Freeview map
terrain
R's terrain plot
waves
R's frequency data
R's Freeview Detailed Coverage

Rosslynne SH: You were perhaps lucky that the cable and any nearby objects acted to receive the signal (it presumably being strong). Changing something, whether it be moving the cable or moving, removing or adding a nearby object has evidently affected the sensitivity of your make-shift aerial.

On the basis that you appear to be in a very good signal area, a DM Log should be excellently suited:

Online TV FM DAB Aerial sales

You may find that the signal is sufficient inside the loft or you may find that it is not if the tiles and any insulation reduce it too much.

Dave Lindsay's 5,724 posts
Sunday, 30 December 2012
R
Rosslynne SH
9:11 PM
Bury

Rosslynne SH:

Many thanks Dave, much appreciated

Rosslynne SH's 2 posts
Rosslynne's:
map
R's Freeview map
terrain
R's terrain plot
waves
R's frequency data
R's Freeview Detailed Coverage
Sunday, 6 January 2013

Hi Dave,
I have an LG32LM3400 purchased last month. I paid an aerial installer to connect to the digital aerial on the roof of the three storey terraced building in SW19. I had paid for this aerial to be erected 10 years ago and had enjoyed freeview. I then joined Virgin and they used the same entry hole for their cabling and just severed the connection to my digital aerial.
Having restored this (and sharing the aerial with my neighbours), I can enjoy reasonable freeview reception.
However, here's the rub, I've just discovered my TV does not have a tuner which supports HD channels.
Is there a simple external tuner box I can connect to the TV and the aerial to enjoy HD? I do not have any other requirements as I do not have Blu Ray, games consoles etc.
Many thanks in advance.

Jegpad's 1 post

Jegpad: All that's really required is for you to purchase a Freeview HD box and this is connected into your TV using an HDMI lead between the HDMI sockets on both devices (use HDMI1 on TV) you then connect the aerial directly into the Freeview HD boxes aerial input socket.

What you are in effect doing is simply using your TV as a monitor to display the output from the Freeview HD box, and although most people with boxes connected this way just use the box for all Freeview reception and do not really use the TV's tuner, should you wish to use it then you will have to connect a coax cable jumper lead between the Freeview HD boxes "aerial out" socket and the TV's aerial socket.

By the way, when you switch the Freeview HD box on the TV should automatically switch over to it, if it doesn't then select HDMI1 input on the TV's input selector menu.



jb38's 7,179 posts

Jegpad: Just in addition to that said, if you were thinking long term then this would be your opportunity to purchase a twin tuner Freeview HD PVR (personal video recorder) rather than just a Freeview HD receiver, as a PVR would enable you to view one programme whilst recording another or alternatively record two different programmes at the same time, both these options including HD.

There are quite a variety of HD boxes for both purposes around and with quite large price differences between them as far as PVR's are concerned, and the link below is to one of the better ranges as far as reliability and reception performance is concerned.

Humax HDR-FOXT2-G Freeview HD twin tuner 500GB PVR (Grade A) - HUMAX UK Direct Sales Website

jb38's 7,179 posts

we cant get any itv channel four & five using a aerial .but okay using a sky dish, keeping the dish obtaining a freeview or freesat which would be advised.

paul's 1 post

paul: Freeview uses an aerial and Freesat uses a dish.

For assistance to the issue receiving ITV1, C4, C5 etc please supply your location, preferrably in the form of postcode or nearby postcode such as that of a shop so that likely possibilities as far as reception can be checked. Also, knowledge of the Freeview receiver being used might be useful.

Dave Lindsay's 5,724 posts
Select more comments
Your comment please