Freeview reception - all about aerials

Brian Butterworth published on UK Free TV
Updated 8th January 2014.


Your ability of receive all the Freeview transmissions depends on the suitability of aerial
the design style,
the "group", and
its physical location.
Standard type - Yagi aerial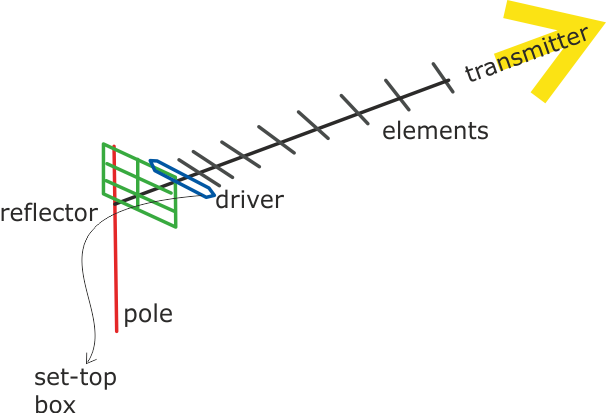 The
standard
type of TV aerial is known as the Yagi aerial. It is mounted on a pole, and consists of a rod with a reflector (shown green) at the back and many spiky elements (in grey) at the front. The connecting
cable
connects to the element nearest the reflector, known as the driver (shown in blue).
These Yagi aerials are directional and so pick up signals best from a
transmitter
that the rod points towards. The more elements the aerial has, the better it picks up a
signal
and becomes more directional.
A standard-type aerial is all that is required for
digital
TV
reception
in most places. These antennae have between 10 and 18 elements and a single reflector. These are recommended for new installations for good digital television reception, but will more often than not function perfectly in good reception areas.
Typically these aerials are designed to receive only some transmission frequencies - see "groups" below.
High Gain aerials

These aerials are designed for poor digital reception areas, and have two reflectors. For maximum signal strength, some digital high
gain
aerials have up to 100 elements. Since the
switchover
to digital-only transmissions back in October 2012, most UK households now have good
quality
digital TV signals.
A more expensive aerial is only required where the signal strength is low, but can often provide the whole Freeview reception where it might otherwise be impossible.
The CAI (that represents aerial installers) has four standards for digital TV aerials. The highest standard "1" is for homes on the fringes of coverage areas, intermediate standard "2" is suitable for use within the coverage area; minimum standard "3" is for good coverage conditions.
These aerials can be either
wideband
, or receive only selected frequencies - see "groups" below.
Grid

You may haved used a 'Grid aerial' for
analogue
reception, but as they are generally unsuitable for Freeview reception, they have now generally been replaced by the Yagi type. However in some places a Grid aerial installation may work for Freeview: otherwise replace with a standard Yagi aerial.
Indoor
Indoor aerials
are generally not suitable for Freeview reception. In areas of good signal strength it is often possible to receive some transmissions. Even where an aerial works, people often find that may get interruptions to their viewing (or recording).
Loft mounted
Loft
mounted arrivals are not generally recommended for Freeview reception, as the
roof
tiles and plumbing will degrade the signal. Some compensation for this loss of signal can be made by using
satellite
-grade cable to connect the set top box to the aerial.
Positioning
The best position for a TV aerial is mounted outdoors, as high from the ground as possible, pointing directly at the transmitter. The signal can be blocked by hills and tall buildings. It should be positioned away from any other aerials.
Horizontal or vertical?
The transmitter will either use vertical
mode
which requires the elements of your aerial to be up-down, or horizontal mode which requires them to be level with the ground.
Groups
Both analogue and digital television is transmitted the same group of transmission frequencies (known as
channel
21 through to 60). A coloured marking on the aerial shows the group.

To create the best possible analogue
picture
, TV transmissions from adjacent transmitters have been designated to several different groups of frequencies. By using an aerial that receives only the
channels
in the correct group, the analogue picture can be kept free from
interference
.
To receive Freeview transmissions from the same transmitter it has been sometimes necessary to use frequencies that are not part of the transmitter's normal group. When this has occurred, the aerial will need to be replaced with a "wideband" aerial (also known as group W) - one that covers every group.
As
Ofcom
is planning to move the TV frequencies again - perhaps as soon as 2018 - it may be wise to use a wideband aerial if you can to ensure you can keep viewing Freeview for many years to come.
Comments
Tuesday, 22 January 2013

Gordon Elliott: You are a wee bairn!

Perhaps, if needed, you may be able to build a custom filter or filters on Veroboard. As I say, I'm not an aerial professional so don't know how likely tou might be to succeed although it will help you to keep your hand active with a soldering iron. Much of my knowledge of RF has been gathered as an anorak on this site having read comments from the pros.

I should imagine that it will be a good idea to put the filter(s) for each aerial in a screened enclosure. Obviously you should ensure that the filter for the KL aerial is screened from the Waltham one.

I wonder how effective a band-pass filter might be over the six or 10 channels of KL. The same goes for a band-stop filter fitted to the Waltham aerial for the same frequency range. Or maybe you would have to filter each individual channel.

Just bear in mind that the channels 31 to 37 are likely to come into service in the next few years from Waltham, so don't filter them out if you can avoid it.

Dave Lindsay's 5,724 posts

Gordon Elliott: One further thought.

If you build a filter on Veroboard and break the track so that one half is the unfiltered input and the other is the filtered output I wonder if the few millimetre gap would be sufficient or whether you would have to break it again and perhaps connect the bit in between to the screen.

I don't greatly understand RF and filters, just the basics.

And then there the question of whether impedance matching is important and however you achieve it....

Dave Lindsay's 5,724 posts
Friday, 25 January 2013

A couple of questions to the professionals:

Is it necessary to have f-plugs with rubber 'o' rings for outdoor use?

What about applying silicone grease? There seems to be divided opinions over whether this is necessary or not. The SatCure website says to use it for all connections that are outdoors yet ATV says he's never met an installer who uses it.

Dave Lindsay's 5,724 posts

Dave Lindsay: simple answer is no any f plug used outside should always be in a weather prof housing. Lnb should have a waterproof pull down if not use self rubberising tape. Splitters or mastheads should only be external type not internal splitters with tape on them. You shouldn't use f couplers outside better to replace the whole coax if possible . Some riggers don't do this the worst I have ever seen was a 4 way compact amp with roof felt warped around it to weatherproof if the only water it kept of was my tears of laughter/ sorrow when I saw such a poor attempt

Mazbar's 384 posts

Mazbar: Thanks.

I should qualify that when I said "all connections that are outdoors" I was meaning enclosed in self-amalgamating tape or otherwise enclosed such as in an LNB or log aerial.

So copper oxidisation isn't really an issue?

Dave Lindsay's 5,724 posts

Dave Lindsay: If connectors or any other types of terminations are protected from the elements by taking measures such as Mazbar has mentioned, then although the copper wire might lose some of its initial brightness (which always happens) the actual issue of oxidisation never really occurs to the extent that it causes any problems, this irrespective of whether the connectors / terminations are associated with transmission or reception purposes, although the former is by far the most critical as equipment can in some cases be damaged by an iffy connection.

That said though, I always give the threads of any connectors a thin smear of silicone grease.

jb38's 7,179 posts

jb38: Thanks.

Are 'O' rings necessary on F-plugs?

I get the impression that the answer might be "not really".

Dave Lindsay's 5,724 posts

Dave Lindsay: Well as far as I am concerned your assumption regarding my answer is quite correct, although I have seen occasions where someone has placed a thin "O" ring over the threads of and "F" port and tightened the "F" connector down on this, I think that they must have thought they were dealing with a waste pipe on a sink or whatever.

I generally refer anyone who might ask me about how to fit an "F" connector to the undermentioned link, although you will probably have this anyway.

How to fit F Connectors to coaxial cable for Sky and Freesat

jb38's 7,179 posts
Tuesday, 5 February 2013

Dear sir i have just had a talk talk freeview box installed with the aerial pointing to Whitcliff but can only get 36 channels including radio we are to low to get a main transmitter signal is there anything that can be done based in LUDLOW SHROPSHIRE

J Smallman's 1 post

J Smallman: If you can't receive from a main transmitter, that carries all channels, then you won't be able to do anything.

Only the main transmitters, and a few larger relays, carry all channels. Therefore a small proportion of the population only receive the Public Service (PSB) channels. See here for an explanation as to why:

Londonderry (Northern Ireland) digital TV transmitter | ukfree.tv - 10 years of independent, free digital TV advice

What I would say is that it could be a possibility that the Ludlow relay at Whitcliffe was used because it's the easier of the two - if indeed reception from the main transmitter is possible. Obviously before switchover there was nothing to be gain by using the main station as they both provided only the four analogue channels.

Now you need to find out whether it is possible to receive the full service from the main station, Ridge Hill.

If not, then you won't receive any other services via the terrestrial network. I'm not familiar with the TalkTalk box so don't know what else you can get with it via your broadband connection.

The only other alternative is to look to the sky (lower-case "s"); Freesat is a popular free-to-air service, I imagine particularly so for those who are stuck with Freeview Lite.

Dave Lindsay's 5,724 posts
Select more comments
Your comment please