Freeview reception - all about aerials

Brian Butterworth published on UK Free TV
Updated 8th January 2014.


Your ability of receive all the Freeview transmissions depends on the suitability of aerial
the design style,
the "group", and
its physical location.
Standard type - Yagi aerial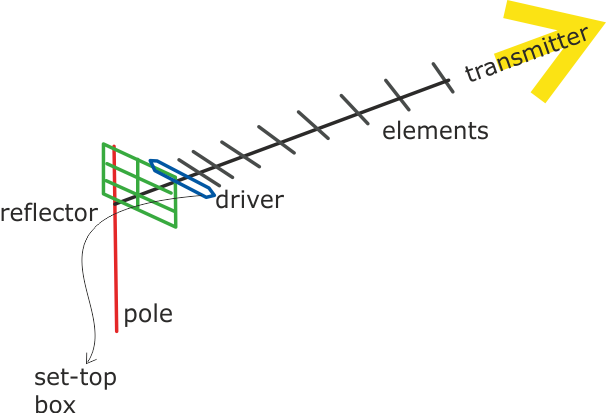 The
standard
type of TV aerial is known as the Yagi aerial. It is mounted on a pole, and consists of a rod with a reflector (shown green) at the back and many spiky elements (in grey) at the front. The connecting
cable
connects to the element nearest the reflector, known as the driver (shown in blue).
These Yagi aerials are directional and so
pick
up signals best from a
transmitter
that the rod points towards. The more elements the aerial has, the better it picks up a
signal
and becomes more directional.
A standard-type aerial is all that is required for
digital
TV
reception
in most places. These antennae have between 10 and 18 elements and a single reflector. These are recommended for new installations for good digital television reception, but will more often than not function perfectly in good reception areas.
Typically these aerials are designed to receive only some transmission frequencies - see "groups" below.
High Gain aerials

These aerials are designed for poor digital reception areas, and have two reflectors. For maximum signal strength, some digital high
gain
aerials have up to 100 elements. Since the
switchover
to digital-only transmissions back in October 2012, most UK households now have good
quality
digital TV signals.
A more expensive aerial is only required where the signal strength is low, but can often provide the whole Freeview reception where it might otherwise be impossible.
The CAI (that represents aerial installers) has four standards for digital TV aerials. The highest standard "1" is for homes on the fringes of coverage areas, intermediate standard "2" is suitable for use within the coverage area; minimum standard "3" is for good coverage conditions.
These aerials can be either
wideband
, or receive only selected frequencies - see "groups" below.
Grid

You may haved used a 'Grid aerial' for
analogue
reception, but as they are generally unsuitable for Freeview reception, they have now generally been replaced by the Yagi type. However in some places a Grid aerial installation may work for Freeview: otherwise replace with a standard Yagi aerial.
Indoor
Indoor aerials
are generally not suitable for Freeview reception. In areas of good signal strength it is often possible to receive some transmissions. Even where an aerial works, people often find that may get interruptions to their viewing (or recording).
Loft mounted
Loft
mounted arrivals are not generally recommended for Freeview reception, as the
roof
tiles and plumbing will degrade the signal. Some compensation for this loss of signal can be made by using
satellite
-grade cable to connect the set top box to the aerial.
Positioning
The best position for a TV aerial is mounted outdoors, as high from the ground as possible, pointing directly at the transmitter. The signal can be blocked by hills and tall buildings. It should be positioned away from any other aerials.
Horizontal or vertical?
The transmitter will either use vertical
mode
which requires the elements of your aerial to be up-down, or horizontal mode which requires them to be level with the ground.
Groups
Both analogue and digital television is transmitted the same group of transmission frequencies (known as
channel
21 through to 60). A coloured marking on the aerial shows the group.

To create the best possible analogue
picture
, TV transmissions from adjacent transmitters have been designated to several different groups of frequencies. By using an aerial that receives only the
channels
in the correct group, the analogue picture can be kept free from
interference
.
To receive Freeview transmissions from the same transmitter it has been sometimes necessary to use frequencies that are not part of the transmitter's normal group. When this has occurred, the aerial will need to be replaced with a "wideband" aerial (also known as group W) - one that covers every group.
As
Ofcom
is planning to move the TV frequencies again - perhaps as soon as 2018 - it may be wise to use a wideband aerial if you can to ensure you can keep viewing Freeview for many years to come.
Comments
Saturday, 23 February 2013

hello i am in Barnoldswick and have my class 1 aerial pointing at the west marton repeater.

the recption is excelent but we dont get half the channels my motherin law in grange over sands gets for example.

is this a regional issue?

many thanks in advance

brian wilkinson's 2 posts

brian wilkinson: The UK now has a two-tier terrestrial television transmitter network. The Commercial channels only broadcast from the larger transmitters:

Londonderry (Northern Ireland) digital TV transmitter | ukfree.tv - 10 years of independent, free digital TV advice

If you can receive from Winter Hill, Pendle Forest or one of the other full-service transmitters then you might be able to get all the channels.

Dave Lindsay's 5,724 posts
Sunday, 3 March 2013

hi chaps,a simple question perhaps but it`s baffling me,yesterday(3rd)i could receive practically no freeveiw channels,those i did were crackly and blocky/freezing,then later no channels at all and on the blue display it says`too high error rate`,on other channels i get the name of the programme but no sound or vision,i have now got about 15 channels back but still missing itv,ch4,ch5 and the lower numbers,i have a dish,but was wondering if it is a equipment problem(i have checked connections)or is it a transmition issue?many thanks if you can shed some light.

bob from surrey's 1 post

bob from surrey: If you have a dish it should be connected to a satellite receiver (Sky or Freesat or supermarket supplied brand such as Ross) in order to decode signals received by a dish. A Freeview tuner requires connection to a UHF TV aerial to supply the signals on the correct frequencies that it is designed to receive.

KMJ,Derby's 1,811 posts

bob from surrey: Plus in addition to that said by KMJ,Derby, should it be the case that you are referring the Freeview reception (via a normal aerial) then in order for anyone to be able to offer assistance with that type of query its essential for them to have knowledge of your location, this in the form of a post code or at least from somewhere nearby (e.g: a shop) as this would then enable the reception predictor to be accessed plus details of the transmitters involved.

If though on the other hand you are referring to satellite reception then you can safely "exclude" any thoughts of your problem being due to a transmission fault, as this is a "once in a blue moon" occurrence that is usually rectified within a minute or so of it happening.

jb38's 7,179 posts
Thursday, 21 March 2013
P
Pearl Ray
9:31 AM
Southampton

I'm thinking of getting freeview tv, at the moment I have sky, so have no aerial, I would like to know which aerial would be best for me to buy, and if I would receive all the freeview channels, I live in SO32 2DA area

Pearl Ray's 1 post
Pearl's:
map
P's Freeview map
terrain
P's terrain plot
waves
P's frequency data
P's Freeview Detailed Coverage

PR - do you know that you can still get almost the same channels on Freesat using your existing box?

Freeview s/b OK though.

Steve P's 1,173 posts
Steve's:
map
S's Freeview map
terrain
S's terrain plot
waves
S's frequency data
S's Freeview Detailed Coverage
Friday, 22 March 2013

i live in a small block of flats. we have one aerial for 36 flats. this went wrong about two weeks ago.the engineer had to send away for a spare part, when he fixed it my 5 year old freeview set which had been perfect up to this point started to break up. there is also a clicking noise. the problem is intermitent but gets worse, everyone else in the block seems to be ok.i have sent for the engineer again but he has not come back.

david lloyd's 1 post
K
kirky
4:44 PM
Market Rasen

Hi there, i'm new to the site. I live in LN8 3NP and had an old freeview box that was good signal (although since the change over lost a few channels on the film 4 multiplex despite numerous retunes). Last week though i bought a Bush Freeview+ Digital TV Recorder - 320GB. Quite a cheap one, and since using this have had no end of trouble with signal problem (although film4 multiplex is back). Does buying a cheap box effect signal? if so could investing in a higher spec more expensive box cure this? Tried original box and signal fine again!

kirky's 1 post
kirky's:
map
K's Freeview map
terrain
K's terrain plot
waves
K's frequency data
K's Freeview Detailed Coverage

kirky: Assuming that your aerial is pointing east, to Belmont, have you had your former "analogue" (Group A) aerial replaced with a wideband one?

If not, then perhaps your aerial's sensitivity isn't great enough for 60. How does this compare to the other multiplexes?

COM5 is on C53 which is also quite a way out of Group A, and so may perhaps show lower strength.

Dave Lindsay's 5,724 posts
Select more comments
Your comment please