Freeview reception - all about aerials

Brian Butterworth published on UK Free TV
Updated 8th January 2014.


Your ability of receive all the Freeview transmissions depends on the suitability of aerial
the design style,
the "group", and
its physical location.
Standard type - Yagi aerial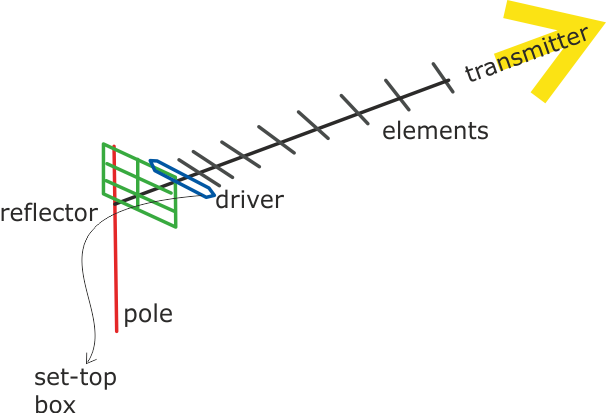 The
standard
type of TV aerial is known as the Yagi aerial. It is mounted on a pole, and consists of a rod with a reflector (shown green) at the back and many spiky elements (in grey) at the front. The connecting
cable
connects to the element nearest the reflector, known as the driver (shown in blue).
These Yagi aerials are directional and so pick up signals best from a
transmitter
that the rod points towards. The more elements the aerial has, the better it picks up a
signal
and becomes more directional.
A standard-type aerial is all that is required for
digital
TV
reception
in most places. These antennae have between 10 and 18 elements and a single reflector. These are recommended for new installations for good digital television reception, but will more often than not function perfectly in good reception areas.
Typically these aerials are designed to receive only some transmission frequencies - see "groups" below.
High Gain aerials

These aerials are designed for poor digital reception areas, and have two reflectors. For maximum signal strength, some digital high
gain
aerials have up to 100 elements. Since the
switchover
to digital-only transmissions back in October 2012, most UK households now have good
quality
digital TV signals.
A more expensive aerial is only required where the signal strength is low, but can often provide the whole Freeview reception where it might otherwise be impossible.
The CAI (that represents aerial installers) has four standards for digital TV aerials. The highest standard "1" is for homes on the fringes of coverage areas, intermediate standard "2" is suitable for use within the coverage area; minimum standard "3" is for good coverage conditions.
These aerials can be either
wideband
, or receive only selected frequencies - see "groups" below.
Grid

You may haved used a 'Grid aerial' for
analogue
reception, but as they are generally unsuitable for Freeview reception, they have now generally been replaced by the Yagi type. However in some places a Grid aerial installation may work for Freeview: otherwise replace with a standard Yagi aerial.
Indoor
Indoor aerials
are generally not suitable for Freeview reception. In areas of good signal strength it is often possible to receive some transmissions. Even where an aerial works, people often find that may get interruptions to their viewing (or recording).
Loft mounted
Loft
mounted arrivals are not generally recommended for Freeview reception, as the
roof
tiles and plumbing will degrade the signal. Some compensation for this loss of signal can be made by using
satellite
-grade cable to connect the set top box to the aerial.
Positioning
The best position for a TV aerial is mounted outdoors, as high from the ground as possible, pointing directly at the transmitter. The signal can be blocked by hills and tall buildings. It should be positioned away from any other aerials.
Horizontal or vertical?
The transmitter will either use vertical
mode
which requires the elements of your aerial to be up-down, or horizontal mode which requires them to be level with the ground.
Groups
Both analogue and digital television is transmitted the same group of transmission frequencies (known as
channel
21 through to 60). A coloured marking on the aerial shows the group.

To create the best possible analogue
picture
, TV transmissions from adjacent transmitters have been designated to several different groups of frequencies. By using an aerial that receives only the
channels
in the correct group, the analogue picture can be kept free from
interference
.
To receive Freeview transmissions from the same transmitter it has been sometimes necessary to use frequencies that are not part of the transmitter's normal group. When this has occurred, the aerial will need to be replaced with a "wideband" aerial (also known as group W) - one that covers every group.
As
Ofcom
is planning to move the TV frequencies again - perhaps as soon as 2018 - it may be wise to use a wideband aerial if you can to ensure you can keep viewing Freeview for many years to come.
Comments
Monday, 19 November 2012
D
David Anderson
9:05 PM
Girvan

I live in the Girvan valley in South Ayrshire. I live about 2 miles from the TV transmitter and I can see the mast from my house. I have a simple Yagi aerial that I point to the transmitter to receive digital tv but for some reason I cannot get a signal giving me BBC 1 Scotland. Unfortunately I can only get BBC 1 Northern Ireland despite my best attempts. Can somebody help advise the best aerial etc. that I need to get BBC Scotland in Scotland?

David Anderson's 1 post
David's:
map
D's Freeview map
terrain
D's terrain plot
waves
D's frequency data
D's Freeview Detailed Coverage

David Anderson: For Girvan transmitter your aerial should be vertical. It is on a bearing of 217 degrees, whereas Divis is at 229 degrees which is very close. That said, Divis is horizontally polarised.

If you are picking up BBC Northern Ireland on UHF channel 27 (look at the signal strength screen whilst on BBC One), then you are receiving it from Divis.

The Girvan transmitter uses high channel numbers and Divis uses low ones which will probably be found first during the scan. Have the aerial unplugged for the first 50% of the scan.

Dave Lindsay's 5,724 posts

David Anderson: Failing that, manually tune to UHF channel 50 for BBC and 59 for STV, C4, C5 etc.

Dave Lindsay's 5,724 posts
Wednesday, 21 November 2012
A
amanda
1:17 PM
Heathfield

HI There, I live near the heathfield transmitter pcode is tn21 0pn. I have sky boxes to 2 tvs and and old loft aerial (prob 1990-1995ish) this is cabled into aerial connectors in the bedrooms and sitting room. So, questions: 1)will I need a new wideband aerial? 2) can I simply connect it into the cabling already coming out of the one in the loft? 3) would the sky dish work as an aerial (not sure if this is a stupid question!)?

amanda's 1 post
amanda's: ...

amanda: 1. I would try it and see. You may find that your current aerial works.

2. Yes.

3. No! A satellite dish points to a satellite which is in geostationary orbit above the earth whereas Heathfield is on the ground, albeit that the transmitting aerials are 300m off the ground.


If you have difficulty with any signals if you have a Group C/D aerial, then it will be the COM channels which are:

- COM4 (ITV3 etc) on UHF channel 42
- COM5 (Pick TV etc) on UHF channel 44
- COM6 (Film4 etc) on UHF channel 41

See here:

Aerials, TV Aerial and Digital Aerial

A Group C/D aerial is most sensitive on frequencies within the top third of the TV band and has a green tip. Previously Heathfield used C/D channels only and therefore a C/D aerial may be fitted.

After switchover, the COM channels are lower down in the middle third of frequencies used for TV which is Group B. However, due to your close proximity you may find that (if you have a C/D aerial) that it will still be sensitive enough to receive those channels.

If the feed from the aerial is split using a powered booster/amplifier and it has a variable control on, you may find that increasing it a bit will bring in the other channels.

Failing that, if you get a new aerial it doesn't have to be a wideband one. See here:

Heathfield Transmitter

Dave Lindsay's 5,724 posts
Wednesday, 28 November 2012

I receive digital transmissions from the Llandrindod Wells relay transmitter and always seem to have a problem with BBC channels. Sometimes they drop out and sometimes we can't get them at all. I have tried different aerials but with no better results. All other channels appear to be fine. Why should BBC be a problem if being transmitted from the same location?
Any ideas on a solution?

Rick's 1 post

Since purchasing my LG HD TV with built in freeview, I have had no problems until several weeks ago. HD channels are eratic and often disappear for days on end and apart from main BBC and other channels (even they have problems)all other channels seem to have very poor signal and are frankly unwatchable. But this varies from day to day and even hour to hour. Suffice to say it is now really getting on my nerves. Any problems I should be aware of?

John Simm's 1 post
John's:
map
J's Freeview map
terrain
J's terrain plot
waves
J's frequency data
J's Freeview Detailed Coverage
Saturday, 1 December 2012
D
Dave F-P
2:10 PM
Pontypridd

Well it seems all hope of getting signal from Wenvoe is lost. Too many hills so have to put up with freeview lite for now. (Postcode - CF37 4EG. Gave up our sky subscription a month ago, without realising local repeat transmitters only broadcast lite service. I do have great signal from my local transmitter, even using a wideband antennae, but even with a band B Yagi, masthead amplifier and use of a compass to get the right bearing (174 degrees I think?)I'm looking straight at a mountain so no chance of signal. Can't even get line of sight to Pontypridd which would still be "lite". I've decided to invest in a dvb-t tuner card for my pc, which I can then run the satellite cables to and watch freesat via my TV to get a few more channels. I'd be interested to see a terrain plot to Wenvoe though, just to confirm I'm not in lala land (too much time spent up on the roof). I think I'd need a 300ft mast to have any hope!

Dave F-P's 2 posts
Dave's:
map
D's Freeview map
terrain
D's terrain plot
waves
D's frequency data
D's Freeview Detailed Coverage

Dave F-P: Terrain plot between you and Wenvoe:


Terrain between ( m a.g.l.) and (antenna m a.g.l.) - Optimising UK DTT Freeview and Radio aerial location

It appears that Cefn Eglwysilan is in the way, about 200m above your ground level!

Dave Lindsay's 5,724 posts
D
Dave F-P
2:41 PM
Pontypridd

Thanks Dave Lindsay for the prompt reply. Freesat it will be then, so much for watching everything through BTVision box! Cefn Eglwysilan is indeed the culprit, lovely to walk up (and yes you can see the Wenvoe transmitter from up there!)but a real pain for those of us in the lower parts of the valley (which to be fair is where nearly all the housing in the valleys is). I've had a read through a lot of the posts and it seems we will never get all Mux's as it is un-economical, so I think it would be worth letting all us valleys dwellers know a better option would be freesat. Keep up the good work all, nice to find this kind of helpful forum when scratching head for possible workarounds.
Dave

Dave F-P's 2 posts
Dave's:
map
D's Freeview map
terrain
D's terrain plot
waves
D's frequency data
D's Freeview Detailed Coverage
Select more comments
Your comment please