Freeview reception - all about aerials

Brian Butterworth published on UK Free TV
Updated 8th January 2014.


Your ability of receive all the Freeview transmissions depends on the suitability of aerial
the design style,
the "group", and
its physical location.
Standard type - Yagi aerial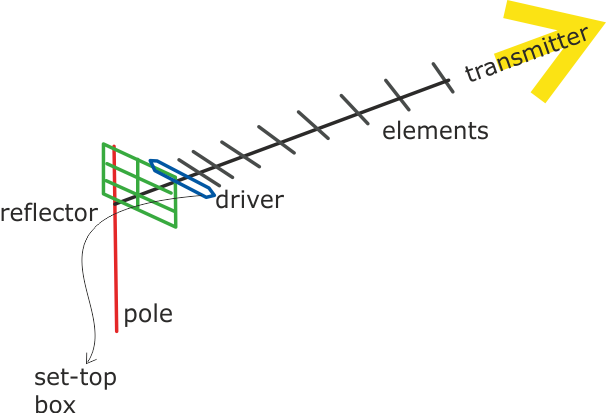 The
standard
type of TV aerial is known as the Yagi aerial. It is mounted on a pole, and consists of a rod with a reflector (shown green) at the back and many spiky elements (in grey) at the front. The connecting
cable
connects to the element nearest the reflector, known as the driver (shown in blue).
These Yagi aerials are directional and so pick up signals best from a
transmitter
that the rod points towards. The more elements the aerial has, the better it picks up a
signal
and becomes more directional.
A standard-type aerial is all that is required for
digital
TV
reception
in most places. These antennae have between 10 and 18 elements and a single reflector. These are recommended for new installations for good digital television reception, but will more often than not function perfectly in good reception areas.
Typically these aerials are designed to receive only some transmission frequencies - see "groups" below.
High Gain aerials

These aerials are designed for poor digital reception areas, and have two reflectors. For maximum signal strength, some digital high
gain
aerials have up to 100 elements. Since the
switchover
to digital-only transmissions back in October 2012, most UK households now have good
quality
digital TV signals.
A more expensive aerial is only required where the signal strength is low, but can often provide the whole Freeview reception where it might otherwise be impossible.
The CAI (that represents aerial installers) has four standards for digital TV aerials. The highest standard "1" is for homes on the fringes of coverage areas, intermediate standard "2" is suitable for use within the coverage area; minimum standard "3" is for good coverage conditions.
These aerials can be either
wideband
, or receive only selected frequencies - see "groups" below.
Grid

You may haved used a 'Grid aerial' for
analogue
reception, but as they are generally unsuitable for Freeview reception, they have now generally been replaced by the Yagi type. However in some places a Grid aerial installation may work for Freeview: otherwise replace with a standard Yagi aerial.
Indoor
Indoor aerials
are generally not suitable for Freeview reception. In areas of good signal strength it is often possible to receive some transmissions. Even where an aerial works, people often find that may get interruptions to their viewing (or recording).
Loft mounted
Loft
mounted arrivals are not generally recommended for Freeview reception, as the
roof
tiles and plumbing will degrade the signal. Some compensation for this loss of signal can be made by using
satellite
-grade cable to connect the set top box to the aerial.
Positioning
The best position for a TV aerial is mounted outdoors, as high from the ground as possible, pointing directly at the transmitter. The signal can be blocked by hills and tall buildings. It should be positioned away from any other aerials.
Horizontal or vertical?
The transmitter will either use vertical
mode
which requires the elements of your aerial to be up-down, or horizontal mode which requires them to be level with the ground.
Groups
Both analogue and digital television is transmitted the same group of transmission frequencies (known as
channel
21 through to 60). A coloured marking on the aerial shows the group.

To create the best possible analogue
picture
, TV transmissions from adjacent transmitters have been designated to several different groups of frequencies. By using an aerial that receives only the
channels
in the correct group, the analogue picture can be kept free from
interference
.
To receive Freeview transmissions from the same transmitter it has been sometimes necessary to use frequencies that are not part of the transmitter's normal group. When this has occurred, the aerial will need to be replaced with a "wideband" aerial (also known as group W) - one that covers every group.
As
Ofcom
is planning to move the TV frequencies again - perhaps as soon as 2018 - it may be wise to use a wideband aerial if you can to ensure you can keep viewing Freeview for many years to come.
Comments
Monday, 25 May 2015

I am receiving sky channels through my sky dish but not normal channels previously obtained through the Ariel Message says no signal to mini dish but has happened in the middle of programme. No adverse weather conditions

Paul lloyd's 1 post
M
MikeP
10:07 PM
Trowbridge

Paul Lloyd

Please would you give a post code (or that of a nearby shop) so we can determine your approximate location. Would you also be a bit more explicit about your equipment and what the problem appears to be.

MikeP's 215 posts
MikeP's:
map
M's Freeview map
terrain
M's terrain plot
waves
M's frequency data
M's Freeview Detailed Coverage
Sunday, 7 June 2015

I want to buy new freeview fitted tv. Will my old aerial (like a Yagi) connect to new technology and receive ok? I dont want to buy new set and find have to buy new everything else to make it work (no money!!)

And's 1 post

And: Generally speaking, across the country, yes. In a minority of circumstances only PSB channels can be received and in some cases a replacement aerial is required to pick up all channels.

So as to shed light on whether you might have difficulty with your existing aerial, knowledge of your location, preferably in the form of postcode or that of a nearby property such as a shop, is required.

Dave Lindsay's 5,724 posts

And: If you are already successfully using a Freeview box or TV a new one should work fine. If not can you borrow one to try out?


steve p's 1,173 posts

And: Just to add to Dave Lindsay's excellent advice, if your current TV aerial is getting all the channels it should do, then any new TV should do exactly the same. Obviously if its a very old or non functioning aerial, then replace, but if its working, dont worry.

On the subject of new TV's, this is the advice I give to my customers (of which there were a surprising amount today, given the weather!):

Find the right size. Which magazine has a decent size guide on their website (OK, a little vague, but..). Basically, a 32in should be about 1.5m/7 feet away, a 40/42 about 8-10 feet (40 x 3 = 120in = 10feet), and 47-50 around 10-13ft, etc. If your TV is about 5 years old or more, you can go up one size safely - the TV has shrunk in width about 10%. That means a modern 48in is about the same wideth as a 6 year old 42in. Basically, 2 and a half to three times the size of the screen away from where the TV is to where your sitting is fine.

Freeview HD, Full HD, wifi and smart are all standard - your paying for the panel. The better the picture, the better the blacks and the higher the refresh rate (it will be crisper and sharper, especially when there is movement). You also pay more money. Best value is for something in the midlevel with 3D (you'll get a better panel - the 3D is thrown in for nothing).

The 2015 TV's are all starting to come in, and therefore at new prices, although they will settle down. A 2014 model (at a good price) is a great idea if you can still get one, because you are buying above your weight, especially since a lot of models are now 4K.

If you had a 32in and were looking to go to a 40ish screen then the 40 Samsung H6400 would be my choice. Buy Samsung UE40H6400 LED HD 1080p 3D Smart TV, 40" with Freeview HD, Voice Control, Built-In Wi-Fi and 2x 3D Glasses | John Lewis

Fantastic value at 399 (I sold one today to a lady who was after the new 2015 Samsung 2D TV - the one I suggested was cheaper and better), and if it was a 47-50in then the Panasonic 47 650 http://www.johnlewis.com/…3194

Again, right in the mid range and excellent value. These are both 2014 models, so about to vanish, but something similar from those brands or LG/Sony would do well. Never go to a supermarket or a catalgue shop to buy a TV (low end and often high prices, and seldom Freeview HD, which now a must), and please go to a proper shop, so you can look at it and ask questions. Good luck.

MikeB's 2,579 posts
Saturday, 13 June 2015

Mike B - Please talk me through your old set new set size change.

I thought TVs were still measured by the diagonal of the screen?

Unless you are talking about the change from 4:3 to 16:9 format, where for any given number the wide format is

9% wider but
18% less high making
11% less screen area

steve p's 1,173 posts

Steve PTV screen sizes have always been given as the approximate diagonal measurement of the viewable part, though some marketing types have tried to use a 'rounded up' size to make it seem bigger. It was originally in inches in the UK and USA but more often now they are give as metric values.The screen resolution is determined by the number of pixels displayed horizontally multiplied by the number shown vertically, a 1080 ((i.e. an HD) screen showing 1080 pixels vertically, SD being no more than 720 pixels.Screen refresh rates are most important, the higher the refresh rate the less flicker and the clearer the picture appears.There is still considerable debate about what is the best size screen to have and I'm afraid I'm of the 'old school' of TV engineers who have understood that 5 times the diagonal is the better and more comfortable viewing distance, but I know others disagree and advise getting a much bigger screen. (With the bigger screen you see just as much detail, determined by the pixel count, but covering a larger area. Any benefit?) Similarly, I never agree to mounting a TV high up on a wall, the best ergonomic height is where to top of the viewing area is level with the eyes at normal sitting position, prevents neck aches and other problems. Again, some will disagree, but why?

MikeP's 215 posts
MikeP's:
map
M's Freeview map
terrain
M's terrain plot
waves
M's frequency data
M's Freeview Detailed Coverage

steve p: OK - since I worked today, I'm fluent (I say this a lot at work!). although I'm generally a lot more pithy.

TV's are still measured diagonally. A 42in TV panel from 10 or 5 years ago still measures 42in from corners to corner, and they are still 16 x 9 (although I did talk to a chap last week looking to replace his Philips from some years ago with an aspect ratio suitable for a modern widescreen film - a format which lasted about a year!).

However, the rest of the TV has changed. Ten years ago, the width of a 42in might have been as much as 50in or even more, because of the big surround, and perhaps speakers stuck on the side. 6 years ago, it would have been smaller, but still perhaps 41 and a half or 42in inches wide. Basically the diagonal size of the screen would have equaled the width (we tended to look like geniuses, being able to tell people the exact width without looking!).

However, look at a modern TV, say a 40, 42 or 43in (the sizes have multimpled , for reasons I cant quite fathom). Its now about 36in wide for a 40 Samsung (or even less for a curved), 37 and a half for a 42in, etc. A modern 55in is 48 and a half inches wide. So I always ask a customer what their TV's size and age is, because then I'll know the physical size.

So the width might be the smaller, but the overall screen area is the same on a current one - same screen, less surround. On the other hand, a new 32in TV will look small to someone replacing their existing 32in - not only have they got used to it, but its will be physically smaller, with its width reduced by an average of 10 percent.

At the same time, TV's have got larger. Six years ago, a 32in was almost the most popular size and in the front row, although 40-42in was probably the biggest area. Now 32in TV's are a second room/bedroom TV, and are at the back of our department. 55in TV's were relatively rare, there tended to be a fair jump in price, and there were relatively few on show. A 65in on display was a big event!

Now, the single most popular size is 48in-50in, and 55in are very common place.There are a couple of reasons for this. When flat screens came out they were pretty expensive (relatively - I try not to ask how much people paid for their 10 year old TV!), whereas they have fallen a great deal in real terms. You can buy a perfectly decent mid range 3D 55in TV from Panasonic (OK, a 2014 model) for 650 quid. That was the cost of a high end 32in six years ago (and the high end then is not high end now).

We have also expanded our living space, with people knocking through rooms, converting garages, etc. And since TV's are flat, they work fine on or against a wall, rather than in the corner, which gives you a bit more viewing distance. We can watch in HD, so we can sit a little closer. And of course we've just got used to them. A 32in TV looks huge compared with my 21in CRT (a cobblers children are never shod), although the CRT is actual 24in wide and about the same deep - its only 4 inches wider.

Since people often under purchased (under estimated the size of TV for their space), going up to a 42in does not seem so much of a stretch - it was often the right distance for a 42in in the first place. They'd just bought a 32in because they 'didn't want to overwhelm the room'.

Distance always equals size. I'm old school, and assume two and a half to three times the size of the screen away from it is a decent ratio. Which magazine has a vague but kind of useful guide, and there are any number of size guides on the net, most of which tend to be a bit macho in the sizing.

I'll always try to measure the distance a customer is from their current TV, because thats a good guide to the actual size they will need (perhaps one size up, if they got it right the first time). Its should fit perfectly, like a suit or shoes. If it does not, then its going to be uncomfortable. And I want my customers to come back and tell me 'its perfect'.

Its often surprising at just how far away people actually are from really very small TV's - they often say its a very small room, only for me to discover they are 15 feet away from the TV. Of course the reverse can be true - some people have a 46in at a distance I'd put a 32in, but the customer is always right!

In the case of 4K, they might actually be able to do that - the screen res is 4 times greater than HD, so you can sit rather closer. But much of the time you's still be watching HD footage, so perhaps try not to be too adventurous quite yet!

Once you've got the size right, your half way there. Its like buying a suit, etc. Once you've got something that fits, then you can decide what style, cut, lining, fabric, etc. But its need to fit, and need to work for you, as a design, not just as a picture (although that's the most important). A lady saw a high end Samsung some years ago, which had a very thin bezel with a small clear surround. She exclaimed 'thats like an infinity pool, but as a Television'. My reply was 'can I use that description, Madam?' Modern TV's are like that - minimalist, because thats how we like them.




MikeB's 2,579 posts
Monday, 2 November 2015

your recommended aerial installation is "As high as possible". A friends tiny aerial is mounted very low , so maybe , the the roof helps bounce the signal and gives great reception.

Laurence's 1 post
Select more comments
Your comment please