Freeview reception - all about aerials

Brian Butterworth published on UK Free TV
Updated 8th January 2014.


Your ability of receive all the Freeview transmissions depends on the suitability of aerial
the design style,
the "group", and
its physical location.
Standard type - Yagi aerial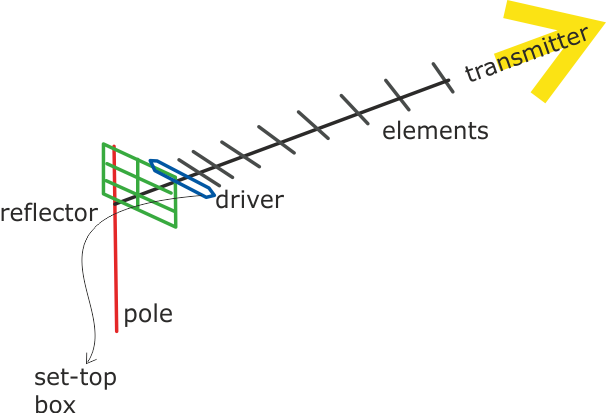 The
standard
type of TV aerial is known as the Yagi aerial. It is mounted on a pole, and consists of a rod with a reflector (shown green) at the back and many spiky elements (in grey) at the front. The connecting
cable
connects to the element nearest the reflector, known as the driver (shown in blue).
These Yagi aerials are directional and so pick up signals best from a
transmitter
that the rod points towards. The more elements the aerial has, the better it picks up a
signal
and becomes more directional.
A standard-type aerial is all that is required for
digital
TV
reception
in most places. These antennae have between 10 and 18 elements and a single reflector. These are recommended for new installations for good digital television reception, but will more often than not function perfectly in good reception areas.
Typically these aerials are designed to receive only some transmission frequencies - see "groups" below.
High Gain aerials

These aerials are designed for poor digital reception areas, and have two reflectors. For maximum signal strength, some digital high
gain
aerials have up to 100 elements. Since the
switchover
to digital-only transmissions back in October 2012, most UK households now have good
quality
digital TV signals.
A more expensive aerial is only required where the signal strength is low, but can often provide the whole Freeview reception where it might otherwise be impossible.
The CAI (that represents aerial installers) has four standards for digital TV aerials. The highest standard "1" is for homes on the fringes of coverage areas, intermediate standard "2" is suitable for use within the coverage area; minimum standard "3" is for good coverage conditions.
These aerials can be either
wideband
, or receive only selected frequencies - see "groups" below.
Grid

You may haved used a 'Grid aerial' for
analogue
reception, but as they are generally unsuitable for Freeview reception, they have now generally been replaced by the Yagi type. However in some places a Grid aerial installation may work for Freeview: otherwise replace with a standard Yagi aerial.
Indoor
Indoor aerials
are generally not suitable for Freeview reception. In areas of good signal strength it is often possible to receive some transmissions. Even where an aerial works, people often find that may get interruptions to their viewing (or recording).
Loft mounted
Loft
mounted arrivals are not generally recommended for Freeview reception, as the
roof
tiles and plumbing will degrade the signal. Some compensation for this loss of signal can be made by using
satellite
-grade cable to connect the set top box to the aerial.
Positioning
The best position for a TV aerial is mounted outdoors, as high from the ground as possible, pointing directly at the transmitter. The signal can be blocked by hills and tall buildings. It should be positioned away from any other aerials.
Horizontal or vertical?
The transmitter will either use vertical
mode
which requires the elements of your aerial to be up-down, or horizontal mode which requires them to be level with the ground.
Groups
Both analogue and digital television is transmitted the same group of transmission frequencies (known as
channel
21 through to 60). A coloured marking on the aerial shows the group.

To create the best possible analogue
picture
, TV transmissions from adjacent transmitters have been designated to several different groups of frequencies. By using an aerial that receives only the
channels
in the correct group, the analogue picture can be kept free from
interference
.
To receive Freeview transmissions from the same transmitter it has been sometimes necessary to use frequencies that are not part of the transmitter's normal group. When this has occurred, the aerial will need to be replaced with a "wideband" aerial (also known as group W) - one that covers every group.
As
Ofcom
is planning to move the TV frequencies again - perhaps as soon as 2018 - it may be wise to use a wideband aerial if you can to ensure you can keep viewing Freeview for many years to come.
Comments
Saturday, 5 November 2016

R.ENTICKNAP: A terrain check of your location indicates that the signal path from the Bilsdale transmitter suffers from a sizeable (1mile in length) line of sight obstruction at a distance of roughly 4.5 miles prior to your location, signal path obstructions always having a greater effect on reception when located nearer to the receiving end of the equation, erratic reception at certain times of the year not exactly unusual in circumstances such as yours, as the signal is vulnerable to being affected by changes in the surface condition of the terrain.

As far as aerials are concerned, high gain, likewise highly directional, aerials used in situations such as yours are liable to make things worse, therefore if thinking on installing a new aerial I would advise fitting one of the Log periodic variety such as a Log36, this being future proof as far as possible frequency changes used for DTT reception.

jb38's 7,179 posts
Friday, 11 November 2016

I live in TN8 6JA what aerial would you recommend for a log cabin. The TV is a SMART TV and whilst WiFi signal is good, even a 30 One for All indoor 'digital' free-view aerial is picking up nothing

steve's 1 post
steve's:
map
S's Freeview map
terrain
S's terrain plot
waves
S's frequency data
S's Freeview Detailed Coverage
Saturday, 12 November 2016

steve: Although Freeview reception is predicted on DUK's website as being possible from either the Heathfield or Tunbridge Wells transmitters, Megalithia's terrain indicator shows the signal path from the former being subject to multiple (4) line-of-sight obstructions, therefore I would suggest that Tunbridge Wells is a better bet, said station being located at 11 miles on a bearing of 105 degrees.

As far as aerials are concerned, although I would hesitate at recommending any indoor (same room) aerial for DTT reception irrespective of location as they are too vulnerable to reacting to movement within the room, they are however of use for detecting traces of a signal when moved around a property at as high as is possible with Freeview receiver set to receive one of the mux channels used by the station you are trying receive.

The procedure being, select "manual" tuning on your TV followed by entering the BBC mux channel used by Tunbridge Wells which is 52 but do "not" press search or scan, as the tuner will then act like a form of signal meter by indicating the slightest trace of a signal, needless to say this being when you are moving the aerial around whilst observing for anything being indicated on the signal strength bar.

Further assistance / advice given dependant on outcome of test.



Terrain between ( m a.g.l.) and (antenna m a.g.l.) - Optimising UK DTT Freeview and Radio aerial location


Terrain between ( m a.g.l.) and (antenna m a.g.l.) - Optimising UK DTT Freeview and Radio aerial location

jb38's 7,179 posts
Friday, 25 November 2016

Hi there. I've just moved here from Australia and my TV can't find any channels when i do a scan. Do I need to buy something to make the tv work or do I need a new TV?

Stephen's 3 posts

Stephen:

To help you we need to know some details first, such as your full post code (to check the transmitter), what aerial system you have, what TV equipment you have, etc. I assume you have a Freeview-capable television? That it is connected to a proper aerial system (and not one in the room).

Further advice available depending on your response.



MikeP's 3,056 posts

Stephen: my post code iis g52 4af. I'm not sure if my TV is free view ready. Its a 4k smart TV. I brought it from Australia.

Stephen's 3 posts
Stephen's: ...

Its plugged iinto the communal Ariel.

Stephen's 3 posts

Stephen: I have no idea if your TV has the correct tuner for the UK - you need to check. If not, get an external receiver.

MikeB's 2,579 posts
Saturday, 26 November 2016

Stephen:

Your Australian TV may not be suitable for UK terrestrial digital reception. If the information available on the digital transmission systems used in Australia is reliable, then they use 7 MHz channel separation but in the UK we use 8 MHz separation. That means the multiplexes are transmitted on different frequencies here compared to Australia. Some TVs have a setup facility to change it to recognise 8 MHz spacing, but many do not. Further, there are some differences in the encoding methods and hence your TV may not be able to decode all the digital signals.

I agree with MikeB's suggestion that you obtain a UK digital set-top receiver. Some are quite cheap (but may suffer from reliability issues) and you can get a Freeview PVR so you can record as well as watch. I'm sure MikeB has some ideas on what make/model you might buy.

Communal aerial systems (ariel is a typeface style) can be useful as long as they are well maintained. You might get to know neighbours and discuss their experience with the aerial system, but remember that some may be using satellite services via a dish which is completely different.

Signal reception from Black Hill is your location between Paisley and Govan should be quite good. The signals are available on UK channels 46, 43, 40, 41+, 44, 47, 32, 35 and 51 (local services only). You can find more details by clicking on the 'digitaltrade.uk' box (links to Coverage Checker - Detailed View just at the bottom of your posting.

Hope that helps?



MikeP's 3,056 posts
Monday, 28 November 2016

We are indebted to Mike P for an illustration of Muphry's Law.

"Arial" with penultimate A is a typeface

"Ariel" with an E is many things; notably a nymph/spirit in Mr Shakespeare's "The Tempest"

When I brought a Toshiba TV back from Singapore I knew it needed adjusting for sound separation (+/- Hz from the picture carrier) I phoned Toshiba UK who said they could do it, for a very low fee, at one place only in the UK, but that I would have to arrange shipment to/from Clapham, South London. About 2 miles from my home in Herne Hill

steve P's 1,173 posts
Select more comments
Your comment please