Freeview reception - all about aerials

Brian Butterworth published on UK Free TV
Updated 8th January 2014.


Your ability of receive all the Freeview transmissions depends on the suitability of aerial
the design style,
the "group", and
its physical location.
Standard type - Yagi aerial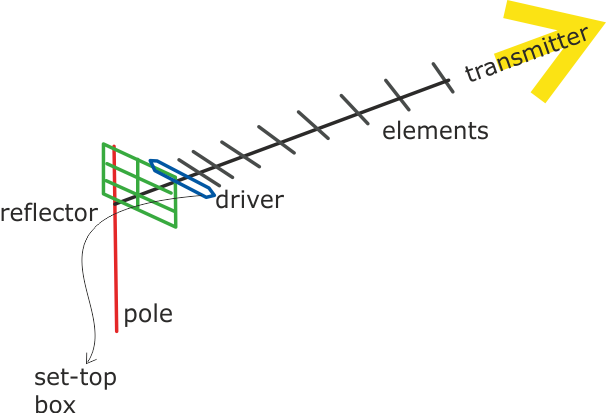 The
standard
type of TV aerial is known as the Yagi aerial. It is mounted on a pole, and consists of a rod with a reflector (shown green) at the back and many spiky elements (in grey) at the front. The connecting
cable
connects to the element nearest the reflector, known as the driver (shown in blue).
These Yagi aerials are directional and so
pick
up signals best from a
transmitter
that the rod points towards. The more elements the aerial has, the better it picks up a
signal
and becomes more directional.
A standard-type aerial is all that is required for
digital
TV
reception
in most places. These antennae have between 10 and 18 elements and a single reflector. These are recommended for new installations for good digital television reception, but will more often than not function perfectly in good reception areas.
Typically these aerials are designed to receive only some transmission frequencies - see "groups" below.
High Gain aerials

These aerials are designed for poor digital reception areas, and have two reflectors. For maximum signal strength, some digital high
gain
aerials have up to 100 elements. Since the
switchover
to digital-only transmissions back in October 2012, most UK households now have good
quality
digital TV signals.
A more expensive aerial is only required where the signal strength is low, but can often provide the whole Freeview reception where it might otherwise be impossible.
The CAI (that represents aerial installers) has four standards for digital TV aerials. The highest standard "1" is for homes on the fringes of coverage areas, intermediate standard "2" is suitable for use within the coverage area; minimum standard "3" is for good coverage conditions.
These aerials can be either
wideband
, or receive only selected frequencies - see "groups" below.
Grid

You may haved used a 'Grid aerial' for
analogue
reception, but as they are generally unsuitable for Freeview reception, they have now generally been replaced by the Yagi type. However in some places a Grid aerial installation may work for Freeview: otherwise replace with a standard Yagi aerial.
Indoor
Indoor aerials
are generally not suitable for Freeview reception. In areas of good signal strength it is often possible to receive some transmissions. Even where an aerial works, people often find that may get interruptions to their viewing (or recording).
Loft mounted
Loft
mounted arrivals are not generally recommended for Freeview reception, as the
roof
tiles and plumbing will degrade the signal. Some compensation for this loss of signal can be made by using
satellite
-grade cable to connect the set top box to the aerial.
Positioning
The best position for a TV aerial is mounted outdoors, as high from the ground as possible, pointing directly at the transmitter. The signal can be blocked by hills and tall buildings. It should be positioned away from any other aerials.
Horizontal or vertical?
The transmitter will either use vertical
mode
which requires the elements of your aerial to be up-down, or horizontal mode which requires them to be level with the ground.
Groups
Both analogue and digital television is transmitted the same group of transmission frequencies (known as
channel
21 through to 60). A coloured marking on the aerial shows the group.

To create the best possible analogue
picture
, TV transmissions from adjacent transmitters have been designated to several different groups of frequencies. By using an aerial that receives only the
channels
in the correct group, the analogue picture can be kept free from
interference
.
To receive Freeview transmissions from the same transmitter it has been sometimes necessary to use frequencies that are not part of the transmitter's normal group. When this has occurred, the aerial will need to be replaced with a "wideband" aerial (also known as group W) - one that covers every group.
As
Ofcom
is planning to move the TV frequencies again - perhaps as soon as 2018 - it may be wise to use a wideband aerial if you can to ensure you can keep viewing Freeview for many years to come.
Comments
Friday, 26 August 2011
D
David Corrick
2:13 PM
Cardiff

David Corrick: Jim F what is best way to fix the problem of signal overload change the aerial to a( b) group or try connecting to the more distant mendip transmitter

David Corrick's 4 posts
David's:
map
D's Freeview map
terrain
D's terrain plot
waves
D's frequency data
D's Freeview Detailed Coverage
Saturday, 27 August 2011

David Corrick: If you have an overload, fit an attenuator, they cost about a fiver.

Briantist's 38,899 posts
Monday, 29 August 2011

Does anyone have any suggestions which may help me?

I live in Chesterfield and before switchover (completed last week) I had no reception problems with Freeview.

I have two wideband aerials - an external one distributed to the downstairs rooms and one bedroom, one in the loft connected to a further two bedrooms.

Since switchover and retuning, something odd has happened. On the TVs connected to the outdoor aerial, none of them can recieve PSB2 (ITV1, etc)on ch23, all other multiplexes working fine with between 70 and 100% signal.

With the TVs connected to the loft aerial, none can recieve COM3 (Yesterday, 4Music, etc...) on ch40, all other multiplexes working fine between 60 and 80% signal.

So with the two aerials which worked fine before switchover, each now does not pick up a multiplex, but the multiplex missing is different per aerial.

Richard S's 23 posts
Tuesday, 30 August 2011

Richard S: I would try a test by connecting one of the TV's that presently isn't picking up PSB2 (ITV1 etc) whilst on the outdoor aerial over onto the indoor aerial, then after having blanking out the channels already stored on it, done by removing the aerial and carrying out a scan without it, and then carrying out the second scan after having reconnecting it.

If by doing that you see that ITV1 etc has returned, then that's liable to indicate that the signal received in its other position from the outdoor aerial is slightly too strong on that particular Mux channel and is blocking the tuner, this requiring a simple attenuator to be placed in line with the TV, that is unless your distribution amp is one of the variable types.

The second part of the test being, that if you now find that COM3 (ArqB Mux Ch40) has vanished then that's because it is only transmitting on low power until October 12th and the indoor aerial isnt picking it up properly because of this.

jb38's 7,179 posts

Richard S: Just in addition to what I mentioned. If the results of the test turn out as was suggested, when you then return the TV back to its original position do NOT carry out a re-scan as you will already know that ITV1 etc is stored in its memory, and indeed because of this it "might" work, however if not then you know it will again as soon as you take measures to slightly reduce the signal.

As COM3 (ArqB) will obviously not be there just add it by using the "add channels" facility on the TV, as that wont scrub whats already stored.

You have to always remember that unless TV etc are all of the same brand their sensitivities can be totally different, this why some will work and others not even although on the same aerial.

jb38's 7,179 posts
R
Richard S
6:30 PM
Chesterfield

jb38: Thanks for your advice.

I switched the aerials to the TVs around like you suggested and had the same result, the same multiplex was missing from each aerial.

However, I tried connecting the outdoor aerial direct to the main TV (i.e. bypassing the distribution amp) and the PSB2 (ITV1, etc..) appeared - although on very low signal level (10%), hence pixelating and not watchable. Is this to do with picking up too much signal or not enough before I purchase an attenuator?

Richard S's 23 posts
Richard's:
map
R's Freeview map
terrain
R's terrain plot
waves
R's frequency data
R's Freeview Detailed Coverage

UK digital TV reception predictor

I see you have choice of txs!

Are yoiu on Chestewrfield?

If so, it is low power until October - see note

Freeview on Chesterfield TV transmitter | ukfree.tv - independent free digital TV advice

Steve P's 1,173 posts
R
Richard S
8:33 PM
Chesterfield

SteveP - thanks for your reply.

Yes I am on Chesterfield. I appriciate that it is on low power for the time being, but both aerials worked pre-switchover when it was only putting out 20-40 Watts. The temporary low power is 40 Watts so I would have expected the loft aerial would work - maybe I am mistaken?

I understand from jb38 that it may be an issue to do with too much power on the external aerial which worked fine when the transmitter was at 40W but now doesn't at 400W.

Richard S's 23 posts
Richard's:
map
R's Freeview map
terrain
R's terrain plot
waves
R's frequency data
R's Freeview Detailed Coverage

Richard S: I think I may well have misinterpreted what you were meaning in your original posting, insomuch that when you mentioned the TV's on the loft aerial couldn't get COM3, I didn't realise that this was in "addition" to them not receiving PSB2 either, as I assumed it was only COM3 that was the problem on these sets. Anyway the test you carried out of by-passing the distribution amplifier proved interesting by this action having enabled you to receive PSB2, as that could indicate the signal is indeed possibly over powerful, however the puzzling bit of this being, that if it was powerful then I would have expected that the TV's on the loft aerial should have been able to receive PSB2, the fact that they don't suggests that some other factor must be in existence, what Mux Ch23 signal level is shown on them?

I have to say though, that the reception predictor on the post code provided indicates your position as being able to receive from a number of sources, namely Hasland as well as Belmont, although these being indicated as less than the 100% rating seen from Chesterfield on Mux Ch's 26 - 23 - 29 (HD service), although SDN (Mux Ch43) - ArqA (Mux Ch46) - ArqB (Mux Ch40) are all listed as being variable (as you are experiencing) this improving slightly by coming out of variable on Sep11th, then being fully OK from the12th of October.

I would like though if you could try a Mux channel check on a TV that is connected to "each" aerial, the channels to use being Mux Ch25 and Mux Ch60, these corresponding to Belmont and Hasland's PSB2.

Regarding the distribution amp in the loft what model is it?


jb38's 7,179 posts
Wednesday, 31 August 2011

Richard S: Another addition, could you also verify that the Mux channel numbers in question are actually being seen as these numbers whilst on the signal checking screen, and not just being referred to from the transmitter list.

jb38's 7,179 posts
Select more comments
Your comment please