Freeview reception - all about aerials

Brian Butterworth published on UK Free TV
Updated 8th January 2014.


Your ability of receive all the Freeview transmissions depends on the suitability of aerial
the design style,
the "group", and
its physical location.
Standard type - Yagi aerial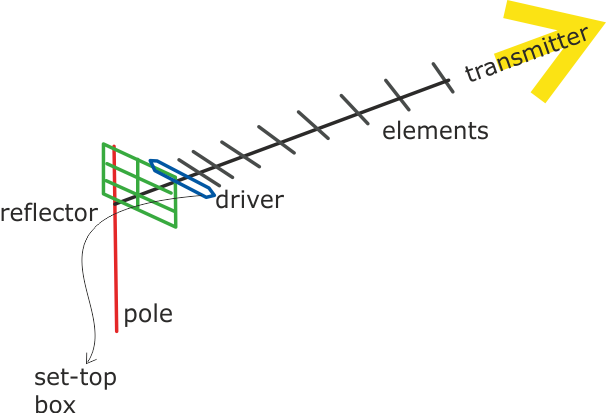 The
standard
type of TV aerial is known as the Yagi aerial. It is mounted on a pole, and consists of a rod with a reflector (shown green) at the back and many spiky elements (in grey) at the front. The connecting
cable
connects to the element nearest the reflector, known as the driver (shown in blue).
These Yagi aerials are directional and so pick up signals best from a
transmitter
that the rod points towards. The more elements the aerial has, the better it picks up a
signal
and becomes more directional.
A standard-type aerial is all that is required for
digital
TV
reception
in most places. These antennae have between 10 and 18 elements and a single reflector. These are recommended for new installations for good digital television reception, but will more often than not function perfectly in good reception areas.
Typically these aerials are designed to receive only some transmission frequencies - see "groups" below.
High Gain aerials

These aerials are designed for poor digital reception areas, and have two reflectors. For maximum signal strength, some digital high
gain
aerials have up to 100 elements. Since the
switchover
to digital-only transmissions back in October 2012, most UK households now have good
quality
digital TV signals.
A more expensive aerial is only required where the signal strength is low, but can often provide the whole Freeview reception where it might otherwise be impossible.
The CAI (that represents aerial installers) has four standards for digital TV aerials. The highest standard "1" is for homes on the fringes of coverage areas, intermediate standard "2" is suitable for use within the coverage area; minimum standard "3" is for good coverage conditions.
These aerials can be either
wideband
, or receive only selected frequencies - see "groups" below.
Grid

You may haved used a 'Grid aerial' for
analogue
reception, but as they are generally unsuitable for Freeview reception, they have now generally been replaced by the Yagi type. However in some places a Grid aerial installation may work for Freeview: otherwise replace with a standard Yagi aerial.
Indoor
Indoor aerials
are generally not suitable for Freeview reception. In areas of good signal strength it is often possible to receive some transmissions. Even where an aerial works, people often find that may get interruptions to their viewing (or recording).
Loft mounted
Loft
mounted arrivals are not generally recommended for Freeview reception, as the
roof
tiles and plumbing will degrade the signal. Some compensation for this loss of signal can be made by using
satellite
-grade cable to connect the set top box to the aerial.
Positioning
The best position for a TV aerial is mounted outdoors, as high from the ground as possible, pointing directly at the transmitter. The signal can be blocked by hills and tall buildings. It should be positioned away from any other aerials.
Horizontal or vertical?
The transmitter will either use vertical
mode
which requires the elements of your aerial to be up-down, or horizontal mode which requires them to be level with the ground.
Groups
Both analogue and digital television is transmitted the same group of transmission frequencies (known as
channel
21 through to 60). A coloured marking on the aerial shows the group.

To create the best possible analogue
picture
, TV transmissions from adjacent transmitters have been designated to several different groups of frequencies. By using an aerial that receives only the
channels
in the correct group, the analogue picture can be kept free from
interference
.
To receive Freeview transmissions from the same transmitter it has been sometimes necessary to use frequencies that are not part of the transmitter's normal group. When this has occurred, the aerial will need to be replaced with a "wideband" aerial (also known as group W) - one that covers every group.
As
Ofcom
is planning to move the TV frequencies again - perhaps as soon as 2018 - it may be wise to use a wideband aerial if you can to ensure you can keep viewing Freeview for many years to come.
Comments
Thursday, 10 November 2011
C
Christine Pilkington
4:10 PM

Why can't I get BBC 1 and 2 but all other channels since the digital switchover which was yesterday for the Tacolneston transmitter? Digital UK can't tell me but reckon its the freeview box at fault. The manufacturers of the box say if it was faulty we wouldn't get any channels and it looks like the transmisssion for these channels is very poor from that transmitter. No-one knows how I can resolve it without it costing me lots of money even though this problem is not down to me. Anyone got any ideas?

Christine Pilkington's 1 post

Christine Pilkington: Please post your post code as it will help with suggestions to resolve the issue.

Have you retuned yesterday or today?

Try doing this:

My Freeview box has no EPG, is blank on FIVE, ITV3, ITV4, ITV2+1, has no sound or the channel line up is wrong | ukfree.tv - independent free digital TV advice (DN31NJ)

Dave Lindsay's 5,724 posts

Christine Pilkington: In addition, there is a check list on the Freeview signals: too much of a good thing is bad for you | ukfree.tv - independent free digital TV advice page.

Briantist's 38,905 posts
Friday, 11 November 2011

I have a very old roof aerial - much older than UK digital TV. Is there any way to tell, looking up from the ground, which group it is or whether it's wideband?

I currently get an adequate digital signal from Crystal Palace but I'm on the border between that and Hannington. I'd prefer Hannington because BBC South is more relevant to me. As I understand it, CP is Group A and Hannington is C/D. I was wondering whether switching to Hannington (post DSO) was just a matter of realigning the aerial I've already got or whether I would need a new one. (SU7948169643)

Keith Sheppard's 8 posts

Keith Sheppard: You can't tell the group of an aerial just by looking at it, you need to see the colour of the plastic band.

Unless you have installed a specific wideband aerial you won't have a wideband aerial.

You will probably need a new aerial if you move it to point at Hannginton.

Briantist's 38,905 posts
M
Mark Fletcher
7:22 PM
Halifax

Keith Sheppard.Hard to say without a full postcode.In relation to your aerial,if it is coloured red at the tip then its a group A,yellow a group B,green a group C/D,brown a group E,grey a group K,black a group W or simply a wideband aerial.If as you mentioned you receive an adequate signal from Crystal Palace and your aerial is a group A then it will be coloured red at the tip.If it is black at the tip then its a group W wideband,however if your in a good to medium reception area within Crystal Palace then a group W wideband is ok,but not within a poor or marginal area within Crystal Palace itself as it is an all group A mast both at present and remaining so after DSO in April 2012.In relation to Hannington this transmiter is offically a group E transmitter although the analogue Channel 5 is broadcasting on frequency 35,on a group A band,but a superior group E aerial will be able to pick up channels as low as frequency 31.If you prefer Hannington (horizontally polarised obviously) then if your current aerial is a group A (red bung at the end),then replace it with either a group B Yagi 18B,or group E Yagi 18E or if you have to a group W wideband XB22WB X Beam antenna.If you want to you can diplex the group B or group E aerial with a much newer group A Yagi 18A for the com7,com8,com9 multiplexes on Hannington (on frequencies 32,34,36 respectively from 2013-16),the diplexer on frequency 38 will hopefully avoid any potential interference with the BBCB (HD) multiplex on frequency 39 come Wednesday 22 February 2012.But if you prefer the one aerial option come DSO at Hannington then the group W wideband XB22WB antenna is the safest option,although the group K Yagi 18K between ch's 21-48 will just about give coverage to the local mux on frequency 51 from 2013 onwards.Your safest bet is to replace your current old aerial with much newer options i suggested above,using also newer satellite grade co-ax cable (not inferior ones from DIY stores) and using importantly of course brass co-ax plugs,not alloy or worse still cheap plastic plugs.

Mark Fletcher's 673 posts
Mark's:
map
M's Freeview map
terrain
M's terrain plot
waves
M's frequency data
M's Freeview Detailed Coverage
Sunday, 13 November 2011

ihave lost some of the channels on freeview ,the set up was working on freeview ok before the change over on wedesday on the tacolneston transmiter, iam at nr65pd. ther are 5 tv workig through a powered distrubution box 3 of the tv have updated ok but the other 2 are missing some channels and have tryed rescaning several times .ihave checked all cables and connections ,and have tryed swapping the setboxes around.
any help or idears

mike's 4 posts

mike: Which channels are you missing?

The switchover was only BBC channels. The rest switch on 23rd.

Dave Lindsay's 5,724 posts
Dave's:
map
D's Freeview map
terrain
D's terrain plot
waves
D's frequency data
D's Freeview Detailed Coverage
Tuesday, 15 November 2011

mike: You might need to see Freeview signals: too much of a good thing is bad for you | ukfree.tv - independent free digital TV advice for help.

Briantist's 38,905 posts

Mark and Briantist, thanks for your responses. There is no way I can make out colours on the aerial, even using binoculars, and its location is such that I cannot safely reach it. Re. post code, it's RG41 1LH. Freeview website suggests Hannington (many of my neighbours' aerials point that way) but it's marginal and I inherited an aerial pointing at Crystal Palace. Reception isn't bad, even on today's signal strength, although we do get some drop-outs. I anticipate improvement when CP turns DSO. Mark's comments re. cable are noted but I don't think it would be practical to replace it unless absolutely necessary. After a number of extensions, the aerial feed has been mysteriously woven into the fabric of the house. In the short term I shall probably stick with CP. I just wanted to know what would be involved in switching to Hannington but it seems clear that the answer is that it would require a new aerial. (SU7948169643)

Keith Sheppard's 8 posts
Select more comments
Your comment please