Freeview reception - all about aerials

Brian Butterworth published on UK Free TV
Updated 8th January 2014.


Your ability of receive all the Freeview transmissions depends on the suitability of aerial
the design style,
the "group", and
its physical location.
Standard type - Yagi aerial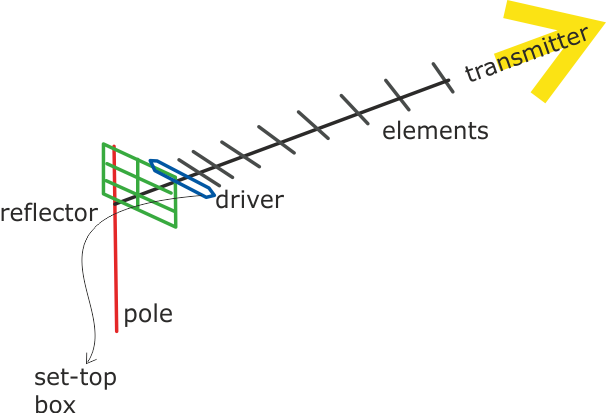 The
standard
type of TV aerial is known as the Yagi aerial. It is mounted on a pole, and consists of a rod with a reflector (shown green) at the back and many spiky elements (in grey) at the front. The connecting
cable
connects to the element nearest the reflector, known as the driver (shown in blue).
These Yagi aerials are directional and so pick up signals best from a
transmitter
that the rod points towards. The more elements the aerial has, the better it picks up a
signal
and becomes more directional.
A standard-type aerial is all that is required for
digital
TV
reception
in most places. These antennae have between 10 and 18 elements and a single reflector. These are recommended for new installations for good digital television reception, but will more often than not function perfectly in good reception areas.
Typically these aerials are designed to receive only some transmission frequencies - see "groups" below.
High Gain aerials

These aerials are designed for poor digital reception areas, and have two reflectors. For maximum signal strength, some digital high
gain
aerials have up to 100 elements. Since the
switchover
to digital-only transmissions back in October 2012, most UK households now have good
quality
digital TV signals.
A more expensive aerial is only required where the signal strength is low, but can often provide the whole Freeview reception where it might otherwise be impossible.
The CAI (that represents aerial installers) has four standards for digital TV aerials. The highest standard "1" is for homes on the fringes of coverage areas, intermediate standard "2" is suitable for use within the coverage area; minimum standard "3" is for good coverage conditions.
These aerials can be either
wideband
, or receive only selected frequencies - see "groups" below.
Grid

You may haved used a 'Grid aerial' for
analogue
reception, but as they are generally unsuitable for Freeview reception, they have now generally been replaced by the Yagi type. However in some places a Grid aerial installation may work for Freeview: otherwise replace with a standard Yagi aerial.
Indoor
Indoor aerials
are generally not suitable for Freeview reception. In areas of good signal strength it is often possible to receive some transmissions. Even where an aerial works, people often find that may get interruptions to their viewing (or recording).
Loft mounted
Loft
mounted arrivals are not generally recommended for Freeview reception, as the
roof
tiles and plumbing will degrade the signal. Some compensation for this loss of signal can be made by using
satellite
-grade cable to connect the set top box to the aerial.
Positioning
The best position for a TV aerial is mounted outdoors, as high from the ground as possible, pointing directly at the transmitter. The signal can be blocked by hills and tall buildings. It should be positioned away from any other aerials.
Horizontal or vertical?
The transmitter will either use vertical
mode
which requires the elements of your aerial to be up-down, or horizontal mode which requires them to be level with the ground.
Groups
Both analogue and digital television is transmitted the same group of transmission frequencies (known as
channel
21 through to 60). A coloured marking on the aerial shows the group.

To create the best possible analogue
picture
, TV transmissions from adjacent transmitters have been designated to several different groups of frequencies. By using an aerial that receives only the
channels
in the correct group, the analogue picture can be kept free from
interference
.
To receive Freeview transmissions from the same transmitter it has been sometimes necessary to use frequencies that are not part of the transmitter's normal group. When this has occurred, the aerial will need to be replaced with a "wideband" aerial (also known as group W) - one that covers every group.
As
Ofcom
is planning to move the TV frequencies again - perhaps as soon as 2018 - it may be wise to use a wideband aerial if you can to ensure you can keep viewing Freeview for many years to come.
Comments
Thursday, 26 January 2012

ian ayres: The problem is that water tends to be low down which is where (generally speaking) signals are at their lowest. And the whip antenna is very poor and will only work in the strongest areas. And it's usually only mounted vertically (many areas require horizontal aerials).

It really does depend on where you are as to what your chances are. Set-top aerials by their very nature are smaller and therefore less sensitive than the ones you put outside. There are no guarantees of success; all you can do is take steps to increase your chances within the bounds of any restrictions such as the size of the aerial.

It's probably impractical to mount something like this on a pole or stick into the ground:

TV Aerials for Boats and Caravans

Personally, for a set-top aerial I would always go for one that is directional, polarised and does NOT incorporate an amplifier. Basically, they're ones that look like smaller versions of the types you see on roof-tops. You can point in one particular direction, are flat and can be mounted horizontally or vertically depending on the transmitter being received from.

I have a Labgear one like this:

Set Top Aerial Labgear | eBay

I suggest that you might well need to raise it above the ground by fixing it on to the end of a stick or pole. You might need a short aerial extension such as those supplied with video recorders.

Knowing the transmitter(s) in the area is useful. You might be able to tune in the TV beforehand in a location where you can receive from the transmitter that best serves the location you intend to fish (if any). The thing with tuning a TV is that you need to be in a location where the signal can be received in order to tune to it. But to put your aerial where it will pick up a signal, you need your TV to be tuned so you can move the aerial to best effect.

Mobile phones in close proximity are likely to interfere when they are transmitting.

Dave Lindsay's 5,724 posts
Tuesday, 31 January 2012
R
russell Jones
5:59 PM
New Tredegar

hi, I live in the new tredegar,gwent area and I am only able to pick up basic freeview progs(on a freeview t.v....not a set top box ).I have the same arial as when analogue was transmitted.It is pointing toward the Rhymney transmitter.Would purchasing a different arial help,and if so which arial should I buy ?

russell Jones's 1 post
russell's:
map
R's Freeview map
terrain
R's terrain plot
waves
R's frequency data
R's Freeview Detailed Coverage

russell jones: Probably not. See here for an explanation:

Will there ever be more services on the Freeview Light transmitters? | ukfree.tv - independent free digital TV advice

Freesat is probably your main option for getting extra channels.

Dave Lindsay's 5,724 posts
Sunday, 5 February 2012
C
Chris
9:33 AM
Farnborough

Hi can you tell me is the transmitters at Basingstoke and mid hurst going to be boosted as I live in farnborough and can only point my areial south?

Chris's 2 posts
Chris's:
map
C's Freeview map
terrain
C's terrain plot
waves
C's frequency data
C's Freeview Detailed Coverage

Chris: Yes, the power at Midhurst will be increased at switchover. You are however only predicted to have variable reception from this transmitter, meaning that different positions of the aerial could make a lot of difference to whether you receive a reliable signal or not. The best reception from Midhurst is shown for mux BBCA which enters service on 29th February 2012 on C55. The remaining muxes adopt high power working on 14th March 2012. Your best predicted reception is shown as being from Hannington, aerial pointing W. This transmitter has DSO on 8th February 2012 for mux BBCA, with the remaining muxes changing frequency on 14th March 2012. Note that the low power antenna will be used by SDN until 4th April 2012 and ArqA and ArqB until 18th April 2012.

KMJ,Derby's 1,811 posts
C
Chris
10:18 AM
Farnborough

Thanks that is a great help :)

Chris's 2 posts
Chris's:
map
C's Freeview map
terrain
C's terrain plot
waves
C's frequency data
C's Freeview Detailed Coverage

Chris: Switchover at Midhurst is on 29th February and 14th March.

On 29th February, BBC Two analogue will be switched off and on the same UHF channel will go the full power BBC standard definition services. Then the rest of the analogue channels are turned off two weeks later.

The latest Ofcom document shows that some services will be on low power for a period and that others will be subject to reactive power decrease if necessary. It is probably worth being aware of this as if you are in a poor signal area, it could affect you:

BBC A (BBC standard definition TV & radio) Ch55 @ 20kW but with "a reactive power decrease to 10kW is an option if required".

D3&4 (ITV1, C4, C5 etc) Ch61 @ 20kW, as BBC (reactive decrease to 10kW).

BBC B (HD services) Ch58 @ 20kW. No reactive power, so will be at full power.

SDN (ITV3 etc) Ch62 @ 10kW. No reactive power, so will be at full power.

Arq A (Pick TV etc) Ch59 @ 10kW. Until 20th June there will be a reactive power to 5kW if required.

Arq B (Yesterday etc) Ch50 @ 10kW. Until 25th April, this will be at 1kW.

Dave Lindsay's 5,724 posts
J
John Turley
10:41 AM
Lowestoft

I have two tv's one has a freeview box I receive all channels. The other has built in freeview. I retuned the latter because channel 11 was missing, got it but lost ITV 1 Ch4 and channels 5 and 6. Retuned 4-5 times with no change. ???

John Turley's 3 posts
John's:
map
J's Freeview map
terrain
J's terrain plot
waves
J's frequency data
J's Freeview Detailed Coverage

Dave Lindsay: Thanks for clarification of Mux ArqB from Midhurst. The postcode checker shows a reception change in April 2012 when ArqB is given a good reception prediction ( up from zero reception predicted), but the transmitter power continues to be shown as 1kW until October making it unclear where the gremlin lay. It does appear that this will be another transmitter where viewers might complain about loss of ArqB after DSO2!

KMJ,Derby's 1,811 posts

KMJ,Derby: I'm not sure about loss of Arq B. It is only 1kW at the moment (on Ch60).

Dave Lindsay's 5,724 posts
Select more comments
Your comment please