Do I need to buy a booster?

Brian Butterworth published on UK Free TV
With analogue television, it has often been necessary to buy an amplifier to improve the quality of the television picture, or to supply a steady on several televisions fed from the same aerial.

Many people have asked if it necessary to investing in a signal booster for Freeview.

"Analogue television" means is that the sound and pictures are broadcast using signals that are an "analogue" of the input. The sound and picture are transmitted from the source as electrical signals, then as radio waves and then back to sound and picture again.

In an analogue television camera, the image is scanned 25 times a second from side to side, from top to bottom and back. Where a lot of light is scanned, a high voltage is produced. Where no light is scanned, no voltage is produced. The output voltage is the same ratio to amount of light at scanned.

Leaving aside the technically, this signal is sent to the transmitter. The transmitter emits a radio wave on a known frequency, which is varied by the incoming voltage.




A microphone also converts the sound vibrations it picks up into a voltage, which when sent to the transmitter is added to another radio transmission frequency.

The signals are received by a television aerial pointing at the transmitter and converted back to very weak electrical signals. The sound is amplified and sent to a loudspeaker, and a picture created on the TV screen.

So on an analogue television, if the incoming signal is weak then the picture is dull as the background noise (the snow scene seen when an analogue television is not tuned) makes the picture less watchable.

The best analogue television set equipped with a great TV aerial located near to a high powered transmitter will produce brilliant pictures and clear sound. A poor set with an inadequate aerial or substandard cable will not.

If a weak signal is fed to a booster device, this will make the picture appear better on the television set or sets. It is often worth the investment.
Digital television
In a
digital
studio, the voltages from the cameras and microphones are not sent directly to the transmitter. It is converted into a stream of numbers inside a computer. The input voltage relates directly to the number in the computer. By sampling the input at a regular frequency, it is therefore possible to both store and transmit the information digitally this is what computers are good at.
It is therefore possible to take these numbers and generate a sound and picture output from them. However, the amount of information generated is over 240Mb/s, 30 times the rate of the fastest broadband connection.
Buy using computational techniques on this information the data can be compressed to as low as 2Mb/s, with as little as 6Mb/s being required for a good quality picture. These data compression techniques are called "lossy" because the reconstructed images are not identical to the originals, but look virtually similar to human eyes.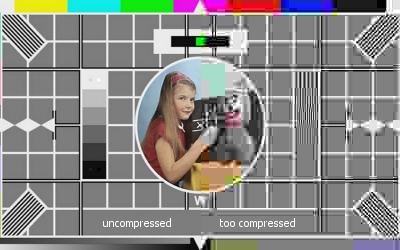 Digital television uses the same transmission frequencies as analogue uses, known as
C21
to
C68
. The digital data is sent using a system called COFDM (Coded Orthogonal Frequency-Division-Multiplexing) which can carry data at a rate of 18Mb/s or 24Mb/s. Several television
channels
and some
radio stations
can be multiplexed together to produce exactly this amount of data.
At the
receiver
, it must be able to decode every single bit from these transmission multiplexes. A single error is impossible to correct for, so the decoder must have no errors.
Until
switchover
happens, the Freeview signals are being broadcast at very, very low
power
levels. However the COFDM system and sensitive digital equipment will, as long as the signal can be found and decoded there will be pixel-perfect reconstruction of the television channel. If the signal is drowned out by
interference
(especially from analogue transmissions) then no picture or sound will be output.
If the TV aerial installation you have provides you with all the Freeview channels, there is nothing to worry about.
If you are missing some channels because the signal is just too weak the best place to start is by improving the aerial, see
Freeview reception - All about aerials
. A bigger, higher, better designed aerial will always be the most sensible way to get perfect
reception
.
If you want to supply a signal to several sets, where the incoming signal is being "split" to serve several Freeview boxes, a
masthead
amplifier will be effective. This is because the signal is already of good quality and is being repeated for several sets.
However, if you are not getting a good signal from your aerial, a booster by the TV set will probably not
help
as this will simply boost the background interference as much as the Freeview signal.
In circumstances where an amplifier that has improved a picture on an analogue, it may be unsuitable for Freeview reception. Sometimes they will block one or more
multiplex
, where disconnecting the amplifier will restore the channels.
Comments
Wednesday, 20 March 2013

I live in Portsmouth; we get our Freeview from the Isle of Wight transmitter. We get good reception of all Freeview channels but not 11-Pick TV, Dave-12, 29-E4+1 and 32-Movie Mix. All these come from Portsdown hill xmitter. On the bad channels we show 100% signal and almost 0 signal quality. The good channels show 100% level and quality. We use a common aerial for 12 flats. The aerial feeds a 6 output (fixed gain) 8db gain per output into the six 8 output SLX (12db fixed gain) per output. That is 48 feeds to the flats.

chris Cotter's 1 post
Saturday, 13 April 2013

Hi, I live in Faringdon Oxfordshire, we get our signal from the transmitter near Oxford. We have 2 TV's an old CRT and a brand new digital Samsung. When I tuned the new TV, none of the Com 6 channels such as Yesterday where displayed and I have tried retuning several times but still missing these channels. But on the old CRT TV which used a Humax box to receive the digital channels I was able to get these. In fact our other TV which an old CRT which uses a freeview box can still get them. What should I do???

The aerial is a digital high gain class 2.

Andrew's 1 post
Sunday, 14 April 2013

Hi I live in Altrincham,Cheshire (near Manchester) within the last two weeks instead of normally receiving ITV local news Manchester I now receive ITV local news Wales. Checked the system retuned freeview, nothing in the immediate area has changed (new buildings etc). I have two TV systems connected to one aerial picture and sound quality OK. Please Advise. Regards

Scott's 1 post
Friday, 19 April 2013

I am new to FreeView and aerials. My signal strength on all channels varies from 26 to 45%, signal quality always 100%.
Is this a reasonable situation?
Advice from the experts will be gratefully received.

Ronald Gribbin's 1 post
Tuesday, 30 April 2013

One. Aerial feeds 3tv,s main tv in lounge has signal
Booster fitted, no problem, tv in kitchen no online. Booster fitted no problem, tv in bedroom no booster fitted keeps losing the signal and freezing. Will it be the tv or will a booster help and if so what type of booster will be best..advice will be appreciated. Thanks

Gil's 1 post

Gil: What method are you using to connect the three TV's to the aerial? as going by what you have said would suggest that you are already using two boosters, but with the signal being fed to the bedroom TV also requiring one.

The normal way of doing things is to have the aerial going straight into a three way booster / splitter and with each of its three outputs being used to feed the TV's in each of the three locations.

Advice regarding boosters / splitters can only be given if you indicate your location, this in the form of a post code or one from nearby, e.g: a shop or post office, as this will enable the signal strength expected at your location to assessed.

jb38's 7,179 posts
Sunday, 5 May 2013

My postcode is PO31 7SJ and I live in Cowes on the Isle of Wight.

I have an aerial on the roof (-attached the the chimney) and a booster splitter up in he loft. This was all fitted by TV/electricity specialists a few years ago at the same time as they installed several TV sockets around the house, including basement, living room and bedrooms. The signal was never great and used to be affected by cruise liners passing along the Solent. Boat passage no longer has any impact but the TV signal has got worse and a TV specialist came to check things and said the booster splitter needed replacing which he did a year or so ago.

Things seemed to work again fairly well, but never brilliantly and sometimes unplugging and plugging the aerial would fix things temporarily. Recently things have deteriorated so often there is not any signal. The picture flickers all the time since The big change and digital was introduced and most often there is the "weak or no signal" notice on e screen while trying to watch the BBC channels, while other times it is only the other channels and sometimes no channels work at all.

What should I do? Get the aerial adjusted, the booster fixed, change the cables or just throw my TV out the window?

In despair
Angie

Angie's 4 posts
Angie's:
map
A's Freeview map
terrain
A's terrain plot
waves
A's frequency data
A's Freeview Detailed Coverage

PS
We use Freeview and my TV is a Samsung 40" so I'd rather not have to throw it out of the window.

Angie's 4 posts

Angie: was the specialist an aerial man or a spark ?

Mazbar's 384 posts

Angie: Which transmitter is the aerial pointing to? Hannington is North, Midhurst (roughly)NE and Rowridge SSW. Check that the TV is tuned to the correct frequencies for the chosen transmitter. It is worth mentioning that if Midhurst was chosen, this is not predicted to give particularly good reception. If Rowridge, there is an additional vertically polarised signal transmitted from this mast since switchover. Changing the aerial to vertical polarisation could improve reliability of reception from Rowridge. When doing an automatic scan for channels signals for Rowridge are found first in the scan. If you intend to receive from Hannington (or Midhurst) do a manual tune for each of the correct frequencies after first clearing the channel list, or alternatively start the scan with the aerial unplugged, then plug it in at C38 after the scan has gone past the Rowridge frequencies.

KMJ,Derby's 1,811 posts
Select more comments
Your comment please