Do I need to buy a booster?

Brian Butterworth published on UK Free TV
With analogue television, it has often been necessary to buy an amplifier to improve the quality of the television picture, or to supply a steady on several televisions fed from the same aerial.

Many people have asked if it necessary to investing in a signal booster for Freeview.

"Analogue television" means is that the sound and pictures are broadcast using signals that are an "analogue" of the input. The sound and picture are transmitted from the source as electrical signals, then as radio waves and then back to sound and picture again.

In an analogue television camera, the image is scanned 25 times a second from side to side, from top to bottom and back. Where a lot of light is scanned, a high voltage is produced. Where no light is scanned, no voltage is produced. The output voltage is the same ratio to amount of light at scanned.

Leaving aside the technically, this signal is sent to the transmitter. The transmitter emits a radio wave on a known frequency, which is varied by the incoming voltage.




A microphone also converts the sound vibrations it picks up into a voltage, which when sent to the transmitter is added to another radio transmission frequency.

The signals are received by a television aerial pointing at the transmitter and converted back to very weak electrical signals. The sound is amplified and sent to a loudspeaker, and a picture created on the TV screen.

So on an analogue television, if the incoming signal is weak then the picture is dull as the background noise (the snow scene seen when an analogue television is not tuned) makes the picture less watchable.

The best analogue television set equipped with a great TV aerial located near to a high powered transmitter will produce brilliant pictures and clear sound. A poor set with an inadequate aerial or substandard cable will not.

If a weak signal is fed to a booster device, this will make the picture appear better on the television set or sets. It is often worth the investment.
Digital television
In a
digital
studio, the voltages from the cameras and microphones are not sent directly to the transmitter. It is converted into a stream of numbers inside a computer. The input voltage relates directly to the number in the computer. By sampling the input at a regular frequency, it is therefore possible to both store and transmit the information digitally this is what computers are good at.
It is therefore possible to take these numbers and generate a sound and picture output from them. However, the amount of information generated is over 240Mb/s, 30 times the rate of the fastest broadband connection.
Buy using computational techniques on this information the data can be compressed to as low as 2Mb/s, with as little as 6Mb/s being required for a good quality picture. These data compression techniques are called "lossy" because the reconstructed images are not identical to the originals, but look virtually similar to human eyes.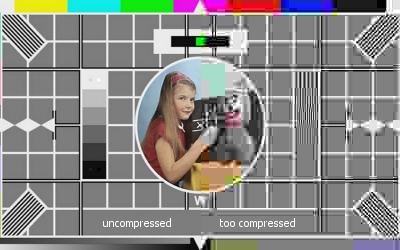 Digital television uses the same transmission frequencies as analogue uses, known as
C21
to
C68
. The digital data is sent using a system called COFDM (Coded Orthogonal Frequency-Division-Multiplexing) which can carry data at a rate of 18Mb/s or 24Mb/s. Several television
channels
and some
radio stations
can be multiplexed together to produce exactly this amount of data.
At the
receiver
, it must be able to decode every single bit from these transmission multiplexes. A single error is impossible to correct for, so the decoder must have no errors.
Until
switchover
happens, the Freeview signals are being broadcast at very, very low
power
levels. However the COFDM system and sensitive digital equipment will, as long as the signal can be found and decoded there will be pixel-perfect reconstruction of the television channel. If the signal is drowned out by
interference
(especially from analogue transmissions) then no picture or sound will be output.
If the TV aerial installation you have provides you with all the Freeview channels, there is nothing to worry about.
If you are missing some channels because the signal is just too weak the best place to start is by improving the aerial, see
Freeview reception - All about aerials
. A bigger, higher, better designed aerial will always be the most sensible way to get perfect
reception
.
If you want to supply a signal to several sets, where the incoming signal is being "split" to serve several Freeview boxes, a
masthead
amplifier will be effective. This is because the signal is already of good quality and is being repeated for several sets.
However, if you are not getting a good signal from your aerial, a booster by the TV set will probably not
help
as this will simply boost the background interference as much as the Freeview signal.
In circumstances where an amplifier that has improved a picture on an analogue, it may be unsuitable for Freeview reception. Sometimes they will block one or more
multiplex
, where disconnecting the amplifier will restore the channels.
Comments
Saturday, 15 September 2012

I have a Toshiba DR20, dvd and video recorder with built in Freeview. I keep losing my Freeview channels on the dvd but my Tv is ok. I had to put a splitter on, do you think that is whats causing the problem ? Its very frustrating. Would a booster help ? Help a lady thats not to sure about whats shes doing !!!!

Elaine's 1 post

Elaine: It might be that the signal you receive is at a level that is just high enough to resolve a picture and no more, but that the DR20 is not so sensitive whereby the signal drops out at the slightest variation in signal strength, as in cases like that a two way powered booster always helps.

However a more precise answer cannot be given as you have not indicated your location (post code or one from nearby) and which makes it impossible to assess the signal levels expected where you reside.

jb38's 7,179 posts
Thursday, 27 September 2012
E
e. roberts
2:48 PM
Rowlands Gill

we have been receiving perfect freeview reception across all channels transmitted in our are ( NE39 ) since freeview became available.

Our main television is serviced by its own dedicated areal ( not shared ).

We are about 2Km ( straight line distance ) from Pontop Pike and are tuned into that transmitter.

Our home is in a valley and as consequence the signal from P.P. is reduced. This has been improved in the past by installing a mains powered signal booster to the aerial where it enters the house, maximum gain 17 Db

Subsequent to changeover the reception across all channels has remained at pre-changeover quality with he exception of the newly consolidated BBC channels ( Chan 58 ).

If I remove the booster the situation deteriorates, ( more vision pauses and less audio ), but improves once it is reinstated but still to an unacceptable level.

The same deterioration occurs if the booster gain is reduced.

Channels other than the newly consolidated BBC Mux are not affected.

The aerial has not changed since pre-changeover and we are no further away from P.P. yet the changeover help line are advising that an attenuator be fitted into the aerial lead.

I have been unable to find any viable technical query route into the faceless transmission services industry and the BBC questionaire service is not fit for purpose as they advise that it is not monitored and that they do not reply to all queries as a matter of policy.

Is there any service I can access to unravel this situation and get my service back to its pre-change-over performance

suggestions please

e. roberts's 1 post
e.'s:
map
E's Freeview map
terrain
E's terrain plot
waves
E's frequency data
E's Freeview Detailed Coverage
Tuesday, 2 October 2012

I have just removed my sky system and installed BT vision to my main tv and also 6 others around the house. The signal to the main TV is ok however the signal to the rest being feed of an amplifier in the roof space ( main one then split between 6 tv leads) has led to no reception at all . Could the amplifier (Booster) be broken or unsuitable for purpose ? Any suggestions would be most helpful before i go to purchase various componenets.

Mark Withington's 1 post

Mark Withington: When you say "split between 6 TV feeds" are you meaning that the device being used has six outputs?

Secondly, when the main TV is OK then what method are you using to feed the signal into the main TV and also up to the roof space?

As far as the booster is concerned yes! it is quite possible for it to be defective more so than it being unsuitable for purpose, and it would be of assistance to know what is printed on the device.

Further info as dependant on answers to questions.

jb38's 7,179 posts

e. roberts: Well the advice that was given to you by the changeover helpline regarding an attenuator would under normal circumstances be correct, as at your distance from the transmitter your TV or boxes tuner could be completely swamped by the signal thereby seriously affecting reception, or indeed even blocking it altogether.

But though being located too close to a high mast can put you in am umbrella type situation whereby you are in effect being shielded from the signal, and by you being located in a dip makes matters worse.

You say that your TV has its own dedicated aerial but where is it located? and have you tried some tests using a simple (emphasise on simple!) set top aerial and moved it around at various angles whilst observing the signal quality as shown on the signal strength / quality test screen? even try a short piece of wire (about 3 feet or so max) connected into the aerial socket and see what results you get using that.

Maybe you could give an update on these points.

The point being that the RF you are receiving will be reflected from all sorts of objects and so pointing the aerial in the direction of the mast might not give the best results.


jb38's 7,179 posts
Saturday, 12 January 2013

My daughter has just moved into a flat which has a tv aerial point but tv shows no signal being received. Neighbour says there is a communal loft aerial but we need a signal booster as adjoining building blocks the signal. Are there different types of boosters? Any advice welcomed. (Before we spoke to neighbour, we had tried an indoor aerial-no signal-so booster seems to be the solution.)

farmgirlj's 1 post

farmgirlj: If the post code that's been entered is that of your daughters, then unfortunately the signal levels expected at wherever she might be located cannot be assessed as the entry made in the box has contained disallowed characters, likewise DUK's checker rejecting them.

However as far as boosters are concerned, its sometimes a safer bet to purchase a variable gain type such as sold by Argos. link to same below.

Argos item number: 534 / 4235 (£11.99)

If though you provide a proper post code, or one from nearby e.g: a shop, then further advice can be given.

jb38's 7,179 posts
Friday, 25 January 2013

hi we have a external arial and a 6 way booster with only 2 tv on it on bbc 2and 2 we get defragmataions to the picture our some times no picture at allmost of the other programes are ok we live high up on dartmoor , devon could you give me so me some
advice how to inprove this situation thanks

jeff cane's 1 post

jeff cane: On the basis that you live high up I assume that you may well have line of sight to your transmitter. You may also have good signals from other transmitters. For this reason, the first thing I would do is check that your TV is tuned to the transmitter you are using for all its five standard definition and one HD channel.

It is the case that too high a signal strength can cause poor or no signal which is exactly the same as too little a signal.

You "may" be able to turn down the amplifier (assuming that it has such a control), or even remove it and replace with an unpowered splitter, and still get all channels. Before you do any of this though, check that you are tuned to the correct transmitter.

There are six signals known as multiplexes. Each carries a number of services and you just need to check one service from each.

The six muxes are:

PSB1 - BBC One
PSB2 - ITV1
PSB3 - BBC One HD
COM4 - ITV3
COM5 - Pick TV
COM6 - Film4

For each of these, go to them and bring up the signal strength screen. This screen usually gives the UHF channel that is tuned.

There appear to be several transmitters that might be available across the Dartmoor area.

Beacon Hill is one of those transmitters and its six channels are 60, 53, 57(HD), 42, 45, 51. These are in the same order as those above.

For example, bring up the signal strength screen on ITV3 and, if your aerial is directed to Beacon Hill, it should say channel 42.

Dave Lindsay's 5,724 posts
Select more comments
Your comment please