Do I need to buy a booster?

Brian Butterworth published on UK Free TV
With analogue television, it has often been necessary to buy an amplifier to improve the quality of the television picture, or to supply a steady on several televisions fed from the same aerial.

Many people have asked if it necessary to investing in a signal booster for Freeview.

"Analogue television" means is that the sound and pictures are broadcast using signals that are an "analogue" of the input. The sound and picture are transmitted from the source as electrical signals, then as radio waves and then back to sound and picture again.

In an analogue television camera, the image is scanned 25 times a second from side to side, from top to bottom and back. Where a lot of light is scanned, a high voltage is produced. Where no light is scanned, no voltage is produced. The output voltage is the same ratio to amount of light at scanned.

Leaving aside the technically, this signal is sent to the transmitter. The transmitter emits a radio wave on a known frequency, which is varied by the incoming voltage.




A microphone also converts the sound vibrations it picks up into a voltage, which when sent to the transmitter is added to another radio transmission frequency.

The signals are received by a television aerial pointing at the transmitter and converted back to very weak electrical signals. The sound is amplified and sent to a loudspeaker, and a picture created on the TV screen.

So on an analogue television, if the incoming signal is weak then the picture is dull as the background noise (the snow scene seen when an analogue television is not tuned) makes the picture less watchable.

The best analogue television set equipped with a great TV aerial located near to a high powered transmitter will produce brilliant pictures and clear sound. A poor set with an inadequate aerial or substandard cable will not.

If a weak signal is fed to a booster device, this will make the picture appear better on the television set or sets. It is often worth the investment.
Digital television
In a
digital
studio, the voltages from the cameras and microphones are not sent directly to the transmitter. It is converted into a stream of numbers inside a computer. The input voltage relates directly to the number in the computer. By sampling the input at a regular frequency, it is therefore possible to both store and transmit the information digitally this is what computers are good at.
It is therefore possible to take these numbers and generate a sound and picture output from them. However, the amount of information generated is over 240Mb/s, 30 times the rate of the fastest broadband connection.
Buy using computational techniques on this information the data can be compressed to as low as 2Mb/s, with as little as 6Mb/s being required for a good quality picture. These data compression techniques are called "lossy" because the reconstructed images are not identical to the originals, but look virtually similar to human eyes.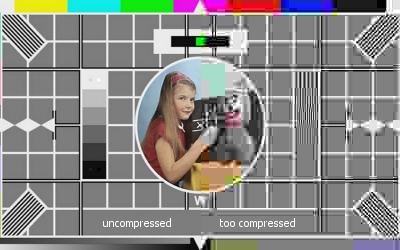 Digital television uses the same transmission frequencies as analogue uses, known as
C21
to
C68
. The digital data is sent using a system called COFDM (Coded Orthogonal Frequency-Division-Multiplexing) which can carry data at a rate of 18Mb/s or 24Mb/s. Several television
channels
and some
radio stations
can be multiplexed together to produce exactly this amount of data.
At the
receiver
, it must be able to decode every single bit from these transmission multiplexes. A single error is impossible to correct for, so the decoder must have no errors.
Until
switchover
happens, the Freeview signals are being broadcast at very, very low
power
levels. However the COFDM system and sensitive digital equipment will, as long as the signal can be found and decoded there will be pixel-perfect reconstruction of the television channel. If the signal is drowned out by
interference
(especially from analogue transmissions) then no picture or sound will be output.
If the TV aerial installation you have provides you with all the Freeview channels, there is nothing to worry about.
If you are missing some channels because the signal is just too weak the best place to start is by improving the aerial, see
Freeview reception - All about aerials
. A bigger, higher, better designed aerial will always be the most sensible way to get perfect
reception
.
If you want to supply a signal to several sets, where the incoming signal is being "split" to serve several Freeview boxes, a
masthead
amplifier will be effective. This is because the signal is already of good quality and is being repeated for several sets.
However, if you are not getting a good signal from your aerial, a booster by the TV set will probably not
help
as this will simply boost the background interference as much as the Freeview signal.
In circumstances where an amplifier that has improved a picture on an analogue, it may be unsuitable for Freeview reception. Sometimes they will block one or more
multiplex
, where disconnecting the amplifier will restore the channels.
Comments
Monday, 6 May 2013

Angie: Just purely out of curiosity, although things might well have been altered by now as the street view imagery I am looking at is not bang up to date, but most of the aerials seen on the roofs of the Beckford Road properties are pointing towards either the Midhurst or Hannington transmitters, this making me wonder where your aerial is facing? Rowridge being on a bearing of 207 degrees, you can use the Sky dishes seen as roughly facing towards 152 degrees.

A terrain check of your area indicates that the signal from Rowridge is being obstructed from about 1.5 miles from your location, but considering that the 200Kw Rowridge transmitter is located at only 6.5 miles away I feel that the chances are that you could being receiving a better level of signal than you are doing by having your aerial system checked out by an installer, provided that is if its someone of the "open minded" type meaning a person who is prepared to try a few tests using such as a log periodic aerial which is perfect for applications such as yours.

I do realise that your aerial has already been checked out by a TV / electrical company, but I am inclined to agree with Mazbar's inference with regards to a spark, because (and without wishing to appear offensive) but electricians are generally not compatible with frequencies higher than 50Hz or so albeit that they might well be top people in their own field.

jb38's 7,179 posts
Wednesday, 8 May 2013

Hello JB and Mazbar and KMJ

Thanks so much fr coming back t me. TV still behaving bady and picture gets white lines and freezes all the time if it works at all.

It looks like I need to get a specialist in as I am struggling to even answer your questions, I will try to find out and let you know, My house is on the RHS of the road going up the hill from the sea. Would itnhelp if I check the compas bearing of the aerial?

The original installation of coax, booster and TV sockets was done by an electrical firm who claimed TV expertise. The booster was replaced by a TV specialist.

Angie's 4 posts

Angie: Getting back to the basics, have you as yet made any local enquiries with regards to the standard of reception being experienced by others around your area? as this would at least give you an idea if the problem is widespread or is possibly solely confined to your own installation.

The other thing being, that its essential to find out which transmitter your TV is tuned to, this normally achieved by carrying out a signal strength check whilst viewing a programme as the transmitter channel number is usually given along with the signal strength indications, try this whilst viewing the BBC, Rowridge being Ch24 / Hannington Ch45 / Midhurst Ch55.

It would also be of assistance if you could provide the model number of your Samsung TV, as Samsung in common with LG's etc do not use the same menu system across their ranges.



jb38's 7,179 posts

Angie: Just to clarify on that said, I am looking at it from the point of view that should it be found out that others are also experiencing similar problems to yourself, then it would be somewhat pointless in paying out for another aerial installer to visit your property for the purpose of checking your aerial system out, but though on the other hand if it transpires that no-one else seems to have any complaints about their reception then your difficulties "might" simply be caused by your TV having auto-tuned onto a station whose signal is prone to being received in a somewhat erratic fashion at your location, this being the reason for the signal level / transmitter number tests.

Of course, needless to say that should the latter be found NOT to apply then it certainly is time to seek the assistance of an aerial installer, although before actually doing so I would try and vet (by asking around) whoever you might be thinking on contacting bearing in mind that you were previously told that your aerial was OK.

By the way, if you find anyone who does not have any complaint with their reception, then have a quick glance up at their roof to check on the direction that their aerial is facing.

jb38's 7,179 posts
Friday, 17 May 2013

Hi, hope you can advise on my problem.
Three years ago we decided to upgrade the aerial system to our home. We only had an aerial pole mounted and feeding our main living room TV. This had been installed about four year previously.
We asked for a signal in each of our three upstairs bedrooms and left the guys to it. After completion we were shown the TV in each bedroom working fine with a good picture on screen.
However within a month or so we found picture quality very erratic and unreliable. Sometimes no signal being received at all on at least one set. Checking out in the loft we found that from a second aerial added to our roof pole a single coaxial cable led to three co-axial cables. All taped together with insulating tape and with a cable leading down to each bedroom.
Would installing a booster in the loft improve the signal and give us three televisions we can rely on once again. And if so can you recommend a good booster. Thank you.

Tommy Robinson's 1 post

Tommy Robinson: You may find that an unpowered splitter will be sufficient, but it depends on the strength of the signal in the area. One example of such a splitter is here:

Konig Quality 3 Way Splitter TV Cable Freeview Virgin | eBay

For this you will need four threaded f-connectors.

Twisting coax aerial feeds is most certainly not the way, irrespective of signal strength!

Dave Lindsay's 5,724 posts
Thursday, 23 May 2013

Thank you so much for all your help.

Gradually all channels, except BBC came back and suddenyl over the weekednd that started working too! Hoorah but don't understand at all why it is so erratic!

As soon as it starts playing up again I'll follow up again

Angie's 4 posts

Angie: It sounds like something of a bodge job, so check all the connections, etc - it could be they are loose, or have been bodged as well!

MikeB's 2,579 posts
Sunday, 30 June 2013

Hi Can anyone please help,about two weeks ago we lost all digital channels, aerial is pointing to Rowridge we live in Binstead on the Isle of Wight PO33 3TP,tried retuning nothing, replaced cable between socket and aerial in loft, got some channels back not perfect, following day all gone again. Have now run cable directly to BT Vision box ( tv pre digital), tried Humax digi box, tried moving aerial outside, tried friends caravan aerial on pole, signal strength aerial in loft max 28% and outside max 30%. Not sure what to do next

mike iow's 1 post
mike's:
map
M's Freeview map
terrain
M's terrain plot
waves
M's frequency data
M's Freeview Detailed Coverage
Sunday, 11 August 2013

Hi,My location is cb6 2yr about 40km from Sandy Heath, I'm using a tri type aerial in my loft with a mast head amp. The signal and results are mostly good but now with the high weather pressure I sometimes lose a few channels and I have to retune. Will it help if I cover the reflector with aluminium foil, I do not want to go back to an outside aerial as I suffer from a bird poo problem ! What else can I do ???

Cassie's 1 post
Cassie's: ...
Select more comments
Your comment please