Do I need to buy a booster?

Brian Butterworth published on UK Free TV
With analogue television, it has often been necessary to buy an amplifier to improve the quality of the television picture, or to supply a steady on several televisions fed from the same aerial.

Many people have asked if it necessary to investing in a signal booster for Freeview.

"Analogue television" means is that the sound and pictures are broadcast using signals that are an "analogue" of the input. The sound and picture are transmitted from the source as electrical signals, then as radio waves and then back to sound and picture again.

In an analogue television camera, the image is scanned 25 times a second from side to side, from top to bottom and back. Where a lot of light is scanned, a high voltage is produced. Where no light is scanned, no voltage is produced. The output voltage is the same ratio to amount of light at scanned.

Leaving aside the technically, this signal is sent to the transmitter. The transmitter emits a radio wave on a known frequency, which is varied by the incoming voltage.




A microphone also converts the sound vibrations it picks up into a voltage, which when sent to the transmitter is added to another radio transmission frequency.

The signals are received by a television aerial pointing at the transmitter and converted back to very weak electrical signals. The sound is amplified and sent to a loudspeaker, and a picture created on the TV screen.

So on an analogue television, if the incoming signal is weak then the picture is dull as the background noise (the snow scene seen when an analogue television is not tuned) makes the picture less watchable.

The best analogue television set equipped with a great TV aerial located near to a high powered transmitter will produce brilliant pictures and clear sound. A poor set with an inadequate aerial or substandard cable will not.

If a weak signal is fed to a booster device, this will make the picture appear better on the television set or sets. It is often worth the investment.
Digital television
In a
digital
studio, the voltages from the cameras and microphones are not sent directly to the transmitter. It is converted into a stream of numbers inside a computer. The input voltage relates directly to the number in the computer. By sampling the input at a regular frequency, it is therefore possible to both store and transmit the information digitally this is what computers are good at.
It is therefore possible to take these numbers and generate a sound and picture output from them. However, the amount of information generated is over 240Mb/s, 30 times the rate of the fastest broadband connection.
Buy using computational techniques on this information the data can be compressed to as low as 2Mb/s, with as little as 6Mb/s being required for a good quality picture. These data compression techniques are called "lossy" because the reconstructed images are not identical to the originals, but look virtually similar to human eyes.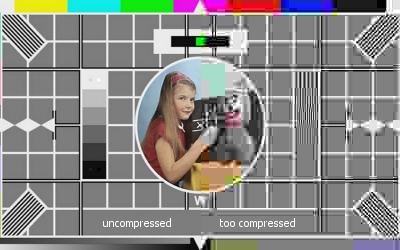 Digital television uses the same transmission frequencies as analogue uses, known as
C21
to
C68
. The digital data is sent using a system called COFDM (Coded Orthogonal Frequency-Division-Multiplexing) which can carry data at a rate of 18Mb/s or 24Mb/s. Several television
channels
and some
radio stations
can be multiplexed together to produce exactly this amount of data.
At the
receiver
, it must be able to decode every single bit from these transmission multiplexes. A single error is impossible to correct for, so the decoder must have no errors.
Until
switchover
happens, the Freeview signals are being broadcast at very, very low
power
levels. However the COFDM system and sensitive digital equipment will, as long as the signal can be found and decoded there will be pixel-perfect reconstruction of the television channel. If the signal is drowned out by
interference
(especially from analogue transmissions) then no picture or sound will be output.
If the TV aerial installation you have provides you with all the Freeview channels, there is nothing to worry about.
If you are missing some channels because the signal is just too weak the best place to start is by improving the aerial, see
Freeview reception - All about aerials
. A bigger, higher, better designed aerial will always be the most sensible way to get perfect
reception
.
If you want to supply a signal to several sets, where the incoming signal is being "split" to serve several Freeview boxes, a
masthead
amplifier will be effective. This is because the signal is already of good quality and is being repeated for several sets.
However, if you are not getting a good signal from your aerial, a booster by the TV set will probably not
help
as this will simply boost the background interference as much as the Freeview signal.
In circumstances where an amplifier that has improved a picture on an analogue, it may be unsuitable for Freeview reception. Sometimes they will block one or more
multiplex
, where disconnecting the amplifier will restore the channels.
Comments
Friday, 4 November 2011

This morning I had no freeview channels, having seen that there was DSO work on the crystal palace transmitter I retuned my TV and now have perfect TV. However I am unable to record from any channel as it says signal is too weak?? How can I have perfect tv but a signal too weak to record?

g anderson's 1 post

g anderson: Please do this My Freeview box has no EPG, is blank on FIVE, ITV3, ITV4, ITV2+1, has no sound or the channel line up is wrong | ukfree.tv - independent free digital TV advice to your recording device.

Briantist's 38,908 posts
Monday, 12 December 2011

hi ive moved into a flat and we share the same arial , when it rains or is windy i loose all my chanels.i have asked nieghbours and they loose theres as well.why is this happening and do i need to get a booster, thanks soory dont know were my signal comes from and my post code is nn18 8sa

ann's 1 post
Wednesday, 14 December 2011

ann: If you have problems when it rains, this is a sign that rainwater is getting into your aerial cables.

You should therefore replace the aerial cables, preferably using satellite-grade coaxial cable.

Briantist's 38,908 posts
Tuesday, 20 December 2011

Would a booster help reception on my second and third tv sets from one aerial input. If so how big a booster will i need or what kind would i need. Thanks very much.

Ernie G's 4 posts

Ernie G: Yes, you may need a booster. See ATV Sheffield's website for lots of information on this:

Television Aerial Boosters / Amplifiers, Splitters, Diplexers & Triplexers

Dave Lindsay's 5,724 posts

Sorry forgot postcode YO21 3JR we can not get freeview or channel 5. Thanks

Ernie G's 4 posts
Ernie's:
map
E's Freeview map
terrain
E's terrain plot
waves
E's frequency data
E's Freeview Detailed Coverage

Ernie G: You won't get Freeview (from the Whitby relay) until next September and then it will only be a Freeview Light transmitter. This means that it will only carry Public Service Broadcaster multiplexes and not the commercial ones like ITV3 and Dave.

I sympathise as Whitby residents have had a raw deal with TV, what with having to have aerials changed as a result of the replacement transmitter debacle.

Dave Lindsay's 5,724 posts

Dave will it be better to tune my aerial to Bilsdale then get all channels in September Thanks

Ernie G's 4 posts
Ernie's:
map
E's Freeview map
terrain
E's terrain plot
waves
E's frequency data
E's Freeview Detailed Coverage

Ernie G: That is the only possibility if you are to get the commercial channels (COM).

However, Bilsdale's commercial channels will be at 10kW whereas the Public Service Broadcaster (PSB) ones will be at 100kW. This is quite unsual to have such a marked difference. Some high power transmitters have slightly lower power COMs, but none like this.

The predictor reflects these lower powers...

Dave Lindsay's 5,724 posts
Select more comments
Your comment please