Do I need to buy a booster?

Brian Butterworth published on UK Free TV
With analogue television, it has often been necessary to buy an amplifier to improve the quality of the television picture, or to supply a steady on several televisions fed from the same aerial.

Many people have asked if it necessary to investing in a signal booster for Freeview.

"Analogue television" means is that the sound and pictures are broadcast using signals that are an "analogue" of the input. The sound and picture are transmitted from the source as electrical signals, then as radio waves and then back to sound and picture again.

In an analogue television camera, the image is scanned 25 times a second from side to side, from top to bottom and back. Where a lot of light is scanned, a high voltage is produced. Where no light is scanned, no voltage is produced. The output voltage is the same ratio to amount of light at scanned.

Leaving aside the technically, this signal is sent to the transmitter. The transmitter emits a radio wave on a known frequency, which is varied by the incoming voltage.




A microphone also converts the sound vibrations it picks up into a voltage, which when sent to the transmitter is added to another radio transmission frequency.

The signals are received by a television aerial pointing at the transmitter and converted back to very weak electrical signals. The sound is amplified and sent to a loudspeaker, and a picture created on the TV screen.

So on an analogue television, if the incoming signal is weak then the picture is dull as the background noise (the snow scene seen when an analogue television is not tuned) makes the picture less watchable.

The best analogue television set equipped with a great TV aerial located near to a high powered transmitter will produce brilliant pictures and clear sound. A poor set with an inadequate aerial or substandard cable will not.

If a weak signal is fed to a booster device, this will make the picture appear better on the television set or sets. It is often worth the investment.
Digital television
In a
digital
studio, the voltages from the cameras and microphones are not sent directly to the transmitter. It is converted into a stream of numbers inside a computer. The input voltage relates directly to the number in the computer. By sampling the input at a regular frequency, it is therefore possible to both store and transmit the information digitally this is what computers are good at.
It is therefore possible to take these numbers and generate a sound and picture output from them. However, the amount of information generated is over 240Mb/s, 30 times the rate of the fastest broadband connection.
Buy using computational techniques on this information the data can be compressed to as low as 2Mb/s, with as little as 6Mb/s being required for a good quality picture. These data compression techniques are called "lossy" because the reconstructed images are not identical to the originals, but look virtually similar to human eyes.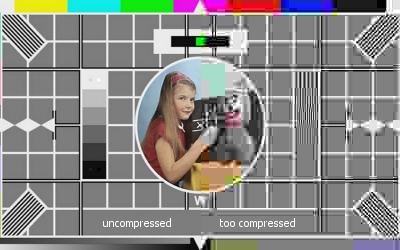 Digital television uses the same transmission frequencies as analogue uses, known as
C21
to
C68
. The digital data is sent using a system called COFDM (Coded Orthogonal Frequency-Division-Multiplexing) which can carry data at a rate of 18Mb/s or 24Mb/s. Several television
channels
and some
radio stations
can be multiplexed together to produce exactly this amount of data.
At the
receiver
, it must be able to decode every single bit from these transmission multiplexes. A single error is impossible to correct for, so the decoder must have no errors.
Until
switchover
happens, the Freeview signals are being broadcast at very, very low
power
levels. However the COFDM system and sensitive digital equipment will, as long as the signal can be found and decoded there will be pixel-perfect reconstruction of the television channel. If the signal is drowned out by
interference
(especially from analogue transmissions) then no picture or sound will be output.
If the TV aerial installation you have provides you with all the Freeview channels, there is nothing to worry about.
If you are missing some channels because the signal is just too weak the best place to start is by improving the aerial, see
Freeview reception - All about aerials
. A bigger, higher, better designed aerial will always be the most sensible way to get perfect
reception
.
If you want to supply a signal to several sets, where the incoming signal is being "split" to serve several Freeview boxes, a
masthead
amplifier will be effective. This is because the signal is already of good quality and is being repeated for several sets.
However, if you are not getting a good signal from your aerial, a booster by the TV set will probably not
help
as this will simply boost the background interference as much as the Freeview signal.
In circumstances where an amplifier that has improved a picture on an analogue, it may be unsuitable for Freeview reception. Sometimes they will block one or more
multiplex
, where disconnecting the amplifier will restore the channels.
Comments
Sunday, 18 March 2012

Thanks for your helpful comments. First off I should add that the booster was my addition, after the aerial installation. Please advise how to test for signal strength and equipment required. Should it be done near/at the aerial or near a TV? I have Philex DVB-T signal meter with antenna and receiver conns. and 50 to 80dB leds. If it is acceptable, should it be connected in series in the coax?
My aerial, Philex 27887D, and amp. are mounted onto roof fascia board 800mm apart. Would you recommend leaving amp. as is, mounted on aerial pole or in loft?
Finally, effectively my aerial coax has 2- way split in loft then each split, splits again i.e. to 4 TVs. Is this acceptable - all TV reception is basically okay but with occasional tear on screen.

Bob Abbot's 9 posts

Bob Abbot: Although the signal strength readings are only associated with the particular device you are observing them on i.e: a TV or box, its always best to use what's seen on the TV (or box) when carrying out experiments, so what I was meaning in the second paragraph of my previous, is to go into the "TV's" tuning menu / signal check screen whilst on BBC1 (Mux Ch28) and note the level / quality seen, then change the channel to ITV (mux Ch25) and carry out the same check, and if 100% strength is seen on both try by-passing the Vision booster in case your TV is running on the verges of overloading its tuner.

The other point is, when you say that the signal is split, then split again, are you using a powered splitter to do this? or is it the passive (unpowered) type? as if they are powered types then rather than by-passing the Vision booster try by-passing one of them, the point of the exercise being to reduce your signal, but ONLY if you have seen 100% strength being shown on the signal checks, as if not then don't by-pass anything as the problem might be caused by interference being picked up via the mains supply to the booster, or even the aerial leads if located anywhere near to mains cables like are found in lofts etc.

Anyway try the test mentioned giving an update on results and I will get back to you.



jb38's 7,179 posts
Tuesday, 20 March 2012

Bob Abbot:Apologies for confusion re-signal test, I was unaware of this info' directly from TV.
From one TV, BBC1:signal level 89-93% fluctuating, signal quality 75-78 fluc.
ITV1:signal level 88-91% fluctuating, signal quality 71%, occasionally 75%.
On another TV, BBC1:signal level 97-98% fluc.
ITV1:signal level 97-98% fluc. Signal quality not shown, only Bit error level-0%.

My two splitters are non-powered type.

Hope this helps.

Bob Abbot's 9 posts
Wednesday, 21 March 2012

Bob Abbot: Thanks for that helpful update which has given a better picture regarding the situation, unfortunately though that of suggesting that your signal could possibly benefit from your aerial being repositioned for purposes of improving the signal quality, as its "rapid" dips in the already lower quality indicated which cant always be seen indicated on a TV's scale that's always usually responsible for problems such as you experience now and again.

You see in many installations the signal strength indicated can be quite low (about 40%) and yet the picture is almost perfectly glitch free, this because the "quality" is found to be sitting at almost half as much again over the strength, and although this might be a more extreme example the quality should at least be the same as the strength or preferably lead it (which applies in most cases) yours unfortunately being slightly the reverse of this and is something that only experimenting with the position of the aerial is liable to correct, this being the case where loft installations always score over mounting the aerial externally, although if a gutter mount (facia) is used that does a give a bit more scope for moving it either way in the horizontal plane, but though the key word is experimentation, as its quite impossible to forecast what the best position would be.

Apart from the definite issue of quality, as far as strength is concerned slight variations being seen over a few hours or so is nothing unusual, but where it involves actual fluctuations then that's a different matter as it always indicates elements of interference existing somewhere, which of course is usually to the signal path between the transmitter and receiver and in more country type locations mostly caused by issues concerning vegetation, as although trees wont always have leaves the sap filled branches act like a slight screening mesh to RF signals. The other point being that although you are only two miles away from the transmitter which in most cases would result in a rock solid signal being received, but by the fact of it being low powered (20 watts) makes the signal more vulnerable to any problems that might exist such as from the aforementioned sources.

That said though, I do realise that you have said that most of the time your reception is fine, but if you can get the quality up then its almost guaranteed to be better.

By the way should a loft installation be possible then the usual qualifications apply, like the aerial not facing into a water tank or it requiring to be positioned where its facing through adjoining properties, or the other problem experienced with more modern houses of roof insulation being of the metallic content type.



jb38's 7,179 posts
Thursday, 22 March 2012

Many thanks for your very thorough comments. I will certainly try repositioning my aerial in small increments, each way. At the same time, would you recommend mounting the Vision amp. onto the aerial pole? Finally, you mentioned previously about aerial leads being close to mains cable. In my loft they are and close to a neon strip light, which is only powered briefly. Should the aerial coax be re-routed?

Bob Abbot's 9 posts

Bob Abbot: Well you could if you wish mount the vision amp onto the mounting pole as that's where its really intended to be mounted, but as I may have mentioned before it doesn't really matter where its mounted provided its not near to any power cables, as the coax going "into" the amp is more susceptible to picking up impulse interference by the fact of this section of coax being amplified, this being the reason why amps are recommended to be as near to the aerial as possible, although in real life they can be about 10 feet away and still be OK provided there isn't any sources of interference nearby.

Regarding aerial leads, its not advisable to have them running close to mains cables as the latter acts like a transmission aerial for any impulse spikes that might be travelling along the mains cables, these triggered from sources such as light switches (especially if switching fluorescent tubes) boiler thermostats / gas boiler ignition electrodes, or any device that uses brush type motors, food mixers or electric knives etc, etc.

As far as adjusting your aerial is concerned, "if" you can access this then what to try without actually remounting as yet, is to select the signal check screen on your TV and note the quality, then go up and slacken the aerial clamp and turn the aerial up to a maximum of 5 degrees to the left and re-check the quality, then after centering it again turn it 5 degrees to the right, once again noting the quality, as its only quality you are interested in as it doesn't matter so much about variations in strength, that being where these lower cost signal meters you use in line falls flat as they cant differentiate between these two factors.

If you notice a difference then obviously leave it where the indications are at the best, but if the quality deteriorates when moved in either direction then only remounting the aerial in another position is liable to improve the situation, but don't do anything without carrying out frequent quality checks as you may pass by the best spot.


jb38's 7,179 posts
Wednesday, 28 March 2012

After raising my aerial about 18 inches, attaching the amp. to the pole/mast and still using a booster, I still see fairly frequent distortion on my main TV, especially in the evening. So I've decided to get the aerial rigger back again to hopefully sort things out.
Thanks for all your help and advice.

Bob Abbot's 9 posts

Bob Abbot: Thanks for that update, and would appreciate similar regarding the outcome of the riggers visit.

jb38's 7,179 posts
Sunday, 29 April 2012
K
Ken
10:33 AM
Brockenhurst

When the Rowbridge transmitter switched and increased power we could not tune into the new HD channels and had lots of picture break-up. The signal strength was about 70% and quality was about 50%. It appears that this signal strength was too high and this was causing the problems.

This is highlighted as a problem on your web-site "However, if you are not getting a good signal from your aerial, a booster by the TV set will probably not help as this will simply boost the background interference as much as the Freeview signal. In circumstances where an amplifier that has improved a picture on an analogue, it may be unsuitable for Freeview reception. Sometimes they will block one or more multiplex, where disconnecting the amplifier will restore the channels."

The simple solution was to completely remove the amplifier that I had previously used to booster the signal strength. All that was needed was a simple coaxial cable female-to-female-connector to bypass the amplifier and join the input and output cables. As a result, the signal strength decreased to 30% but the signal quality increased to 100%.

After retuning, all channels were found and we can now enjoy the benefits of watching the available HD channels.

Ken's 1 post
Ken's:
map
K's Freeview map
terrain
K's terrain plot
waves
K's frequency data
K's Freeview Detailed Coverage
Friday, 18 May 2012

Ken: I'm very pleased to hear that you have managed to get your HD working by removing the booster.

Briantist's 38,899 posts
Select more comments
Your comment please