Freesat reception - all about dishes

Brian Butterworth published on UK Free TV
Satellite reception has both advantages and disadvantages compare with terrestrial (aerial) reception.

By using much higher frequencies (gigahertz, compared to terrestrial televisions megahertz) more transmission channels called transponders (the satellite equivalent of multiplexes) can be provided. For example, there are only six Freeview multiplexes, but Sky or Freesat users can access two hundred satellite transponders.

Aside from exceptional weather conditions (very heavy rain for example) digital satellite provides stable pictures and audio. Where Freeview transmitters are no more than 732 metres above sea level, the geostationary satellites used for television are 35,800,000 metres above the equator so reception is possible even where buildings, trees and hills make terrestrial reception impossible.





The downside of the transmitters being 22,300 miles up in the air is that the signals are very, very weak - so standard TV aerial is of little use. When the signals are sent to the satellites, huge dish transmitters are used to uplink the signal to the satellite. These are tens of metres from side to side, and feature an emitter that generates the signal, which is first bounced of a mirror (called a reflector) and then off the surface of the parabolic dish.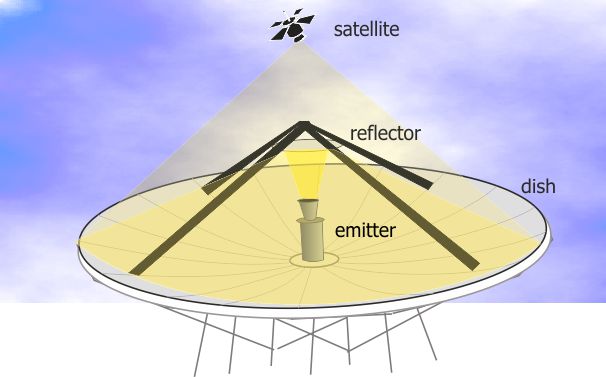 There are many satellites in the sky over the equator. Often these are in clusters over a particular position, for example there are four used for UK television are at 28.2 degrees east. There is another cluster over the 19.2 degrees east positions that are used for German television.

To receive these very weak signals from the satellite, it is necessary to use a dish for reception too. By using a reflective dish, this concentrates the signals onto a small device called a LNB. This is held in front of the dish by a metal arm.




The size of dish for reception is typically much smaller; often 60cm to 100cm in diameter, but the exact size depends upon the transmitting satellite transponder. To keep the transmission power levels down to levels that can be powered by the satellite's solar panels, each beam is focused on a particular area of the Earth's surface. If you are trying to receive the signal at the centre of this zone, a small dish is required. At the outer edges, you may need a 5 metre dish. Maps of these zones are provided by the satellite companies, and are called satellite footprints.

When the dish is installed it must be aligned carefully as the signal is very weak. The installer needs to know the inclination and the azimuth from the ground location to the satellite. If you install yourself you will find that there are markings on the dish that are used to point the dish in the correct position. It is important that the view of the satellite will not be blocked, so must take into account leaves growing on trees and potential building works.

For many people the LNB will have a single cable connected to it, however if you have Sky+ or a multi-room installation the LNB package will actually contain four receivers a quad-LNB. Unlike terrestrial television where you can split the aerial cable to feed more than one Freeview box or television set, with satelite reception you cannot. So, a Sky+ box with two receivers (so you can watch one thing and record another) has two cables connecting the box to the dish.

The cable that connects the dish to the receiver must be satellite grade cable. Whilst this looks superficially like the cable used to connect and aerial to a television, a higher grade cable is required for satellite reception.

Here is an image of a co-axial cable. This sort of cable is used to connect any type of receiving aerial to the reception equipment.




RG6, PF100 and PH100 are all types of coax cable that are suitable for the very weak signals that are received by a satellite dish. (The power is the same as you would receive from a one-bar electric heater on the moon).

The conductor in the centre passes the signals received from the dish to the set-top box. This is made from steel in RG6 cable, and from copper in the RF100 and PH100 types. This makes RG6 less suitable in the UK where rain can damage the cable.

The shielding is responsible for keeping unwanted external interference from damaging the signal. In the cheaper cable this will be a foil wrap, in better specified cables this is a braid (or mesh) of copper wires. The sheild in the RF100 covers 58% of the cable.

The non-conducting layer between the shield and the conductor is called the dielectric. This can be either a solid (RG6), foam (RF100) or air-spaced (PH100) dielectric. This makes the cables progressively more flexible (ie bendy without damage).
Comments
Friday, 29 July 2011
A
Ann Lynn
11:30 AM
Basildon

Ann Lynn:
Thank you very much for your quick response. We have now tried a manual scan on Channels 59 and 24 on the Panasonic. On channel 59 the TV indicates a signal quality of 100% the quality is static and appears to be about 10%. It finds the BBC Channels but only for a couple of seconds before they disappear. The same applies to channel 24 but the signal quality fluctuates to between 80-90%.

When the TV was hooked up to the Humax the signal strength is 100%, the quality is 40% but it flickers up to 100%. It has found the BBC channels but the menu froze. The PEG has been updated, after a fashion, some of the channels have moved up to 800 but many of them are missing, a trend that I have noticed over the past few weeks. I've also noticed, when the Panasonic is switched to analogue there is no signal. It only recognizes dvb. However the TV picture records no or bad signal. The TV pictures appear to be scrambled. I'm afraid it didn't work. Do you think will we need to purchase a satellite dish or have the aerial adjusted to get this working? Your advice is greatly received.

Ann Lynn's 5 posts
Ann's:
map
A's Freeview map
terrain
A's terrain plot
waves
A's frequency data
A's Freeview Detailed Coverage
Saturday, 30 July 2011

Ann Lynn: Well, there is always the possibility of inefficiency as far as your aerial is concerned, but based on what you have reported I think it very doubtful if any adjustments to it would bring any great dividends unless there is actually any fault with the aerial itself, like a bad connection at the co-ax / aerial connecting point, or its been blown off track with the wind etc.

As far as some channels up in the 800's are concerned, if you found BBC1 or ITV1 amongst these channels you should signal check them via the tuning menu to see what Mux transmitters they are coming from, as I suspect that they "might" be being received from Rouncefall on the rear side of your aerial, "if" that is your aerial is pointing to Bluebell Hill, Rouncefall's BBC1 on Ch44 with ITV1 being on CH41, (these being the same as Sudbury's high power Mux's) and if they are consistently better than what's on the correct EPG positions for these channels then setting your TV etc up using purely manual tuning for each Mux is liable to give more satisfactory results.

As far as going Freesat is concerned, I would always recommend to anyone that's fed up with bad reception caused by reasons out with their control (as most are!) to go for Freesat, as Satellite reception is 99.9% of the time totally reliable, with any time its not usually due to a particularly heavy thundercloud down pour.

Another interesting test would be to try coupling a TV directly to the aerials down lead, although "if" you have a mast head amp you couldn't do that as it requires to be powered via the co-ax.

Anyway, you could maybe give an update on checking the two channels mentioned in the 800 range, as I am interested in what you find.

jb38's 7,179 posts
A
Ann Lynn
8:51 PM
Basildon

Hi thanks for getting back to me. I had no joy in trying to re-tune the Panasonic. I then tried it through the Humax, attempts to manual tune through channels 41 and 44 were met with an abrupt 'no channels found'. I noticed that with the auto scan on the Panasonic that Itv is back into channel 3, although there's no signal to view it.

When I tried the 800 channels through the Humax the signal check gave the response 'unknown'. ditto for BBC 1 which is back on Channel number 1. ITV 1 which is now 800 is unable to find also says 'unknown'. I've tried manual re-tuning through a number of stations but there's been no improvement. That's also the same for the other TVs in the house. Something seems to be scrambling the signal, don't know what or where but I suppose we'll have to do without a TV for a while, or may be invest in Freesat and see if that improves things. Thanks for your help.
Ann

Ann Lynn's 5 posts
Ann's:
map
A's Freeview map
terrain
A's terrain plot
waves
A's frequency data
A's Freeview Detailed Coverage
Sunday, 31 July 2011

Ann Lynn: Thanks for the update, the content of not really being of great surprise as everything you have reported is symptomatic or receiving an erratic signal.

This is also the reason why every time you carry out a re-scan stations change places, basically because when the TV/box is slowly scanning from Ch21 upwards and is on a channel that signal happens to be low on at the time, the box is just liable to by-pass it and not lock onto it, as the signal has to be at a certain level for a given TV/box to capture, this varying between brands.

Of course at this time of the year other factors could be coming it the equation like interference from other distant transmitters etc, but irrespective of whether this might apply or not the fact is that unless there is a fault on your aerial connections, then the situation is really out with your control.

On the issue of Freesat, if a persons residence can accommodate a dish being mounted facing South and not into a large tree, then no-one ever regrets it as reception problems effectively become a thing of the past.





jb38's 7,179 posts
A
Ann Lynn
10:59 AM
Basildon

It looks like we shall have to grin and bear it until we get an alternative. Thank you for your time and help. It is greatly appreciated.

Ann Lynn's 5 posts
Ann's:
map
A's Freeview map
terrain
A's terrain plot
waves
A's frequency data
A's Freeview Detailed Coverage

Ann Lynn: Your distribution amplifier in the loft might be the cause of your trouble (usually the power supply becomes noisy due to failure of smoothing capacitors, which injects mains hum onto all outputs).
You could check this by removing just one output cable and see which telly has "gone off" completely.
Now disconnect the coax input from the amplifier and join it to the first cable you've unplugged (you may need a coax "joiner").
See whether the one telly fed by this coax appears to be any better. If it is, then your amp is duff.

Jm F's 141 posts
Monday, 1 August 2011
A
Ann Lynn
9:31 PM
Basildon

Thank you very much for your advice. We tried this and we are now able to access a load of channels. BBC 1 has a poor signal and I don't know where ITV 1 has gone, ITV 2 etc can't be accessed but we have a brilliant picture on BBC 2 and Film 4 but to name but a few. It sounds as if there's a problem with the amp but also we are experiencing signal problems, apparently there's maintenance going on at the Bluebell Hill sight. Thank you for your advice.

Ann Lynn's 5 posts
Ann's:
map
A's Freeview map
terrain
A's terrain plot
waves
A's frequency data
A's Freeview Detailed Coverage
Wednesday, 17 August 2011

Les Nicol
Finally found a local Aerial installer that I knew I could trust to do a good job (from word of mouth and recomendation) and he resited my dish in a position that I hadn't thought of and hey presto it all works great now. Thanks Les you were right, and without your sound advice I wouldn,t have done this.

Ken Sims's 3 posts
R
Roderick Morrison
1:51 PM

I have just put up a second hand dish and LNB short is comming up on screen. What do I have to do to rectify this? thank you in anticipation.

Roderick Morrison's 1 post
Thursday, 18 August 2011

Roderick Morrison: You will need to find the short. It is most likely to be a poorly made connection at one end of the cable or other, but it could be a broken LNB.

Briantist's 38,907 posts
Select more comments
Your comment please