Freeview reception has changed?

Brian Butterworth published on UK Free TV
From time to time people find that their Freeview box, integrated set (idTV) or Personal Video Recorder (PVR) has lost many channels without any apparent changes.
There are a number of factors to consider
Freeview is broadcast on
digital
multiplexes. This means that, once broken down into a stream of bits, each television channel is combined into a single transmission of 1s and 0s. This means that
reception
is of the
multiplex
first if this is lost it affects all the channels in the multiplex in the same way.
The
signal
strength received by
the box
or TV for a particular multiplex from a given
transmitter
determines if the data can be received or not. So, a poor signal results in no data, an adequate signal in perfect data and a low signal in either none or all.
Poor digital signal levels do not result, as they do with old-fashioned
analogue
television, in a sub-
standard
picture or sound. Poor signals often result in a perfect data-stream, but are prone to periods of no reception. Sometimes this will be for hours, but can also be several times a minute when caused by induction from fridges, freezers, central heating systems, two-stroke scooters, baby monitors and so on.
If you have lost ALL your Freeview channels
First disconnect the
aerial
lead from the Freeview box or TV set and reconnect it and then follow
this reset procedure
to
scan
for channels again. If this does not result in
services
being restored, check the
Freeview transmitters page
to see if there are any
engineering
problems with your local transmitter.
How to check all cables, connectors and aerials
The RF connectors need to be in very good condition to work. There are two general types:
Factory-fitted connectors are very reliable as they cannot easily be taken apart, but they can be damaged by wear and tear. On the female-type the central section is often composed of two parts which can often be forced apart, resulting in a poor connection you can push them back together if this has happened with a pair of tweezers. On male connectors if the central pin is damaged, you will need a new
cable
. If there are any loose partials in the connector, remove them.
Another problem with these cables is that quite easy to sprain the connector at the back which causes little obvious external damage, but disconnects the internal connection. This happens often when a set-top box is pushed backwards into a cabinet.
Hand made cables can also suffer from similar problems to factory made ones and they are also prone to accidental damage from a cable being pulled. If such a connector is not firmly attached to the cable, the connector may need refitting.
Cables
Make a visual check of the cables. There are a few basic checks:
If the cable has been slashed or cut, it will not be very effective or reliable. If such a cable is fitted externally, this can allow rainwater to enter the cable and this will reduce the signal levels.
You can easily damage an RF cable by crushing it, for example in a door. If the outside of the cable has a permanent kink in the cable or has been very tightly looped, this could be the site of damage.
Aerial
For reliable and effective Freeview reception, a
rooftop aerial
is required. It is hard to make a visual check of such an aerial without putting yourself in potential danger.
You can make a visual check of the route between the aerial and the transmitter. Any form of obstruction will damage the digital signals. In particular trees coming into leaf, as these will leech the signal before it reaches your aerial. This applies to both trees adjacent to the aerial and at a distance.
Another common problem in cities is building work. A large crane will often change position many times during the day, and if this is between your aerial and the transmitter this can reduce the signal levels in an unpredictable way.
If your system uses a
booster
, the
power
may have failed. Check the fuse to the power to the
booster
.
Weather problems
There are two main weather problems that effect Freeview reception.
The
Inversion Effect
: please see
What is the Inversion Effect and why does it effect my Freeview TV reception?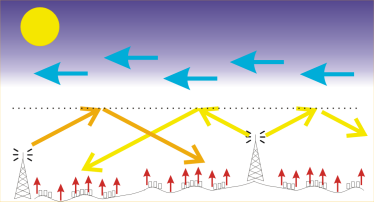 Wind: high winds sometime can dislodge the aerial this results in a poor signal.
Rain: poor or old cables can fill with water and this results in a poor signal. If this happens, the cables will require replacement.
Comments
Saturday, 4 January 2014

Thank you for your help Mike B. I am very pleased to say that the tv is up and running now. I will try the signal strength in future because I didn't know that it was possible to do this! Thank you again.

Joanne's 2 posts
Joanne's:
map
J's Freeview map
terrain
J's terrain plot
waves
J's frequency data
J's Freeview Detailed Coverage

CLIVE JOHNSON : I am inclined to agree with MikeB with regards to checking out your aerial system, as although in my particular location the stability of Waltham's HD signal cannot by any means be classed as perfect over what it was a few months ago, the level of fluctuation in the signal is not of a sufficient magnitude to cause picture break up to occur.

The other point being, that my reception from Waltham is via diffraction (signal bending) by my location "not" having a clear line-of-sight with the transmitter, a situation where the summer and winter effect generally comes into the equation due to seasonal changes to the surface of the terrain etc, whereas on the other hand you are indicated as having a clear line-of-sight (likewise I suspect MikeB) and should not be experiencing the same type of difficulties as myself, that is excluding such as trees or any man made objects (buildings) causing obstructions to the signal path as the terrain indicator is only concerned with the ground surface and not what may be on it.

However, if at all possible I would try and enquire with say a neighbour to determine if others are also experiencing difficulties with HD reception from Waltham "if" their aerial is facing that direction and not Sutton Coldfield, because if they are'nt then this points to your aerial being the source of your problem.

You should still try a signal strength / quality check on C58, giving an update on the result.


jb38's 7,179 posts
C
CLIVE JOHNSON
2:02 PM
Leicester

Thanks again for further comments.
I have a top-quality indoor aerial aligned to Waltham-on-the-Wolds and for several months I have had good reception on this, including HD, with my LJ TV with integral tuner. Then suddenly in the last 2 days Channels 54 and 57 have become unwatchable, while channel 49 gives perfect results. A signal-strength test reflects that situation. Although officially W-on-the-W is our best station, this is not so because we are on the wrong side of a hill for direct-line-of-sight reception. Perhaps the weather has played a part??

We have a 4G filter fitted, one which came free in the post, and I do not know of any 4G transmitters near us.

We also have an outdoor aerial aligned to Sutton Coldfield, which gives us a much better signal; I route this into a Humax recorder, but this does not handle HD.

We have the TV tuned to Waltham so that we can get the East Midlands programmes.

Until recently this all worked fine!

CLIVE JOHNSON's 18 posts
CLIVE's:
map
C's Freeview map
terrain
C's terrain plot
waves
C's frequency data
C's Freeview Detailed Coverage

CLIVE JOHNSON: The terrain checker used (Megalithia) works in conjunction with a Street map post code converter to indicate the terrain between two points, the result of accessed by opening the undermentioned link which as you will see does not indicate any obstructions to the signal path.

However, judging by what you have now said with regards to you being on the wrong side of the hill for Waltham would suggest that some error has crept into the system, that is "if" the post code is accurate for your location and not just an area one which some are.

Needless to say that said by myself was based on the indications seen, but now that you have given an update / clarification on your situation this paints a somewhat different picture with regards to the problems being experienced and especially where 4G is involved, as anyone who receives 4G filters through the post has been assessed by AT800 as residing in an area with the potential to experience problems caused by a local 4G transmitter.


Terrain between ( m a.g.l.) and (antenna m a.g.l.) - Optimising UK DTT Freeview and Radio aerial location

jb38's 7,179 posts

CLIVE JOHNSON : You should phone the AT800 contact centre as they will give you a more detailed explanation of their reason for sending you the filter.

Contact at800 / DMSL | General Enquiries | at800

jb38's 7,179 posts

CLIVE JOHNSON: Why are you using a 'top quality indoor aerial' (hopefully loft at least) when you have an excellent signal on an external one? Ok, you might get a different local news, but there should be no problem getting HD on either.

If there is a problem with the signal strength on the Waltham aerial, even though you might be on the wrong side of the hill, why is there suddenly a problem? There are no leaves on the trees, its unlikely a new large building would have suddenly been constructed, so either its the reduced power from the HD mux, or its something failing within your own system, and since its C4 and ITV which have had a problem, logically it cannot be the mux. Which leaves the system and its wiring...

As for 4G - its unlikely there is a problem, and in any case, why would it leave you with zero signal?

MikeB's 2,579 posts

MikeB: Just a little point about 4G. Although as yet there is no definite proof as to whether or not this potential source of interference is actually playing any part in Clive's problem, but though if it was then what Clive has reported is exactly what would be expected as being the symptoms of a 4G transmitter being tested out, as the swamping effect from a 4g transmitter on the wideband RF input stage of receivers tuner has a much greater effect on the channels received that are nearest to the 4G TX's operating frequency and gradually tapering off on the channels furthest away from it, C49 the BBC channel being exactly that, C29 being excluded from the equation as its only predicted as being able to provide a variable level of reception anyway.

If the aerial being used for Waltham is located in the loft then its much less likely (but not impossible) that a fault has developed where the coax is terminated into the aerials connector box, that said by myself on the assumption that a roof aerial was being referred to, although it would not do any harm to check same purely for elimination purposes.

jb38's 7,179 posts
H
Heather
9:20 PM
Cambridge

jb38: Hi, This my first use of this site because I have suddenly lost all the channels on Multiplex COM5 - ARQA - Arqiva A in postcode CB58QQ, Cambridge. Recently we have just had a big tree removed which was seriously degrading our signal leaving us with no BBC channels. Now that they are back and perfect but I have lost the likes of dave & E4+1 etc. I also have heard that 4G has just reached of in Cambridge and from this site I see there are several phone transmitters nearby. Any ideas please

Heather's 3 posts
Heather's:
map
H's Freeview map
terrain
H's terrain plot
waves
H's frequency data
H's Freeview Detailed Coverage

jb38: Your quite right about the effects of 4G, but the one thing that tends to occur (looking back at the threads) is that when people suggest 4G as the root of their problem is that it almost always isn't!

Almost every time, its something else, and all too often a problem within their own system (OK - at least the ones who report back). Since a 4G filter has been fitted, all I'm saying is, it the most likely problem?

Even loft aerial systems can fail (corrosion, etc) but we both agree that no matter how unlikely it is, at least it should be eliminated, so that the problem can be identified.

MikeB's 2,579 posts

Heather: If you have a booster then maybe it needs turning down; the thinking here that it might have been installed in an effort to increase the signal level due to the tree.

Where a signal of too high a level is being received then it can appear as if the problem were the opposite which is too little a signal.

Dave Lindsay's 5,724 posts
Select more comments
Your comment please