Freeview reception has changed?

Brian Butterworth published on UK Free TV
From time to time people find that their Freeview box, integrated set (idTV) or Personal Video Recorder (PVR) has lost many channels without any apparent changes.
There are a number of factors to consider
Freeview is broadcast on
digital
multiplexes. This means that, once broken down into a stream of bits, each television
channel
is combined into a single transmission of 1s and 0s. This means that
reception
is of the
multiplex
first if this is lost it affects all the channels in the multiplex in the same way.
The
signal
strength received by
the box
or TV for a particular multiplex from a given
transmitter
determines if the data can be received or not. So, a poor signal results in no data, an adequate signal in perfect data and a low signal in either none or all.
Poor digital signal levels do not result, as they do with old-fashioned
analogue
television, in a sub-
standard
picture or sound. Poor signals often result in a perfect data-stream, but are prone to periods of no reception. Sometimes this will be for hours, but can also be several times a minute when caused by induction from fridges, freezers, central heating systems, two-stroke scooters, baby monitors and so on.
If you have lost ALL your Freeview channels
First disconnect the
aerial
lead from the Freeview box or TV set and reconnect it and then follow
this reset procedure
to
scan
for channels again. If this does not result in
services
being restored, check the
Freeview transmitters page
to see if there are any
engineering
problems with your local transmitter.
How to check all cables, connectors and aerials
The RF connectors need to be in very good condition to work. There are two general types:
Factory-fitted connectors are very reliable as they cannot easily be taken apart, but they can be damaged by wear and tear. On the female-type the central section is often composed of two parts which can often be forced apart, resulting in a poor connection you can push them back together if this has happened with a pair of tweezers. On male connectors if the central pin is damaged, you will need a new
cable
. If there are any loose partials in the connector, remove them.
Another problem with these cables is that quite easy to sprain the connector at the back which causes little obvious external damage, but disconnects the internal connection. This happens often when a set-top box is pushed backwards into a cabinet.
Hand made cables can also suffer from similar problems to factory made ones and they are also prone to accidental damage from a cable being pulled. If such a connector is not firmly attached to the cable, the connector may need refitting.
Cables
Make a visual check of the cables. There are a few basic checks:
If the cable has been slashed or cut, it will not be very effective or reliable. If such a cable is fitted externally, this can allow rainwater to enter the cable and this will reduce the signal levels.
You can easily damage an RF cable by crushing it, for example in a door. If the outside of the cable has a permanent kink in the cable or has been very tightly looped, this could be the site of damage.
Aerial
For reliable and effective Freeview reception, a
rooftop aerial
is required. It is hard to make a visual check of such an aerial without putting yourself in potential danger.
You can make a visual check of the route between the aerial and the transmitter. Any form of obstruction will damage the digital signals. In particular trees coming into leaf, as these will leech the signal before it reaches your aerial. This applies to both trees adjacent to the aerial and at a distance.
Another common problem in cities is building work. A large crane will often change position many times during the day, and if this is between your aerial and the transmitter this can reduce the signal levels in an unpredictable way.
If your system uses a
booster
, the
power
may have failed. Check the fuse to the power to the
booster
.
Weather problems
There are two main weather problems that effect Freeview reception.
The
Inversion Effect
: please see
What is the Inversion Effect and why does it effect my Freeview TV reception?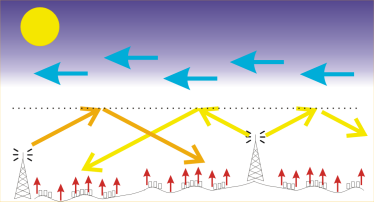 Wind: high winds sometime can dislodge the aerial this results in a poor signal.
Rain: poor or old cables can fill with water and this results in a poor signal. If this happens, the cables will require replacement.
Comments
Sunday, 27 March 2011

Hi, got a letter there will be digital switchover later this year. After switch over, will it improve signal quality? my current signal is 54 - 56%. Thanks.

Jamie's 12 posts
Monday, 28 March 2011

Hi, We have a Phillips HD TV (3 years now) no problem with Freeview Channels. Bought a new set (Sony Bravia) for the kitchen and moved the Phillips from the kitchen to the living room. Phillips is still OK, but Sony Bravia cannot be tuned into ITV, Ch 4, 5, ITV2 - sent it back and bought a Logik, and then same. Goes from BBC1, BBC2 straight to BBC3 BBC4 missing out all the ITV stations. Why is the Phillips TV OK but not the others?
We have tried all the re-tuning tricks. Cna you help, please?

Elizabeth's 1 post

Jamie: It depends on which transmitter you are using whether switchover takes place this year or next. Emley Moor and the Heyshaw relay will switch on 7th September (step1) and 21st September 2011 (step2).Note that reception from Heyshaw which will only carry the PSB muxes (Freeview Lite) could be adversely affected on two of its muxes by signals from Belmont using the same frequencies. Emley Moor is predicted to be poor to variable. Bilsdale and Pontop Pike which switch over during 2012 are both expected to offer good reception on all six muxes.

KMJ,Derby's 1,811 posts
Wednesday, 30 March 2011
I
Ian, Herts
3:53 PM
Baldock

I have Skybox in 1 room downstairs and 2 more Digi TVs in other rooms downstairs. They all work perfectly. I have 2 TVs in upstairs rooms and they have never worked normally, analogue and digi signals always weak. I re-tuned all the Digis today for switchover as required. Downstairs Digis are fine. Upstairs are still problematic, with the majority of the channels constantly breaking up/ freezing - Multiplexes 2, A & D are very bad. All TVs have their own aerial points. No other devices are plugged into the Digi TVs.

Ian, Herts's 1 post

Ian, Herts: There is some problem between the TVs upstairs and the distribution amplifier. You are using a distribution amplifier, not just joining the cables together? All TVs in the house connected to the same aerial should normally have approximately the same results.

If you do want to split cables and feed multiple rooms, you should put the splitter as close to the aerial as possible and feed each room from there, rather than splitting at the back of the main set.

However, if you're trying to distribute the output of the Sky box (e.g. 'Magic Eyes'), you will obviously have to split after the Sky box.

If you're using wall plates you should ensure they're a properly screened design - the back of the socket should be surrounded by a metal can, rather than a visible circuit board. See How To Attach / Wire Up Plugs, Wall Plates & Aerials .

If you are using multiple individual aerials to feed each TV, consider replacing them with one aerial and splitting the signal. Aerials work best with a lot of free space around them. A pole with a lot of aerials presents a large surface area to the wind, and they can easily be blown out of position, bend the pole, or even damage the brickwork that the pole bolts into. (RG47SH)

Mike Dimmick's 2,486 posts
Thursday, 31 March 2011

I live near Royston Hertfordshire
Pre the switch over I was getting all of the freeview channels on my T/V it has built in twin converters. Signal strength can be checked on the menu program. Pre switch over it it was about 68% quality 100%
On retuning it is 75% quality 100% for all channels exept ALL THE BBC channels They are listed but. a ribbon come up on the Screen saying No or Poor signal Neighbors are having similar problems

Ivan's 1 post
M
Mike Dimmick
2:40 PM
Reading

Ivan: Those sound like very high signal levels. Many boxes have much more headroom on their meters than they can actually handle - they're calibrated for the maximum they can cope with on one single multiplex with no other signals being broadcast. On my Humax PVR-9200T, the CAI-recommended maximum signal level for one multiplex (65 dBuV) is 50%.

I suggest removing any amplifiers that you might have, and see if that helps. If not, try adding an attenuator.

Mike Dimmick's 2,486 posts

hi, ive been installing aerials for a couple of years now and occasionally come up with a persistent problem (including twice today!) most of my installations are either to the mendip or oxford transmitters, using wideband aerials c/w a masthead amp. today on both installations ( one oxford, one mendip) my signal meter was telling me i had around 65db signal strength and passing on all c/n, although seconds later they would all change to fail and tv reception lost, but still 65db. previously i put this down to an aerial being installed near a fire station and intefering with the signal but this cant be the case today. anyone any ideas?

ren's 1 post
Friday, 1 April 2011
M
Mike Dimmick
5:30 PM
Reading

ren: Make sure your mobile phone isn't near the meter, aerial or cables? Widebands don't have a very sharp cutoff at the upper end, and the phone frequencies at 880-914 MHz aren't that far away from C68 at 850 MHz. 880 MHz would be about channel 72 if it were a TV channel.

The exact uplink frequency used by the phone would depend on what channels are allocated to the neighbouring base stations and the channel the base station picks for the phone, so it might well only occur at some sites.

Phones are allowed to emit up to 2 watts - more than enough to swamp the more distant TV transmissions. Many relay transmitters only emit a couple of watts, but cover half a mile or more!

Some people also have trouble with TETRA radio, used by the emergency services, at around 400 MHz. Filters are available.

Since Mendip and Oxford are Group C/D transmitters, you may find yourself fitting filters when the proposed 4G 800MHz base stations start up (taking channels 61-68).

Mike Dimmick's 2,486 posts
Saturday, 2 April 2011
C
Christine
5:38 PM
Kidlington

Hi I've tried all the suggestions at the top of the page. Removed VCR deleted all channels and then re scanned. All the Muz2 channels are unwatchable OX5 1BY Oxford transmitter. The signal strength is good at 70-80dbu. The problem seems to date from Sunday March 27th. Hope you can suggest something else.

Christine's 1 post
Select more comments
Your comment please