Freeview reception has changed?

Brian Butterworth published on UK Free TV
From time to time people find that their Freeview box, integrated set (idTV) or Personal Video Recorder (PVR) has lost many channels without any apparent changes.
There are a number of factors to consider
Freeview is broadcast on
digital
multiplexes. This means that, once broken down into a stream of bits, each television channel is combined into a single transmission of 1s and 0s. This means that
reception
is of the
multiplex
first if this is lost it affects all the channels in the multiplex in the same way.
The
signal
strength received by
the box
or TV for a particular multiplex from a given
transmitter
determines if the data can be received or not. So, a poor signal results in no data, an adequate signal in perfect data and a low signal in either none or all.
Poor digital signal levels do not result, as they do with old-fashioned
analogue
television, in a sub-
standard
picture or sound. Poor signals often result in a perfect data-stream, but are prone to periods of no reception. Sometimes this will be for hours, but can also be several times a minute when caused by induction from fridges, freezers, central heating systems, two-stroke scooters, baby monitors and so on.
If you have lost ALL your Freeview channels
First disconnect the
aerial
lead from the Freeview box or TV set and reconnect it and then follow
this reset procedure
to
scan
for channels again. If this does not result in
services
being restored, check the
Freeview transmitters page
to see if there are any
engineering
problems with your local transmitter.
How to check all cables, connectors and aerials
The RF connectors need to be in very good condition to work. There are two general types:
Factory-fitted connectors are very reliable as they cannot easily be taken apart, but they can be damaged by wear and tear. On the female-type the central section is often composed of two parts which can often be forced apart, resulting in a poor connection you can push them back together if this has happened with a pair of tweezers. On male connectors if the central pin is damaged, you will need a new
cable
. If there are any loose partials in the connector, remove them.
Another problem with these cables is that quite easy to sprain the connector at the back which causes little obvious external damage, but disconnects the internal connection. This happens often when a set-top box is pushed backwards into a cabinet.
Hand made cables can also suffer from similar problems to factory made ones and they are also prone to accidental damage from a cable being pulled. If such a connector is not firmly attached to the cable, the connector may need refitting.
Cables
Make a visual check of the cables. There are a few basic checks:
If the cable has been slashed or cut, it will not be very effective or reliable. If such a cable is fitted externally, this can allow rainwater to enter the cable and this will reduce the signal levels.
You can easily damage an RF cable by crushing it, for example in a door. If the outside of the cable has a permanent kink in the cable or has been very tightly looped, this could be the site of damage.
Aerial
For reliable and effective Freeview reception, a
rooftop aerial
is required. It is hard to make a visual check of such an aerial without putting yourself in potential danger.
You can make a visual check of the route between the aerial and the transmitter. Any form of obstruction will damage the digital signals. In particular trees coming into leaf, as these will leech the signal before it reaches your aerial. This applies to both trees adjacent to the aerial and at a distance.
Another common problem in cities is building work. A large crane will often change position many times during the day, and if this is between your aerial and the transmitter this can reduce the signal levels in an unpredictable way.
If your system uses a
booster
, the
power
may have failed. Check the fuse to the power to the
booster
.
Weather problems
There are two main weather problems that effect Freeview reception.
The
Inversion Effect
: please see
What is the Inversion Effect and why does it effect my Freeview TV reception?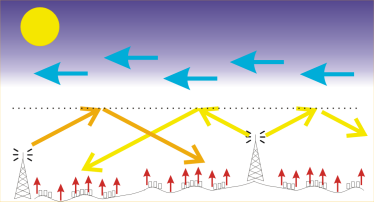 Wind: high winds sometime can dislodge the aerial this results in a poor signal.
Rain: poor or old cables can fill with water and this results in a poor signal. If this happens, the cables will require replacement.
Comments
Tuesday, 14 July 2015

philip Barrett: I just checked the spec on the web. Now I've always liked the 5 series, and the ones we've sold for the past couple of years have had an HD tuner as standard. Argos are knocked them out at 329, and if you'd bought one at that price, then I'd certainly expect it to have HD (and be smart). However, if you bought it from the likes of Pixamania, then the price of 199 (and just 2 HDMI's) means that its unlikely.

The LG site does not mention whether the tuner is DVB-T (freeview) or T2 (HD), but since the description is 'with Freeview', I'm afraid your not getting HD channels becuase it has no HD tuner. If you paid 300 notes, then take it back, because you've been ripped off (there is a reason I'd never buy a TV from catalogue shop or supermarket), and get your money back. We are knocking out the perfectly decent 580 model (so Freeview HD and Smart) for 329 Buy LG 32LF580V LED HD 1080p Smart TV, 32" with Freeview HD and Built-In Wi-Fi | John Lewis and the 650 series (so 3D as well, and a slightly better contrast ratio) for 369. Or the decent Samsung J5500 (again, Freeview HD and Smart) for 299.

I feel sorry for you - this sort of question had started to die off, with decent brand TV's generally now having Freeview HD tuners as standard, but obviously there is still a market - I just wish retailers would make it clear.

If you paid less than 200 notes for it, you can't expect that much. I've just got (as a hand me down) pretty much the same thing, but when LG were still doing LCD. With only 2 HDMI's iys a bit difficult to upgrade, but I've just bought a Manhatten T2 reciever for 44 quid. Not just an HD tuner, but also does Iplayer (if plugged into ethernet). A bit twitchy with signal strength on HD (a bit sensitive), but decent so far.

MikeB's 2,579 posts

MikeB /philip Barrett: The manual I have for that model indicates that HD tuners are only fitted in the Satellite version, non Satellite types being fitted with a standard DVB-T tuner.

On checking around a few suppliers of this model, I failed to find any of the outlets advertising it as being capable of receiving HD transmissions, a couple of examples seen on the undermentioned link.


LG Electronics 32LF5610 32" LED Full HD TV (32LF5610) - BT Shop


LG 32LF5610 specifications | Hardware.Info United Kingdom





jb38's 7,179 posts

jb38: LG tend not to even mention the sat tuner, but its nice to have it, all the same! Its really annoying that people are still buying TV's with just Freeview in them, but expecting more, because of the big letters HD used in the blurb by the likes of Argos. I know its all about price, but a clear description of the limitations of the set would be helpful. Once agin, its wise to read the small print, and remember that cheap is not cheap, expensive is not expensive.

MikeB's 2,579 posts
Tuesday, 6 October 2015

Why can I record the new Talking Pictures channel 81 but can't watch it because it comes up as invalid DVB channel?

Jenny Hutchins's 1 post
Sunday, 15 November 2015

I have freeview in my Televison Panasonic TX-L32G10B, also in my Panasonic DVD Recorder DMR-BWT700, I can get Channel 81 Talking Pictures on my DVD Recorder but not on my TV.
I have tuned in the TV, both manually and auto, but still " Invalid Channel" show's up.
I have looked in the guide and there is no channels in the 80's.
Anyone got any suggestions

William Floyd's 1 post

William Floyd: The manual for this model indicates that HD reception is only possible when on Freesat mode, not Freeview. A way to verify if this is correct or not being to have a look at the EPG listings, if 101, (BBC1HD) or 103 ((ITV HD) is not seen? then the set is not fitted with an HD tuner which is necessary to view Talking pictures, as this programme is transmitted on COM7, an HD Multiplex.

jb38's 7,179 posts
Saturday, 19 December 2015

We live in Chelmsford, Essex. There has benn no change to our set up but overnight we now have very bad reception on BBC channels and no longer have any HD channels. We have a Samsung TV with build in Freeview receiver. Other channels like ITV and C4 are all fine.

I have reset the channels as described on this site but it has made no difference.

We use the London transmitter but it there is no difference when we connect to the Sudbury transmitter. It all worked fine - good BBC channels and HD channels but it has all gone wrong overnight.

Any advice would be welcome.

Olaf's 1 post
Tuesday, 2 August 2016

Over the past two days or more I have been unable to receive I.e NO SIGNAL on channels that are broadcast on Multiplexer Channel 31 from Tacolnaston. Is there a problem. I live in Stalham NR12

Colin Berriman's 1 post

Colin Berriman: You can check the status of the transmitter via this site, but if its working, its you. Check the rest of the muxes, it sounds like your system is going, and that mux has gone first.

MikeB's 2,579 posts
Wednesday, 3 August 2016

Colin Berryman:

Further to that said by MikeB, check the indicated signal strength for the affected channels. If the strength is too high, usually more than 85%, then the tuner will not be able to work properly with such strong signals. However, if the strength is less than about 45/50% then there is insufficient signal for the set to satisfactorily decode the signals.

If you have too much signal, and attenuator fitted in the flylead, so as not to put a downward strain on the aerial socket of the TV, will help reduce the strength. Attenuators are available for a few pounds and in various strengths.

If you have too little signal, check the aerial system as suggested by MikeB. If all is well, then you may need to add an aerial amplifier. More advice on that, if needed, depending on your feedback.



MikeP's 3,056 posts
Select more comments
Your comment please