Freeview reception has changed?

Brian Butterworth published on UK Free TV
From time to time people find that their Freeview box, integrated set (idTV) or Personal Video Recorder (PVR) has lost many channels without any apparent changes.
There are a number of factors to consider
Freeview is broadcast on
digital
multiplexes. This means that, once broken down into a stream of bits, each television channel is combined into a single transmission of 1s and 0s. This means that
reception
is of the
multiplex
first if this is lost it affects all the channels in the multiplex in the same way.
The
signal
strength received by the box or TV for a particular multiplex from a given
transmitter
determines if the data can be received or not. So, a poor signal results in no data, an adequate signal in perfect data and a low signal in either none or all.
Poor digital signal levels do not result, as they do with old-fashioned
analogue
television, in a sub-
standard
picture or sound. Poor signals often result in a perfect data-stream, but are prone to periods of no reception. Sometimes this will be for hours, but can also be several times a minute when caused by induction from fridges, freezers, central heating systems, two-stroke scooters, baby monitors and so on.
If you have lost ALL your Freeview channels
First disconnect the
aerial
lead from the Freeview box or TV set and reconnect it and then follow
this reset procedure
to
scan
for channels again. If this does not result in
services
being restored, check the
Freeview transmitters page
to see if there are any
engineering
problems with your local transmitter.
How to check all cables, connectors and aerials
The RF connectors need to be in very good condition to work. There are two general types:
Factory-fitted connectors are very reliable as they cannot easily be taken apart, but they can be damaged by wear and tear. On the female-type the central section is often composed of two parts which can often be forced apart, resulting in a poor connection you can push them back together if this has happened with a pair of tweezers. On male connectors if the central pin is damaged, you will need a new
cable
. If there are any loose partials in the connector, remove them.
Another problem with these cables is that quite easy to sprain the connector at the back which causes little obvious external damage, but disconnects the internal connection. This happens often when a set-top box is pushed backwards into a cabinet.
Hand made cables can also suffer from similar problems to factory made ones and they are also prone to accidental damage from a cable being pulled. If such a connector is not firmly attached to the cable, the connector may need refitting.
Cables
Make a visual check of the cables. There are a few basic checks:
If the cable has been slashed or cut, it will not be very effective or reliable. If such a cable is fitted externally, this can allow rainwater to enter the cable and this will reduce the signal levels.
You can easily damage an RF cable by crushing it, for example in a door. If the outside of the cable has a permanent kink in the cable or has been very tightly looped, this could be the site of damage.
Aerial
For reliable and effective Freeview reception, a
rooftop aerial
is required. It is hard to make a visual check of such an aerial without putting yourself in potential danger.
You can make a visual check of the route between the aerial and the transmitter. Any form of obstruction will damage the digital signals. In particular trees coming into leaf, as these will leech the signal before it reaches your aerial. This applies to both trees adjacent to the aerial and at a distance.
Another common problem in cities is building work. A large crane will often change position many times during the day, and if this is between your aerial and the transmitter this can reduce the signal levels in an unpredictable way.
If your system uses a
booster
, the
power
may have failed. Check the fuse to the power to the
booster
.
Weather problems
There are two main weather problems that effect Freeview reception.
The
Inversion Effect
: please see
What is the Inversion Effect and why does it effect my Freeview TV reception?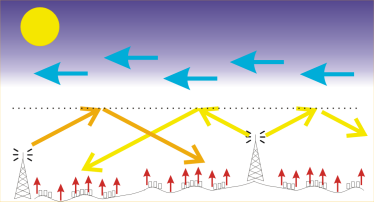 Wind: high winds sometime can dislodge the aerial this results in a poor signal.
Rain: poor or old cables can fill with water and this results in a poor signal. If this happens, the cables will require replacement.
Comments
Wednesday, 7 September 2016

Thank you for all your replies. Sorry I don't know how to reply individually to posts, my first time posting today.

Firstly, Harrow and North Harrow (my postcode is HA2 ORS) is definitely in a grey patch on the map otherwise I wouldn't have mentioned it. I'm not getting confused with Harlow, Harrow is N W London, not far from Wealdstone where a friend has no problem getting a signal. I am really curious to know if there is a problem with Harrow on the Hill interfering with signals in my area but I don't know who to ask as nobody seems interested. All my neighbours have satellite dishes on their houses, I'm the only one without a dish on my house I only have Freeview so I don't really want to ask them what their Freeview coverage is like.

I do have a split box, after reading some some of the other posts I changed the fuse in the plug and put a new one in, the set top box briefly said for a second "search" then went off.

MikeB, I had done all of those things you suggested, I bought a new scart plug to make sure my old ones weren't a problem.

I did look at the Humax set top boxes but they had very mixed reviews, the one I bought, a Bush had excellent reviews except for one which said the box didn't work and they had to take it back to the shop, I'm wondering now if I've got a dud one as well.

I'm visiting a friend tomorrow to try my set top boxes on his TVs (he lives in Wealdstone) to see if they work on his TVs, I will then know if my old box and my new box have any problems or if it is my connections.

Can you please advise me as to why Harrow is in a grey area on your map, or don't you know, if you don't that's no problem but there must be a reason for it.

Angela

Angela Thompson's 15 posts
A
Angela Thompson
5:17 PM
Harrow

Me again, I forgot to mention that I printed off the map with Harrow/North Harrow (HA2 0RS) in the grey area surrounded by green to keep as my friend thought I was "nuts", so I printed it off to show him tomorrow when I try out my set top boxes on his TVs.

Angela Thompson's 15 posts
Angela's:
map
A's Freeview map
terrain
A's terrain plot
waves
A's frequency data
A's Freeview Detailed Coverage

Angela Thompson: The part of Harrow shown in grey on the Crystal Palace coverage map is served by another transmitter at Hemel Hempstead. You can check which transmitter you are using by looking at which way your aerial is pointing, if it is pointing roughly north-north west you are using Hemel Hempstead, whereas Crystal Palace is to the south east from Harrow.

StevensOnln1's 3,567 posts

StevensOnln1: Thank you for your reply (I've realised how to respond to individual posts). I've just looked at my aerial and it is definitely pointing north-north west. My back garden is west facing and the front of the house is east facing, my aerial is pointing west and slightly angled to north, so south east is in the opposite direction, so it's definitely NNW, yet every time I've spoken to the Freeview people they keep insisting I'm covered by Crystal Palace when I've always thought I am under Hemel Hempstead, as I have looked at Brian's maps some weeks ago and thought I must be under HH.

However, that still doesn't say why I haven't got any coverage, but whenever I've checked Hemel Hempstead they always seem to have working going on on their transmitter, but having no TV since Monday morning seems a bit over the top.

Thanks for your help anyway. I will check my two freeview boxes (my old one and newly bought one) on my friend's TVs tomorrow and will let you know what happens.

Angela

Angela Thompson's 15 posts
P
Paul Lines
8:28 PM
Bristol

My post code is BS30 8BU and is fed from the Mendip transmitter. Since the weekend I have lost all programmes on channel 33 570.0MHz. I have tried re-tuning to no effect. Any ideals.
Thanks Paul

Paul Lines's 1 post
Paul's:
map
P's Freeview map
terrain
P's terrain plot
waves
P's frequency data
P's Freeview Detailed Coverage
Thursday, 8 September 2016

Angela Thompson: Re : Freeview people insisting you are covered by the Crystal Palace transmitter. If you click on the duk (digitaluk trade) link seen in one of the blue boxes under your 5.17pm posting, this clearly shows the reason for this being said, insomuch that Crystal Palace is the only station where every multiplex transmitted by the station is predicted as being receivable in your area, albeit with only the main PSB (BBC1/ITV1/HD) transmitters indicated as reliable, the five COM channels having the status of variable, the local L-Lon channel as poor, the most likely reason for this being that the signal path reaching your aerial suffers from a line-of-sight obstruction at around 1 mile or so prior to your location.

It should also be noted (which you will no doubt see) that Hemel Hempstead's PSB transmitters are predicted as not being receivable in your area, likewise Hanningtons COM4/5/6, albeit that the latter's PSB1/2/3 as well as COM7/8 "are" indicated as being good, Hannington located at 42miles/243 degrees with the transmitter radiating on horizontal polarity.

By the way, if your aerial is facing towards Hemel Hempstead, then its elements will be pointing up/downwards, whereas with Crystal Palace they would be positioned horizontally (flat).




jb38's 7,179 posts

Angela Thompson: Also meant to say, that considering reception is predicted as being so variable in your area, it would be prudent to make one or two enquiries with others in your locality to ascertain what like their reception is, as I am of the opinion that Freesat is the only mode virtually guaranteed to provide reliable reception in areas such as yours.

jb38's 7,179 posts

Angela Thompson: Be careful when you try your boxes at your friend's because if she's on Crystal Palace, your boxes will still 'think they're on Hemel Hempstead because they'll remember that they were last used at your house. You can, of course, do a 'first-time installation', type of retune with the aerial lead disconnected at any time in order to get your boxes to forget the channels they stored last and where they were from. Richard, Norwich.

Richard Cooper's 466 posts

Richard Cooper:Sorry, Angela, I meant to say 'he' as your friend is male. Wealdstone is pretty definitely Crystal Palace, although I said the same about Harrow!!! Good Luck! Richard.

Richard Cooper's 466 posts

Richard Cooper: Hello Richard, thank you for your replies. I am going over to my friend this afternoon to try out the boxes. However my original freeview box has about 75% of recordings on it, so I don't really want to wipe them all off (old Steptoe and Sons etc), although may be I will have to. Thank you for advising me that my boxes will remember they're on the Hemel Hempstead mast, they're clever little blighters aren't they, too clever sometimes that's why we end up tearing our hair out trying to play them at their own game!!

Although saying that the new Bush box I bought on Tuesday I couldn't even get it to install, so it may not have anything in it's brain to tell it what receiver it has connected to if it's connected to at all.

Angela Thompson's 15 posts
Select more comments
Your comment please