The new Freeview prediction system - includes Freeview HD

Brian Butterworth published on UK Free TV
The new Freeview prediction system - beta - is here. Finally!

If you visit Freeview reception - UK Free prediction you now get a much more detailed page to help you with any reception issues.

As before you can see this page with a postcode, the system will shortly also allow the input of national grid references, or latitude/longitude references.

Firstly, you can get a prediction for any number of dates by selecting the appropriate tab at the top.


Five different views
There are five different views
By direction: this will show the various directions your aerial might point and the services you can receive from the transmitters in that direction.
Received signal strength: this shows the information ordered by signal strength, to help you find the strongest signals.
By frequency: this lists broadcast frequencies from C21 to C68, showing the services on each. This view can be used to find potential interference or to help with digital region overlap areas.
Service names: this lists the services that you can receive, each ordered by the strongest signal.
Transmitter names: and finally an alphabetical list of the transmitters with the services listed by broadcast frequency.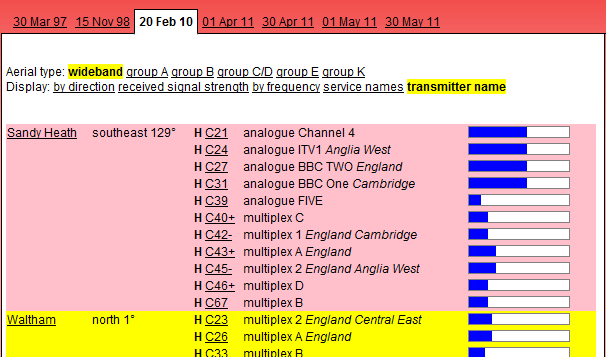 Aerial group choice
When you first visit the page you will see the services received by a "
wideband
" aerial, now you can also select the other aerial groups to see how that will effect reception.
Issues
For the moment it is not possible to resolve postcodes in Northern
Ireland
(BT) or the Isle of Man.
Apologies
for that.
Try it now
Try the new UK Free TV Freeview reception - prediction system now
.
Comments
Wednesday, 29 June 2011

John Child: The BBC recently changed their HD transmissions to use a new mode. Try unplugging your Freesat receiver for 10 minutes, and plugging it back in. If that doesn't help, see if there is a Retune option somewhere in the menus.

Receivers are supposed to pick up the changes from the information carried on the Freesat EPG transmissions, but they don't all seem to be doing this properly.

Mike Dimmick's 2,486 posts

Dee: In this particular case, the Sandale transmitter and its coverage area should no longer be shown, as it no longer broadcasts TV signals. It was formerly used for the BBC's Scottish service.

ukfree.tv was originally designed for pre-switchover Freeview and very few of the relays show up. As far as the prediction system here goes - which doesn't have as much detail as Digital UK's - Haltwhistle only covers a couple of pixels and they're all predicted to be served better by something else. A particular weakness of this site's system is that the terrain data is very coarse, so it can't tell that - in this case - Cold Fell is blocking reception from Caldbeck.

Mike Dimmick's 2,486 posts
Saturday, 2 July 2011

I an having trouble loading the map using the WII OPERA 9 BROWSER can you fix the problem


dave's 2 posts
dave's:
map
D's Freeview map
terrain
D's terrain plot
waves
D's frequency data
D's Freeview Detailed Coverage

John Child- Mike Dimmick - The BBC have issued an apology for giving insufficient notice of the change from DVB-S to DVB-S2. The upgrade to the more efficient DVB-S2 modulation format was brought about to enable the BBC to broadcast the Wimbeldon Tennis Toutnament in 3D.

There were problems with Channel 4HD earlier in April with Harvard Group receivers eg:- Grunding, Bush, etc were in not being up to specs set by "Freesat" and being unable to manage as they should have been the DVB-S2 modulation. More recently with changes in modulation brought in by the BBC Panasonic receivers had problems but this was dealt with satisfactorily with instructive support from Panasonic ie_ putting into standby or re-tuned.

lesnicol's 991 posts
Friday, 8 July 2011

what is the best type of aerial to receive a good signal at my post code . a new multi purpose was fitted would I be better with a c/d type?

jAS GRACIE's 1 post
jAS's:
map
J's Freeview map
terrain
J's terrain plot
waves
J's frequency data
J's Freeview Detailed Coverage

jas Gracie: Indications are that Freeview reception at your particular location is limited to the Lethanhill transmitter, its channels being on Ch60-Ch57-Ch53, the latter being the HD Mux.

As you are only 4 miles away from the transmitter I would say that nothing more than a standard log periodic aerial would suffice, this being mounted vertically, as "if" you have any obstructions between yourself and the location of the transmitter larger aerials make no difference whatsoever, and in many cases make the situation worse, this just being mentioned in case you are thinking along this line, as its a common mistake made by many!

Just out of interest maybe you could come back with the signal / quality indications you are getting on the channels mentioned.


jb38's 7,179 posts
Sunday, 10 July 2011
J
James Compton
6:22 PM
Eye

Hello all

we live in Eye north Suffolk we presently receive TV signal from Tacolneston transmitter the problem is most of the time in the last two days our tv picture mainly on BBC1 keeps locking up the audio is spitting and sputting so much so it makes it near impossible to watch tv. is this down to the new digital switchover or have we got something wrong our end?


Jim

James Compton's 1 post
James's:
map
J's Freeview map
terrain
J's terrain plot
waves
J's frequency data
J's Freeview Detailed Coverage
Tuesday, 12 July 2011

Hi
I have a inbuilt freeview TV plus a second TV with a External Freeview box.
My area (north Shropshire) transitting from Wrerkin went digital in April.
Signal strength 90% direction spot on.
I can not get ITV4 on either set, I can get ALL other stations (reqd for tour de France)
My neighbour 100m away, can.
please help me no one else has been able to.

John's 2 posts
John's:
map
J's Freeview map
terrain
J's terrain plot
waves
J's frequency data
J's Freeview Detailed Coverage

New predicter seems to work great for my home location -- RG6 5TJ. However for my grandmothers house - PO36 9EG it goes all weird and won't tell me anything at all.

Brian Gregory's 23 posts
Brian's:
map
B's Freeview map
terrain
B's terrain plot
waves
B's frequency data
B's Freeview Detailed Coverage

Brian Gregory: The code referred to indicates that at this present time the reception from Rowridge should be reasonably good, although not sparkling on Mux1 (Ch24) and with no HD reception being available.

This is forecast to continue until March 2012 when the situation with Mux1 (BBC A) improves reception wise, but its not until further changes take place on April 18th 2012 that all six Mux's should be receivable.

jb38's 7,179 posts
Select more comments
Your comment please