The new Freeview prediction system - includes Freeview HD

Brian Butterworth published on UK Free TV
The new Freeview prediction system - beta - is here. Finally!

If you visit Freeview reception - UK Free prediction you now get a much more detailed page to help you with any reception issues.

As before you can see this page with a postcode, the system will shortly also allow the input of national grid references, or latitude/longitude references.

Firstly, you can get a prediction for any number of dates by selecting the appropriate tab at the top.


Five different views
There are five different views
By direction: this will show the various directions your aerial might point and the services you can receive from the transmitters in that direction.
Received signal strength: this shows the information ordered by signal strength, to help you find the strongest signals.
By frequency: this lists broadcast frequencies from C21 to C68, showing the services on each. This view can be used to find potential interference or to help with digital region overlap areas.
Service names: this lists the services that you can receive, each ordered by the strongest signal.
Transmitter names: and finally an alphabetical list of the transmitters with the services listed by broadcast frequency.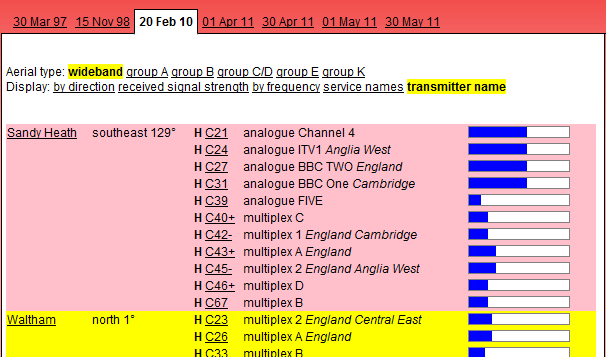 Aerial group choice
When you first visit the page you will see the services received by a "
wideband
" aerial, now you can also select the other aerial groups to see how that will effect reception.
Issues
For the moment it is not possible to resolve postcodes in Northern
Ireland
(BT) or the Isle of Man.
Apologies
for that.
Try it now
Try the new UK Free TV Freeview reception - prediction system now
.
Comments
Tuesday, 12 July 2011

John: This is probably a case of single frequency interference. The Mux ArqB signal could be being blocked by an analogue signal from the RF modulator of a VCR or Sky box set around C53, or it may be that you are receiving a low level signal from Cefn Mawr which also uses C53. A power restriction is currently in force at Cefn Mawr to help protect viewers to The Wrekin from interference, but as you are predicted to receive signals from Cefn when the power is raised in September (after The Wrekin COM muxes change frequency) it is possible that your aerial is, by chance, positioned where it receives a signal now. The Digital UK postcode checker predicts a full Freeview service to be available from Winter Hill, this being the best option for the COM muxes in 2013.

KMJ,Derby's 1,811 posts
Thursday, 14 July 2011

To KMJ,Derby
Many thanks for your time. I re-tuned without recorder, phone and etc. no change.
I am not an avid TV viewer, in fact my only interest was to get ITV4. I got a print out of the chanels that I could receive and matched that against those that I had. Result: my missing chanels had a common poor transmision. Today I purchsed a new arial and I am now firing on all channels. Thanks again.

John's 2 posts
John's:
map
J's Freeview map
terrain
J's terrain plot
waves
J's frequency data
J's Freeview Detailed Coverage

John: Glad you managed to sort out the problem

KMJ,Derby's 1,811 posts
Monday, 18 July 2011
S
Steph Leckey
7:35 PM
Portrush

Hi I live in Portrush Northern Ireland and over the past few weeks we have been getting a 'NO signal' coming up on UTV, C4, C5 and other ITV channels. We have built in freeview in the tv's so not sure what is going on. thought maybe it was the Limavacy transmitter as out next door neighbours is the same. Please fill me in on what has happened.

Steph Leckey's 1 post
Steph's:
map
S's Freeview map
terrain
S's terrain plot
waves
S's frequency data
S's Freeview Detailed Coverage
Tuesday, 19 July 2011

Steph Leckey: Please see Single frequency interference | ukfree.tv - independent free digital TV advice for help.

Briantist's 38,902 posts
Tuesday, 26 July 2011
B
Barny Otoole
2:07 PM
Antrim

According to your predictor BT41 is some 600 and odd miles from the Divis transmitter, I doupt if it is more than 16. I think you have an error in your software.

Barny

Barny Otoole's 1 post
Barny's:
map
B's Freeview map
terrain
B's terrain plot
waves
B's frequency data
B's Freeview Detailed Coverage

Barny Otoole: It's actually quite a tricky problem, because the island of Ireland uses a different grid reference system to that of Great Britain and the minor British Isles. It's based on a projection from a different point - a different way of displaying the curved surface of the Earth on a flat piece of paper. The maps are then displayed by Google Maps, which requires points in GPS co-ordinates, based on a third different projection and even a different model of the Earth's shape.

I suspect the part of Brian's software that gives the distance treats IJ163867 (which nearby.org.uk gives as the Irish Grid containing the centre of your postcode) as square IJ of the Ordnance Survey GB National Grid, which is actually just off the west coast of Norway. This would produce an error of 1,063km from the south-west corner of OSGB square NW to the south-west corner of 'IJ'. It should instead say I = Irish and use the OSNI transformation to GPS co-ordinates.

Digital UK's predictor - which I hope is based on the correct information, since it displays the OSNI logo - shows that you are 16km (10 miles) from Divis.

Mike Dimmick's 2,486 posts
Wednesday, 27 July 2011

Mike Dimmick: The code should interpret "I" as the start of an Irish Grid code, if it's not doing that I will need to look into it. The code is in there...

Briantist's 38,902 posts

Barny Otoole: My apologies, I will look into this.

Briantist's 38,902 posts
Sunday, 31 July 2011
D
Dave Bell
10:21 PM
Barnetby

I'm not sure that the results are as detailed as one might think. My postcode is a street which just doesn't have a line of sight to Belmont: there's a gig hill in the way. Move a little west, still in the village, and the coverage opens up. It's likely more useful to have a look outside at where the neighbours are pointing their TV aerials, and then sort the signal estimates by direction.

Dave Bell's 3 posts
Dave's:
map
D's Freeview map
terrain
D's terrain plot
waves
D's frequency data
D's Freeview Detailed Coverage
Select more comments
Your comment please