The new Freeview prediction system - includes Freeview HD

Brian Butterworth published on UK Free TV
The new Freeview prediction system - beta - is here. Finally!

If you visit Freeview reception - UK Free prediction you now get a much more detailed page to help you with any reception issues.

As before you can see this page with a postcode, the system will shortly also allow the input of national grid references, or latitude/longitude references.

Firstly, you can get a prediction for any number of dates by selecting the appropriate tab at the top.


Five different views
There are five different views
By direction: this will show the various directions your aerial might point and the services you can receive from the transmitters in that direction.
Received signal strength: this shows the information ordered by signal strength, to help you find the strongest signals.
By frequency: this lists broadcast frequencies from C21 to C68, showing the services on each. This view can be used to find potential interference or to help with digital region overlap areas.
Service names: this lists the services that you can receive, each ordered by the strongest signal.
Transmitter names: and finally an alphabetical list of the transmitters with the services listed by broadcast frequency.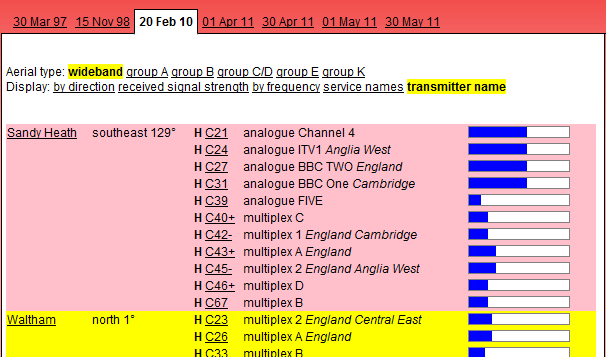 Aerial group choice
When you first visit the page you will see the services received by a "
wideband
" aerial, now you can also select the other aerial groups to see how that will effect reception.
Issues
For the moment it is not possible to resolve postcodes in Northern
Ireland
(BT) or the Isle of Man.
Apologies
for that.
Try it now
Try the new UK Free TV Freeview reception - prediction system now
.
Comments
Saturday, 27 August 2011
tim bishop
4:04 PM
Saltash

Hi.

I am writing to inform you that the information for PL12 is incorrect (on your freeview predictions).

you are saying that we will get out signals from plympton. this is impossible.

South East Cornwall (PL12,PL11,PL13, also PL5 etc) and West Plymouth gets its signals from Caradon Hill because the of the bloody big hill that seperates plymouth and plympton. when i worked for ONdigital, our call centre was based next to the docks, and still got the signal from caradon.

can you please ammend your maps?

thanks

tim bishop's 7 posts
tim's:
map
T's Freeview map
terrain
T's terrain plot
waves
T's frequency data
T's Freeview Detailed Coverage
Wednesday, 31 August 2011

my free view is built into my tv but i cant get itv or chanel four. it just says no signal can you help i have run out of ideas??

simon's 1 post
simon's:
map
S's Freeview map
terrain
S's terrain plot
waves
S's frequency data
S's Freeview Detailed Coverage
R
R Hilton
1:39 PM
Loughborough

I am in Loughborough and I now get BBC1 East Midlands on channel 303 instead of chananel 1 (which seems to have belmont). I dont know how to change this round on my Panasonic TX-32LXD52. How?

R Hilton's 1 post
R's:
map
R's Freeview map
terrain
R's terrain plot
waves
R's frequency data
R's Freeview Detailed Coverage

no hd channels
no itv3
no5*
no 5 us
any suggestions?
I retuned today

sarah's 1 post
sarah's:
map
S's Freeview map
terrain
S's terrain plot
waves
S's frequency data
S's Freeview Detailed Coverage

Chaddesden (NE Derby) - Upstairs I have a separate old freeview box/TV which still receives 'East Midlands Today' as local news on BBC1. It also receives all channels.
Downstairs are two newer TVs which are digital,very recently I have been getting 'Look North' on BBC1 on these 2 TVs,instead of 'EMT' despite the fact that all TVs use the same aerial and signal booster. This is very annoying. No local news or weather.
All my TVs and booster box and aerial were checked four years ago when I moved in. I have made 3 very long and expensive calls on that 0845 number to get advice which was less than helpful. The manual tuning which I was instructed to do to get back to the Waltham transmitter was not possible on the larger TV, a Philips which cost £999 four years ago, as it does not have a manual retuning option on it at all. It is fully automatic and yes I have looked everywhere for a manual retune option already. None. The smaller kitchen/diner TV does have a manual retuning option so I tried but this did not work. Now this evening 31.8.2011, after the latest auto-retune the large TV has lost ALL the BBC channels totally.
I now read on your site that the Waltham transmitter will be running at a reduced strength for a considerable time after the switchover. So no chance of getting BBC downstairs for some time, eh? Why does it have to run at reduced strength?
I feel like stopping my direct debit for my TV licence.
What is really annoying, is I could have had help for £40 as a disabled person to 'convert' the analogue TV in the second bedroom but turned this down as I already had digital in other rooms. If I had made use of this offer maybe the technician could have checked reception/signals etc available in my area. One woman on the helpline suggested my aerial might need re-angling. How as a disabled pensioner am I supposed to pay for that now I am not able to work any more? If transmitters cannot be run at full strength why not delay switchover until they can? I certainly did not expect all this trouble, and no longer have any paperwork about the £40 offer of help. Do you have any suggestions which might help before I go mad please? My lodger who pays rent to include all freeview channels is not getting them either, if I lose his rent if he goes elsewhere I will not be able to afford to stay in this house with its adaptations that suit my medical needs. Help please.

Chrissy's 1 post
Chrissy's:
map
C's Freeview map
terrain
C's terrain plot
waves
C's frequency data
C's Freeview Detailed Coverage

Chrissy - I don't know about Waltham being on REDUCED power, I live in Allestree and, because of the lie of the land, before today I couldn't get a Waltham signal and had to get tv from Sutton Coldfield (West Midlands). Tonight though there's a perfect Waltham signal and someone else has confirmed its power has been increased "phenomonally". May be you need to try one more full re-tune?

David's 13 posts

Chrissy: There is a trick method you could try to eliminate stations other than Waltham from being received during an auto-tune.

What you do is first of all take out the aerial and carry out a re-scan without it, this for purposes of blanking out anything stored, then you carry out a second re-scan whilst carefully watching as the progress indicator starts to creep (hopefully!) along the indicator bar, then as soon as it passes about Mux Ch50 immediately replace the aerial lead and let it scan the rest of the way. This procedure allowing only channels above Mux Ch50 to be received, which applies to all of Waltham's multiplexes anyway except one, namely Mux Ch29 ITV3 / QVC etc.

Of course the point is that you might not actually get this in the first place, as its on low power until the 12th of October.

jb38's 7,179 posts

Chrissy: Just to emphasise, after the first re-scan do NOT replace the aerial until the position mentioned, that being Mux Ch50 or immediately just after, as you want to catch Walthams ITV1 etc on Mux Ch54, the remainder being Mux Ch's 56 - 57 - 58 - 61.

jb38's 7,179 posts
Thursday, 1 September 2011

Chrissy: It is probably worth pointing out that if you have a signal overload with the high power digital signals, it can appear superficially that the signal is low.

You must remove any boosters and amplifier from your system, and if you don't have them but have used an over-large aerial, you might need to fit an attenuator (they cost about a fiver).

The *correct* signal levels for good Freeview reception is 100% signal QUALITY and about 75% signal STRENGTH. 100% signal strength usually indicates a near-overload situation.

Briantist's 38,899 posts
D
david dyer
7:48 PM
Seascale

can you tell me why the area in which i live was the first to go digital in the uk, and yet we still can only receive about half of the available freeview TV channels?
my postcode is CA20 1BG. when is the transmitter i connect up to being upgraded, so that we can receive all the channels which it seems most of the country can get already?

david dyer's 1 post
david's:
map
D's Freeview map
terrain
D's terrain plot
waves
D's frequency data
D's Freeview Detailed Coverage
Select more comments
Your comment please