Where are the public service (Freeview Light) transmitters?

Brian Butterworth published on UK Free TV
There are many TV transmitters in the UK, but only 81 of them carry all the services including the three commercial multiplexes. The other 1,036 transmitters will only carry the three public service transmitters, sometimes called Freeview Lite.

The commercial operators, SDN (originally S4C Digital Networks, now part of ITV plc) and Arqiva (originally as Crown Castle International, the privatized BBC Engineering) declined the invitation from Ofcom to extend their transmission network, see No new full Freeview transmitters.

As the transmitters can cover millions of homes down to less than 100, this means that:


In England, there are 54 full service transmitters and 583 public service transmitters, but the three-multiplex transmitters only serve 7% of the population.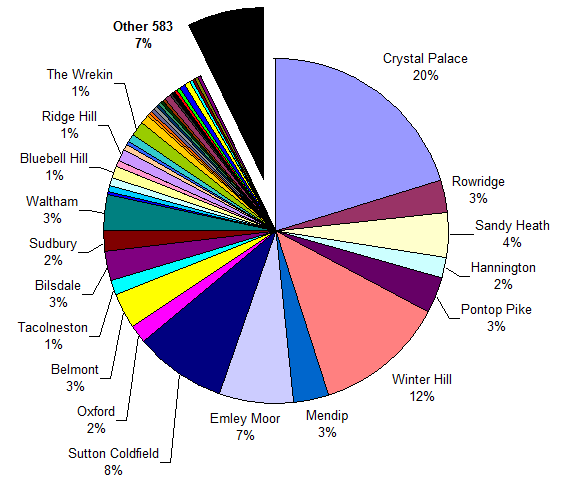 The main reason for the commercial operators not extending their networks is the uneconomic nature of these sites. It is not simply a question of being allocated frequencies by Ofcom (these were freely available to the operators) - the cost of installing the three antennas on each mast, the considerable capital expense of providing the transmission equipment and the ongoing network, power and monitoring costs.

In Scotland, the 14 main transmitters cover 85% of the population with full Freeview, but those in the mountains and islands are again uneconomic. Indeed, the Black Hill transmitter alone covers 40% of Scots.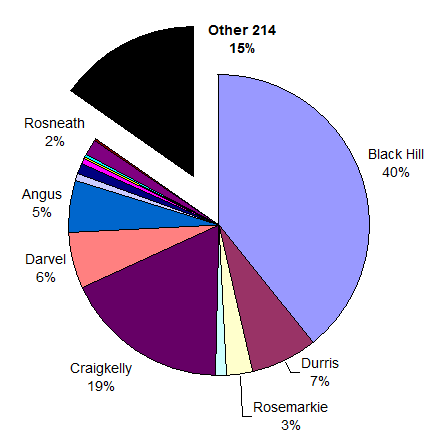 Looking to Northern Ireland, the Divis transmitter provides services to 67% of the population, with two other full service transmitters providing the next 13%. However, again 20% of the population are provided by the other 43 and these will provides just the public services.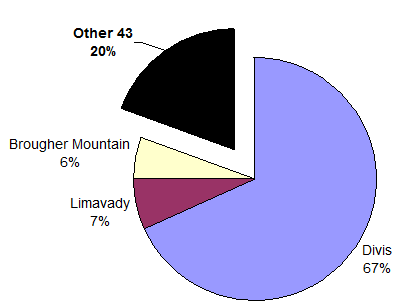 TV viewers in Wales stand the most chance - one in three - of being short of channels. Nine main transmitters cover 66% of the population, and in the mountains and valleys the other 196 transmitters cover very small populations each.




Map showing public service only areas in England, Wales, NI and Scotland.


Comments
Tuesday, 15 February 2011

I've now got more choice on on my local Freeview Lite tx'er Calne - ITV+1 now b'casts the Welsh regional programmes instead of ITV South West. So I have the 'great' choice of seeing what's going on in the Welsh valley's and Anglesey weather from middle of Wiltshire!!
Is this just a patching cable plugged in wrong or deliberate decision??

Has anyone else got such a 'nice' choice??

Maybe in future they could change it randomly to differnet regions just to liven things up!!! Scotland next please.

James's 7 posts

James: No, it isn't - see ITV1+1 11 January 2011 (at last) | ukfree.tv - independent free digital TV advice for details of how ITV1+1 works.

Briantist's 38,902 posts

James: I think ITV have limited the number of actual ITV1+1 regions due to the limited number of slots available on satellite. It looks like they're using their macro advertising regions in the West, and in the East and South East. You can see the macros at
ITV Media -
. The West macro-region is made up from the old Wales, West and Westcountry regions, and they appear to have chosen the Wales region's service.

The North appears to be split east/west, though it's not clear to me exactly how they've divided it up - whether Border goes along with Granada or with Yorkshire (West). I would expect the Tyne Tees area to be getting Yorkshire West.

Some more populous/affluent regions are divided into micro-regions, each of which has its own satellite service for ITV1, but they're based on the coverage areas of the terrestrial transmitters. News service areas are built up from these micro-regions. It appears that ITV1 local news in your area was retitled 'The West Country Tonight' in their last shakeup, but it's still subdivided into 'east' (formerly HTV West) and 'west' (formerly Westcountry).

The current regional ITV1+1 lineup on satellite is:

Central West (covering Central)
London
Granada (plus Border?)
Meridian South (covering Meridian and Anglia, some sources say Meridian SE)
Wales (covers Wales, West, Westcountry - encrypted)
Yorkshire West (covers Yorkshire, Tyne Tees and maybe Border) (RG47SH)

Mike Dimmick's 2,486 posts
Wednesday, 16 February 2011

Briantist and Mike - Thanks for explainations - I think! maybe ignorance really is bliss!!

But doesn't this inability to tx the 'correct' ITV+1 into a region bring its rational further into question? People are less likely to watch an irrelavant channel (wrong wx and local news) then woun't the advert demographics fall and revenue drop.

Where as if they were to put ITV3, or better, in place of the +1, up will go the viewer figures etc -- I live in hope!! or go back to SW radio!!!!


James's 7 posts

James: ITV-1's region output is less than an hour a day, so it only a problem for that time, and for a limited number of people.

ITV1+1 must go on a multiplex - multiplex 2/PSB2 that supports the ITV regional structure.

ITV3 as a national channel goes on a multiplex which has no region support (aside from Wales as it originally belonged to S4C).

Briantist's 38,902 posts
Thursday, 17 February 2011

Will ESPN be available from Freeview Light Transmitter through BT Vision?

Gary's 1 post
Gary's:
map
G's Freeview map
terrain
G's terrain plot
waves
G's frequency data
G's Freeview Detailed Coverage
Friday, 18 February 2011

Gary: No, it won't.

Briantist's 38,902 posts

I live in Ripley,north west of SC/Lichfield transmitters. No problem with SD Mux but 2% signal quality on CH24 HD Mux. Does anyone know if and when the signal level will increase? Thanks

Steven B's 6 posts

Oops its North East of course !!

Steven B's 6 posts

and its channel 34...

Steven B's 6 posts
Steven's:
map
S's Freeview map
terrain
S's terrain plot
waves
S's frequency data
S's Freeview Detailed Coverage
Select more comments
Your comment please