Where are the public service (Freeview Light) transmitters?

Brian Butterworth published on UK Free TV
There are many TV transmitters in the UK, but only 81 of them carry all the services including the three commercial multiplexes. The other 1,036 transmitters will only carry the three public service transmitters, sometimes called Freeview Lite.

The commercial operators, SDN (originally S4C Digital Networks, now part of ITV plc) and Arqiva (originally as Crown Castle International, the privatized BBC Engineering) declined the invitation from Ofcom to extend their transmission network, see No new full Freeview transmitters.

As the transmitters can cover millions of homes down to less than 100, this means that:


In England, there are 54 full service transmitters and 583 public service transmitters, but the three-multiplex transmitters only serve 7% of the population.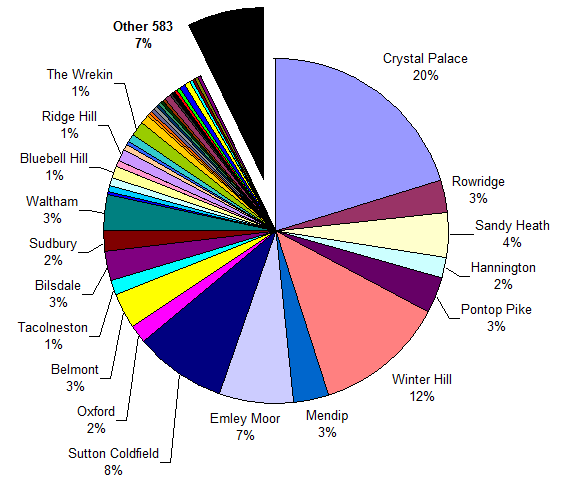 The main reason for the commercial operators not extending their networks is the uneconomic nature of these sites. It is not simply a question of being allocated frequencies by Ofcom (these were freely available to the operators) - the cost of installing the three antennas on each mast, the considerable capital expense of providing the transmission equipment and the ongoing network, power and monitoring costs.

In Scotland, the 14 main transmitters cover 85% of the population with full Freeview, but those in the mountains and islands are again uneconomic. Indeed, the Black Hill transmitter alone covers 40% of Scots.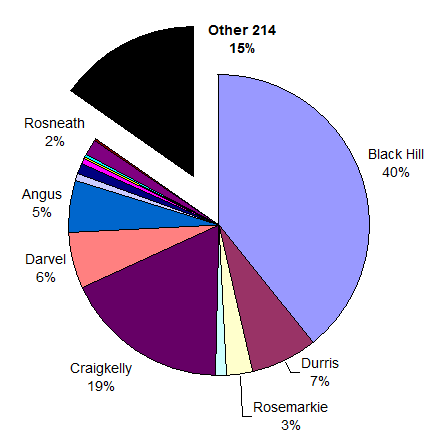 Looking to Northern Ireland, the Divis transmitter provides services to 67% of the population, with two other full service transmitters providing the next 13%. However, again 20% of the population are provided by the other 43 and these will provides just the public services.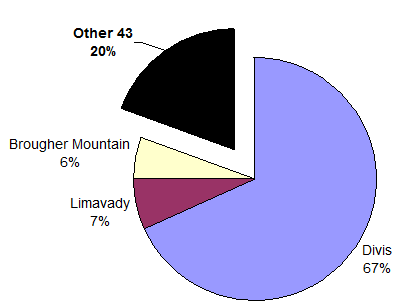 TV viewers in Wales stand the most chance - one in three - of being short of channels. Nine main transmitters cover 66% of the population, and in the mountains and valleys the other 196 transmitters cover very small populations each.




Map showing public service only areas in England, Wales, NI and Scotland.


Comments
Thursday, 6 June 2013

Over the course of time, a number of users have posted comments about ITV+1 and C4+1 on D3&4. We've already had the reason/excuse for that, i.e. being timeshifts of regional channels they have to be on D3&4. Here's a simple workaround to that - don't bother with regional variants of ITV1+1 and C4+1, in order that they can go on SDN. Put ITV+1 Wales on SDN in Wales, and ITV+1 London on SDN throughout the rest of the UK. Put C4+1 London ads on SDN UK-wide. The freed capacity on D3&4 could then be used for ITV3 (in place of ITV+1) and ITV4 or Film 4 (in place of C4+1).

Nicholas Willmott's 80 posts

Nicholas Willmott: That would then mean a drop in advertising revenue due to even fewer regions having their 'own' targeted adverts on +1. Decisions are made for financial reasons and just as SDN is not available from all transmitting stations, ITV/STV/UTV+1 is available on D3&4.

Your suggestion would also give ITV Plc an advantage over STV and UTV.

Dave Lindsay's 5,724 posts

Dave Lindsay: My suggestion was to fit in with the fact that there are currently only two versions of SDN, 1) SDN Wales, 2) SDN Not Wales.

Would it be technically possible/feasible to make four versions of SDN as follows: SDN Wales, SDN England, SDN Scotland, SDN Northern Ireland? Then you could have ITV+1 Wales on SDN Wales, ITV+1 London on SDN England, STV+1 on SDN Scotland and UTV+1 on SDN Northern Ireland.

With so little regional variation on ITV these days (I think the regional news bulletins are the only differences) do people really need regional variations of ITV+1 (at least in England anyway)? If you want to watch the correct regional news, e.g. Calendar, Granada, Central, Anglia, Meridian etc, watch it at the proper time on ITV C3. If you can't be bothered to watch it the proper time you'll have to make do on London regional news if you live in Yorkshire, the south coast, south west, Midlands, etc. Wherever you are outside Wales, most of the rest of ITV+1 (Coronation St, Emmerdale, Dancing On Ice etc) would be the same on ITV+1 would be the same on ITV+1 London one hour late as on your correct regional ITV at the proper time.

Nicholas Willmott's 80 posts

Dave Lindsay: (stuff I forgot) As for your bit about regional advertising, do people really pay attention to the adverts on ITV or ITV+1, whether it's Heinz Baked Beans or an advert that's aimed at a particular region e.g. Granada? If people are that keen to see correct regional adverts for their own region, they should watch ITV (C3) at the proper time; otherwise people in English regions outside London could just put up with local adverts for London amongst the national ads (such as Heinz Baked Beans) one hour late on ITV+1 London.

Nicholas Willmott's 80 posts

Nicholas Willmott: I think you miss the point.

It is not one of people wishing to see the correct adverts but of the broadcasters wanting viewers in designated regions to see them so as to generate revenue from the advertisers.

You have also missed the point that the only commercial (small "c") services which have an obligation to provide a Public Service are the Channel 3 licensee (ITV, STV and UTV), Channel 4 and Channel 5.

All other services operate in a market and purely for profit (i.e. so as to maximise their returns). It follows, therefore, that what is "needed" is decided by those broadcasters. Until viewers become majority shareholders with their primary objective being viewer choice *and payment on their investment being secondary*, then what you suggest will never happen.

Dave Lindsay's 5,724 posts
Sunday, 11 August 2013

I posted much earlier in this thread complaining about a lack of Film 4 on Freeview Light and I'm delighted to find that Film 4 is now showing up on my Windows 7 HTPC EPG. I can now watch the movies I was missing out on for so long with the original Freeview Light - GREAT!

Given that through 'smoke and mirrors' (my understanding of the finer details is lacking ;-) Channel 4 has managed to squeeze Film 4 into the existing Multiplex streams, what chance is there that ITV 3 and ITV 4 will also soon appear on Freeview Light (even if it means removing some of the '+1' channels to accommodate these). I thought from the reply I originally received here that Film 4 would never be on Freeview Light and that was wrong so what are the limits?

Paul Murphy's 6 posts
Monday, 28 October 2013

PSB1 has 2 free streams (one of them the 302 placeholder). And since Channel 4 doesn't actually broadcast any regional programs, then they could swap out C4+1 to one of the COM multiplexes. That leaves 3 free channels on Freeview Light.

The no brainer for an extra PSB1 channel is Yesterday as it exclusively broadcasts older BBC content (mainly comedies and documentaries). Add ITV 3 and 4, and voila. A much better deal for 2nd class FL citizens.

Or do what the French would do, and blow up the Crystal Palace transmitter to highlight inequality in this country!!

David Jones's 1 post

David Jones: Not sure how you work out PSB1 has spare capacity, I'd say there is 9 streams just like PSB2:
1
2
7/70
8 (or 10 radio stations outside Scotland)
9/71
80
81(may not use full capacity though)
301 red button
and finally 200, 302 placeholder and 3 full-time radio stations

C4, like ITV and C5 has regional advertising, so needs to be on PSB2.

Michael's 358 posts
Friday, 23 May 2014

It appears they are planning a new development of 72 houses on Silver street which will be in the next field to the Calne TV txer and will be directly between me and the txer.
Could this affect my recvd signal - strength /quality...... ?

Looking at Wilts council planning web site they don't seem to be telling/consulting Arqiva about the new buildings proximity at all. Should they?

Thanks
James


James's 7 posts
James's:
map
J's Freeview map
terrain
J's terrain plot
waves
J's frequency data
J's Freeview Detailed Coverage

James: The structure is 35m high and the radiating TV antennas are right at the top. Will this be visible over the top of the new properties?

Dave Lindsay's 5,724 posts
Select more comments
Your comment please